9.8 kW SolarEdge DIY Kit - with 24 USA Made 410 Watt Jinko Panels
``` ``` 9.8 kW SolarEdge DIY Kit If you are looking for a complete solar power system for your home or business, you might want to consider the 9.8 kW SolarEdge DIY Kit. This kit includes 24 high-efficiency monocrystalline solar panels, a SolarEdge inverter with power optimizers, a racking and mounting system, and a system monitoring app. The SolarEdge inverter uses a novel power conversion technology that optimizes the performance of each panel, increasing the energy output and reducing the effects of shading or mismatch. The power optimizers also enable module-level monitoring, rapid shutdown, and arc fault protection for enhanced safety and reliability. The 9.8 kW SolarEdge DIY Kit can produce up to 1,476 kWh of electricity per month, assuming an average of 5 sun hours per day and a south-facing orientation. This can help you save money on your energy bills and reduce your carbon footprint. The kit comes with a installation manual and a line drawing of the entire system. You can also choose to add optional services such as permit assistance, roof or ground mounting kits, and battery backup. The 9.8 kW SolarEdge DIY Kit is a smart and cost-effective solution for your solar energy needs. ``` ```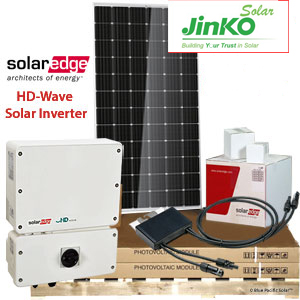 Solar Edge Benefits

SolarEdge's HD-Wave technology inverter breaks the mold of traditional inverters. Using a novel power conversion technology that is based on a distributed switching and powerful DSP processing.
Solar Edge Jinko Panel Kit Features - Benefits
9,840 Watts Hourly During Sun Hour
9.8 kW Houry Energy During Sun Hours
MTTP -Maximum Power Point Tracking
1476 kW Monthly Energy for 5 daily Sun Hours
49,200 Daily Watts for 5 Sun Hours
552 SF of Roof Space Needed For the Panels
Module-Level Monitoring
24 Each USA Made Jinko Solar Panels
Pure Sign Wave Inverter
Panel takes about 23 SF ea. on the roof
10,000 Watt Output Inverter
On Grid System
Rapid Shut Down
120 - 240 AC Volt Output
Set App Enabled
Intergrated Ark Fault Protection
What's Included with the Kit - What's on the Truck
P/N SE-JK-410-9840 9.8 kW SolarEdge with 24 Each Jinko Solar Panels Kit


24 - Jinko 410W Solar Panels Aluminum Frame
24 - SolarEdge Power Optimizers S440
1 - SolarEdge, SE10000 H-US HD-Wave, 1-Ph, Grid Tied Inverter, SetApp Enabled
PV Wire, 10AWG, UL4703 with H4, 600VDC as Required to Edge of Array
24 - Mounting Brackets for optimizers
Multi-Contact MC4 Unlocking Tool
SolarEdge Built In Module-Level Monitoring
SolarEdge Intergrated Ark Fault Protection
SolarEdge Smart Phone Commissioning
SolarEdge Built In Rapid Shutdown
1 Line Drawing; Full Instructive Three-Line Diagram of Entire DC Circuit, as Well as AC Lines to Your Metered Service Entrance.


SolarEdge Solar Panel Kit Pre-Engineered System
The SolarEdge 9.8 kW System Solution w/ Jinko Mono Panels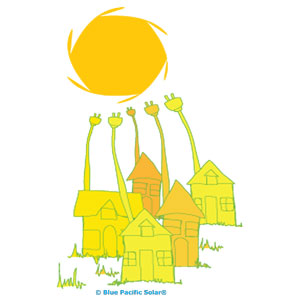 * Production = 1476 kW Per Month ● Assumptions: 410 Watt STC Panel Rating [Factory Rating; No Derate Factors Applied] @ 5 Sun Hours (Average).
Smart Power, Full Roof Utilization, More Energy
System owners enjoy the benefits of SolarEdge technology, which allows maximum power production through module-level maximum power point tracking (MPPT), optimal roof utilization through constraint-free design, and enhanced maintenance and accurate troubleshooting through module-level monitoring. Another benefit is the DC shutdown for installer, homeowner, and firefighter safety through SolarEdge's SafeDC™ mechanism.
More Power = More Savings on Your Energy Bill.
The inverter, which takes DC energy from the roof panels and converts it to AC, is the brain of the solar system. A smarter, optimized inverter can be the key to generating more energy than with other systems. How does this work? In traditional systems, installers connect solar panels in 'strings.' Just like with Christmas tree lights, where one failed bulb knocks out the other bulbs, one underperforming solar panel will lower the performance of an entire string. With an optimized inverter, power optimizers connect to the solar panels to enable them to perform independently. This results is more energy for your home.
Optimized installation with HD-Wave technology
SolarEdge's HD-Wave inverter is based on a novel power conversion topology that significantly decreases inverter size and weight, while also improving efficiency. Weighing in at only 25.3 pounds and measuring 17.7H x 14.6W x 6.8D (including safety switch), SolarEdge's HD-Wave inverter is the smallest and lightest inverter the company has ever manufactured, which enables faster and easier installation. The innovative inverter complies with safety and revenue grade standards including: integrated arc fault protection; integrated rapid shutdown for NEC 2014 and 2017 690.12; and optional revenue grade data, according to ANSI C12.20 Class 0.5 (0.5% accuracy). Consistent with all its other inverters, SolarEdge's HD-Wave inverter includes 25-years of free module-level monitoring and 12-year standard warranty.
By adopting a holistic approach to innovation, SolarEdge designed the HD-Wave grid tied inverter to support enhanced product reliability by using film capacitors instead of electrolytic capacitors. To enable faster comTrinaing, the HD-Wave inverter has automatic power optimizer identification and string assignment detection. In addition to offering standard SolarEdge design flexibility, the HD-Wave inverter enables 155% DC/AC oversizing.
Personal Technical Advisor
Line drawing questions or just stuck? No worries we have your back and will be here to help whenever you have questions about your purchased Kit. For orders larger than $3,000.00 a Technical Sales Team Group Captain will be assigned your account. Your Technical Advisors job is to coordinate all parts and pieces of your order and to work with you throughout the process. This support helps because we will be providing you with a single contact point to call with your questions. Your technical support contact does not replace the maufactures warranty technical support. DIY means you accept the responsiblity of reading and following the line diagram and other installation documents prior to tackling the installation.
NOTE: For detail support after installation customer must be willing or have the ability to connect to the SolarEdge monitoring platform. The monitoring platform software is free but requires and WiFi connnection to the inverter via RS485, Ethernet or ZigBee (optional) or cellular (optional) .
Jinko Solar Panels 20.38% Panel Efficiency
Blue Pacific Solar® SolarEdge Kit is featured with Jinkoina panels. Jinko Solar is the world's leading comprehensive solutions provider for solar energy. Jinko Solar distributes its solar products to over 60 countries all over the world. , UL Listed.
Home Systems - Pre-Engineered DIY Thin Film Solar Panels Kits & Systems - On-Grid or Off Grid - Hybrid - Wind
The do-it-yourself (DIY) craze is hardly crazy when considering the mind-boggling cost savings resulting from this trend nationwide. Many people wouldn't call it a trend at all, merely a return to the practical know-how of yesteryear when people had to do it themselves and took great pride in their handiwork! Yet few DIY projects are as cost-saving and investment-rich as installing a residential solar system.
The era of solar energy, and types of solar systms, as many would say, is upon us. From excellent new solar products like AC coupled backup systems and high efficient microinverters to banks of solar panels that provide electricity to run our homes and, eventually, even our cities, the solar revolution may well have begun in earnest. Yet too most people, how solar works is a mystery. How do these panels convert sunlight into energy that homeowners can use to power their appliances and their homes, a practice that ultimately protects the environment and leads to cheaper utility bills and economic freedom?
Photon to Electron
So how does a seemingly simple-looking panel harness sunlight and transform it into electricity? Solar panels contain photovoltaic cells. These cells are where the conversion from light to electricity takes place. The cells are made of silicon or a similar single-cell semi-conducting material. As light enters the cells, the semi-conductor pulls the energy in the form of electrons from it and allows them to flow through the material. In essence, this flow is a current. While the light absorption into the cell is enough to free electrons, the cells also contain an electric field that can steer the electrons where they need to go. The current is sent to the bottom of the panel, where it can then be collected and drawn for use externally.
Atomically Speaking
Most people don't think about particles, but light hits the PV (photovoltaic) cells as photons. As each photon hits the PV cell, it gives up an electron. While this is putting it somewhat simplistically, this is, indeed, the moment of conversion. The freed electron is absorbed by the silicon, where it flows with other electrons into current; hence, electricity is born. Some scientists would say that the tricky natural part is enhancing the cell with an electrical field to get all these electrons in line to flow as a current in the required direction: enter silicon.
The Role of the Semiconductor
Silicon is used as the solar cell's semiconductor. Yet it must do more than absorb photons; it has to employ an electrical field and get its current moving along. Moreover, it must be fashioned with impurities because pure silicon will not do the job alone. Phosphorous and boron are added in a process referred to as "doping," and together, these elements in their atomic interaction create the electrical field needed to move the electrons in the prescribed current they need to flow.
From Panel to Refrigerator
After the photons are transformed into electricity, the panels direct this energy to power the home. Some homes, those independent of the utility grid, must rely on battery storage to store energy, yet they may also have to rely on backup generators when there is too much demand on the size of the system. Many people use solar in tandem with the utility companies to have a convenient backup during fluctuating periods of energy. This net metering partnership is a bit involved, but it has also been evolving to become more effective as more and more people choose solar to provide the bulk of electricity to power their homes. Most solar photovoltaics panels have a 25 year warantee and solar panel efficiency close to 20.
Solar Panels
Solar home system panels are essential for a solar power for your home system. What you will probably need is known as a solar array. That is because each panel generates a small amount of electricity. The number of panels included in your solar array depends on how much power you need to generate. PV photovoltaic modules, often called solar panels, convert light energy into a direct electrical current (DC). As solid-state devices, solar panels have no moving parts and are more reliable and durable than any other generator electronic technology. While solar panels have become somewhat commoditized in recent years, there are essential differences in form, quality, and performance that impact installation time and long-term system performance. Our web pages present a selection of high-quality polycrystalline and monocrystalline solar panels with various features and cheap price points to suit virtually any homeowner's project.
Solar panels come in two types; monocrystalline and polycrystalline. Home power solar system or cabin owners want their solar installation to be a grid-tied, off-grid, or emergency solar backup; each of those systems starts with a solar panel selection. Monocrystalline solar panels are generally higher efficiency, but they tend to derate faster in hotter conditions. Polycrystalline is considered a better choice for warmer climates, but the truth is that either panel type is so similar the differences are relatively not worth comparing.
What is the Best Solar Panel to Choose? The solar panels' output power, voltage, and current profile will dictate the number of panels needed and what inverters or charge controllers will be used. Small off-grid home or cabin kits often require 12 VDC output panels to charge batteries and/or operate DC loads directly. Larger solar panels with output voltages ranging from 24 to 50 VDC are more commonly used in grid-tie home systems requiring a high DC voltage to operate the inverter. Suppose you have the roof or ground space with limited shading issues on your property. In that case, the larger solar panels may provide a better investment since the cost per watt is cheaper than smaller PV (Photovoltaic) panels.
Connect to the Grid or Not, or Both; That is the Question
PV (photovoltaic) systems are either off-grid or grid-tied. In off-grid systems, the energy produced by the solar panels must match the daily demand of the home or cabin, and the power is stored in solar batteries. With grid-tie solar systems, the local utility company functions essentially as the battery bank during the night. Most solar systems are grid-tied in America, with all of the excess electricity generated being fed back to the utility grid, hence the term NET metering.
Off-Grid
When you hear the term off-grid, which is synonymous with stand-alone systems, you may generate a picture in your mind of rustic pioneer-type living in a cabin with few modern conveniences. You can power nearly all appliances with a properly configured off-grid system. You start with a daily energy budget and match the right components to meet your power demands. Check out our off-grid living page for some great information to help you plan the right system for you.
Solar panel mechanical characteristics such as dimensions, frame profile, and static load rating, as well as grounding and mounting locations, will need to be understood when designing your home solar grid-tied or off-grid system. Frame and back sheet color may also play for residential DIY customers. Black frame solar panels are trendy because the aesthetics of the panel blend very well with many roof applications.
Solar Mounting Structures, Racks, and Trackers
Solar mounts and solar trackers are nearly as important as the panels themselves. Solar mounts provide the stability your panels require to remain in place, and solar trackers allow you to orient your panels automatically to take maximum advantage of the sun's rays. The IronRidge, SnapNrack, and UniRack roof and ground mount module racking are developed by teams of engineers working with installers in the field to ensure quick, efficient installation.
Outback, Magnum Energy, Enphase and SMA; AC Pure Sine Wave Power Inverters
The electrical current generated by your solar array will be direct current or DC electricity, and most electrical appliances run on alternating current or AC electricity. A power inverter converts the DC power of your solar array into AC power that your devices can use. DC electricity travels in only one direction, but AC electricity alternates back and forth. Without a power inverter, you will be forced to rewire your home and purchase DC-powered appliances over lower-cost mass-produced appliances made for the conventional home power source.
DC-powered appliances will not be available in some cases, and you will have to do without specific devices. If you intend to be off-grid, you should consider propane to power things like stoves and refrigerators. Heat with a pellet or wood-burning stove but make sure they are highly efficient modules that use less fuel.
Deep Cycle Batteries, Battery Monitor, and Solar Charge Controllers
Without a deep cycle battery system, you will be unable to store the electricity that your solar power system for home unit generates, and this means that you will only have power when the sun is shining. Deep cycle batteries are designed to be charged and discharged frequently with a high-demand system like a solar power system. The battery monitor provides a visual gauge of your solar power system's electricity generated and stored. In contrast, the solar charge controller manages the process of charging your deep cycle batteries, making sure they receive just the right amount of power but are controlled and regulated throughout the day. The Tesla Powerwall - Cloudy Days types of solar panel systems home solar power systems
Battery Cables, PV AWG Wire / MC4 Connectors, Combiner Boxes, AC Disconnects; Electrical Distribution Balance-of-System Accessories.
These small items are minor but essential for making your solar panel kit work. You will need, among other things a solar combiner box, AC breaker panel, DC Breaker box, DC breakers, battery cables, remote temperature sensor, AC and DC wire, and solar power cables. Cables and connectors on the solar panels we carry above 80 watts are generally manufactured with PV wire into the panel junction box listed to UL 1703. This can save time during installation. The modules with MC4 cable connectors are fully waterproof when connected, touch protected, and designed for up to 600 volts DC and 30 Amps. It is essential to remember that PV cables cannot be safely disconnected under load. Our grid-tied and off-grid output cables are made with UV-resistant wire Listed to UL 854. You may also wish to add other solar accessories. Blue Pacific Solar® also carries a variety of cable adapters that enable the use of optimizers or microinverters that may not be available with the same connector type as the module chosen for the job.
Home Emergency Backup Generator
If you are worried about utility blackouts, look at Blue Pacific Solar®'s off-grid power and pre-wired, pre-engineered power center equipment. A backup solar generator can provide you with peace of mind during utility power outages, blackouts, or other weather-related emergencies. When the utility-provided power goes down with a grid-tie system, your best off-grid solar power system is nonfunctional; you will be literally in the dark without a backup generator or battery bank to essential power loads. Your solar backup generator will automatically switch over to your battery bank so that it takes over immediately in the event of a blackout when the grid solar system goes down.
AC Coupled Battery Backup Systems
Until recently, there were few options available to a homeowner with grid-tied systems to utilize the energy from their solar panels when there is a utility blackout. On our solar backup page, we offer several stand-alone AC coupled emergency backup kits that use your existing solar system with our AC coupled system to provide power to your home in the event the utility goes down. The AC coupled system will take the energy from your solar panels and use it to charge a battery bank that will power your essential loads. Additionally, SMA Sunny Boy 3000TL-US / 4000TL-US / 5000TL-US is a new innovative design and the next step in performance for UL-certified inverters. A unique feature provides daytime power from your solar panels even in a grid outage, without the need for batteries.
DIY (Do-it-yourself) off-grid / grid-tie solar panel kits and pre-wired home backup power packages. Solar can recharge your life while creating jobs in a new economy. Everyday Blue Pacific Solar® Technical Sales Consultants are hard at work engineering new ways to help homeowners everywhere; see what the sun's free energy can do for their life.
DIY Solar Electricity Packages & Kits
Electric Car Charge Stations Ready to Install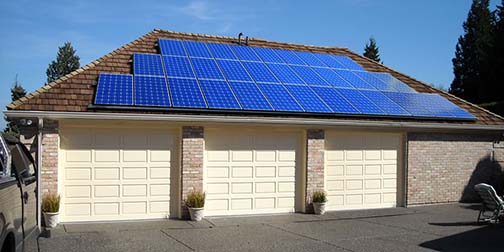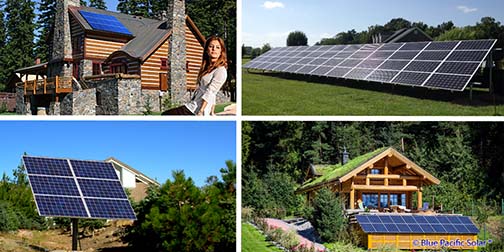 Do-it-Yourself & Save. Skip the markup and save up to 50% from national installers when you buy straight from the source. We can help you with the plans to install a solar system on your home or business. Get tips, advice & custom system design from seasoned experts that have been in the solar industry for years. Installing your mono or solar polycrystalline panels package & still receive the federal tax credits and local incentives.
Grid Tie Solar
Pre-Configured Engineered Grid-Tie Solar Systems Built Onto Your Building or Property that Connect Directly into the Utility Grid.
Off Grid Solar Kits
Off-Grid Systems are Power Systems That are Independent of the Utility Grid
Backup Systems
Backup Power & Self-Consumption Solar Installation Packages
Permit Document Service
NEC Code Compliant Plans & Documents
Go Solar
Solar Panels
Uncompromising Quality, Highest Efficiency & Performance, Best Warranties
Work With The Solar Experts & Save Money. Solar is Art to Us
See What the Sun's Free Energy Can Do For Your Life.
Go Solar