On-Grid Solar Kits - Grid connected DIY systems
10 - Jinko 410 watt
615 kW
MicroInverter
12 - Jinko 410 watt
738 kW
MicroInverter
14 - Jinko 410 watt
861 kW
MicroInverter
16 - Jinko 410 watt
984 kW
MicroInverter
18 - Jinko 410 watt
1107 kW
MicroInverter
20 - Jinko 410 watt
1230 kW
MicroInverter
22 - Jinko 410 watt
1353 kW
MicroInverter
24 - Jinko 410 watt
1476 kW
MicroInverter
26 - Jinko 410 watt
1599 kW
MicroInverter
28 - Jinko 410 watt
1722 kW
MicroInverter
30 - Jinko 410 watt
1845 kW
MicroInverter
32 - Jinko 410 watt
1968 kW
MicroInverter
34 - Jinko 410 watt
2091 kW
MicroInverter
36 - Jinko 410 watt
2214 kW
MicroInverter
38 - Jinko 410 watt
2337 kW
MicroInverter
40 - Jinko 410 watt
2460 kW
MicroInverter
8 - Jinko 410 watt
492 kW
Solar Edge - String
10 - Jinko 410 watt
615 kW
Solar Edge - String
12 - Jinko 410 watt
738 kW
Solar Edge - String
14 - Jinko 410 watt
861 kW
Solar Edge - String
16 - Jinko 410 watt
984 kW
Solar Edge - String
18 - Jinko 410 watt
1007 kW
Solar Edge - String
20 - Jinko 410 watt
1230 kW
Solar Edge - String
22 - Jinko 410 watt
1353 kW
Solar Edge - String
24 - Jinko 410 watt
1476 kW
Solar Edge - String
26 - Jinko 410 watt
1599 kW
Solar Edge - String
28 - Jinko 410 watt
1722 kW
Solar Edge - String
30 - Jinko 410 watt
1845 kW
Solar Edge - String
32 - Jinko 410 watt
1968 kW
Solar Edge - String
34 - Jinko 410 watt
2091 kW
Solar Edge - String
36 - Jinko 410 watt
2214 kW
Solar Edge - String
38 - Jinko 410 watt
2337 kW
Solar Edge - String
40 - Jinko 410 watt
2460 kW
Solar Edge - String
50 - Jinko 410 watt
3075 kW
Solar Edge - String
Solar Edge String Inverter Kits wtih Mission 395 Watt Solar Panels
8 - Mission 395 Watt
474 kW
SolarEdge - String
10 - Mission 395 Watt
592 kW
SolarEdge - String
11 - Mission 395 Watt
651 kW
SolarEdge - String
12 - Mission 395 Watt
711 kW
SolarEdge - String
14 - Mission 395 Watt
829 kW
SolarEdge - String
16 - Mission 395 Watt
948 kW
SolarEdge - String
18 - Mission 395 Watt
1066 kW
SolarEdge - String
20 - Mission 395 Watt
829 kW
SolarEdge - String
22 - Mission 395 Watt
1303 kW
SolarEdge - String
24 - Mission 395 Watt
1422 kW
SolarEdge - String
26 - Mission 395 Watt
1540 kW
SolarEdge - String
28 - Mission 395 Watt
1659 kW
SolarEdge - String
30 - Mission 395 Watt
1777 kW
SolarEdge - String
32 - Mission 395 Watt
1896 kW
SolarEdge - String
34 - Mission 395 Watt
2014 kW
SolarEdge - String
36 - Mission 395 Watt
2133 kW
SolarEdge - String
38 - Mission 395 Watt
2251 kW
SolarEdge - String
40 - Mission 395 Watt
2370 kW
SolarEdge - String
42 - Mission 395 Watt
2488 kW
SolarEdge - String
44 - Mission 395 Watt
2607 kW
SolarEdge - String
46 - Mission 395 Watt
2725 kW
SolarEdge - String
50 - Mission 395 Watt
2962 kW
SolarEdge - String
54 - Mission 395 Watt
3199 kW
SolarEdge - String
MicroInverter Solar Panel Kits

MicroInverters are small inverters placed on the back of each panal that converts the DC panel current to AC. Most home items use AC current.
String Inverter Solar Systems
String Inverter use 1 or more central inverter to convert the DC current to AC current. The inverter is normally put into a garage basement or storage protected area.
Solar Edge Grid Tied
Panels DIY Packages
On -Grid cabin or large home DIY solar array system kits. Blue Pacific Solar are experts in Solar Started Kit Systems.
SMA Sunny Boy String Inverter - DIY -On Grid Kits
SMA Sunny Boy String Inverter matched with Tier One 345 Watt Solar Panels
DIY Solar Electricity Packages & Kits
Electric Car Charge Stations Ready to Install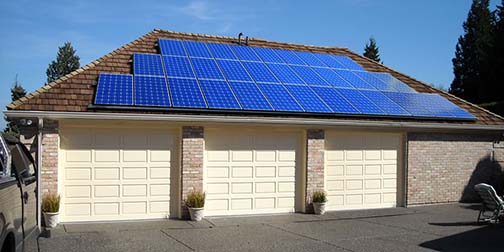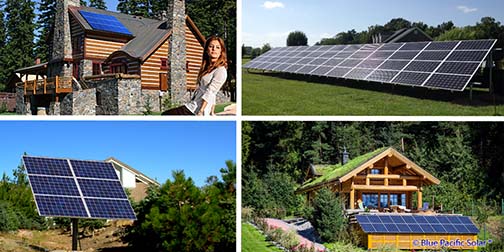 Do-it-Yourself & Save. Skip the markup and save up to 50% from national installers when you buy a solar energy system straight from the source. We can help you with the plans to install a solar system on your home or business. Get tips, advice & custom system design from seasoned experts that have been in the solar industry for years. Installing your mono or solar polycrystalline panels package & still receive the federal tax credits and local incentives.
Grid Tie Solar
Pre-Configured Engineered Grid-Tie Solar Systems Built Onto Your Building or Property that Connect Directly into the Utility Grid.
Off Grid Solar Kits
Off-Grid Systems are Power Systems That are Independent of the Utility Grid
Backup Systems
Backup Power & Self-Consumption Solar Installation Packages
Permit Document Service
NEC Code Compliant Plans & Documents
Go Solar
Solar Panels
Uncompromising Quality, Highest Efficiency & Performance, Best Warranties
Work With The Solar Experts & Save Money. Solar is Art to Us
See What the Sun's Free Energy Can Do For Your Life.
Go Solar
On Grid Solar Kit Features - Benefits
No more Electric Bills
Battery or Batterless
String Inverter Systems
Expandable On-Grid
Green Energy
Alternating Current AC
Enphase Energy Power Output
AC Power
20 kW Solar System
AC Power Inverter
Power Optimizers
Solar Inverters