Who We Are and What We Are About
Blue Pacific Solar® is an American company committed to fulfilling our promise of a safe shopping experience, exemplifying reliability, trustworthiness, and providing well-trained technical expertise to make your experience hassle free. Blue Pac Solar Corp.® has a national network of company operated and independently operated distribution centers.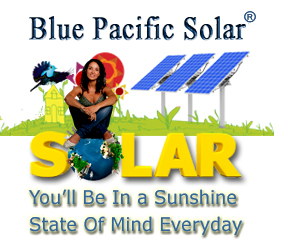 Blue Pacific Solar® places a value on the knowledge and insight of our associates and strategic partners. As a result, we establish business practices, based on the proven technology that we support. We are a learning company that seeks to distill best practices in our conduct and selection of products, services and vendors.
We believe our people are our greatest company asset. Therefore, we seek to provide opportunities for associates to set and achieve professional and personal goals including continual improvement of their skills and depth of knowledge as it relates to the services we provide. Because we support a strong family environment, we practice cloud based flex employment for those associates who's responsibilities can be met inside that environment. Our associates are measured by their results, not by the number of hours they put in away from home. We feel we can best serve our customers by choosing associates with strong technological skills while supporting a family environment. Because we support cloud based employment practices, we have the added benefit of reducing our carbon footprint by limiting unproductive commutes and office overhead which allows us to pass that savings on to our customer base. Cloud based employment practices adds value to the customers and communities we serve.
It is important to our company culture to give back in ways that enhance the quality of our environment of the larger community that supports us. We will endeavor to do this by marketing quality products with time tested warranties that best service the energy needs of our customers. We will accept no products that are not UL listed, time tested by the marketplace and from companies that honor their warranties with no hassle.
Experience the value of Blue Pacific Solar® & See What the Sun's Free Energy Can Do for Your Life™.