11 kW SolarEdge DIY Kit - with 28 USA Made 395 Watt Mission Panels
Solar Edge Benefits

SolarEdge's HD-Wave technology inverter breaks the mold of traditional inverters. Using a novel power conversion technology that is based on a distributed switching and powerful DSP processing.
Solar Edge Mission Panel Kit Features - Benefits
11,060 Watts Hourly During Sun Hour
11 kW Houry Energy During Sun Hours
MTTP -Maximum Power Point Tracking
1659 kW Monthly for 5 daily Sun Hours
55,300 Daily Watts for 5 Sun Hours
606 SF of Roof Space Needed For the Panels
Module-Level Monitoring
28 Each USA Made Mission Solar Panels
Pure Sign Wave Inverter
Panel takes about 22 SF ea. on the roof
10,000 Watt Output Inverter
SolarEdge S440 Optimizers
Rapid Shut Down
120 - 240 AC Volt Output
Set App Enabled
Intergrated Ark Fault Protection
What's Included with the Kit - What's on the Truck
PN SE-MI-395-11060 11 kW SolarEdge with 28 Each Mission Solar Panels Kit


28 - Mission 395W Solar Panels Black Frame
28 - SolarEdge Power Optimizers S440
1 - SolarEdge, SE10000 H-US HD-Wave, 1-Ph, Grid Tied Inverter, SetApp Enabled
PV Wire, 10AWG, UL4703 with H4, 600VDC as Required to Edge of Array
28 - Mounting Brackets for optimizers
Multi-Contact MC4 Unlocking Tool
SolarEdge Built In Module-Level Monitoring
SolarEdge Intergrated Ark Fault Protection
SolarEdge Smart Phone Commissioning
SolarEdge Built In Rapid Shutdown
1 Line Drawing; Full Instructive Three-Line Diagram of Entire DC Circuit, as Well as AC Lines to Your Metered Service Entrance.


SolarEdge Solar Panel Kit Pre-Engineered System
The SolarEdge 11 kW System Solution w/ Mission Mono Panels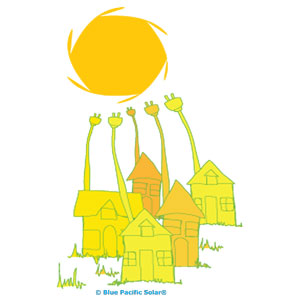 * Production = 1659 kW Per Month ● Assumptions: 395 Watt STC Panel Rating [Factory Rating; No Derate Factors Applied] @ 5 Sun Hours (Average).
Smart Power, Full Roof Utilization, More Energy
System owners enjoy the benefits of SolarEdge technology, which allows maximum power production through module-level maximum power point tracking (MPPT), optimal roof utilization through constraint-free design, and enhanced maintenance and accurate troubleshooting through module-level monitoring. Another benefit is the DC shutdown for installer, homeowner, and firefighter safety through SolarEdge's SafeDC™ mechanism.
More Power = More Savings on Your Energy Bill.
The inverter, which takes DC energy from the roof panels and converts it to AC, is the brain of the solar system. A smarter, optimized inverter can be the key to generating more energy than with other systems. How does this work? In traditional systems, installers connect solar panels in 'strings.' Just like with Christmas tree lights, where one failed bulb knocks out the other bulbs, one underperforming solar panel will lower the performance of an entire string. With an optimized inverter, power optimizers connect to the solar panels to enable them to perform independently. This results is more energy for your home.
Optimized installation with HD-Wave technology
SolarEdge's HD-Wave inverter is based on a novel power conversion topology that significantly decreases inverter size and weight, while also improving efficiency. Weighing in at only 25.3 pounds and measuring 17.7H x 14.6W x 6.8D (including safety switch), SolarEdge's HD-Wave inverter is the smallest and lightest inverter the company has ever manufactured, which enables faster and easier installation. The innovative inverter complies with safety and revenue grade standards including: integrated arc fault protection; integrated rapid shutdown for NEC 2014 and 2017 690.12; and optional revenue grade data, according to ANSI C12.20 Class 0.5 (0.5% accuracy). Consistent with all its other inverters, SolarEdge's HD-Wave inverter includes 25-years of free module-level monitoring and 12-year standard warranty.
By adopting a holistic approach to innovation, SolarEdge designed the HD-Wave grid tied inverter to support enhanced product reliability by using film capacitors instead of electrolytic capacitors. To enable faster comTrinaing, the HD-Wave inverter has automatic power optimizer identification and string assignment detection. In addition to offering standard SolarEdge design flexibility, the HD-Wave inverter enables 155% DC/AC oversizing.
Personal Technical Advisor
Line drawing questions or just stuck? No worries we have your back and will be here to help whenever you have questions about your purchased Kit. For orders larger than $4,000.00 a Technical Sales Team Group Captain will be assigned your account. Your Technical Advisors job is to coordinate all parts and pieces of your order and to work with you throughout the process. This support helps because we will be providing you with a single contact point to call with your questions. Your technical support contact does not replace the maufactures warranty technical support. DIY means you accept the responsiblity of reading and following the line diagram and other installation documents prior to tackling the installation.
NOTE: For detail support after installation customer must be willing or have the ability to connect to the SolarEdge monitoring platform. The monitoring platform software is free but requires and WiFi connnection to the inverter via RS485, Ethernet or ZigBee (optional) or cellular (optional) .
Mission Solar Panels Efficiency
Blue Pacific Solar® SolarEdge Kit is featured with Mission panels. Mission is a Texas leading Tier 1 panel comprehensive solutions provider for solar energy. Mission Solar distributes its solar products all over the USA, UL Listed.
Home Systems - Pre-Engineered DIY Thin Film Solar Panels Kits & Systems - On-Grid or Off Grid - Hybrid - Wind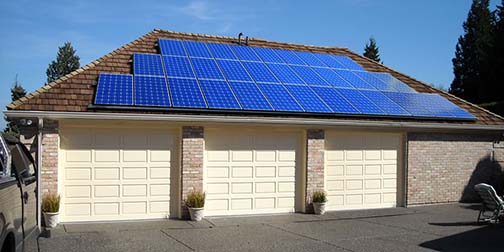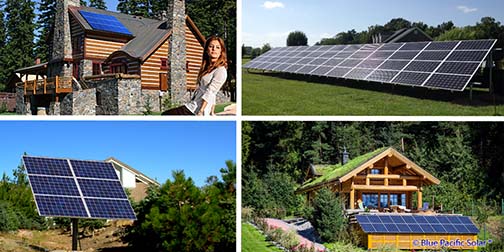 Do-it-Yourself & Save. Skip the markup and save up to 50% from national installers when you buy straight from the source. We can help you with the plans to install a solar system on your home or business. Get tips, advice & custom system design from seasoned experts that have been in the solar industry for years. Installing your mono or solar polycrystalline panels package & still receive the federal tax credits and local incentives.
Grid Tie Solar
Pre-Configured Engineered Grid-Tie Solar Systems Built Onto Your Building or Property that Connect Directly into the Utility Grid.
Off Grid Solar Kits
Off-Grid Systems are Power Systems That are Independent of the Utility Grid
Backup Systems
Backup Power & Self-Consumption Solar Installation Packages
Permit Document Service
NEC Code Compliant Plans & Documents
Go Solar
Solar Panels
Uncompromising Quality, Highest Efficiency & Performance, Best Warranties
Work With The Solar Experts & Save Money. Solar is Art to Us
See What the Sun's Free Energy Can Do For Your Life.
Go Solar