Hybrid Off-Grid Wind and Solar DIY Package w/ Mission US Made Panels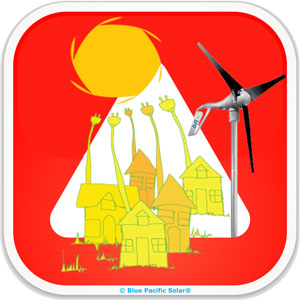 Hybrid Production = 46,575 Watts Per Day ● Assumptions: STC 345 Watt Solar Panel Rating [Factory Rating] @ 5.0 Sun Hours (Dec); Turbine Production Assumes Average Wind of 13 MPG with Proper Siting. Sun Hours should reflect the average value of total solar energy received in peak-sun-hours per day on an optimally-tilted surface during the month with the lowest solar radiation (not the yearly average). This is the best number to use in off-grid system design where the electrical demand is continuous or is not expected to vary seasonally and the system must be designed to operate year-round.
IMPORTANT: Amps AC Out; Define Your Needs: A Single Magnum inverter's continuous AC output current is limited to 30 AAC. The concern here is that the combination of your normal loads (Not Surge Loads) might exceed the inverters output current rating (Amps Out) on larger solar systems. It is critical in the design selection that you make sure the continuous AC load combination of your power requirements is at or below the 30 AAC output limit of the single Magnum inverter in these kits.
Technical Specifications: Primus Windpower Turbine (w/ built in charge contoller): Approx. 40 kWh/mo at 5.5 m/s (13 mph) ● 400W 48VDC 1-ARAR40-10-48-10-48 ( ● Optional Tower Kit Sold Seperatly
(See Below)) ● Energy = Approx. 40 kWh per Month [1,333 Watts per Day] @ 13 MPH Average Wind ● Startup Wind Speed 8 MPH ● Survival Wind Speed 110 MPH ● Mount 1.5 Inch Schedule 40 Pipe 48MM Outer Diameter. ● E-Panel MidNite MNEMS4448PAECL150-BMK power center 4.4 kW 120/240VAC 48VDC battery based inverter. ● The Primus Wind Control Panel (WCP) is a low cost analog control panel for use with AIR AR40-10-48. The WCP controls and monitors the AIR wind turbine and is equipped with a power On/Off circuit breaker, analog ammeter (indicating wind turbine current production) and a Stop/Run switch (for direct control of the turbine). A clearly marked rear terminal block is provided for easy interconnect of the two turbine wires and two battery power wires. It is a 5 A version for 48 VDC systems which are fully calibrated and ready for installation. The panel measures 3.5" x 5" and the Surface-mount black plastic enclosure allows for mounting of the WCP on a flat surface.
Primus AIR AR40-10-48 is the premier micro-wind turbine for land-based applications. It operates efficiently across a wide-range of wind speeds and is ideal for pairing with solar to off set seasonal variation, delivering more consistent energy. The Magnum inverter produces pure sine wave clean electricity drawing power from the energy stored in a battery bank. Mechanically and electrically engineered, every component has been specially selected to assure the highest performance with this safe simple-to-install kit.
The AIR AR40-10-48 is quieter, more efficient, and precision engineered to deliver more energy at lower wind speeds than any other wind generator in its class. Air Breeze is the next generation of Air turbines with more than 100,000 units sold in 120 countries makes it the world's most popular small wind turbine.
Magnum inverters are pre-wired in the power center installed on the MidNite MNE175STM-L -240 white steel E-Panel (MidNite Magnum MNEMS4448PAECL150-BMK power center) which include 1 Magnum MS4448PAE inverter / charger, ME-ARC50 remote display, a MidNite Classic 150 charge controller for up to 15 panels, WBjr current sense module for Classic provides the battery state of charge. 2 MNEDC panel mount breakers, 175 amp Battery Main Breaker, DC-GFP built into the Classic, Arc Fault Detector built into the Classic, 3 MNSPD (Surge Protection Devices), 1 MidNite BTS (Battery Temperature Sensor), 1 Magnum BTS. Additionally, we supply (installed by others) 1 MidNite Solar, circuit breaker, DIN Mount, 2-pole, 120/240VAC for additional AC out protection.
Personal Technical Advisor
Line drawing questions or just stuck? No worries we have your back and will be here to help whenever you have questions about your purchased Kit. For orders larger than $2,000.00 a Technical Sales Team Group Captain will be assigned your account. Your Technical Advisors job is to coordinate all parts and pieces of your order and to work with you throughout the process. This support helps because we will be providing you with a single contact point to call with your questions. Your technical support contact does not replace the maufactures warranty technical support. DIY means you accept the responsiblity of reading and following the line diagram and other installation documents prior to tackling the installation.
Mission Solar Panels 18.7% Panel Efficiency
Blue Pacific Solar® SolarEdge Kit is featured with Mission panels. Mission Solar Energy, proudly assembled in the USA, is headquartered in San Antonio, TX with module facilities onsite. Mission Solar hardworking team calls Texas home and is devoted to producing high quality solar products. Our supply chain includes local and domestic vendors. 25 Year Warranty, UL Listed.
Optional
Accessories
Augers - If the soil conditions make their use feasible, augers are the simplest anchors to install. Augers screw into the ground by use of a piece of wood, pipe or rod as a "cheater bar". If a mistake is made or if the tower must be removed an auger can be "unscrewed" out of the ground and reused. Augers depend on the soil holding together for their strength and are not suitable for sand or loose gravel. If the soil is rocky or clay-like you may have difficulty screwing them in. An auger is usually installed by screwing it straight into the ground a few inches to get it started and then tilting it to the desired angle and continuing. A substantial downward pressure is usually necessary to get an auger started. Screw the augers in as far as possible for the greatest strength.