web solar
Store
Our Solar permit service is available along with our home and business solar packages to help you with the process of obtaining a building permit to install your solar kit. The permit service is custom tailored for your solar system for your local jurisdiction. We guarantee the documents will be approved by your local permit officials or your money back.
Only: Learn More
Off the Grid Solar Kits, Customized, Ready to be Installed
Off-Grid Systems:
Planning, Design & Installation Tips:
Off-Grid Living; Energy Conservation:
Resource Documents:

Planning an Off-Grid Electric System
A typical stand-alone system consists of solar panels and or a small wind turbine to generate electricity connected to a charge controller which controls the pace at which batteries are recharged which is connected the battery bank. You will then need an off-grid inverter to convert the DC (Direct Current) electricity stored in the battery bank to AC (Alternating Current) electricity which is more commonly used in home appliances.

Years ago the high cost and poor reliability of early off-grid systems discouraged many except for the hardiest pioneers. Today solar, wind and hybrid systems have become so main stream that even families well within the utility power line reach are choosing to go off the grid.
At Blue Pacific Solar we believe that with the improvements in modern off-grid inverters, energy efficient lighting, propane and DC appliances, cheap price of quality solar panels and careful design considerations means stand-alone systems need not rely on backup fossil fuel generators.
The starting point in planning your system is to first reduce demand. (Click on the tab above "Off-Grid Living Energy Conservation" for some tips.) Most people in America can easily cut their electricity consumption in half. Reducing your family's energy consumption by conserving and investing in watt saving home lights and efficient appliances means you are putting your money in your pocket and can substantially reduce the amount of off-grid equipment and or battery bank. As you begin your journey towards freedom from the grid, start by conserving as much as possible first. Its always cheaper to save electricity than to generate electricity. Most off-grid generation is used for lighting, appliances like refrigerators and water pumping. Lighting is the easiest to tackle. Don't stop at compact florescent lights, go all the way to LED which can use 1/6th the watt consumption of compact florescent lighting.
Here are some questions your will need to answer to get started choosing the right off-grid system for you:
List your loads. How many watts per day do you expect your equipment to consume? The most important challenge in an off-grid system is to balance your energy consumption with your solar or wind turbine energy supply.
TIP: No easy way around this so get out a pencil and start listing everything you want to run and how long you usually run it. IE: 5 - 13 watt light bulbs X 5 hours per day = 65 watts. THIS IS IMPORTANT: When we say "list your loads", we mean all your loads from the cell phone chargers to a hair dryer. Energy Load Worksheet
How many days without sun or wind do you want to be able to run? (Days of Autonomy)
What is the largest load you expect to run (Watts / Amps / Volts IE: 240V Well Pump @ 9.5 Amps)
What is your budget?
TIP; The use of energy-efficient appliances and lighting, as well as non-electric alternatives such as a propane stove and refrigerator should be considered first. Every watt you save will help to lower the cost of your off-grid system.
small to midsized OFF-GRID BATTERY BASED SOLAR POWER SYSTEMS
Off-grid living is a lifestyle where more can be less. From off-grid home to weekend get-a-way, these off-grid kit will provide you just enough power to fit your needs. First take some time and check out the tabs above that are designed to help you choose the right system for you, then scroll down and select the kit that works best for your chosen lifestyle.
| | Item # | Description | Daily Watts @ 5 Sun Hours /Day STC* | # Solar Panels | Price Per Watt | Price before 30% Federal Tax Credit |
| --- | --- | --- | --- | --- | --- | --- |
| 290 Watt DC | BP1800141 | 290 WATT DC SYSTEM | 1,450 Watts | 1 - 290W | $3.10 | |
| 500 Watt DC | BP3600126 | 500 WATT DC SYSTEM | 2,500 Watts | 4 - 125W | $3.75 | |
| 810 Watt AC | BP3600130 | 810 WATT AC SYSTEM | 4,500 Watts | 6 - 125W | $5.43 | |
• Off-Grid – Utility Grid Power is not available for use.
• On-Grid – Utility Grid power is available for use. Does not imply the ability to sell power back to the utility grid.
• Grid-tie, Grid-interactive, Grid-intertie, Bimodal – Utility Grid Power is available for use and the system is capable of returning (selling) electricity back to the utility grid.
What's the difference between watts and watt hours?
Watt and watt hours are often interchanged, misused and can be just plain confusing. A watt (W) is a measurement of power which is the rate of electricity that is being generated or consumed. A watt hour (wh) is the same energy over a period of time. A light bulb rated at 20 watts, in 1 hour it will consume 20 wh of energy, and in 5 hours the same light bulb will consume 100 wh of energy. 1 watt hour (wh) = 1 watt of power supplied for 1 hour. Think of watts (w) as the speed you're running and watt-hours (wh) as the distance you ran. Ok professor, need to go deeper? One joule per second is a measurement of the rate of power flowing. 1 watt is a unit of energy equal to the power of one watt operating for one hour or 3,600 joule's.
OutBack FlexPower ONE Battery Based Off-Grid Kits
The FlexPower ONE pre-wired power system integrates one inverter/charger, one charge controller, and all the essential breakers and surge controllers in a small space at a low install cost. These pre-configured off-grid kits are ideal for applications with modest power requirements, such as cabins, chalets, homes, remote communication sites, and backup power systems. Grid-tie or off-grid inverters are available.
| FlexPower ONE | Item # | Voltage DC (Battery) / AC | Daily Watts @ 5 Sun Hours /Day STC* | # Solar Panels | Price Per Watt | Price before 30% Federal Tax Credit |
| --- | --- | --- | --- | --- | --- | --- |
| 980W FP1 Kit | FLEX1-24-980 | 24 / 120VAC | 4,900 Watts | 4 - 245W | $6.02 | |
| 1470W FP1 Kit | FLEX1-24-1470 | 24 / 120VAC | 7,350 Watts | 6 - 245W | $4.30 | |
| 1470W FP2 Kit | FLEX1-48-1470 | 48 / 120VAC | 7,350 Watts | 6 - 245W | $4.30 | |
| 1960W FP1 Kit | FLEX1-24-1960 | 24 / 120VAC | 9,800 Watts | 8 - 245W | $3.52 | |
| 1960W FP2 Kit | FLEX1-48-1960 | 48 / 120VAC | 9,800 Watts | 8 - 245W | $3.52 | |
| 2450W FP2 Kit | FLEX1-48-2450 | 48 / 120VAC | 12,250 Watts | 10 - 245W | $3.03 | |
| 2940W FP2 Kit | FLEX1-48-2940 | 48 / 120VAC | 14,700 Watts | 12 - 245W | $2.67 | |
| 3430W FP2 Kit | FLEX1-48-3430 | 48 / 120VAC | 17,150 Watts | 14 - 245W | $2.47 | |
If you want your OutBack kit to have the option to be grid-interactive, you can request in the comment box at checkout to substitue either the OutBack FlexPower FP1-3 (24V Battery Bank) or FP1-4 (48V Battery Bank) and your wish is our command, no additional charge.
FP1-3 / FP1-4 - Because few gas generators produce grid quality AC power, when using OutBack grid-interactive products in conjunction with a generator to recharge batteries, Outback only recommends using Honda EU generators. Flexware relay assembly may be necessary for auto start function of a two wire auto start generator.
Even a small amount of shade is a bad thing.
When a solar panel is even slightly shaded, it is severely impacted. For example, the module shown to the right has 2% of its cell area shaded. The power output of the panel is reduced by 33% – a 17:1 impact factor! This is true even if a microinverter or power-optimizer is used. Look out for even small shade factors like overhead power lines or vent pipes in roofs.
MidNite Solar | Magnum Energy OFF-GRID / ON GRID BATTERY BASED POWER SYSTEMS
These MidNite Solar E-panel, Magnum Energy off-grid / on-grid kits combines one of the worlds best top brand inverters and charge controllers; shipped pre-wired with the highest quality Canadian Solar panels at affordable prices. Mechanically and electrically engineered, every component of this kit has been specially selected to assure the highest performance in a safe simple-to-install kit. MidNite Solar E-panel, Magnum Energy, Canadian Solar panels, and MidNite combiner box, lighting arrestor and breakers. Ideal for applications with medium power requirements such as off-grid cabins, homes and back-up power systems. These pre-wired power systems are ready to hang and connect. American companies producing products made in America, creating American jobs. We like it... a lot!
| MidNite / Magnum | Item # | Voltage DC (Battery) / AC | Daily Watts @ 5 Sun Hours /Day STC* | # Solar Panels | Price Per Watt | Price before 30% Federal Tax Credit |
| --- | --- | --- | --- | --- | --- | --- |
| 490W MM1524AE | Mag1524AE-490 | 24 / 120VAC | 2,450 Watts | 2 - 245W | $7.79 | |
| 980W MM1524AE | Mag1524AE-980 | 24 / 120VAC | 4,900 Watts | 4 - 245W | $4.28 | |
| 1470W MM1524AE | Mag1524AE-1470 | 24 / 120VAC | 7,350 Watts | 6 - 245W | $3.14 | |
| 1470W MS4024PAE | Mag4024PAE-1470 | 24 / 120/240VAC | 7,350 Watts | 6 - 245W | $4.21 | |
| 1470W MS4448PAE | Mag4448PAE-1470 | 48 / 120/240VAC | 7,350 Watts | 6 - 245W | $4.21 | |
| 1960W MS4024PAE | Mag4024PAE-1960 | 24 / 120/240VAC | 9,800 Watts | 8 - 245W | $3.38 | |
| 1960W MS4448PAE | Mag4448PAE-1960 | 48 / 120/240VAC | 9,800 Watts | 8 - 245W | $3.38 | |
| 2450W MS4448PAE | Mag4448PAE-2450 | 48 / 120/240VAC | 12,250 Watts | 10 - 245W | $2.90 | |
| 2940W MS4448PAE | Mag4448PAE-2940 | 48 / 120/240VAC | 14,700 Watts | 12 - 245W | $2.57 | |
| 3430W MS4448PAE | Mag4448PAE-3430 | 48 / 120/240VAC | 17,150 Watts | 14 - 245W | $2.37 | |
| 3675W MS4448PAE | Mag4448PAE-3675 | 48 / 120/240VAC | 18,375 Watts | 15 - 245W | $2.34 | |
| 3920W MS4448PAE | Mag4448PAE-3920 | 48 / 120/240VAC | 19,600 Watts | 16 - 245W | $2.24 | |
| 4410W MS4448PAE | Mag4448PAE-4410 | 48 / 120/240VAC | 22,050 Watts | 18 - 245W | $2.15 | |
What Inverter Should Your Choose?
To determine the size of the inverter needed in your application, add up the demand from all your appliances that are likely to operate at the same time (Watts & Amps). The inverter should be sized to handle both the surge (start up) requirements as well as the continuous run or duty demand over extended times for equipment like refrigerators, well pumps and washing machines. Small appliances often times require 2X their amps to turn over the locked rotors of the motors. Deep well pumps can be 3X the continuous run amps.
OutBack FlexPower II Battery Based Off-Grid Kits
The OutBack FlexPower II pre-wired power system integrates up to 2 inverter/chargers and all of the essential protective devices in an easy-to-install, fully pre-wired, that is tested by factory trained technitions before it is shipped. The FlexPower II can be used for for either grid-tied or off-grid applications with medium sized power requirements, such as homes, light commercial, or larger backup power systems.
| FlexPower II | Item # | Voltage DC (Battery) / AC | Daily Watts @ 5 Sun Hours /Day STC* | # Solar Panels | Price Per Watt | Price before 30% Federal Tax Credit |
| --- | --- | --- | --- | --- | --- | --- |
| 3920W FP2-10 Kit | FLEX2-48-3920 | 48 / 120 | 240VAC | 19,600 Watts | 16 - 245W | $3.03 | |
| 4410W FP2-10 Kit | FLEX2-48-4410 | 48 / 120 | 240VAC | 22,050 Watts | 18 - 245W | $2.80 | |
| 4900W FP2-10 Kit | FLEX2-48-4900 | 48 / 120 | 240VAC | 24,500 Watts | 20 - 245W | $2.66 | |
| 5390W FP2-10 Kit | FLEX2-48-5390 | 48 / 120 | 240VAC | 26,950 Watts | 22 - 245W | $2.51 | |
| 5880W FP2-10 Kit | FLEX2-48-5880 | 48 / 120 | 240VAC | 29,400 Watts | 24 - 245W | $2.38 | |
If you want your OutBack FlexPower II kit to have the option to be grid-interactive, you can request in the comment box at checkout to substitue for the OutBack FlexPower II FP2-29 (48V Battery Bank) and your wish is our command, no additional charge.
FP2-28 / FP2-29 - Because few gas generators produce grid quality AC power, when using OutBack grid-interactive products in conjunction with a generator to recharge batteries, Outback only recommends using Honda EU generators. Flexware relay assembly may be necessary for auto start function of a two wire auto start generator.
Tare Losses; Off-Grid Every Watt Counts
Tare loss is energy that is required to run when the system is in idle mode. Every watt is gold in an stand-alone system and conserving energy is critical. The "No Load" or idle mode is a specification to look at very closely. There is wide variance between the quality inverters and cheap imports for tare losses.
If you do knot see a standard pre-engineered kit that meets your needs we will custom design one for you. Simply fill out the "Contact Us" form (Top RH Tab), and tell us about the size system you are looking for, what you want it to power per day.
Magnum MS4448PAE2 OFF-GRID / ON GRID BATTERY BASED POWER SYSTEMS

The Magnum MS4448PAE2 inverters mounted on Magnum enclosures have been specifically designed to combine all of the major components required for a high power renewable energy system. These pre-wired kits come with MidNite Classic 150 charge controller, inverter / battery disconnect, AC overcurrent protection, grounding connections, and a full system inverter bypass switch as a convenient way to isolate the inverters for battery maintenance, into easy to install pre-wired enclosures. Designed for multiple inverter applications, the MP Series enclosures feature convenient front panel operations. In addition to saving time and money by providing a simple and convenient inverter installation, the Magnum MS4448PAE inverters ensure safety and reliability by providing a UL and CSA certified and code compliant system.
| Magnum 4448PAE2 | Item # | Voltage DC (Battery) / AC | Daily Watts @ 5 Sun Hours /Day STC* | # Solar Panels | Price Per Watt | Price before 30% Federal Tax Credit |
| --- | --- | --- | --- | --- | --- | --- |
| 3920W MS4024PAE2 | Mag4448PAE2-3920 | 48 / 120/240VAC | 19,600 Watts | 16 - 245W | $3.06 | |
| 4410W MS4024PAE2 | Mag4448PAE2-4410 | 48 / 120/240VAC | 22,050 Watts | 18 - 245W | $2.83 | |
| 4900W MS4024PAE2 | Mag4448PAE2-4900 | 48 / 120/240VAC | 24,500 Watts | 20 - 245W | $2.81 | |
| 5390W MS4024PAE2 | Mag4448PAE2-5390 | 48 / 120/240VAC | 26,950 Watts | 22 - 245W | $2.71 | |
| 5,640 Watt Kit | BP3600099 | 48 / 120 | 240VAC | 21,150 Watts | 24 - 235W | $2.39 | |
| 5,880 Watt Kit | BP3600100 | 48 / 120 | 240VAC | 29,400 Watts | 24 - 245W | $2.62 | |
*STC - To learn more about solar panels and how they are measured you need to know what STC stands for. STC in an acronym for "Standard Test Conditions". All solar panels are rated in Watts. The watt rating is how much power (amps times volts) the panel will produce in full sunlight at 25 degrees C (77F). This is the industry standard (STC) for all PV panel ratings (PV means Photovoltaic which is a fancy word for solar). Solar panel manufactures have long used this test standard which is 1,000 watts per square meter solar irradiance, 1.5 Air Mass and a 25 degrees C. cell temperature.
PTC is an acronym for "PV-USA". The PV-USA test conditions were developed at the PV USA test site at the University of Davis, California for standards established by the California Energy Commission that are considered closer to real world conditions (Real World Vs. STC factory test conditions). The PTC rating test is 1,000 watts per square meter solar irradiance, 1.5 Air Mass, and 20 degrees C. ambient temperature at 10 meters above ground level and wind speed of 1 meter per second. In California, solar panels manufactures must be tested and rated independently at the PV USA test facility at the University of Davis (CA) to be considered for rebates.
The ambient temperature rating (PTC) is generally considered a better real world standard than factory conditions because silicon solar cells average about 20 degrees C. above ambient temperature in the real world, cell voltage drops as temperature increases. A module's power output in real life conditions is lower than the power measured at the panel manufacturing factory where cell temperature is maintained at a controlled 77 degrees F. (25 C).
STC Vs. PTC Cell voltage drops about 0.08 volts per degree C. in environments which exceed 25 degrees C. That means an STC rating of 17 volts can actually become a PTC (PV-USA) rating of 15 or 16 volts. Using Ohm's Law, volts times amps is equal to watts which equals power, so a reduced voltage, means reduced watts.
Neither PTC nor STC account for all "real-world" losses. Actual solar systems will produce lower outputs due to soiling, shading, module mismatch, wire losses, inverter and transformer losses, shortfalls in actual nameplate ratings, panel degradation over time, and high-temperature losses for arrays mounted close to or integrated within a roofline.
**Freight Shipping (Freight Delivery is Dock to Dock)
Item that are too large or heavy to ship UPS are shipped by ground freight. In circumstances where we offer freight shipping, free or otherwise, that means dock to commercial dock (not residential) to any of the lower 48 states. If the customer does not specify a local commercial dock that is available, we will ship to the nearest terminal where the shipment will be held for will call pick up by the customer. If you choose to have your order shipped to your residence, most orders require special handling for unloading and the pallet has to be transferred to a truck with a lift gate. In most cases, truck freight companies do NOT require their drivers to unload shipments. An additional "Residential" as well as a "Lift Gate" special handling fee will apply if the driver unloads the merchandise to the curb at your residence. The special handling fee is $89.00 and is available at checkout. If you have selected this add on service, the shipping carrier will call and schedule delivery of your solar kit, (provided the weight and dimensions of the product fits the criteria for lift gate service). You can avoid the residential and lift gate fees by arranging a "Will Call" pickup at the closest freight company terminal. In that case, you will need a pickup truck, a copy of the bill of laden, and a photo ID. When you arrive at the freight company terminal, the freight company will load your order into the bed of the truck with their forklift. The most common pallet size = 65" X 44" (Height depends on Product). Be sure and check for hidden damage.
Estimate Your Loads and Select a Voltage
Appliance & Equipment Load List: List and add up your daily electrical equipment load demand in watt hours (wh):
Watt hours (wh) and amp-hours (aH); Watts = Amps X Volts. Watt hours are the most common measure of electricity usage and are the easiest to understand. Amp Hours = Watt hours / System Voltage. Many professional system designers will use amp hours to size a system because amp hours takes into account real world behavior of solar panels and battery banks. Either method will arrive at the same conclusion if done properly. For our purposes here, we will primarily use watt hours (wh) when sizing the number of solar panels (and inverter) and amp hours (aH) for our battery selection.
Energy Load Worksheet
System Voltage:
TIP; Higher voltage means less resistance which allows equipment to run cooler. Cooler electrical equipment = longer life.
Your system voltage means the nominal voltage you select for your battery bank, charge controller and inverter (if you are planning to use one). Here are some things to consider when choosing your systems voltage:
The DC system voltage is established by the battery bank in off-grid systems. A major factor in making this decision is how much power will be required from the batteries. As power demands increase it is advisable to raise the battery voltage. This voltage is important because establishes the type of charge controller and inverter that will be selected. The selection of the battery bank voltage affects the currents. A 1200 watt off-grid system operating at 12 volts draws 100 amps. (1200w / 12v = 100A). The same system draws only 25A at 48 volts. Lower amps reduces the size of conductors, over current protection devices, disconnects and charge controllers. Additionally, since voltage drop and power losses are smaller at lower amps, higher voltage off-grid systems are more efficient. As a rule of thumb, off-grid systems up to 1000 watts use a minimum 12 volt battery bank which limits DC currents to less than 84 amps. For 2000 watt systems, 24 volt battery banks are used. For 5000 watt system a 48 volt battery bank should be selected.
TIP; How long each day does a refrigerator run? 120VAC Refrigerators can be a large load for off-grid systems or they can be no draw. How often a refrigerator will run during a 24 hour day depends on many factors and will vary from home to home for the same refrigerator. Some of the variables include; the room temperature throughout the day, how full your refrigerator is (Full refrigerators run less often once the contents are cooled), and how often you open the door throughout the day. You can lower the run time of your refrigerator by turning off the automatic defrost function and keeping your refrigerator full. One off the grid living tricks is to keep full jugs of water in a 1/2 full refrigerator. Once the contents of the refrigerator are cooled, an energy efficient model in your home that is full might be expected to run 24% - 35% of the time with a room temperature of 70 degrees or about 6 hours out of 24.
Daily Off-grid System Charge Requirement in Amp Hours:
Since the energy output to the loads must be balanced by the energy input from your solar panels and or wind turbine, we need to calculate your daily charge requirement in amp hours as that number will come in handy later. Take your total daily watt hours x 20% (rule of thumb) to account for losses in inverter, circuits and wire transfer. Now divide by the system voltage you chose based on the previous section and write this number down. This is the charge in amp hours your solar panels will have to provide each day to meet your load requirements you have set. Example 5,000 watts daily load total X 20% = 6,000 watts / 48 volt system = 125 amp hours that will need to be generated.
How Electricity is Measured
Power - Measured in Watts
Intensity of Current - Measured in Amps
Electronmotive Force (EMF) - Measured in Volts
Resistance - Measured in Ohms
Size Your Solar Panel Array
Input Must Equal Output.
(A) The size and or number of solar panels is calculated from the total energy requirements + allowing for wire and inverter transmission loss (20% rule of thumb) less the lowest solar irradiance available in the area of the system which is usually the shortest daylight month of the year (December).
(2) Next look at the solar irradiance near your area from our lowest peak sun hour resource map. Find the nearest city to your home and write down the lowest daily sun hours. Divide your daily load calculation (+ 20%) use by lowest sun hours per day. For example, if the daily average electricity load demand is 5,000 watts, and the site is in Salt Lake City UT, you would take 5,000 watts X 20% / 4 sun hours = 1,500 watt solar array. That means if you choose 235 watt panels you would need 6.39 rounded up = 7 - 235W solar panels. Especially for off-grid systems its a good idea to always round up, but this is where your budget comes into play and a personal choice to aggressively manage your daily energy usage.
TIP; Match the Number of Solar panels to the Battery Capacity: After you finish sizing the number of solar panels you need to off-set your load requirements, you will need to consider whether the panels power and your battery bank's capacity are sized to work together, or are matched, within reason. You will want the solar panel array to have the capacity to ideally fully charge your battery bank on the shortest day of the year or be prepared to lower your power needs during the wintertime. If the off-grid array is too large, you waste money and power because your charge controller will not send all the current the solar panels produce because your battery bank will not be capable accepting too much power too quickly. If the solar array is too small, it will not be able to fully charge your battery bank.
Evaluating your off-grid site is similar in many ways to grid interactive site evaluations. Key Considerations:
Check out areas available to install your solar kit. A few things to consider; array dimensions, orientation, tilt and obstructions. For off-grid installations, ground mount systems are the most popular. (Top-of-Pole or Rack Mounted)
Shading of array location. This is important in any solar installation but a must in off-grid systems.
TIP; If you do have some shading issues and your system is less than 3kW, we do have an off-grid Enphase system you may want to consider.
Roof type and age.
TIP; If you plan on re-roofing within 5 years but are not ready yet, some homeowners will replace only the shingles located under the solar array when the panels are installed and leave the rest for later.
Battery Bank and Inverter Location.
TIP; Solar cells are activated by visible light not ultra-violet or infra-red. Solar panels produce electricity when exposed to sun light, but plan to keep your inverter and battery bank in the shade and or indoors. Inverter and charge controllers should be located as close to the battery bank as possible.
Battery Sizing and Selection
Choosing your battery:
Battery bank sizing is the part of the off-grid system that has a higher probability of causing you problems that other parts of your system. Use the battery sizing worksheet to help you through this critical stage. Factors such as your budget may tempt you to look to cheaper battery alternatives, but a quality battery will pay off over the years. We recommend you choose a 2V or 6V battery and connect them in series so that the total equals the system voltage you initially selected.
To properly design a battery bank, you need to account for the storage capacity required, the maximum discharge rate (the sum of all the loads which might be run simultaneously), the maximum charge rate (the current output from the solar array or wind turbine though the charge controller), and the minimum ambient temperature at which the batteries will be used. Whichever of these factors requires the largest capacity will dictate the size of the battery bank. The storage capacity of a battery the amount of electrical energy it can hold is usually expressed in amp-hours (Ah). Using one amp for 100 hours means 100 Ah have been used. A battery bank in a off-grid solar power system should have sufficient capacity to supply needed power during the longest expected period of cloudy weather. A lead-acid (vented or sealed AGM) battery should be sized 20% to 50% larger than this amount.
TIP; Only similar batteries should be connected together in one bank. Do not connect old and new batteries or wet and gel cell batteries together.
Battery Sizing Worksheet
Use this worksheet to determine what size battery bank is required for your system. Battery size, or capacity, is measured in amp-hours. Battery voltage is determined by the number of "cells" in series. All lead-acid battery cells have a nominal output of 2 VDC. Actual cell voltage varies from about 1.7 VDC at full discharge to 2.4 VDC at full charge. 12 VDC lead-acid batteries are made of 6 separate cells in one case. 6 VDC batteries are made of 3 cells in one case. Putting battery cells in parallel increases amp-hour capacity, but does not change voltage.
Battery Sizing Worksheet
Tip: An off-grid battery bank should be large enough to deliver about 3 days of power with a discharge of no more than 50% of the battery banks total capacity. Less than 3 days and your charge and discharge number of cycles will shorten the life of the battery bank.
Battery bank sizing is the capacity to store electrons and is expressed in amp hours (AH) and at the rate the battery will charge or discharge not the physical size of the battery. Be careful when you are considering the Ah capacity of a battery and compare batteries that are advertising a 20 Ah discharge and not more (An apples to apple thing). Choose the 20-hour rate when sizing and selecting batteries.
Off-grid or backup battery banks can be made up of many small batteries which are connected in series and or parallel to give you the wattage (Volts X Amps) capacity needed. As a rule of thumb, battery banks with lower voltage (large cells) are going to last longer, take less work to maintain but are going to cost more initially. Keep your battery bank the same age, size and brand. Mismatched batteries will cause the smaller ones to have to work harder and the larger ones to coast and sulfate. (That's a bad thing)
Though both methods of calculations, (watts Vs. Ah), will get you to the same conclusion, here is an example of a battery bank sizing calculation using Ah.
6,000 AC Wh Average daily load ÷ 0.9 Inverter Efficiency = 6,667 Wh/day.
6,667 Wh/day ÷ 48 DC system volts = 138.9 Ah per day.
138.9 Ah per day X 1.11 battery temperature derate multiplyer x 3 days of autonomy ÷ 0.5 DOD (Depth of Discharge) = 925.1 total system Ah.
925.1 total system Ah ÷ 325 Ah individual battery capacity = 3 parallel battery strings (rounded up from 2.85)
48V system voltage ÷ 6V battery voltage = 8 batteries in series
3 parallel strings X 8 batteries = 24 total 325 Ah batteries needed for the system.
This Ah battery calculation shows that a battery bank of 24 325 Ah batteries will provide ample energy storage in this example to meet the daily requirements, inverter loss, cold temperature inefficiency and days of autonomy while keeping the DOD above 50%.
Tip: The number of batteries or series strings of batteries connected in parallel should be limited to no more than 3 per charge controller. This minimizes the chance of unequal charging from one battery or string to the next and will increase the life of the batteries all other things being equal.
Battery State-of-Charge
Battery state-of-charge (SOC) can be measured by an amp-hour meter, voltage or by specific gravity. Some care and knowledge is required to interpret state-of-charge from voltage or specific gravity readings. We recommend amp-hour meters for all systems with batteries. An amp-hour meter is like a fuel gauge for batteries and provides all the information needed to keep batteries charged. At a glance, the user can see system voltage, current, and battery condition.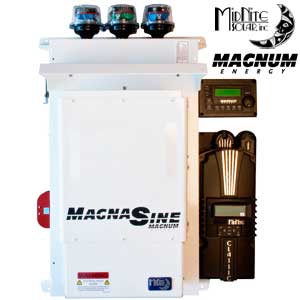 Charge Controller & Inverter
Choosing your charge controller:
A charge controller is an electronic voltage regulator used in off-grid solar and wind systems with battery banks to properly control the charge from the solar panels or wind turbine keep the voltage to the battery bank within acceptable limits. The charge controller automatically tapers, stops, or diverts power when batteries become fully charged. Without a charge controller your solar panels or wind generator would continue to send electricity to the battery bank and eventually destroy your batteries.
Your charge controller will:
Provide an optimum charge to the batteries.
Prevent your battery bank for being overcharged from your solar panels or wind turbine.
Prevent unwanted discharging.
Provide information on the state of charge of the battery bank.
Modified Sine Wave Inverters(Sometimes Called Square Wave)
You can save a few dollars by purchasing a modified sine wave over a pure sine wave inverter but consider this first before you buy. Modified sine wave inverters may not run:
• Laser printers, photocopiers, and anything with an electrical component called a thyristor
• Anything with a silicon-controlled rectifier (SCR), like those used in some washing machine controls
• Some laptop computers (Apple Products can be particularly fussy about their energy source)
• Some fluorescent lights
• Some new furnaces and pellet heaters with microprocessor controls
• Digital clocks with radios
• Appliances having speed controls
• Medical equipment should not be power with modified sine wave inverters.
Because the total harmonic distortion is higher in modified sine wave inverters, motors will run hotter and not last as long. You may hear a buzzing from your stereo system and you might see lines on your TV screen.
The simplest charge controllers cut the power when the battery reaches a set voltage, and turn it on when a low voltage set point is reached. Pulse width modulated (PWM) charge controllers turn on and off very rapidly, maintaining the batteries at full charge with whatever power is available. Maximum power point tracking (MPPT) charge controllers optimize the voltage of the solar panels or wind turbine to maximize total power output then convert that to the correct voltage to charge the battery. This process significantly increases the power from a solar array, particularly in low temperatures when battery voltage is significantly below the solar array voltage. Most MPPT charge controllers work with higher array voltages, enabling the use of larger solar panels, which can be more economical on a cost per watt basis. A higher voltage solar array also minimizes the required wire size between the array and the charge controller. While more expensive than PWM controllers, MPPT charge controllers can boost system performance significantly by up to 30%.
Blue Pacific Solar sells Midnite Solar, Outback Xantrex and Morningstar charge controllers. All these companies have take much of the work out of the technical calculations required for properly sizing a charge controller with their string calculators. On all our off-grid pre-engineered packages, we have matched the right sized charge controller with the package for you.
Choosing your Off-grid Inverter:
Living off the grid means you will be generating, storing and processing every watt your off-grid home or cabin sucks up. If your cabin is going to need AC power, then an off-grid AC inverter is going to be of particular interest to you because you will be depending on it day in and day out.
Off-grid inverters are sold either sine wave or modified sine wave. Sine wave output, which has low total harmonic distortion, will power virtually any type of load, even sensitive audio electronics. Modified sine wave inverters may not run some types of equipment satisfactorily, and some loads won't run at all.
An off-grid inverter must supply enough power to meet the needs of all the appliances running simultaneously. Before selecting an inverter, you must know the watts your appliances will require and their amp and surge needs. Sizing an inverter for an off-grid system, which is based on instantaneous load, is very different from sizing a grid tied inverter, which is determined by the solar panel array size. A grid tied inverter's job is simply to convert all the DC electricity from the solar array into AC power, which is fed back into the house electrical system then onto the grid if production exceeds the homes energy consumption. In a grid tied system, the inverter is not responsible for meeting the AC loads, since practically unlimited utility power is available. In the case of an off-grid inverter, the inverter has to provide enough energy to all the AC loads, sometimes at the same time. Say you need to simultaneously power 3,000 Watts from various appliances. For an off-grid system, you'd need an inverter that could supply at least that amount. Note that the solar array size does not enter into this inverter sizing since the inverter pulls its power from the battery bank.
Blue Pacific Solar only sells inverters that meet Underwriters Laboratories (UL) 1741 standards. So if you are on the fence between two choices of inverters, you might ask and find out if it is UL listed and is it an inverter specifically made for off-grid solar or wind applications.
Inverter Surge Capacity
The ability of an off-grid inverter to surge to a higher level than its rated continuous output for a short duration to turn over the locked rotor of large loads like well pumps is critical. The inverter specifications that should be looked at are the Maximum Output Amps and the AC overload capability. If there are large loads a good number to look for is a five second surge capability of at least 1 ½ times the rated output of the inverter. If you have a deep well pump, the minimum requirement may be 3X the continuous run amps.
Wire Size Electrical Distribution Parts
Combiner / circuit breaker box is a key piece of equipment that begins to bring the pieces of equipment together that allows you to generate electricity. We use almost exclusively Midnite Solar and OutBack combiners and breakers because they are safe, durable and easy to wire. NEC (National Electrical Code) says that each series of strings of panels are to be wired to it's own circuit breaker. Midnite Solar and OutBack combiner boxes make this task easy providing a breaker to turn off and on each string for any purpose. The combiner box is usually located directly under a ground mount array.
Wire size and breakers are the final items in your off-grid design to consider, but no less important. To have a safe off-grid system, you will need to install breakers and choose the right size wire. If you select one of our pre-wired power systems with your kit, we do all the heavy lifting for you because right size breakers are pre-engineered and pre-wired into each of our power centers. You simply have to hang and connect it following our wire diagram which is supplied with all our kits. It is no accident you will only find Midnite Solar and OutBack combiner boxes built into our off-grid systems. They are reliable, UL listed and simple to install.
The distance between the combiner box, which is usually located near the solar panels, and the charge controller will be a factor in choosing the best string voltage for the charge controller and battery system. The higher the input voltage the smaller the wire can be for any given amount of power. For example, a system with a 12 volt battery and solar panels consisting of four 6.75 amp 12 volt DC nominal modules located at a distance of 40' from the batteries could have the modules wired in series, parallel or series and parallel. Input design possibilities in this example are 12, 24, and 48 volts DC. If the panels was configured with the panels wired in parallel the input voltage would be 12 volts DC with an input current of 26 amps. The same panels wired in series would have an input voltage of 48 volts DC and an input current of 6.5 amps. In this example #1, the 26 amp 12 volts DC panels #1/0 wire, which is prohibitively expensive, would be required to limit voltage drop to 2% which is recommended for 12 volt DC systems. The same panels wired for 48 volts dc would only require a #8 wire. With the #8 AWG wire the 12 volt dc panels would have to be within 7' of the batteries. The distance that #8 wire can be used is over 5 times greater at 48 volts DC than 12 volts DC.
The amount of current (amps) traveling through any electrical circuit depends on the size of the wire (AWG), the voltage of the array or battery bank, and the one way distance of the wire run. Lower AWG gauge wire has less resistance than larger gauge wire. The longer the distance of your wire run while using lower voltage the larger gauge wire you are going to need. If your solar array consists of 4 or more 90 watt panels and is more than 50' from your battery bank, you should consider using 24V as a minimum with 48V being a better choice.
This chart is useful for finding the correct wire size for any voltage, length, or amperage flow in any AC or DC circuit. For most DC circuits, particularly between the solar panels and the batteries, we try to keep the voltage drop to 3% or less.
TIP; NEC 690.8 CALCULATION of MAXIMUM CIRCUIT CURRENT. (A)1 Solar Source Circuit Currents. The maximum current (Amps) shall be the sum of parallel solar panel rated short circuit currents multiplied by 125 percent.
Amps = Maximum Number of Amps Through the Circuit
Feet = One Way Distance of Wire
% Voltage Drop = Percent of Voltage Drop Desired (2 = 2%)
Voltage = Voltage Carried by the Wire
Voltage Drop Index Chart (VDI)
| | | |
| --- | --- | --- |
| AWG Wire Size | Copper Wire | Aluminum Wire |
| | | | | |
| --- | --- | --- | --- | --- |
| | VDI | Ampacity | VDI | Ampacity |
| 4/0 | 99 | 230 | 62 | 180 |
| 3/0 | 78 | 200 | 49 | 155 |
| 2/0 | 62 | 175 | 39 | 135 |
| 1/0 | 49 | 150 | 31 | 120 |
| 2 | 31 | 115 | 20 | 94 |
| 4 | 20 | 85 | 12 | 65 |
| 6 | 12 | 65 | | |
| 8 | 8 | 50 | | |
| 10 | 5 | 30 | | |
| 12 | 3 | 20 | | |
You can also check the size you need here for your wire run.
Off-Grid Living; Appliances and Energy Conservation
If does not make much sense to spend money on an off-grid system without first looking at energy efficient appliances. The use of efficient appliances and lighting, as well as non-electric alternatives, can pay large dividends after designing your off-grid system and its time to plop down the money. Living off the grid using low energy lights and appliances can not only save you money up front, on those dark days when you are trying to save every watt of power you can out of you're battery bank, you will be glad you put a little thought into energy conservation up front. The type of lights and appliances that can be used living off-grid depends on how much sun is available, and the voltage of the off-grid system.
Cooking, Heating and Cooling

Each burner on an electric range uses about 1,500 watts per hour, which is why propane, wood burning stove or natural gas are all better choices for cooking. A microwave oven has about the same power draw, but since food cooks more quickly in a microwave, the amount of watts consumed is usually lower. Propane, wood or solar hot water are generally better alternatives for space heating. Good passive solar design and proper insulation can also reduce the need for winter heating. Swamp coolers are a more reasonable load than air conditioning and in locations with low humidity such as the SW, they are a great alternative.
Lighting
Lighting requires careful study since type, size, voltage and placement can all significantly impact the power required. In a small home, or off-grid cabin, low voltage DC lighting with LEDs is often the best choice. DC wiring runs can be kept short, allowing the use of fairly small gauge wire. Since an inverter is not required, the system cost is lower. In a large installation or one with many lights, using an inverter to supply AC power for conventional lighting is often more cost-effective. AC compact fluorescent lights are common and efficient, but it is a good idea to have a DC-powered light in the room where the inverter and batteries are in case of an inverter fault. Also, AC light dimmers and overhead fan speed controls will only function properly on AC power from inverters that have sine wave output.
Refrigeration
Propane refrigerators can work well in small off-grid systems if propane is available. Modern propane refrigerators consume 5-10 gallons per month. If an electric refrigerator is used for off-grid living DC is usually a better choice than AC refrigerators. A DC refrigerator can cost 2X as much as an AC but they consume less than a quarter of the energy which means less solar or wind and fewer batteries.
Televisions, Washing Machines and Other Appliances
Televisions; look for an efficient DC TV. Power in your television set can vary widely depending on the type. Standard AC electric motors in washing machines, larger shop machinery and tools, swamp coolers, pumps, etc. (usually 1/4 to 3/4 horsepower) consume relatively large amounts of electricity and require a large inverter. Often, a 2,000 watt or larger inverter will be required. These electric motors can also be hard to start on inverter power, due to large surge loads at start-up, and they are very wasteful compared to high-efficiency motors, which use 50% to 75% less electricity.
TIP; Surge is the amount of short term power needed to turn over the locked rotor on an electrical motor.
A standard washing machine uses between 300 and 500 watt-hours per load, but new front-loading models use less than 1/2 as much power. If the appliance is used more than a few hours per week, it is often more economical to pay more for a high-efficiency appliance rather than make the off-grid system larger to support a low efficiency load. Vacuum cleaners usually consume 600 to 1,000 watts, depending on how powerful they are, but most vacuum cleaners will operate on inverters as small as 1,000 watts since they have low-surge motors.
Small Appliances
Many small appliances with heating elements such as irons, toasters and hair dryers consume a very large amount of power when they are used but, by their nature, require only short or infrequent use. With a sufficiently large system inverter and batteries, they will operate, but the user may need to schedule those activities with respect to the battery charging cycle – for example, ironing in the morning so that the solar or wind system can recharge the battery bank during the day. Electronic equipment, such as stereos, televisions, VCRs and computers, draw less power than appliances with heating elements, but these loads can add up as well, so opt for more efficient models, such as an LCD TV instead of a plasma or CRT design.
Computers, Music Systems and Cell Phone Chargers
Laptop computers us about 25% of the power a desktop computer uses. You should try and avoid desktop computers altogether. Music systems should be powered using pure sine wave power instead of a modified sine wave inverter. There is nothing that can kill the Zen faster in the evening living off the grid than static from a modified or cheap pure sine wave inverter. Cell phone chargers from the manufacture are usually more efficient than cell phone chargers you buy elsewhere. Every watt you consume by inefficient electrical equipment matters not only to your wallet but also your piece of mind living off-grid.
Appliance
Watts
Appliance
Watts
Appliance
Watts
Central Air Conditioner
5,000
Electric blanket
200
Hedge trimmer
510
Electric Clothes Dryer
3,500
Shaver
15
Weed eater
500
Oven
3,000
Water pik
100
1/4" drill
250
Hair Dryer
1,538
Well Pump (1/3-1 HP)
480-1200
1/2" drill
750
Dishwasher
1500
Laptop
60-250
soldering iron
200
Coffee Machine
1,300
Plasma TV
350
9" disc sander
1200
Microwave
1,500
LCD TV

213
3" belt sander
1000
Popcorn Popper
1,400
25" color TV
150
12" chain saw
1100
Toaster oven
1,200
19" color TV
70
14" band saw
1100
Hot Plate
1200
14" color TV
80
7-1/4" circular saw
900
Iron
450
Stereo
40
8-1/4" circular saw
1400
Toaster
1,100
Satellite dish
30
Refrigerator / Freezer
Microwave
1200
Radiotelephone - Receive
5
20 cu. ft. (AC)
1,080
Room Air Conditioner NA
1,200
Radiotelephone - Transmit
40-150
16 cu. ft. (AC)
720
Vacuum Cleaner
500
Lights
Freezer
Water heater (240VAC)
5,500
100 watt incandescent bulb
100
15 cu. ft. (Upright)
500
Sink Waste Disposal
450
25 watt CFL
28
15 cu. ft. (Chest)
500
Espresso Machine
360
50 watt DC incandescent
50
Cell Phone - recharge
2-4 watts
Dehumidifier
350
40 watt DC halogen
40
MP3 Player - recharge
.25-.40 watts
Blender
300
20 watt DC CF Light
22
Humidifier
700
CFL Bulb
18
Video Game Player
195
Standard TV
188
Monitor
150
Computer (desktop)
150
Heaters
Portable Fan
60
Engine Block Heater
150-1000
Ceiling Fan
100
Portable Heater
1500
Can Opener
100
Waterbed Heater
400
Curling Iron
90
Stock Tank Heater
100
Stereo
60
Furnace Blower
1000
Cable Box
20
Clothes Dryer - Gas Heated
300-400
Clock Radio
30
Well Pump (1/3-1HP)
500 - 1200
off-grid power systems
living off the grid with solar
Off-grid living using stand alone solar and or wind power systems a couple of years back amounted to only about 1% of the total solar panel systems installed in America and around 10% world wide. Today there is a much different story brewing being fueled by the economic uncertainty and reliability we are now facing in the U.S.A. Since off-grid systems can provide power anywhere, there is no shortage of possibilities or limits. Standalone, autonomous or island systems are virtually synonymous with "off-grid" when applied to energy systems commonly used in:
| | |
| --- | --- |
| Living Off the Grid, From Large Home to a Small Cabin | Off-grid Fishing or Hunting Cabins |
| Remote Security and Communication Facilities | RV or Marine Vessels |
| Remote Mining and Drilling Operations | Farms, Ranches and Vineyards |
| | |
Off-grid system, solar or wind turbines, when properly sized can supply a dependable source of electricity anywhere. For the purposes of this discussion, we are only going to focus on battery based off-grid solar, wind and hybrid systems primarily used by independent minded families home or cabin living off the grid.
Off-grid Basic Description; The main component of an off-grid system that shared with a grid-tied system is of course the solar panels or wind turbine. Electricity that is generated from the solar panel, depending on the size of the system, is connected to a combiner box. The purpose of the combiner box is bring together different strings from the solar array where they are sometimes connected to fuses or breakers and protected by a DC lighting arrestor. From there the electricity travels from he roof or ground mount to a charge controller. A charge controller is an electronic device used to regulate the voltage used in battery based off-grid systems to keep the voltage to the batteries within acceptable limits. The charge controller protects the battery from over-discharge by the use of a low voltage disconnect that shuts down the draw from the loads when the battery bank voltage reaches a certain depth of discharge (DOD). The charge controller also protects the battery from over charging by limiting the battery voltage. This is especially important in AGM and other sealed batteries. Last but not least, a charge controller also prevents reverse current from flowing back into the solar panel array at night. During daylight hours, the charge controller automatically tapers and shuts down the solar or wind power when batteries become fully charged. Charge controller sizes range from 4 amps to 80 amps with many having the ability to connect them in parallel for larger off-grid systems. Some charge controllers offer additional features, like charge status display, data logging, automatic battery equalization charging, generator starting and even control lights on or off.
Storage batteries are when an off-grid system gets really interesting. The term battery is a reference to a row of electro-chemical cells connected in series. These are sometimes simply called cells or battery cells. Several batteries connected together are called a battery bank. Another term for a rechargeable battery is an accumulator but that term will not normally be found in most off-grid designers vocabulary. In off-grid solar and wind systems, the home or cabin is a slave to the batteries. What that means is the electricity produced by the solar panel or wind turbine is stored in the battery system. Whether or not there is electricity flowing into the home or cabin depends on the state of charge (SOS) of the battery bank. No power in the batteries, no lights in the cabin. In most cases the power supplied to the lights and appliances are powered by an AC inverter though in some cases only DC power is required. Particularly true in small homes or cabins, if there are DC appliances and DC lights they are sometimes connected to the batteries via the charge controller, but most likely DC appliances will be connected via a DC breaker panel with properly sized fuses.
The type of batteries used in off-grid systems often times flooded lead-acid or AGM batteries. Though there has been a lot of progress in the technology of battery designs being driven by computer and electric vehicles, cost and or low maintenance is ultimately the reason you will see lead-acid batteries in most large off-grid homes or cabins. A lead-acid battery is made up of electrochemical cells that usually have a nominal voltage of 2 volts DC. Six of these electrochemical cells connected by series will provide a 12 volt battery. Lead-acid batteries used in off-grid solar systems are available as 2 volt, 6 volt or 12 volt batteries. By connecting these different types of batteries together, you can produce a variety of increasingly stronger battery banks that will store more energy. Additionally, by connecting the batteries in series and or parallel, you can pump up the power to 12, 24 or the more popular 48 volt systems that are sometimes needed for larger off-grid AC inverters. Lead acid battery technology has improved over the years but the fundamental electro-chemical reaction in all flooded lead-acid batteries is basically the same. As the flooded lead-acid deep cycle battery is discharged the lead dioxide positive active material and the sponge lead negative plates creates a chemical reaction with the dilute sulfuric acid electrolyte to form lead sulphate and water, during charging this process is reversed. The efficiency of the charge and discharge process is less than one-hundred percent because during the charge process the voltage from the charge controller and solar panels has to be increased (over the discharge voltage) by about 7.5 to 10.5% to overcome inherent electro-chemical inefficiency and the battery cells internal resistance. Deep cycle lead-acid batteries are widely used in off-grid systems because they are readily available nearly everywhere at a lower initial cost. The life cycle of all lead-acid batteries (flooded, sealed gel cell and AGM) is substantially shortened if operated at high temperatures or the depth of discharge (DOD) is consistently low both of which can be prevented with a properly designed off-grid system. Deep cycle batteries fail through degradation of the plates via sulfation. Elevated temperatures and over charging both create sulfation and becomes the primary reason battery life is shortened which is the primary reason Blue Pacific Solar only will specify Midnite solar, OutBack, Morningstar and other UL listed charge controllers in our off-grid systems.
The last critical piece of electronic equipment in your off-grid power system is the AC inverter. There are a number of things to consider when choosing an off-grid inverter the first of which is tare losses or the energy consumed to operate the inverter itself in standby mode. In each off-grid design, every watt wasted means a larger battery bank and or more solar panels. The second big specification in an off-grid inverter is surge capacity. The ability of an inverter to surge to a higher burst of electricity than its rated output for a short duration to turn over the locked rotors of equipment like well pumps is critical. The specifications that should be looked at are the are the maximum output current (Amps) and the AC surge watt capability. If there are large loads a good number to look for is a five second surge capability of at least 3 times the rated output of the off-grid AC inverter.