SolarEdge Inverter On Grid Solar Kits - DIY
Blue Pacific and SolarEdge Inverter DIY Packages and System Kits
8 - Jinko 410 watt
492 kW
Solar Edge - String
10 - Jinko 410 watt
615 kW
Solar Edge - String
12 - Jinko 410 watt
738 kW
Solar Edge - String
14 - Jinko 410 watt
861 kW
Solar Edge - String
16 - Jinko 410 watt
984 kW
Solar Edge - String
18 - Jinko 410 watt
1007 kW
Solar Edge - String
20 - Jinko 410 watt
1230 kW
Solar Edge - String
22 - Jinko 410 watt
1353 kW
Solar Edge - String
24 - Jinko 410 watt
1476 kW
Solar Edge - String
26 - Jinko 410 watt
1599 kW
Solar Edge - String
28 - Jinko 410 watt
1722 kW
Solar Edge - String
30 - Jinko 410 watt
1845 kW
Solar Edge - String
32 - Jinko 410 watt
1968 kW
Solar Edge - String
34 - Jinko 410 watt
2091 kW
Solar Edge - String
36 - Jinko 410 watt
2214 kW
Solar Edge - String
38 - Jinko 410 watt
2337 kW
Solar Edge - String
40 - Jinko 410 watt
2460 kW
Solar Edge - String
50 - Jinko 410 watt
3075 kW
Solar Edge - String
Solar Edge String Inverter Kits wtih Mission 395 Watt Solar Panels
8 - Mission 395 Watt
474 kW
SolarEdge - String
10 - Mission 395 Watt
592 kW
SolarEdge - String
11 - Mission 395 Watt
651 kW
SolarEdge - String
12 - Mission 395 Watt
711 kW
SolarEdge - String
14 - Mission 395 Watt
829 kW
SolarEdge - String
16 - Mission 395 Watt
948 kW
SolarEdge - String
18 - Mission 395 Watt
1066 kW
SolarEdge - String
20 - Mission 395 Watt
829 kW
SolarEdge - String
22 - Mission 395 Watt
1303 kW
SolarEdge - String
24 - Mission 395 Watt
1422 kW
SolarEdge - String
26 - Mission 395 Watt
1540 kW
SolarEdge - String
28 - Mission 395 Watt
1659 kW
SolarEdge - String
30 - Mission 395 Watt
1777 kW
SolarEdge - String
32 - Mission 395 Watt
1896 kW
SolarEdge - String
34 - Mission 395 Watt
2014 kW
SolarEdge - String
36 - Mission 395 Watt
2133 kW
SolarEdge - String
38 - Mission 395 Watt
2251 kW
SolarEdge - String
40 - Mission 395 Watt
2370 kW
SolarEdge - String
42 - Mission 395 Watt
2488 kW
SolarEdge - String
44 - Mission 395 Watt
2607 kW
SolarEdge - String
46 - Mission 395 Watt
2725 kW
SolarEdge - String
50 - Mission 395 Watt
2962 kW
SolarEdge - String
54 - Mission 395 Watt
3199 kW
SolarEdge - String
DIY Solar System Packages and Kits
Are you considering installing a solar system on your home?
Check out our solar system packages, learn about SolarEdge kits, the benefits, and more today. DIY Solar System Packages and Kits
About 4% of American households currently own solar panel systems. This increasing switch to solar energy is for good reason, since people are starting to learn all about the benefits of having a solar system to power their households. If you've got the DIY itch, there are also plenty of packages available that you can purchase and install on your own. Below we will discuss the tips you need to know when you're considering installing your own solar system.

Benefits of a DIY Solar System Handling the installation of your solar panel system can bring about plenty of advantages. With companies like Solaredge available, there's no shortage of choices for you to look into. Knowing the benefits of solar panels can prompt you to make the best decision possible.

It's a Sustainable Homeowner's Dream Searching for the best solar panels is one of the most eco-friendly decisions that you can make in your home. This is one of the most sought-after home upgrades because it reduces the emissions that your home creates. It cuts down on how much you rely on fossil fuels and lets you instead rely on energy created by solar rays. This is an excellent DIY project for someone wanting to cut down on harmful greenhouse gases and the damage they do to the environment.

A DIY Solar System Can Save Money Installing solar panel kits is an excellent idea financially. Doing it yourself not only saves you money upfront because you won't have to hire someone, but it also saves you money each month in energy costs. The average home spends more than $100 per month on electric costs. Electricity use spikes in the summertime, so these bills can quickly get outrageous if you have a house full of people. With solar, this money stays in your pocket so that you can use it for other things. You can also take advantage of a Federal tax credit the year you upgrade to solar.

You Will Improve Your Property Values Having a set of solar panels on your home is an excellent way to improve your property values. Solar panels are the wave of the future, and these fixtures will be attractive to homebuyers for the next several years. When you do the work yourself, it also gives you a much greater return on investment.

The Panels Look Great and Are Low-Maintenance Solar panels have a futuristic, modern appeal that will look great on any home style. They are the perfect accent for your roof. They will add curb appeal to your home and a lasting impression on the people that view it. What's more, these panels don't require a lot of maintenance, so you can essentially install them and let them be.

Shop for Solar System Packages If you're looking to install solar panels on your roof, take the time to look into the best packages available. Having the right equipment means that you are more likely to get the level of performance that you're looking for. Here are some things to think about as you shop around:

Consider the Types of Panels The types of panels that you buy will dictate the experience that you get from the system. Polycrystalline, monocrystalline, and thin-film panels are the main choices. You might also shop for panels based on weight, style, and design. These panels vary in power, from 345 watts to 480 watts. You will need more wattage depending on the size of your home, the number of rooms, and the amount of electrical power that you need.

Shop On-Grid and Off-Grid Options There are two main kinds of solar panel options – on-grid and off-grid. An on-grid solar panel system is interconnected to the traditional electrical system that you already have. An off-grid system gives you complete autonomy from the system and provides self-reliant power. Solaredge provides both options so that you can handle whichever type of DIY project you prefer.

Look Into Accessories If you are shopping for the best solar panel systems, make sure that you also invest in the right accessories. Some of the main accessories that you might need to buy include batteries, inverters, charge controllers, and emergency backup systems. The types of accessories that you buy can make or break the system and the performance that you get from it. Make sure that the accessories are suited for the type of panels that you're purchasing.

Find the Right Price and Brand As a DIYer, you are relying heavily on the quality of service of any products that you purchase. Because of this, make sure you find a quality brand of panels that you can put your trust in. Read product reviews and customer reviews, and browse inventory for the most affordable prices. Ask about payment plans and make sure that you put your solar panel system under a warranty.

Your Guide to DIY Solar Systems The tips in this article are helpful for anyone trying to buy and install a DIY solar system. Handling the project yourself comes with so many benefits, as explained above. Whether you decide to purchase an on-grid or off-grid solar system, the points above can help you get started. Next, take the time to consult with professionals that can sell you the best products and help with anything that you need. Blue Pacific Solar can assist you when you're interested in solar panel systems for your home. Contact us for an online quote or give us a call at (888) 898-5849.
DIY Solar Electricity Packages & Kits
For DYI Install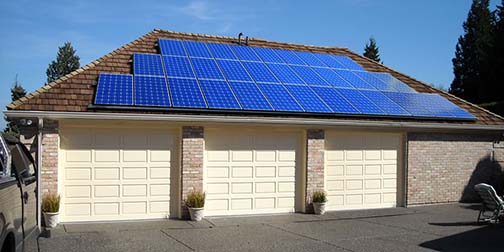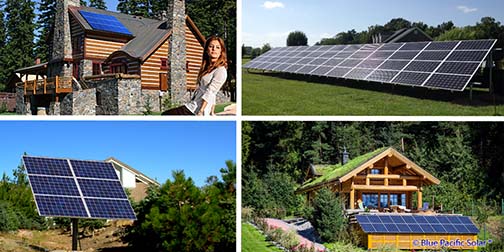 Do-it-Yourself & Save. Skip the markup and save up to 50% from national installers when you buy a solar energy system straight from the source. We can help you with the plans to install a solar system on your home or business. Get tips, advice & custom system design from seasoned experts that have been in the solar industry for years. Installing your mono or solar polycrystalline panels package & still receive the federal tax credits and local incentives.
Grid Tie Solar
Pre-Configured Engineered Grid-Tie Solar Systems Built Onto Your Building or Property that Connect Directly into the Utility Grid.
Off Grid Solar Kits
Off-Grid Systems are Power Systems That are Independent of the Utility Grid
Backup Systems
Backup Power & Self-Consumption Solar Installation Packages
Permit Document Service
NEC Code Compliant Plans & Documents
Go Solar
Solar Panels
Uncompromising Quality, Highest Efficiency & Performance, Best Warranties
Work With The Solar Experts & Save Money. Solar is Art to Us
See What the Sun's Free Energy Can Do For Your Life.
Go Solar