The StorEdge 10.5 kW
System Solution w/ Trina Mono Panels and Optimizers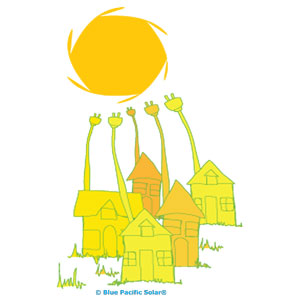 Solar Production = 1,575 kW Per Month ● Assumptions: STC 375 Watt Panel Rating [Factory Rating] @ 5.0 Sun Hours (Year Round Average). Sun Hours should reflect the average value of total solar energy received at the installation site on an optimally-tilted surface. This is the best number to use in grid-tie system.
StorEdge™ Single Phase Inverter for On-grid Storage and Backup Power
SolarEdge StorEdge™ is SolarEdge's all-in-one solution that uses a single on-grid DC optimized inverter to manage and monitor both solar generation and energy storage. Homeowners are automatically provided with backup power in the event of grid interruption to power pre-selected loads. Solar energy can be stored in a battery for Smart Energy Management applications such as export control, offering demand response and peak shaving, and performing time of use shifting for reduced electric bills. (Self Consumption Requires Additional Accessories)
Simple Design & Installation - A single inverter for grid-tied solar, backup power, and on-grid applications. Designed to be installed indoors or outdoors. The StorEdge inverter and auto-transformer includes all hardware required for automatic disconnection from the grid.
The High Power SolarEdge StorEdge inverter will support LG RESU10H batteries. The new batteries are only be compatible with SolarEdge's High Power SE3800A-USS20NHB2 & SE7600A-USS2 StorEdge inverters and not with earlier versions of the StorEdge inverter.
A free inverter firmware upgrade is required to support the high power batteries and configurations. Information about the firmware version can be found in the product release notes and will be available, along with the firmware upgrade file, in the StorEdge Firmware Upgrade page.
SolarEdge inverters combine with SolarEdge power optimizers to provide superior performance at a competitive price. The SolarEdge fixed voltage technology is designed for use with SolarEdge power optimizers to ensure that the inverter is always working at its optimal input voltage. The inverter has an integrated AC/DC Safety Switch and a built-in monitoring receiver, and comes with a 12 years standard warranty, extendable to 20 or 25 years.
What is Self Consumption & Self Supply?
A direct grid tie system is where solar energy produced, powers the house loads as limited self consumption, and excess solar production is exported back into the utility grid. This self consumption happens only while the loads are present at the same time as solar production. No energy is stored by the user for use at another time. Any power needed for loads, above what the solar is producing, is drawn from the utility. Self supply is a system where some of the solar energy produced is stored on site for use at another time when solar production is less than the loads.
California Rule 21 & HI Rule 14H Compliant
CA Rule 21 currently governs CA & HI Rule 14H utility interconnection for all net energy metering for all projects permitted and approved for interconnection. The change was designed to create a standard for inverters more capable of dealing with a volatile utility grid. Why is this needed? Utility companies are facing higher penetration rates of solar and in some cases are saturated and needed an additional low/high frequency ride-through. By using so called smart inverters the functionality keeps grid voltage from oscillating or acts like a shock absorber intended result is automatic stabilization of utiltiy grid voltage.
Personal Technical Advisor
Line drawing questions or just stuck? No worries we have your back and will be here to help whenever you have questions about your purchased Kit. For orders larger than $2,000.00 a Technical Sales Team Group Captain will be assigned your account. Your Technical Advisors job is to coordinate all parts and pieces of your order and to work with you throughout the process. This support helps because we will be providing you with a single contact point to call with your questions. Your technical support contact does not replace the maufactures warranty technical support. DIY means you accept the responsiblity of reading and following the line diagram and other installation documents prior to tackling the installation.
NOTE: For detail support after installation customer must be willing or have the ability to connect to the SolarEdge monitoring platform. The monitoring platform software is free but requires and WiFi connnection to the inverter via RS485, Ethernet or ZigBee (optional) or cellular (optional) .
Trina Solar Panels 18.89% Panel Efficiency
Blue Pacific Solar® SolarEdge Kit is featured with Trina panels. Trina Solar Energy, proudly assembled in the USA, is headquartered in San Antonio, TX with module facilities onsite. Trina Solar hardworking team calls Texas home and is devoted to producing high quality solar products. Our supply chain includes local and domestic vendors. 25 Year Warranty, UL Listed.
LG Chem Battery
LG Chem RESU10H Battery is designed to use with the SolarEdge StorEdge Inverter and can provide energy storage for a variety of uses including backup and self consumption. 10 Year Warranty, UL Listed. [Installer must have be approved and have passed LG Chem Certification Test in order for LG Chem Warranty to be valid.]