The SolarEdge 15.0 kW
System Solution w/ QCELLS Black Frame Mono Panels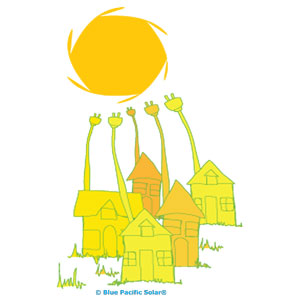 Production = 2,250kW Per Month ● Assumptions: 300 Watt STC Panel Rating [Factory Rating] @ 5 Sun Hours (Average).
Smart Power, Full Roof Utilisation, More Energy
System owners enjoy the benefits of SolarEdge technology, which allows maximum power production through module-level maximum power point tracking (MPPT), optimal roof utilization through constraint-free design, and enhanced maintenance and accurate troubleshooting through module-level monitoring. Another benefit is the DC shutdown for installer, homeowner, and firefighter safety through SolarEdge's SafeDC™ mechanism.
More Power = More Savings on Your Energy Bill.
The inverter, which takes DC energy from the roof panels and converts it to AC, is the brain of the solar system. A smarter, optimized inverter can be the key to generating more energy than with other systems. How does this work? In traditional systems, installers connect solar panels in 'strings.' Just like with Christmas tree lights, where one failed bulb knocks out the other bulbs, one underperforming solar panel will lower the performance of an entire string. With an optimized inverter, power optimizers connect to the solar panels to enable them to perform independently. This results is more energy for your home.
Optimized installation with HD-Wave technology
SolarEdge's HD-Wave inverter is based on a novel power conversion topology that significantly decreases inverter size and weight, while also improving efficiency. Weighing in at only 25.3 pounds and measuring 17.7H x 14.6W x 6.8D (including safety switch), SolarEdge's HD-Wave inverter is the smallest and lightest inverter the company has ever manufactured, which enables faster and easier installation. The innovative inverter complies with safety and revenue grade standards including: integrated arc fault protection; integrated rapid shutdown for NEC 2014 and 2017 690.12; and optional revenue grade data, according to ANSI C12.20 Class 0.5 (0.5% accuracy). Consistent with all its other inverters, SolarEdge's HD-Wave inverter includes 25-years of free module-level monitoring and 12-year standard warranty.
By adopting a holistic approach to innovation, SolarEdge designed the HD-Wave grid tied inverter to support enhanced product reliability by using film capacitors instead of electrolytic capacitors. To enable faster commissioning, the HD-Wave inverter has automatic power optimizer identification and string assignment detection. In addition to offering standard SolarEdge design flexibility, the HD-Wave inverter enables 155% DC/AC oversizing.
Personal Technical Advisor
Line drawing questions or just stuck? No worries we have your back and will be here to help whenever you have questions about your SolarEdge HD 15.0 kW 300W QCELLS Kit. For orders larger than $2,000.00 a Technical Sales Team Group Captain will be assigned your account. Your Technical Advisors job is to coordinate all parts and pieces of your order and to work with you throughout the process. This makes it easy for you because we will be providing you with a single contact point and single extension to call with your questions to help make the process easier.
QCELLS Solar Panels 18.0% Panel Efficiency
The QCELLS Q.PEAK-G4.1 is a monocrystalline solar panel with performance classes up to 300 Wp and an efficiency of 18.0 %. Q.PEAK-G4.1 solar panels offer higher yields over smaller surface areas. This is made possible by the new Q.ANTUM generation of Q CELLS panel architecture. The front surface of the Q.PEAK-G4.1 is completely black and enhances the visual appearance of even the most exclusive private house system. The Q CELLS Anti LID Technology eliminates light induced degradation (LID), which can greatly reduce system performance, almost completely. Other conventional monocrystalline solar cells will lose much of their initial performance, once exposed to sunlight. With Q.PEAK-G4.1 this is not the case, thanks to Anti LID Technology. 25 Year Warranty, UL Listed.