web solar
Store
Solar permit service is available to help you with the process of obtaining a building permit.
Only: Learn More
usa solar companies home commercial install contractors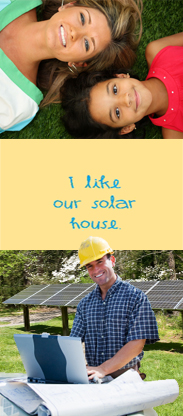 USA solar powered by Schüco, the worlds leader in electric power systems for residential homes, business and municipal buildings. Rising energy costs limited fossil fuel resources, and climate change are important news issues of our time. But there's a solution to it: renewable, clean energy.
Electricity from the Sun. Become a solar farmer. Harvest monthly cash from your roof.
• Silent, clean, affordable operations. Photovoltaics reduces your carbon footprint and saves you money each month.
• Fast Installation by a Schüco trained installer. Solar is clean renewable non-polluting electricity.
• Maintenance free convenience. Solar on your USA home is simple operations, no moving parts.
• Guaranteed performance for up to 25 years. Reduces and stabilizes your electrical costs
• Enhanced home value. Increases the value of your USA home without increasing your property taxes.
• You can obtain cash incentives as well as federal tax credits, easy affordable loans or simply lease your solar system.
• The satisfaction of knowing you're part of the sustainability solution.
Solar technology is now... Quality... Premium... Return... Doing something about rising energy costs... Knowing that you're part of the sustainability solution... Good for the environment Amazingly efficient... ... As simple to use as switching a light switch... Lower utility bills, earn tax credits... A good decision... Reducing our dependence on foreign oil... Put the power of the sun to work for you... A great way to contribute to a brighter sustainable future in the USA.
We offer innovative solar energy products that are easy on the wallet and the environment, and that saves energy and generates energy at the same time. Schüco photovoltaic panels not only create renewable energy , they're also safe, easy to use, and an aesthetically pleasing enhancements to your lifestyle.
In order to guarantee quality and customer satisfaction, Schüco is vertically integrated, engineering only industrial grade materials. That means you get everything from one source, ensuring interoperability and greatly simplifying replacements and upgrades. It also means that the different elements of your Schüco energy products are optimized to give you the best total performance. Our Solar systems are guaranteed to deliver clean energy for a minimum of 25 years to your home or business in USA.
Now is the time to lock in your cost of electricity. In places, like USA, where solar is economically attractive, rates of return from 10% to 15% or better are routine. Even when you choose to finance your installation, the interest of your loan plus your monthly payment is affordable and usually less than your total monthly energy bill. Monthly positive cash flow and money in your pocket is just one of the benefits of going solar in USA.
Plug into savings and a high return on investment without the financial risks of stocks, partnering with the sun. Financially, it is important to compare your photovoltaic investment to other investments on an even basis. Rigorous treatment and critical analysis from several angles including compound annual rate of return, cash flow and resale value need to be considered to do a fair assessment. Solar in USA makes economic sense for many but only a hard look at the numbers will tell the whole story. When you put solar on your USA home, the smile on your wallet can be as big as the smile on your face. You will be the envy of the neighborhood.
We are offering attractive financing which you can couple with the latest utility rebates and federal tax credits. Federal tax credit for homeowners who install photovoltaic electric may take a federal income tax credit of 30%. The federal tax credit has no cap and unused tax credit may be carried forward. Going solar in USA is now the right thing to do. Solar power will immediately reduce your electric bill. As your personal roofing energy system generates excess power during the day it feeds electricity back into the electrical grid to PG&E utility company. You are selling electricity at peak rates back to the power company so it can be sold to other USA energy not so sunwize customers who don't have a solar system. As you sell your electricity, your meter spins backwards. At night you draw energy back from the utility grid, but at low off-peak rates. You buy low and sell high. How much you off set your utility bill is based on your family's electricity usage and the size of your PV system.
A solar lease, though not as favorable as obtaining a USA home loan, is one option to finance your project. A solar lease allows homeowners to lower their monthly payment after choosing a installation system. The lease requires a down payment of about two thousand dollars with the solar company retaining ownership of the system. That also means the solar company receives most of the benefits of the photovoltaic system with low risk since the lease is guaranteed by your USA property value. Another down side to a solar lease is the escalating monthly payment with performance guaranteed. There usually is a buyout after 15 years with most solar companies leaving the exact sum as unknowable. What that usually means is the unknowable buyout charge at the end of the lease is based on fair market value. Leases can be attractive to customers who have no other way of financing a system. A homeowner can usually do better and keep more of the benefits of solar rather than sharing them with the lease financing party. A solar lease is a good deal for the developers but just OK for a typical USA homeowner. That is why we suggest you consider a lease for your system down the list of options for financing.
A grid tied solar system on your USA residential home or business can be a good financial investment depending on a variety of factors including system performance and financing structure. USA has the right combination of conditions to encourage homeowner investment in photovoltaic electric panels based on economics alone. Grid tied solar panels can be either roof or ground mounted and will connect directly to your USA utility company feeding excess power back in the day time and drawing power at night like a battery. A grid tied panel system will provide no power when the electricity goes down as a safety precaution for the utility company workers. Your inverter will detect the lack of power on the grid and will automatically disable the system until the USA electricity comes back up.
Partnering with Schuco we can offer you solutions to your USA solar needs exceeding your expectations. Powerful solar solutions with Schuco photovoltaic and SunsUp solar regional local installers. From San Luis Obispo to San Francisco, Schuco PV module turns solar radiation into electricity. Let the sunrun your monthly power needs instead of the utility company. Each individual solar panel is output-tested before it leaves the factory. Schuco modules have very high performance and a long life. Schuco stands behind their solar modules with a 25 year warranty. The 25 year warranty is from a world class solar manufacture that has been in business for over 50 years operating in 77 countries. We can help you with all your residential USA solar power needs. By using the power of the sun you will sidestep the certainty of rising energy costs and electricity shortages. You do not have to worry about the rising cost of fuel because the sun is your fuel.
For us, the customer and our people come first. We pride ourselves on our personal approach to installing solar on your USA home. Since the company we represent was set up over 23 years ago in Santa Cruz the solar capital of USA, we have grown as a result of our entrepreneurial culture and customer service. With our personal customer oriented approach, we initiate, design and help homeowners in cities like USA realize their solar projects all across Northern USA letting the sunpower in. Our people are focused on your interest creating value for you. Our regional presence makes our solar products and services fit your local demands. Top quality solar products, professional installation, maximum return on your investment equals total confidence in your solar purchase for your USA home or businesses.