web solar
Store
Solar permit service is available to help you with the process of obtaining a building permit.
Only: Learn More
solar generator ecoTricity eco1800S 1800 watt (surge) backup power
Solar generator, Eco1800S uses a 90 watt solar panel to "capture" the sun's energy providing endless home emergency power. The sun's energy is then used to charge the AGM batteries inside the Eco1800S solar generator which includes an 120 volt AC 1400 watt, 1800 watt surge inverter with continuous power that will allow you to operate many home appliances. Your Eco1800S home solar generator can charge the internal (included) batteries using the solar panels or wall outlet. Finally, a solar generator with noise or emissions that comes complete with 50 ft cord that stores behind the solar panel. Charge the solar generator from the sun or via AC wall outlet or both. This plug & play technology comes with wheels on the solar panel cart for easy mobility. The high efficiency 90 Watt Mono-crystalline solar panel provides an endless supply of energy from the sun.
Only: Buy Now
Product Details:
Specifications:
Video:
Documents & Run Times:
Solar generator for home backup power, emergency power source & More!
Finally a 1800 watt solar generator that is engineered to plug and play right out of the box. EcoTricity 1800 watt solar generator for running home electronics during emergency power outages. Note: the 1800 watts refers to the surge capabilities of the inverter, not the power of the solar panels or battery aH. Inverter surge capacity is the short term "burst" of energy that is sometimes needed to turn over locked rotors on appliances like refrigerators. NOTE: Read the competitors specifications very carefully because many do not include the cord or batteries just the solar panel and inverter.
What's in the Box:
1 - ECO1800S Solar Generator
1 - 90 Watt Solar Panel
1 - 50' Solar Connecting Cable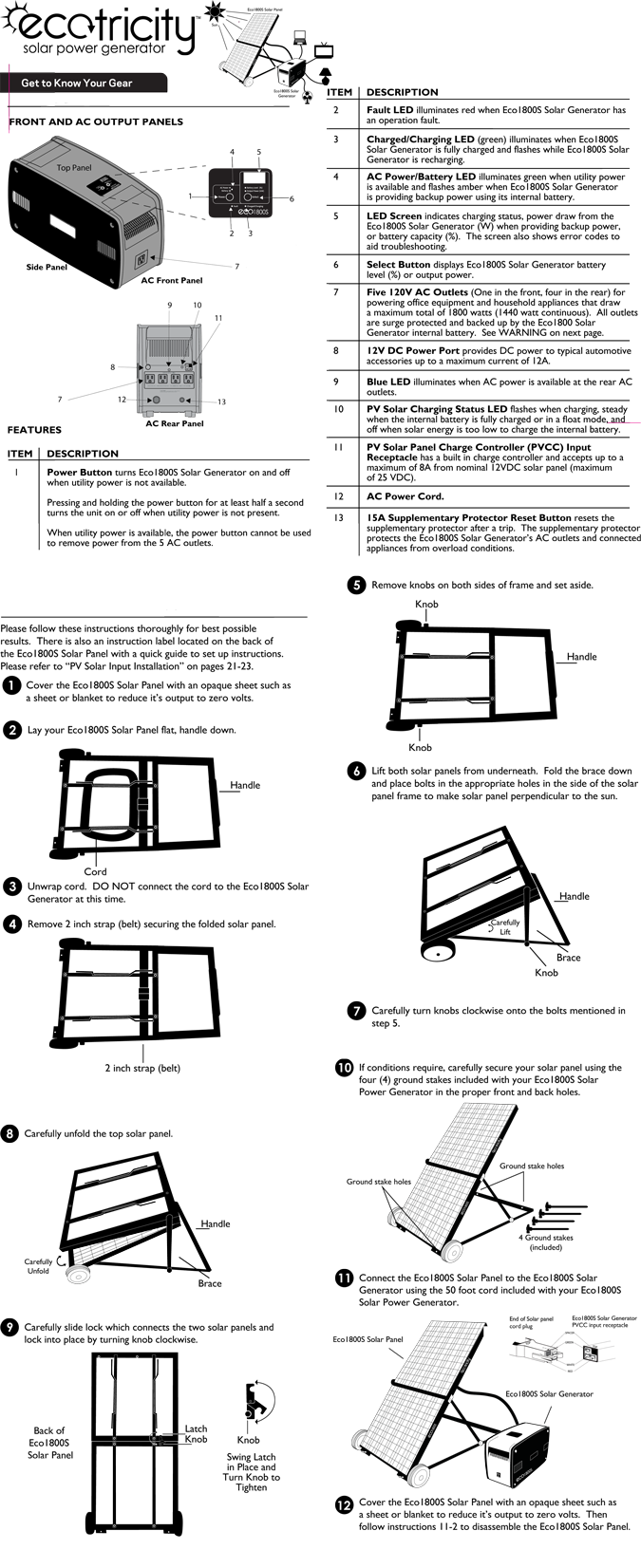 Solar Generator Internal Battery

Input Sources

AC Wall Charger
120 Volts watts
(15.3V:5A)
Solar Generator Controller
DC 12V* (nominal), 25 VDC (max)
8 amp (max) Solar Generator, Solar Panel Charge Controller (PVCC) Input Receptacle has a built in charge controller and accepts up to a maximum of 8A from nominal 12VDC solar panel (maximum of 25 VDC).
DC Solar Panels*
90 Watts

Output Port

Five 120V AC Outlets
(One in the front, four in the rear)
15 Amps Max / 80 milliseconds
AC Inverter
1800 Watt 5 Second Surge
1400 Watt Continuous

Internal Battery

Battery Type
AGM Battery
Sealed lead-acid, Deep Cycle
Battery Capacity
720 watt hours
60 amp-hours (3 x 20 amp-hour batteries)
Battery Voltage
12 Vdc
(nominal)
Low Battery Alarm
11.0 Volts DC
(nominal)
Low Battery Shutdown
10.5 Volts DC
(nominal)
Internal Battery Charger
5 Amps
(max)

General

Product Weight (No Package)
60 lbs
Product dimensions
19.25" x 8.25" x 11.25" (inch)
(489 x 210 x 286 mm)
Warranty
Battery = 1 Year, Solar Panel 5 Years

Operating Temperatures

Optimal Operating
32°-104°F
0°-40°C
Optimal Storage
32°-86°F
0°-30°C

Certifications

Tested and certified
ETL and FCC Certified

Inverter

Modified Sine Wave Inverter

Continuous Power
1440 Watts
Peak AC Output Power
1800 Watts
Surge Capacity
2600 Watt
Output Voltage
120 VAC
Output Frequency
60 Hz

Operating Temperatures

Optimal Operating
32 - 86 F
(0 - 30 C)
Optimal Storage
32 - 104 F
(0 - 40 C)

Solar Panel

Input Sources

90 Watt Mono-crystalline Solar Cells

Output Ports

Open Circuit Voltage (Voc)
22.40 V
Maximum Power Current
5.02 A
Maximum Circuit Voltage
18 V
Short Circuit Current (Isc)
5.4 Amps
Temperature Coefficients of Isc (%)
0.065 +/- 0.015%
Temperature Coefficients of Voc (%)
-2.23 +/- 0.1 mv
Temperature Coefficients of Pm (%)
-0.5 +/- 0.05
Temperature Coefficients of Im (%)
+0.1
Temperature Coefficients of Vm (%)
-0.38
Temperature Range
-40 +85 C
Tolerance Wattage (e.g. +/-5%)
+/-5%
Surface Maximum Burden Weight
.28 lbs/sq. inch (30m/s, 200kg/sq.m)
Allowable Hail Load
Steel ball dropped from 1m height
Junction Box Type
PPO, Black
Length of Cable (Ft.)
50 foot
Cell Efficiency (%)
17%
Output Tolerance (%)
+/-5%
Standard Test Conditions
AM1.5 1000mW/C 25 C
Dimensions
42.75" x 24.5" in. (1086mm x 622.3mm)

General

Weight
33 lbs (15 kg)
Warranty
5 Years
Run Time on Typical Products

Cordless Phone (40 Watts)
12.5 Hours
Cell Phone (20 Watts)
25 Hours
Internet Modem (15 Watts)
33 Hours
Inkjet Printer (50 - 75 Watts)
33 Hours
Clock Radio (10 Watts)
50 Hours
Laptop Computer (40 Watts)
12 Hours
20" LCD Monitor (52 Watts)
7.5 Hours
Table Lamp (40 Watts)
12.5 Hours
8.8 cu. Ft. Refrigerator (500 Watts)
15 Min
Sump Pump 1/2 HP (500 Watts)
15 Hours
Microwave (1200 Watt)
8 Min
Laptop, Inkjet Printer, Cordless Phone, Internet Modem
Up to 3 Hours
Desktop Computer, 17" LCD Monitor, Inkjet Printer, Internet Modem, Cordless Phone
Up to 1 Hours
Cordless Phone, 13" TV, Clock Radio, Table Lamp
Up to 3 Hours

The 1800 watt solar generator recharge time is dependent on the amount of solar energy available from the panel, battery initial state-of-charge, and simultaneous 12V load on battery system (i.e., inverter ON, 12VDC accessory loads). The solar generator panel output power varies widely depending on intensity of sun (weather), angle of panel towards sun (perpendicular is best) and other factors. Under ideal solar harvest conditions and no load on battery, a typical 120W panel can recharge in twelve "sun hours1." Even under less than ideal conditions, significant supplementary solar energy input will extend Power Source 1800 Solar' runtime.

The solar generator charge controller with it's dedicated status LED operate independently from the Eco1800S Solar Generator's built-in AC charger and its top panel display. The Solar generator charge controller and the AC charger may be operated simultaneously for faster recharge. The Solar generator charge controller includes a current blocking feature to prevent battery discharge at night due to a connected solar panel (reverse leakage). The Eco1800S Solar Generator may be operated in backup (inverter) mode while the solar generator charge controller/solar panel is charging.

The PV Solar input "receptacle" accommodates connection of two poles plus ground from a portable solar panel fitted with cable and the matching Anderson Power Products # 1460G1-3 pole modular connector "plug" with color coded housings and contacts. Connections' polarity and physical orientation must match the following exactly or equipment damage will result.

1. Number of "sun hours" per day will vary by location and weather conditions. For example, sun hours per day in Seattle is "3", which is low while in Las Vegas it is"7", which is high
Extreme Adventure Kit inverter power laptop iPad 12v dc 110v ac converter
portable battery charger off-grid camping emergency charging solutions
Solar generator with plug-n-play technology are home backup power systems that are quiet and safe for indoor use. 1800 watts of surge power, our solar generator is a small backup off-grid battery systems with solar panels that provide home electricity to run most household appliances such as lights, radios, tools and refrigerators. When the power goes down take comfort knowing that emergency home power is available with this 1800 watt surge solar generator.
Yes, this 1800 watt solar generator already has a built in AGM sealed battery (Not like those other products). Yes, you do not have to assemble parts and buy additional wiring (Not like those other products). This 1800 watt (surge) solar generator is ready to go home backup emergency backup power for utility outages or rolling blackouts. But that's not all. This EcoTricity solar generator also works great for camping or tailgating where a portable solar generator can provide 120 volt power just like at home. Check out the complete specifications for this and our other solar generators Emergency Solar Generators web store.
Storms, hurricanes and utility blackouts are a real disruption to your life and comfort. Our solar generator is a great power backup solution for short term powering of essential home electronics. Emergency power for cell phones, lights and TV can keep your family up-to-date on the latest weather conditions or news. This solar generator are the best choice for powering just a few electronics because they have limited battery storage capacity. This solar generator can provide power as a small home backup power system and will operate a refrigerator, sump pump and fish tank air pump and light as well as home alarm system and give you the power to open your garage door during a blackout.
Solar Generator Frequently Asked Question - Why is the battery charge time for the generator plugged into AC 120 volt outlet take so long to charge? The reasons is AGM and lithium batteries should be charged with a slow trickle charge. Batteries can be damaged or their service life shortened if the charge times are not strictly controlled.
Solar Generator Misleading Headlines - "Solar Powered Backup System Provides Instant Electrical Power In Any Outage Or Disaster. Backup Kit Produces An Endless Supply Of Electricity For Free!" While that may be technically true, a solar generator that shouts these headlines, and the one you see here are just that, a small home solar generator, and only that. It is also misleading when companies advertise 1800 watt solar generator. When you read that, they are usually referring to the 5 second surge capacity of the inverter. 1800 watt solar generator does not mean you are necessarily going to get 1800 watts of solar or battery power.
If you have questions about solar generators, feel free to call us or contact us using our contact tab. Blue Pacific Solar advisors will always only give you the straight scoop with no bull.
Solar generator Limitations - Keep in mind, when you are selecting a home backup power source, that this small portable home power solar generator has limitations. Many other websites are misleading with the headlines "1800 Watt Solar Generator" in big bold terms and descriptions that include pictures of lightning bolts and hurricane damage and scary language. Yes this generator has a AC surge capacity of 1800 watts like the competition, but that is referring to the very short term burst of power and is not really representative of what this product was designed to charge. No solution from science will make a 1800 watt inverter surge produce as much power as 1800 watts of solar panels. We have other emergency household solar generator and backup systems that are serious home and business battery backups, so when searching for solar generators it is best to first look at what you are trying to power and how long you want to power it. Once you establish that, you can pick out the best solar generator or large power source that fits your requirements and budget.