web solar
Store
commercial solar loans / lease - financing for commercial business
Commercial solar loans and leases are available state wide.
Commercial Solar Loans Lease Program Overview
Renewable Energy Equipment Leasing (REEL) offers a variety of commercial lease financing options.
The REEL commercial financing options are tailored to your business needs.
REEL offers attractive rates and terms matched up to your business credit qualifications.
Lease Types, Size and Terms
Commercial Solar Loans / Lease Finance amount - $10,000 to $5,000,000 and higher.
Lease terms - 12 months to 120months. Longer terms are possible based on the dollar amount and credit score.
Lease options - Fixed Purchase, Lease, Graduated Payments, Tax Lease, Skip Payments, Seasonal Payments.
Projects - All Commercial , Government, Municipal, Tax Exempt, Not-for-profit projects and installations.
The full project cost including equipment, labor, taxes, shipping, and service agreement costs, may be included in the total financed lease amount.
Here is how you can apply.
Click on "Apply Now" button and a new window will open to the secure REEL application portal.
Select and download the PDF file, loan or lease application you are most interested in.
Use our dealer ID# (below), name, phone number and email address.
Answer the questions on the form.

Need Help?

The Reel team of financial specialists are prepared to help with completion of your application. Please contact them directly at 1-877-914-7335 or send REEL a quick e-mail at credit@thinkreelgreen.com.

You will be contacted within 48 hours (weekdays) by a Think REEL GREEN representative.
REEL will issue a Letter of Intent (LOI) to the applicant for execution prior to the final approval.
REEL handles the entire application process collecting all the required financial data and submitting it to one of their commercial lender partners for final approval.
Reel Authorized Dealer - ID Number " 1096 "
Dealer Name - " Suns Up Solar "
Dealer Phone Number - " 888.898.5849 "
Dealer email - " sales@bluepacificsolar.com "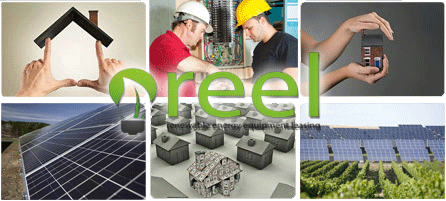 Green planet smart loans with California commercial cost effective solar ownership ... Innovative solar loan solutions, competitive solar financing... Solar business equity financing... Installing solar will put money in your pocket... Solar will increase the resale value of your business ... Environmentally sound, efficient use of resources... Application process as easy as turning on a light... Feel the power drop your utility bill, earn tax credits... Put money in your pocket each month, a wise decision... A great way to contribute to a sustainable future for California.