web solar
Store
Solar permit service is available to help you with the process of obtaining a building permit.
Only: Learn More
backup solar 4800 watt emergency home power generator
Backup Solar Generator that will keep you out of the dark. When the grid goes down, a home standby generator will keep things going. Solar powered generators with battery backup do not rely on fossil fuel to keep electricity flowing to your critical home loads. A solar powered generator in your home is the ultimate security during and emergency blackout. This home backup generator has 4 powerful AGM 200 aH batteries with 2 - 235 watt solar panels that will keep your refrigerator running, the lights on and your security systems armed. Time tested with only UL listed products, dependable, safe and easy to operate. Ships in 5 - 7 business days.
Only: DISCONTINUED Buy Now
This system qualifies for a Federal Tax Credit of 30% of the installed cost! Additional state rebates may be available.
Product Details:
Specifications:
Video:
Documents & Run Times:
backup solar for home emergency power, electricity for the next utility blackout
System Model
Part Number
Backup Power
Watt Hours
AC Volts
# Batteries
Power Resource
Enclosure Dimensions
4.8 kW Backup Kit
BP9101000
4,800
120 Pure Sine Wave
4 / 200aH
On Grid / Generator / Solar Panels
41.1"X33.6"X15.25"
H x W x D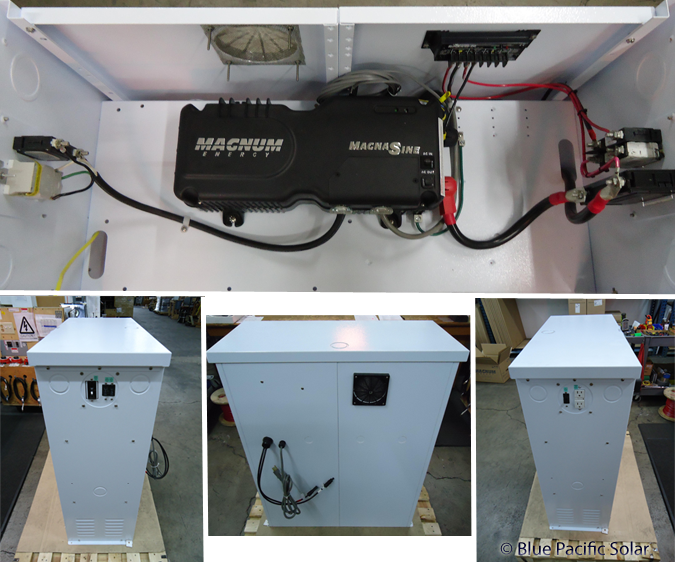 This home backup solar kit is assembled with all code compliant breakers and over current devices, tested by trained technicians and arrives on 3 pallets. The 4 batteries cannot be shipped inside the backup cabinet and will need to be installed after the cabinet is in place. Once installed, the system is ready for use. Since the Magnum 1,000 pure sine wave inverter is also a battery charger, the backup system can be plugged into your 120V wall outlet waiting until your need it during a blackout. When the utility power goes down, you place the solar panels outside facing south at about your latitude (angle), then plug in the 80' tether to the solar panels an the back of the cabinet. Your charge controller will keep the batteries from overcharging. You can then plug in an extension cord into the dual 120V outlet on the side of the cabinet and you have power for your refrigerator and a couple of lights. As with every size off-grid battery based backup, you will need to control and monitor your power usage.
The 4.8kW (4800 watt) kit provides you with dependable backup battery power when you need it most. Fully automatic, this emergency solar backup power center can sit in your garage keeping the batteries topped off. Don't worry, the Magnum Energy MM-RC25 remote control monitor located on the outside of the front of the cabinet will show you your battery state of charge and tell you if something is wrong.
What's On The Truck:
The Backup Solar Kit is assembled and tested by experienced factory trained technicians prior to Shipment. All required internal cables and connectors come pre-wired; No maintenance, long life, sealed AGM batteries (Batteries Supplied but Not Installed); Attractive, lockable steel enclosure; Magnum inverter allows choice of AC charging (Grid or Generator) or solar panels; Simple, safe installation.
1 - Magnum Energy MMS1012 Inverter Pure Sinewave Inverter
2 - 235 Watt Solar Panels, UL Listed, Panels 25 Year Guarantee
1 - 80' Tether Cord with Water Proof Connectors
1 - Morningstar Charge Controller
1 - Magnum Energy MM-RC25 Monitor / Control
4 - UPG UB-GC2 AGM 200 AH Deep Cycle Batteries (Shipped Uninstalled)
1 - Indoor Rated Battery Enclosure with Locking Door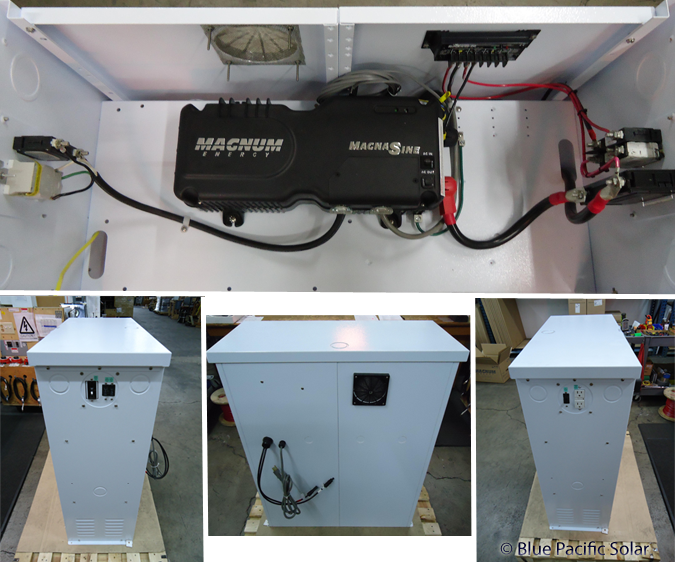 **Freight Shipping (Freight Delivery is Dock to Dock)
Item that are too large or heavy to ship UPS and have to be palletized are shipped by ground freight. In circumstances where we offer shipping, free or otherwise, that means dock to commercial dock (not residential) to any of the lower 48 states. If the customer does not specify a local commercial dock that is available, we will ship to the nearest terminal where the shipment will be held for will call pick up by the customer. If you choose to have your order shipped to your residence, most orders require special handling for unloading and the pallet has to be transferred to a truck with a lift gate. In most cases, truck freight companies do NOT require their drivers to unload shipments. An additional "Residential" as well as a "Lift Gate" special handling fee will apply if the driver unloads the merchandise to the curb at your residence. The special handling fee is $89.00 and is available at checkout. If you have selected this add on service, the shipping carrier will call and schedule delivery of your solar kit, (provided the weight and dimensions of the product fits the criteria for lift gate service). You can avoid the residential and lift gate fees by arranging a "Will Call" pickup at the closest freight company terminal. In that case, you will need a pickup truck, a copy of the bill of laden, and a photo ID. When you arrive at the freight company terminal, the freight company will load your order into the bed of the truck with their forklift. The most common pallet size = 65" X 44" (Height depends on Product). Be sure and check for hidden damage.
Mechanical Data

Dimensions

Cabinet MidNite Solar (2 Shelf Indoor Rated)
33.6 x 15.25 x 34.2
W x D x H
Ship Wt (Cabinet Only)
102 lbs
Grey or White Cabinet
Aluminum Powder Coat
(Color shipped subject to current available inventory)

Inverter

Magnum Energy MMS1012 Inverter Pure Sinewave Inverter

Input battery voltage range
9 to 17 VDC
Nominal AC output voltage
120 VAC ± 5%
Output frequency and accuracy
60 Hz ± 0.1 Hz
1 msec surge current (amps AC)
38
5 sec surge power (real watts)
1750 watts
30 sec surge power (real watts)
1600 watts
5 min surge power (real watts)
1200
30 min surge power (real watts)
1050
Continuous power output at 25° C
1000 VA
Maximum continuous input current
133 ADC
Inverter efficiency (peak)
87%
No load (120 VAC output, typical)
18 watts
Waveform
Pure Sine Wave
Charger Continuous output at 25° C
50 ADC
Input current at rated output (AC amps)
7
Listings
ETL Listed to UL/cUL458, CSA C22.2 #107.1-01, meets KKK-A-1822E standard

Operating Temperatures

Operating temperature
-20° C to +60° C (-4° F to 140° F)
Non-operating temperature
-40° C to +70° C (-40° F to 158° F)

Monitor

Magnum Energy MM-RC25 Remote Control

LED Display
Display shows inverter and battery status
Pushbutton Controls
ON/OFF Pushbutton control mounted on cabinet door allows the inverter to be quickly enabled or disabled.

*AGM Batteries

Battery Specifications (*Battery supplied with backup power unit is subject to availability, equal or better)

Nominal Voltage
6 Volts
20 - Hr. (10.0A)
200 Ah
Approximate Weight
53 lbs Each
Number of Batteries Included
4 total with all connecting cables
Shelf Life
3 Months 91%; 6 Months 82%; 12 Months 64%
Temperature Dependency of Capacity (20 Hr)
104 Deg F 102%; 77 Deg F 100%; 32 Deg F 85%; 5 Deg F 65%

*Solar Panel

Solar Panel Specifications (*Solar panel brand name supplied is subject to availability, equal or better)

Input Sources

235 Watt Poly-Crystalline Solar Cells

Output Ports

Open Circuit Voltage (Voc)
22.40 V
Maximum Power Current
5.02 A
Maximum Circuit Voltage
18 V
Short Circuit Current (Isc)
5.4 Amps
Temperature Coefficients of Isc (%)
0.065 +/- 0.015%
Temperature Coefficients of Voc (%)
-2.23 +/- 0.1 mv
Temperature Coefficients of Pm (%)
-0.5 +/- 0.05
Temperature Coefficients of Im (%)
+0.1
Temperature Coefficients of Vm (%)
-0.38
Temperature Range
-40 +85 C
Tolerance Wattage (e.g. +/-5%)
+/-5%
Surface Maximum Burden Weight
.28 lbs/sq. inch (30m/s, 200kg/sq.m)
Allowable Hail Load
Steel ball dropped from 1m height
Junction Box Type
PPO, Black
Length of Cable (Ft.)
6 foot
Cell Efficiency (%)
17%
Output Tolerance (%)
+/-5%
Standard Test Conditions
AM1.5 1000mW/C 25 C
Dimensions
42.75" x 24.5" in. (1086mm x 622.3mm)

Morningstar Charge Controller

Rated Solar Current
45 Amps
Rated Load Current
45 Amps
System Voltage
12 Volts
Low Voltage Disconnect
Yes
True 0 to 100%
PWM Duty Cycle
Set Point Accuracy
35 mV
Marine Rated Terminals
100% Solid State Green Charging / Red LVD Indicators
Sealed / Flooded Battery Selection

General

Approximate Total Weight With Batteries
405 lbs (Cabinet) Plus Solar Panels (22 lbs ea) and Optional Rack
Warranty
Solar Panels = 25 Years; Cabinet = 5 Years; Inverter = 2 Years, Batteries = 1 Year
Backup Solar Power System, Start With an Energy Budget
One of the first questions you have on your mind is "is this system the right size for my home or business? The answer to that question is entirely controlled by you since you control the amount of power used each day and how long you use it for. Step 1 is to establish you daily energy budget. An energy budget is the number of watt hours you will consume each day. That means you list the equipment you want to run and how long each day you want (or need) to run it. Next, you need to determine how many days of stored energy (autonomy) is required. This variable can range between 1 to 5 days (or more).
Here are some average home appliance wattages to help you get started on your list:
Laptop
50 - 65 Watts
Cell Phone
5 Watts
Table lamp
25 Watts
Inkjet Printer
50 - 75 Watts
Clock Radio
10 Watts
13" CRT TV
50 Watts
20" LCD TV
370 Watts
Table Lamp
40 Watts
8.8 cu. Ft. Freezer
80 Watts
Sump Pump 1/2 HP
500 Watts
Microwave
1200 Watts
18.8 cu. ft. Refrigerator
600 Watts
Coffee Maker
1000 Watts
Vacuum Cleaner
1200 Watts
Washing Machine
400 Watts
Well Pump 1 HP 240 V / 9.8A Surge
2352 Watts (NOTE: Inverter on this system is 120 Volts Maximum)
Home Alarm Protection System
15 Watts
Electric Hot Water Heater
3800 Watts
Dishwasher
1200
Typical Loads that might be used with the Backup Power Battery System
Sump pumps
Microwaves
Refrigerators
Freezers
Lighting
Television or Audio Equipment
Typical loads that should be avoided with this Solar Backup Power System
Central AC Units
Commercial Electric Space Heaters
Electric Hot Water Heaters
Backup Solar Generator off-grid emergency power system
4.8kW blackout power protection battery / home solar kit
Backup solar generator for your home or small business 4.8 kW / 4,800 watts of dependable automatic battery standby electricity. Backup system can come in handy when bad weather or other conditions interrupt the utility electrical service. Home or business owners can find themselves unable to power critical load appliances and lights. This situation can be serious if critical applications such as medical devices, telephone, home office computers, sump pumps, or refrigeration are threatened.
This emergency backup solar power systems is one of the best values on the market because it comes matched with ground mount solar panels and comes with a frame to secure the solar panels. 4800 watt backup solar kit is even more comforting because it has a Magnum energy MMS pure sine wave inverter. This easy to use, solar battery backup power generator provides a reliable base for your home energy needs. The backup solar power generator is designed to accommodate most home small appliances. There is enough surge power to start sump pumps and freezers. The surge voltage is the startup wattage used by a electric motor to start the cycle. A freezer or refrigerator compressor motor will cycle on and off creating an extra demand for power. Once the motor is running, the surge will die down to a steady flow.
If you feel you need a home standby emergency generator for storms and expect the grid power down for days, this off-grid solar backup system will work for most homes. A fossil fuel generator can be very noisy and if the power is down in your area that means the gas pumps are also not working. The backup solar generator comes with a flexible tether to the solar panels which can be set up in min in an emergency power outage. The MMS Series pure sine wave invert on our backup solar emergency generator kit is ETL Listed to the stringent requirements of UL/cUL 458, CSA C22.2 #107.1-01 and meets the KKK-A-822E standard.
This home solar backup power system comes complete with its own solar panels and optional ground rack. IronRidge UNI-GR/02A universal ground mount racks (Optional at checkout) is constructed of heavy aluminum material with stainless steel durable fasteners. Easy to set up, the backup solar kit will stand up to virtually all-weather conditions including 125 mph hurricane winds if you properly secure the frame to the backup solar rack to concrete footings. IronRidge solar racks (Optional at checkout) are designed to hold these 90 watt solar modules as well as allowing you to add an additional module at checkout. The solar rack to this backup power set is easy to assemble because of carefully engineered parts that are cut with CNC equipment.
Storms, blackouts, or hurricanes, when an emergency blackout happens at your home or business, the 4800 watt backup solar kit is available to start powering critical loads from the batteries until the power comes back on. When the power goes out, lights, refrigerator, computers, television, alarm systems, automatic gate or garage openers, all can continue working with your home backup solar system.