web solar
Store
backup power 10 kw of ac home emergency electricity
Backup power delivered to your home pre-wired, pre-assembled, pre-tested with expandable battery options. You will not find a better value or more flexible backup power system than this pre-built kit. That is serious backup power that will keep your refrigerator running without power for about 2 days! Our 4400 watt home backup power kit comes pre-assembled ready to insert the batteries. The American made pure sine wave AC electricity power inverter is housed along with the batteries in an indoor metal cabinet that comes with a lock on the door. 8 AGM batteries keep charged by being plugged into a regular electrical outlet.
Only: Buy Now
Product Details:
Specifications:
Video:
Documents & Run Times:
home emergency backup power, Store Electricity for Storms & Blackouts
System Model
Part Number
Backup Power
Watt Hours
AC Volts
# Batteries
Power Resource
Enclosure Dimensions
10 kW Backup Kit
BP9344481
10,752
120 / 240V Pure Sine Wave
8 / 200aH
On Grid / Generator
/ Solar Panels
41.1"X33.6"X15.25"
H x W x D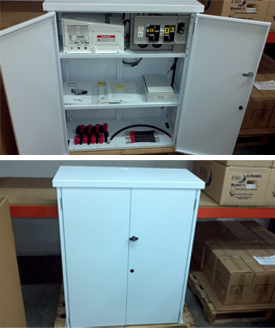 This backup power kit is assembled with all code compliant breakers and over current devices, tested by trained technicians and arrives on 2 pallets. The 8 batteries cannot be shipped inside the backup cabinet and will need to be installed after the cabinet is in place. Once installed, the system is ready for use. Since the Magnum 4,400 watt continuous pure sine wave inverter is also a battery charger, the backup system is designed to be hardwired to the main electrical breaker box then critical backup loads can be moved to a sub-panel. When the utility power goes down, the inverter inside this kit will shut down the utility side of the connection and pull power from the 8 batteries to run your backed up loads. The on-grid inverter will turn over most well pumps and run appliances such as refrigerator and freezer, but you will need to control and monitor your power usage during the blackout. The power center comes standard with a Magnum controller and monitor which has an easy to read battery state of charge display.
The 10kW kit provides you with dependable emergency battery power when you need it most. The backup power kit provides you with dependable power stored in 8 powerful sealed AGM batteries with an option to add 16 more. Fully automatic, the power center will detect a utility power blackout and automatically switch over to your battery bank whether you are home or gone. The most compact and functional design on the market provides for location flexibility to add solar panels and qualify for a 30% federal tax credit. the powder coated outdoor cabinet has a keyed lock for security, advanced digital LED display, AC power outlets and 4400 watt continuous AC power inverter / charge controller.
What's On the Truck:
Backup Solar Kit is Assembled and Tested by Experienced Factory Trained Technicians Prior to Shipment. All Required Internal Cables and Connectors Come Pre-wired (Battery Cables Supplied but Not Installed) Clearly Labeled Connection Points for AC and DC Input and Output. AC and DC Breakers; Full Feature LED Display for System Monitoring and Battery Information; No Maintenance, Long Life, Sealed Batteries; Attractive, Lockable Grey Powder Coat Steel Enclosure; Inverter Bypass Switch Allows Choice of Generator / Grid or Inverter Output; Easy to Connect Color Coded Buss Bars for AC and DC Connections; Multiple Available Knockouts for Conduit Attachments; Single System Grounding Point Simple, Safe Installation.
1 Magnum Energy MS4448PAE Sinewave Inverter
1 Magnum Energy ME-ARC 50 Inverter Remote
1 Magnum ME-BMK Battery Monitor
8 FullRiver AGM DC224-6A 224 AG 6V (Battery Connectors Included, Shipped Uninstalled)
1 MNBE-C Grey Power Coat Battery Enclosure with Locking Door
Kit Ships in 15 to 20 Business Days After Funds Clear. Custom Line Drawing is sent via email in 5 - 7 business days (Line Drawing Lead Time is Subject to Seasonal Increases).
Mechanical Data

Dimensions

Cabinet MNBE-C (3 shelf)
33.62 x 15.25 x 57.89
W x D x H
Ship Wt (Cabinet Only)
190 lbs
Grey or White Cabinet
Aluminum Powder Coat
(Color shipped subject to current available inventory)

Inverter

Magnum Energy MS4448PAE Pure Sine Wave

Input battery voltage range
36.0 - 68.0 VDC
Nominal AC output voltage
120 / 240 VAC split phase (± 5%)
Output frequency and accuracy
60 Hz ± 0.1 Hz
1 msec surge current (amps AC)
Line-Neutral: 120, Line-Line: 70
5 sec surge power (real watts)
8500
30 sec surge power (real watts)
6000
5 min surge power (real watts)
5400
30 min surge power (real watts)
4800
Continuous power output at 25° C
4400 VA (L-L)
Maximum continuous input current
144 A
Inverter efficiency (peak)
94%
No load (120 VAC output, typical)
25 watts
Waveform
Pure Sine Wave
Charger Continuous output at 25° C
60 ADC
Input current at rated output (AC amps)
17.5 AAC per leg at 120/240 VAC split phase
Power factor
Greater Than 0.95

Operating Temperatures

Operating temperature
-20° C to +60° C (-4° F to 140° F)
Non-operating temperature
-40° C to +70° C (-40° F to 158° F)

Monitor

Magnum Energy ME-ARC Remote Control

LED Display
Display shows inverter and battery status
16 x 2 line (32 characters total), alphanumeric display used for programming the Magnum inverter operation and or fault messages.
Pushbutton Controls
Two ON/OFF Pushbuttons allow the inverter to be quickly enabled or disabled.
Menu allow the inverter to be configured to site specific preferences. Menus give simple access to monitoring and troubleshooting backup power system.
Rotary Knob controlls the selection and can scroll through and select various menu items and settings. By pushing you can "SELECT" a menu item or "Save" a setting once it is displayed on the LCD screen.

*AGM Batteries

Battery Specifications (*Battery supplied with backup power unit is subject to availability, equal or better)

Nominal Voltage
6 Volts
20 - Hr. (10.0A)
200 Ah
Approximate Weight
53 lbs Each
Number of Batteries Included
8 total with all connecting cables
Shelf Life
3 Months 91%; 6 Months 82%; 12 Months 64%
Temperature Dependency of Capacity (20 Hr)
104 Deg F 102%; 77 Deg F 100%; 32 Deg F 85%; 5 Deg F 65%

General

Approximate Total Weight With Batteries
800 lbs
Warranty
Cabinet = 5 Years; Inverter = 2 Years, Batteries = 1 Year
Backup Power System, Start With an Energy Budget
One of the first questions you have on your mind is "is this system the right size for my home or business? The answer to that question is entirely controlled by you since you control the amount of power used each day and how long you use it for. Step 1 is to establish you daily energy budget. An energy budget is the number of watt hours you will consume each day. That means you list the equipment you want to run and how long each day you want (or need) to run it. Next, you need to determine how many days of stored energy (autonomy) is required. This variable can range between 1 to 5 days (or more).
Here are some average home appliance wattages to help you get started on your list:
Laptop
50 - 65 Watts
Cell Phone
5 Watts
Table lamp
25 Watts
Inkjet Printer
50 - 75 Watts
Clock Radio
10 Watts
13" CRT TV
50 Watts
20" LCD TV
370 Watts
Table Lamp
40 Watts
8.8 cu. Ft. Freezer
80 Watts
Sump Pump 1/2 HP
500 Watts
Microwave
1200 Watts
18.8 cu. ft. Refrigerator
600 Watts
Coffee Maker
1000 Watts
Vacuum Cleaner
1200 Watts
Washing Machine
400 Watts
Well Pump 1 HP 240 V / 9.8 Amp Surge
2352 Watts (NOTE: Inverter on this system is 120V / 240V)
Home Alarm Protection System
15 Watts
Electric Hot Water Heater
3800 Watts
Dishwasher
1200
Typical Loads that might be used with the Backup Power Battery System
Sump pumps
Microwaves
Refrigerators
Freezers
Lighting
Television or Audio Equipment
Typical loads that should be avoided with the Backup Power System
Central AC Units
Commercial Electric Space Heaters
Electric Hot Water Heaters
Backup emergency electricity for your home or small business
10 kw blackout power protection battery kit
Backup Power for your Home or Small Business 10 kW / 10,080 Watts of Dependable Automatic Battery Standby Electricity - Backup power can come in handy when bad weather or other conditions interrupt the utility electrical service. Home or business owners can find themselves unable to power critical load appliances and lights. This situation can be serious if critical applications such as medical devices, telephone, home office computers, sump pumps, or refrigeration are threatened. This emergency backup power systems is one of the best values currently available on the market.
When a emergency blackout happens at your home or business, the 4400 AC pure sine wave inverter instantly starts powering critical loads from the batteries until the power comes back on. (If you have the unit hardwired to a critical load subpanel. Otherwise, you use the AC wall plugs in the cabinet with an extension cord) The backup power unit will then automatically re-charge its batteries and go into a standby mode. When the power goes out, lights, refrigerator, computers, television, alarm systems, automatic gate or garage openers, all continue working during a emergency blackout. When the power comes back up, the unit switches over and starts recharging the batteries for the next time. The home backup power kit comes with an easy-to-use monitoring system so you can check your power supply anytime of day.
Hardwiring Your Backup Power System to Your Home or Business. Here is how it works.
When you are working out the details of how your backup power kit is going to work in your home or business, the first step is to decide what loads are critical to you during a blackout. If you choose to hard-wired your backup power kit, the power needs to be sent to a critical load sub-panel that is not directly connected to your home or businesses main AC utility service panel. The two panels may be connected only by using the 4400 watt AC inverter that comes pre-wired with the backup power battery cabinet. The way it works is you will have an AC power in conduit coming from your main service panel that is connected to the "AC" in-port on the backup power cabinet. You then connect an "AC" out-port that is connected to your critical load sub-panel box only which is not connected to your home or business main service panel. What happens during a utility blackout is power will only be supplied to the critical load subpanel from the backup power unit which is wired to several important independent outlets or switches in your home or business. To make this happen in this scenario, you either need to relocate specific critical load circuits or install new ones near where you need the power during an emergency power outage. There are some very goods reasons why you have to do this. The first is called islanding, which is a bad thing. (Illegal and dangerous) Islanding means you are sending power back to the grid. Imagine, if you will, a utility worker responding to the power outage in your neighborhood. He or she thinks the power is down and starts working on the line and is injured because power is back flowing from your home. The second very good reason this backup power system needs to be wired this way is when the grid is up, power will be flowing to the AC out-port connected to the backup power center. This creates a condition where the state of charge on the bank of batteries is not regulated and you will fry the batteries. Wired correctly, when the utility power is working, electricity will flow from your main power panel through the backup power kit to power the critical circuits that you moved to your sub-panel. Keep in mind you must limit the continuous power to your critical load circuits to no more than 4400 watts (8500 watts surge). If you need more continuous power we can parallel multiple inverters to increase the current flow. But if you choose to do that without increasing your battery bank you will simply drain the batteries faster. Better to just decide on a few "have-to-have" loads and stretch the draw down on the batteries in the backup power center.
This backup power kit is shipped by ground freight and requires special handling for unloading. In most cases, truck freight companies do NOT require their drivers to unload shipments. An additional "Lift Gate" fee will apply if the driver unloads the merchandise. The shipping carrier will call and schedule delivery of your backup power kit, at which time, you may request a "Lift Gate" (provided the weight and dimensions of the product fits the criteria for lift gate service) and arrange payment with the carrier for that service.