web solar
Store
sacramento solar installers residential electric panel contractor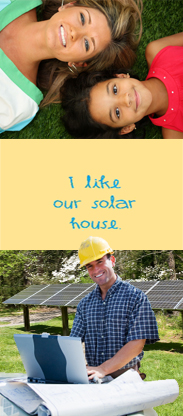 Sacramento solar installers are California companies with contracting and electrical licenses that qualify them to work safely with photovoltaic (solar) systems. Simply put, Sacramento solar installers means we are certified solar professionals who design and install solar electric and solar hot water systems for residential homes, commercial business, agriculture and government applications.

Now take the next step. The time is right! Energy prices are rising, and federal tax credits and solar rebates are available for new Sacramento solar installations. Simply fill out our installation site evaluation form and we will have a one of our certified Schuco installers call you to see if solar, for your Sacramento home or business, is right for you. Go solar with us and we will go the extra mile for you, together building sustainability.
Get plugged in with local Sacramento solar installers ... Innovative solar solutions, competitive solar prices... Bring "WOW" to your neighborhood... Installing solar will put money in your pocket... Solar will increase the resale value of your home ... Environmentally sound, efficient use of resources... Easy to use as turning on a light... Feel the power drop your utility bill, earn tax credits... Installing solar on your Sacramento home is a wise decision... A great way to contribute to a sustainable future for California and America.
From design to installation, Blue Pacific Sacramento solar makes installing solar electricity and solar hot water easy. We are the Sacramento solar installers solar power experts who specializes in grid connect solar electricity and Schüco solar hot water systems installation for homes, schools, businesses and community buildings. We offer a free home site assessment that includes cost, prices and will look after California government rebate applications, and organize every aspect of the system installation.
Why Blue Pacific Solar, Sacramento solar installers? Blue Pacific Solar is partnered with Suns Up Solar a licensed C-10 electrician in Northern California for over 23 years and is one of the leading Sacramento solar installers energy providers. We offer personalized service with a free site assessment and tailor a system to suit your individual needs.
In Sacramento, our solar installers only premium solar monocrystalline panels manufactured by reputable multinational sustainable industrial companies like Schüco whose 25 year output warranties are respected and trusted worldwide.
Suns Up Solar, Sacramento solar installers is a master dealer for premium brands like Schüco and SunPower offering the most efficient panels in the world. We use the highest efficiency pure sign wave inverters, in most cases SMA & Fronius, the world leaders in solar inverters. Full renewable energy project management including organizing lease financing and and completing the rebate paperwork for you. You, of course, are responsible for taking up to 30% credit on your federal tax returns for installing solar on your home or commercial business.
We use Schüco German designed and engineered panel mounting systems that carry a 10 year warranty. Shuco solar panels are guaranteed for 25 years, are comparable to akeena, and are from a solar manufacturer that has been in business for over 50 years. Our Sacramento solar installers accredited electricians are on site at your installation from start to finish. We guarantee your Sacramento solar installers solar installation workmanship and warranty for 10 years from the date of completion.
The Sacramento solar installers proposal process includes; conducting a solar site assessment, calculate system capabilities, select a system design, adapt the mechanical design and the electrical design of your residential or commercial property, install subsystems and components at the site, perform a system checkout and inspection, and maintain and troubleshoot a solar system.
In California, Sacramento solar installers are required to have licensing and training that comply with California regulations but there are also national certification bodies creating and implementing a series of quality and credentialing programs for professional installers. We are certified solar professionals which means we have passed testing standards established by Boots On The Roof (Division of Unitek Education) an ISPQ Accredited Training (Institute for Sustainable Power Quality) and a leading advanced solar training solar and solar certification school headquartered in the bay area. You can click on the left column logo to learn more about the solar certification school which trains many Sacramento solar installers as well as solar installers nationwide.
Certification programs, like the ones offered by Boots On The Roof, do not take the place of local California licensing regulations. Instead they offer a sort of insurance that the installer being chosen to work on your home roofing meets and exceeds a stringent set of criteria. Someone applying for certification with Boots On The Roof is someone who is trained in the application and has the education to perform solar design and Sacramento solar installers work.
Boots On The Roof believes that given basic instructions, major solar components, schematics and drawings, a Sacramento solar installer is required to specify, adapt, implement, configure, install, inspect and maintain; solar systems that meet reliability and performance needs of the client, employs quality craftsmanship, and complies with all necessary standards, codes and safety requirements. Certification requirements for Boots On The Roof also make certification distinction between solar system installers and solar thermal installers.
In Sacramento, solar installers renewable energy systems are required to be installed by a licensed contractor. While the installer performing the actual installation does not need a license, they are required only to be employed by and work under the supervision of a contractor with a license.
Sacramento solar installers solar management solutions is an independent, family owned solar energy dealer serving Northern California. We are committed to providing outstanding Sacramento solar installers, products, services and value to our customers. It is not news to sunwize homeowners, and commercial business owners of Northern California that we feature innovative, energy efficient, and esthetically pleasing solar energy services at costs that you can count on. Each Sacramento solar product allows you to take full advantage of your utility company rebates, federal tax incentives giving you positive cash flow, fixed costs and federal tax benefits all designed to save you money!
Sacramento solar installers are installing solar from the coast to the central valley, San Francisco to San Luis Obispo and Santa Maria to Sacramento, sunwize residential commercial and agricultural California property owners are adding megawatts of money to their wallets saving kilowatt of energy with sunpower. We offer competitive market prices on quality Sacramento solar installers with professional Sacramento and Northern California solar installation. No matter if its Sacramento solar installers powered mounting on your roof, solar thermal to heat your pool or solar hot water, we have the management team to get the job done.
Sacramento solar installers related questions about solar energy residential or commercial solar installations;
Sacramento solar installers common related questions about solar: How much does it cost to install solar power for a home or commercial business?
Depending on the size of the home or commercial business and the kilowatt system that is needed, it can cost anywhere from $7,500 and up to install solar in Sacramento. It is important to understand that it is the solar set-up and the materials themselves that cost money, actually running the system is nearly free, and can actually earn you money. There are also solar tax incentives and rebates that can reduce the initial cost of Sacramento solar installers.
Sacramento solar installers common related questions about solar: Are there any tax breaks for installing solar power in my home or business?

Yes, you can receive a 30% tax credit of the costs at installation. The $2,000 cap on the 30% federal tax credit for solar water heating systems has been removed. Solar water heating systems, other than those for pools or spas, are now eligible for a full 30% tax credit against the systems cost.
Sacramento solar installers common related questions about solar: Can you get paid back by your utility company for having an abundance of solar power for your home?
Many cities and states have incentives of all sorts for the use of solar panels and solar energy. In some states there are laws that require your utility company to buy back any unused solar energy. To find out about your area, you can visit the "Helpful Links" located in the right hand column. There is a plethora of solar information at the end of that link.
Sacramento solar installers common related questions about solar: Do solar panels work at night or if it's cloudy?
The solar output power will be reduced. If you are relying on your solar panels alone and don't have other sources of power this can be an issue. You would need to have a battery for backup, this would also occur at night. This way during the day, the solar panels soak up the energy and then the battery would store it for use at night or during a cloudy day.
Sacramento solar installers common related questions about solar: How do I get more information about solar power?
Switching to solar power and letting our Sacramento solar installers install the solar system is a wise and positive decision both financially and environmentally. You can find information by clicking on the "solar evaluation" tab located under the header, filling out our solar form then click send. By filling out our form, we will be able to provide all the specifics you need for solar panel installation based on your individual unique site variables, and federal solar tax incentives available in your area. Checking out Sacramento solar installers prices and costs is a sunwize decision.
Remember, there are many options available to offset the cost of Sacramento solar installers with rebates, tax incentives, financing, as well as options for installing a starter systems then adding additional modules as you can afford them. Start now saving money using renewable Sacramento solar installers energy to power your home or business.
Schools, Colleges and Universities Near Sacramento California
| | |
| --- | --- |
| Smythe Elementary School St Francis High School | Sacramento Montessori School Sacramento State University |
| Sacramento City College Sacramento City Unified School District | Sutter Middle School Trinity Life Bible College |
| MTI College Sacramento Charter High School | Mc George School of Law Merryhill Millcreek Elementary School |
| Los Rios Community College Luther Burbank High School | Hiram W. Johnson High School Lincoln Law School of Sacramento |
| CK McClatchy High School Cosumnes River College | California State University Sacramento Christian Brothers High School |
| AIA, American Institute of Architects, Central Valley, Ca | American River College California Middle School |
Regions and Cities in Northern California Where Our Photovoltaic Panel Sacramento Installers Service Solar
| | | | |
| --- | --- | --- | --- |
| Citrus Heights, CA 95610 | Davis, CA 95618 | Elk Grove, CA 95758 | Folsom, CA 95630 |
| Grass Valley, CA 95945 | Roseville, CA 95661 | Paradise, CA 95967 | West Sacramento, CA 95605 |
| Woodland, CA 95695 | Sacramento, CA 95828 | Lincoln, CA 95648< | Rancho Murieta, CA 95683 |
| Wilton, CA 95693 | Slaughhouse, CA 95683 | Carmichael, CA 95608 | Mcclellan, CA 95652 |
| Rio Linda, CA 95673 | Elverta, CA 95626 | Herald, CA 95638 | Elk Grove, CA 95624 |
Sacramento solar installers, serving sacramento county, mcclellan, roseville, davis, and all of northern california residential, commercial, agricultural, municipal, and home solar power panels needs. aia american institute of architects, business commercial solar energy systems using schüco electrical solar energy products.