web solar
Store
Solar permit service is available to help you with the process of obtaining a building permit.
Only: Learn More
AC Coupling OutBack Radian Inverter & GSLC175-AC-120/240 Load Center
Grid-interactive or Grid/Hybrid renewable energy systems with more sophisticated inverter/chargers and battery storage capabilities can provide off-grid performance when grid power is unstable, expensive, or even down altogether due to outages or emergencies.The AC output bus bar in the OutBack Radian load center is the point of common coupling for the Radian inverter output, the Grid Tie output, and the critical load center's main bus bar during all modes of operation. When the grid is active, the Radian inverter's AC input and output are connected via an internal transfer switch making the AC output bus bar a common connection point all the way out to the grid via the main service panel and revenue meter.
Only: Buy Now
Product Details:
Specifications:
Videos:
Resource Documents:
OutBack Grid-Interactive AC-Coupling GS load center Package
Power Center
Part Number
Voltage
DC (Bat) / AC
Type
Continuous AC Output Watts
AC Output Current
OutBack
Radian 8048A Inverter
GSLC175-AC -120/240 Load Center
RADAC-8048
48VDC /
120/240 VAC
AC Coupling
Grid-interactive**
8,000
30AAC
*STC = "Standard Test Conditions" Definition
**Grid-interactive Definition - Utility grid power is available for use and the system is capable of exporting (selling) electricity back to the utility grid.

GS Load Center factory pre-wired for AC-Coupled applications, with inverter DC overcurrent protection and disconnect, dual AC inputs, grid-tied inverter connection and 120/240 VAC maintenance bypass. For use with the Radian GS8048 inverter/charger to provide backup power for grid-tied systems with up to 6kW of AC-Coupled solar input.
The OutBack Radian 8048A is an advanced electronic device that takes DC (Direct Current) voltage from your batteries and turns it into 240VAC (Alternating Current), which is needed to power your household electrical appliances (i.e. AC loads). includes dual inverters/chargers, AC and DC wiring boxes, FLEXmax Charge Controller, MATE3, HUB, FLEXnet DC and Surge Protectors.
When the sun is shining, power from the Grid Tie Inverter flows to the output bus bar where it is consumed by loads connected to the critical load panel. If the load is demanding more than what the Grid Tie Inverter can provide from the solar array, then makeup power flows from the grid through the main service panel, through the AC input of the Radian and on out to the output bus bar where it is "blended" with power from the Grid Tie Inverter. If more power is produced from the array than is needed by the critical loads, then the excess power moves to the main service panel where it is consumed by those connected loads, with any surplus exported to the grid.
With loss of grid power, the OutBack Radian inverter opens up its internal transfer switch to the grid and goes into backup mode, becoming the new "grid source" to the Grid Tie inverter. This allows the Grid Tie Inverter to keep inverting power from the solar array and powering the critical load panel. Any shortfall of power to the loads would come from the OutBack Radian inverting power from the batteries. If solar power production is more than what is needed by the critical loads, then the excess power would flow back in an unregulated charge through the Radian inverter to the battery bank. The Radian "thinks" it is inverting DC power to provide an AC source on its output, which it does, however, any excess power from the Grid Tie is delivered at a higher voltage so it can "push" the power out to the grid if necessary. Since there is no grid to push it to, the power gets pushed back through the Radian inverter to the battery bank. If the battery bank becomes fully charged, the battery voltage will continue to rise as the charging is unregulated.
To prevent the battery bank voltage from going too high when Solar production exceeds load demand, a built-in AC Coupling function in the OutBack MATE3 system controller will activate the Radian 12V Aux port, which in turn is connected to an external OutBack 12V dry contact relay. The normally open relay contacts are connected to the Power Reduction Interface (PRI) Port on the Grid Tie inverter. By closing a connection between the zero percent power pin and +5V, the power output from the Grid Tie is slowly ramped down to zero percent. Now
the Radian inverter will power the loads until the battery voltage drops 0.4V below the existing voltage target, then the MATE3 commands the 12V Aux to turn off, which will cause the Grid Tie to start exporting 100 percent power again
What's On The Truck
1 - * Outback, Radian GS8048A Battery Based Inverter/Charger (Requires 48VDC Battery Bank)
1 - * Outback, GSLC175-AC-120/240 Prewired GS Load Center for Radian Inverters AC Coupling
1 - * Outback, MATE3, Advanced Remote Monitor and Controller
1 - * Outback, FW-MB3, Flexware MATE3 Side Mount Bracket
1 - * Outback, HUB10.3, COMM MANAGER
1 - * FLEXnet DC Battery Monitor
1 - * MidNite Solar MNSPD-300-AC Surge Protector Device (Lighting Arrester)
2 - Inverter Battery Cables, Code Approved THW, 4/0 x 10' (ft.) (1 red, 1 black)
1 - Line Drawing; Full Instructive Three-Line Diagram of Entire DC Circuit, as Well as AC Lines to Your Main Panel.
* These Parts Are Supplied But Field Assembly Is Required By Others, See Below ↓
OutBack Radian 8048A & GSLC175-AC-120/240 Load Centers are a stock item but because of the popularity of the items, allow 10 business days to ship after funds clear. Solar panel to main panel custom Line Drawing PDF is sent via email in 5 - 7 business days. (Stock Items & Line Drawing Subject to Seasonal Increases)
Roof or ground racks and batteries are not included in the base price of the kit because they are site specific options. Mounting on the roof or ground, types of attachment are individual's specific property requirements. There are options below for racking (roof or ground), and batteries to accommodate nearly every application you might encounter.
Additional Hardware That May Be Required
Blue Pacific Solar has provided all of the main parts you will need for your kit. Batteries and interconnect cables are site specific options that are not included with the base package. Additionally some additional items sourced from your local hardware store that your may need to purchase are: Conduit, appropriately sized electrical wire from the array, some fasteners, sealant, and wire to complete the final connection to your main panel or sub panel.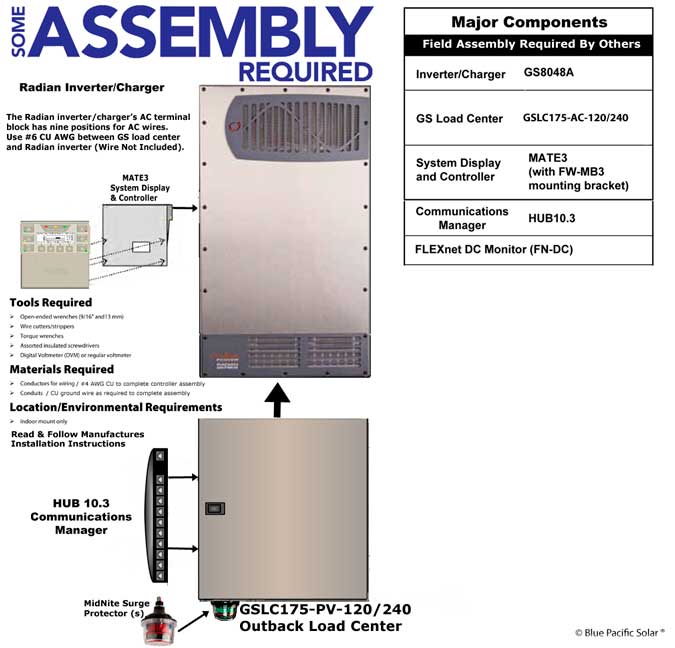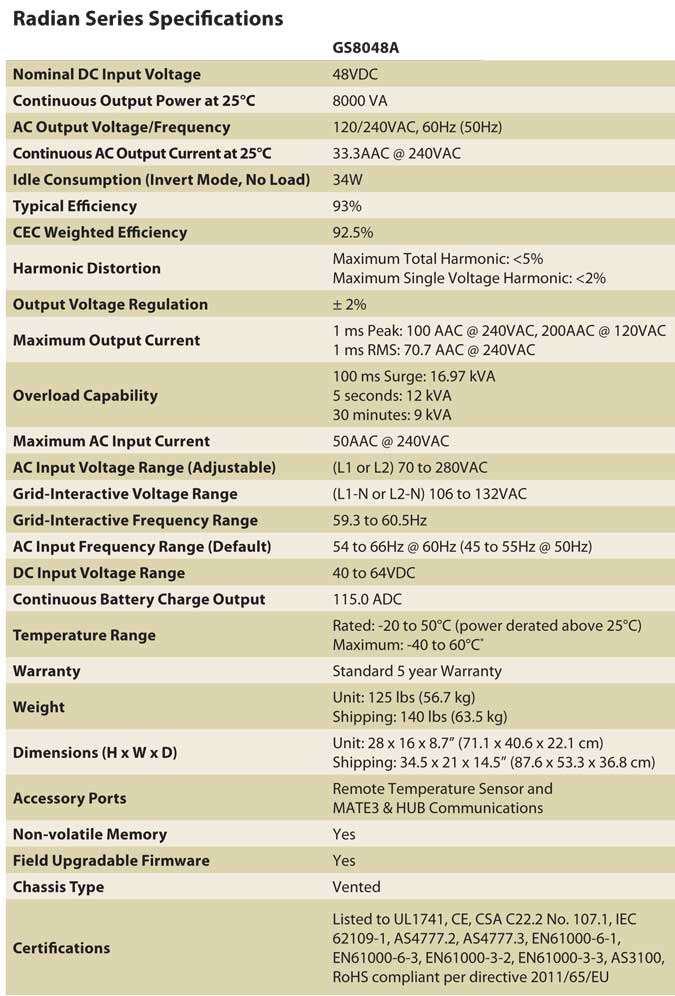 OutBack AC Coupling
Radian 8048A Inverter Utilizing the GSLC175-PV-120/240 Load Center
OutBack AC Coupling Kit with Radian 8048A GSLC175-AC -120/240 Load Center are solid-state electronic devices that, when sized properly, can be used in nearly every solar and system that uses batteries. The Radian 8048A/GSLC175-AC -120/240 Load Centers Blue Pacific Solar sells employ the latest in power electronics to regulate the battery charge by controlling the charging voltage and current from a solar panel array.

NOTE, IMPORTANT INSTALLATION: It is the responsibility of the purchaser to ensure that all products are installed and operated in accordance with local and national building
codes as specific by the NEC (National Electric Code), UBC (Uniform Building Code) or IBC (International Building Code) and local utility company policy. These codes may vary from city to city and county to county. All OutBack Radian 8048A off-grid or backup solar installations should be permitted and inspected, where required, by the local inspection authority in the same manner as other equivalent electrical systems. Blue Pacific Solar recommends you contract with a local licensed electrician to do the final electrical connection of your solar system from the AC disconnect to your main breaker box. If you need help with the permitting documents for your kit, we are here for you. Solar permit service add on is available at checkout. Additional Safety Instructions; perform all electrical installations in accordance with all applicable local electrical codes and the National Electrical Code (NEC), ANSI/NFPA 70. Do NOT disconnect the solar panel while the panels are under loads.
This OutBack AC Coupling Kit with Radian 8048A GSLC175-AC -120/240 Load Center is an affordable expandable do-it-yourself (DIY) high quality solution for your home or backup application.