web solar
Store
Solar permit service is available to help you with the process of obtaining a building permit.
Only: Learn More
1300 watt emergency solar generator off-grid home power
1300 Watt Emergency Solar
1300 Watt emergency solar backup employs an 1300 watt inverter and 2 - 100 Ah battery power like its big brother, only this unit has smaller solar panels with a price tag to match. These dependable clean energy backup power kits are a great alternative to gas powered noisy, smelly generators. 1300 watt emergency solar generators set up in minutes and will provide you with clean electricity to run your refrigerator, computer and more. Our 1300 watt emergency solar generators will allow your family to have essential power during utility blackouts. Emergency solar power that features everything you need for peace-of-mind when the power is off.
Only: Item Has Been Discontinued Buy Now
Product Details:
Specifications:
Video:
Documents & Run Times:
1300 Watt Emergency Solar, Store Electricity for Storms, Blackouts, Hurricanes
The 1300 watt emergency solar generator converts power stored in the 2 200 AH deep cycle batteries to provide 2,400 watt hours of backup household power to operate your essential applications. It provides an affordable, high output, primary power solution for an off-grid cottage or cabin, as well as backup power for grid-connected homes when a power blackout occurs. Setting up this power system is simple and hassle-free with built-in fuses, breakers, and plug and play solar power cords. Now you can make your own electricity, store it, and have power when you need it most. This emergency 1300 watt emergency solar is intended to be a temporary emergency backup power system for use in support of AC loads up to 1440 watts continuous. However, it is recommended that you budget about 1000 watts per day for critical load allowance.
What's in the Box: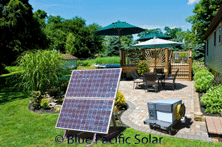 1 - 1800 Watt Inverter with 4 120 Volt Receptacles
2 - 200 AH Batteries
2 - 130 Watt Solar Panels w/ Charge Controller
Box Mounted on Cart w/ wheels
1 - Ground Rack w/ Adjustable Tilt Legs (Ships Unassembled)
1 - 80' Plug-n-Play Solar Connecting Cable
Kit is pre-wired with the Batteries Installed
Batteries

Input Sources

AC Wall Charger
120 Volts watts
(15.3V:5A)
Solar Generator Controller
DC 12V* (nominal), 25 VDC (max)
8 amp (max) Solar Generator, Solar Panel Charge Controller (PVCC) Input Receptacle has a built in charge controller and accepts up to a maximum of 8A from nominal 12VDC solar panel (maximum of 25 VDC).
DC Solar Panels*
2 130 Watt *Solar Panels

Output Port

Four 120V AC Outlets
(In the Front of the Inverter)
15 Amps Max / 80 milliseconds
AC Inverter
1800 Watt 5 Second Surge
1440 Watt Continuous

Internal Battery

Battery Type
AGM Battery
Sealed lead-acid, Deep Cycle
Battery Capacity
2,400 watt hours
200 AH (2 x 6 volt (wired = 12 volt) 200 amp-hour batteries)
Battery Voltage
6 Vdc
(nominal)
Low Battery Alarm
11.0 Volts DC
(nominal)
Low Battery Shutdown
10.5 Volts DC
(nominal)
Internal Battery Charger
0/10/40 Amps
14.2 Vdc Charge; 13.7 Vdc Float, 12.5 Vdc Recharge

General

Product Weight (No Package, Battery Box w/ Solar Panels)
320 lbs
Product Dimensions (Box, Inverter, Cart)
30" x 37" x 18" (inch)

Operating Temperatures

Optimal Operating
32°-104°F
0°-40°C
Optimal Storage
32°-86°F
0°-30°C

Certifications

Tested and certified
ETL and FCC Certified

Inverter

Modified Sine Wave Inverter

Continuous Power
1440 Watts
Peak AC Output Power
1800 Watts
Surge Capacity
2800 Watt
Output Voltage
115 Vac +/- 10 Vac
Output Frequency
60 Hz +/- 1 Hz

Operating Temperatures

Optimal Operating
32°F to 104°F (
0°C to 40°C)
Optimal Storage
-4°F to 140°F
(-20°C to 60°C)

*Solar Panel

Input Sources

2 - 130 Watt Solar Panels (*Equal or Better, Subject to Availability)

Output Ports

Peak Power Watts-PMAX (WP)
130 Watts
Power Output Tolerance-PMAX (%)
0/+3
Maximum Power Voltage-VMAX (V)
36.80 Volts
Maximum Power Current-IMPP (A)
4.90
Short Circuit Current-ISC (A)
5.35 Amps
Encapsulated Cell Efficiency (%)
16.80
Module Efficiency (%)
14.10
Temperature Coefficients of Im (%)
+0.1
Temperature Coefficients of Vm (%)
-0.38
Temperature Range
-40 +85 C
Tolerance Wattage (e.g. +/-5%)
+/-5%
Surface Maximum Burden Weight
.28 lbs/sq. inch (30m/s, 200kg/sq.m)
Allowable Hail Load
Steel ball dropped from 1m height
Junction Box Type
Tyco or MC4 Depending on Modules
Length of Cable (Ft.)
80 foot
Cell Efficiency (%)
17%
Output Tolerance (%)
+/-5%
Standard Test Conditions
AM1.5 1000mW/C 25 C
Dimensions
28.69" x 62.24" in.

General

Weight
36 lbs each
Warranty
Solar panels = 25 Years; Solar Rack = 10 Years, Charge Controller = 5 Years, Inverter = 1 Years, Battery = 1 Year
Run Time on Typical Products

Laptop (65 Watts)
22 Hours
Cell Phone (5 Watts)
396 Hours
Table lamp (25 Watts)
55 Hours
Inkjet Printer (50 - 75 Watts)
55 Hours
Clock Radio (10 Watts)
50 Hours
13" CRT TV (50 Watts)
30 Hours
20" LCD TV (370 Watts)
3.5 Hours
Table Lamp (40 Watts)
43 Hours
8.8 cu. Ft. Freezer (80 Watts)
20.5 Hours
Sump Pump 1/2 HP (500 Watts)
4 Hours
Microwave (1200 Watt)
8 Min
Laptop, Inkjet Printer, Cordless Phone, Internet Modem
Up to 47 Hours
18.8 cu. ft. fridge and alarm system
Up to 13 Hours
Cordless Phone, 13" TV, Clock Radio, Table Lamp
Up to 19 Hours

The 1300 watt emergency solar recharge time is dependent on the amount of solar energy available from the panel, battery initial state-of-charge, and simultaneous 12V load on battery system (i.e., inverter ON, 12VDC accessory loads). The solar generator panel output power varies widely depending on intensity of sun (weather), angle of panel towards sun (perpendicular is best) and other factors. Under ideal solar harvest conditions and no load on battery, two typical 130W panels can recharge in 6 - 8 "sun hours1." Even under less than ideal conditions, significant supplementary solar energy input will extend 1300 watt emergency solar generator runtime.

The 1300 watt emergency solar generator charge controller with it's dedicated status LED operate independently from the solar generator's built-in AC charger and its top panel display. The Solar generator charge controller and the AC charger may be operated simultaneously for faster recharge. The Solar generator charge controller includes a current blocking feature to prevent battery discharge at night due to a connected solar panel (reverse leakage). The 1300 watt solar generator may be operated in backup (inverter) mode while the solar generator charge controller/solar panel is charging.

1. Number of "sun hours" per day will vary by location and weather conditions. For example, sun hours per day in Seattle is "3", which is low while in Las Vegas it is"7", which is high
Typical Loads that might be used with the 1300 Watt Emergency Solar Generator
Sump pumps
Microwaves
Refrigerators
Freezers
Lighting
Television or Audio Equipment
Typical Loads that might not work well with the 1300 Watt Emergency Solar Generator
Some pellet stoves that have an auger for pellet feeding
Some electronic furnace controls
Some rechargeable devices
Variable speed fans or lights with dimmer switches
This 1300 Watt Emergency Solar Generator is not intended for use in connection with life support systems or other medical equipment or devices.
This 1300 Watt emergency solar kit is shipped by ground freight and requires special handling for unloading. In most cases, truck freight companies do NOT require their drivers to unload shipments. An additional "Lift Gate" fee will apply if the driver unloads the merchandise.
The shipping carrier will call and schedule delivery of your 1300 watt emergency package, at which time, you may request a "Lift Gate" (provided the weight and dimensions of the product fits the criteria for lift gate service) and arrange payment with the carrier for that service.
1300 watt emergency solar power generator
solar emergency panel kit solar for home backup battery power
1300 watt emergency solar generator can bring you some serious piece of mind during power outages. This solar battery backup system is relatively small in size and one of the best values on the market today. Though no solar emergency backup system of this size is going to be very portable, we have added a sturdy cart to you don't have to strain yourself moving the inverter and battery case.
1300 Watt Emergency Solar Features:
System type: Mobile, Off-grid Solar with Batteries
Ships; World Wide
Solar Resource: 5 average daily peak sun hours
Production: 5.4 kWh per month average electrical production
Modules/array: Two 130 Watt STC Solar Panels
Array installation: Portable ground mount, Adjustable tilt
Charge controller: Morningstar's TriStar Solar Battery Controller is a three-function controller that provides reliable solar battery charging and load control. The TriStar uses advanced technology and automated production and is the most sophisticated and informative controller meter on the market. The solar controller is UL listed and is designed for both solar home systems.
Inverter: Xantrex, 12 VDC input, 120 VAC modified square-wave output energy storage
Battery: Two AGM, 6 VDC, 200 AH at 20-hour rated
1300 watts of real solar energy to keep the power up on those batteries. Our powerful solar generator is capable of delivering up to 1300 watts of power for your home. This solar backup power solution draws power from two powerful 130 watt solar panels pumping DC electricity into two 100 aH AGM batteries. Sealed "absorbed glass mat" (AGM) batteries typically cost up to twice as much as flooded batteries but they are the best battery type for standby backup applications.
This 1300 watt emergency solar generator provides an affordable, high output power solution. Though the 1300 watt power is a hub for temporary off-grid home or cabin power, it is especially well adapted as backup energy for grid-connected homes when the utility company has a rolling blackout. Never worry about keeping your refrigerator cold or not knowing what's happening in the world during an electrical blackout. Our 1300 watt emergency solar generator will keep electricity flowing while you are off-the-grid. The 1300 watt emergency power supply is better than a generator because you will not have to put up with a smelly noisy gas or diesel generator.
How Solar Battery Controllers Work - The circuitry in a controller reads the voltage of the batteries to determine the state of charge. We only use best-in-class solar charge controllers in our 1300 watt emergency solar kits which read the voltage to control the amount of current flowing into the battery as the battery nears full charge.
Features of our solar battery charge controllers to consider:
Reverse DC current leakage protection - The 1300 watt emergency solar charger automatically disconnects the array by using a blocking diode to prevent current loss into the solar modules at night.
Low-voltage load disconnect (LVD) – to reduce damage to batteries by avoiding deep discharge.
System monitoring - analog or digital meters, indicator lights and/or warning alarms.
Over current protection – with fuses and/or circuit breakers.
Temperature compensation – utilized whenever batteries are placed in a non-climate controlled space. The charging voltage is adjusted to the temperature.
We power up the batteries on this 1300 watt emergency solar generator with 2 - 130 watt polycrystalline solar panels and a quality charge controller with temperature sensor for the batteries. When batteries are cold, they require an increase in the maximum charge voltage to reach full charge. When they are warm, they require a reduction in the voltage limit to prevent overcharge. The remote temperature sensor is recommended whenever the temperature of the battery varies more than 9°F during the year. That's pretty much everywhere in America.
With this 1300 watt emergency solar generator, your friends are going to be asking you why you feel you need it. The answer is simple. Not only do you have the joy of moving from an sustainable observer to a participant in the greening of American, you have the piece of mind that an endless supply of power can provide you and your family. Wait did we mention that our 1300 watt emergency solar generator ships for FREE in the lower 48? Quality solar electricity you can depend on during any home emergency.