The SMA 8.6 kW System Solution w/ Panasonic HIT Mono Panels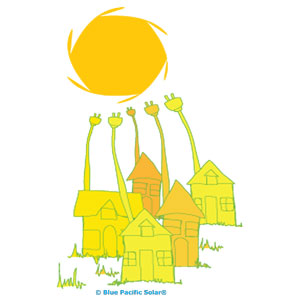 Production = 1,287 kW Per Month ● Assumptions: 330 Watt STC Panel Rating [Factory Rating] @ 5 Sun Hours (Average).
SMA with Secure Power Supply
SMA Sunny Boy SP series inverter comes standard with advanced features like it's off-grid capabilities and full grid management functionality. Solar systems are required by code to disconnect from the electrical grid when the power goes out. Traditionally, that meant your system would deliver zero power to your home, but not anymore. SMA has pioneered the Secure Power Supply (SPS), which will continue to deliver power from your solar system to your home when the sun is shining, even when the power goes out. A dedicated wall outlet is wired directly to the inverter, providing security and ensuring power is available when it's needed most. SPS delivers up to 2,000 Watts of opportunity power when the grid goes down and the sun is shining.
Secure Power Supply Operation
You can connect an external outlet and a switch to the inverter in order to activate the outlet. In case of a grid failure, the outlet supplies a load with current from the solar system. When the outlet is activated via the switch, the load is supplied with current from the solar system. The inverter automatically regulates the energy supply of the outlet depending on the solar irradiation on the solar system. When the outlet is activated and a load is supplied with current from the solar system, the inverter is disconnected from the utility grid and does not feed into the utility grid.
More Power = More Savings on Your Energy Bill.
The Sunny Boy's multiple independent input channels, each with SMA's OptiTrac™ Global Peak, mean hundreds of stringing configurations for flexible system design while solving the challenges of complex roofs and shading. The SMA Sunny Boy SP inverter series feature simplified design which means reduced costs for residential solar installations. The Sunny Boy US features an integrated DC disconnect, simplifying the installation and providing a safe system operation.
SMA California Rule 21 compliance is fast and easy! Click on Videos Tab ⇑ above "What's On the Truck" to learn more.
CA Rule 21 currently governs CA & HI Rule 14H utility interconnection for all net energy metering for all projects permitted and approved for interconnection. The change was designed to create a standard for inverters more capable of dealing with a volatile utility grid. Why is this needed? Utility companies are facing higher penetration rates of solar and in some cases are saturated and needed an additional low/high frequency ride-through. By using so called smart inverters the functionality keeps grid voltage from oscillating or acts like a shock absorber intended result is automatic stabilization of utiltiy grid voltage.
Personal Technical Advisor
Line drawing questions or just stuck? No worries we have your back and will be here to help whenever you have questions about your purchased Kit. For orders larger than $2,000.00 a Technical Sales Team Group Captain will be assigned your account. Your Technical Advisors job is to coordinate all parts and pieces of your order and to work with you throughout the process. This support helps because we will be providing you with a single contact point to call with your questions. Your technical support contact does not replace the maufactures warranty technical support. DIY means you accept the responsiblity of reading the installation and other documents prior to tackling the installation.
Panasonic HIT Panels 19.7% Panel Efficiency
Panasonic a leader in consumer electronics, business solutions and industrial components has been in the solar business for 40 years, providing high efficiency and high quality panels for over 17 years. 25 Year Warranty, UL Listed.
Panasonic HIT® solar panels are highly efficient and produce more power per square feet than traditional products.