● Click the

Tab Above ⇑ Schematic

to Learn More.
What's On the Truck
● P/N RP300-24-224 - Off-Grid Remote Solar Station
1 - Mission, 300W Solar Panels Black Frame Mono-Perc MSE300SQ5T
1 - PV Wire 50' Cable Extension, 10AWG, UL4703
1 - MidNite Solar MNPV6, 6 Position Combiner Box
1 - MidNite Solar MNEPV15 - 15 amp DC Breaker 150VDC DIN
1 - MidNite Solar MNEPV30 Battery Breaker DIN
1 - MidNite Solar MNDC-GFP63 Ground Fault Protection DIN
1 - Midnite Solar MNSPD300-DC Lighting Arrestor
1 - Midnite Solar, The KID MPPT Charge Controller, 150VDC, 30A, 12-48V Battery, with LCD and wall mount bracket, Black, MNKID-B
1 - Preformed Line Products Side-Pole Mount (SPM) DP-SPM2-G for 2 Type-G Modules.
1 - Solar Rackworks Outdoor Battery Enclosures SR-BB6-GRP30-PL
4 - FullRiver AGM DC224-6 batteries
4 - Strain Relief, Cord Grip, 1-Hole for 5 to 12mm (.200" - .472") OD Wire, 1/2" with locknut
3 - Battery Cable, Code Approved THW, Black, 2/0 x 12"
1 - Line Drawing; Full Instructive Three-Line Diagram of Entire DC Circuit, as Well as AC Lines to the optional inverter.
System Ships in Approximately 20 Business Days After Funds Clear (NOTE: Subject to Seasonal Increases) ● DPW top-of-pole racks & Battery enclosure is a drop shipment item direct from the manufacturer. Ships in about 20 business days (Subject to Seasonal Increases) after funds clear and the shop drawing is approved by the customer. ● Line Drawing send via Email [PDF] 3 - 5 business days after funds clear.
[See Optional Accessories Below]
AC Inverters, DC Combiners; Additional Breakers
Example - Telecommunication Off-Grid System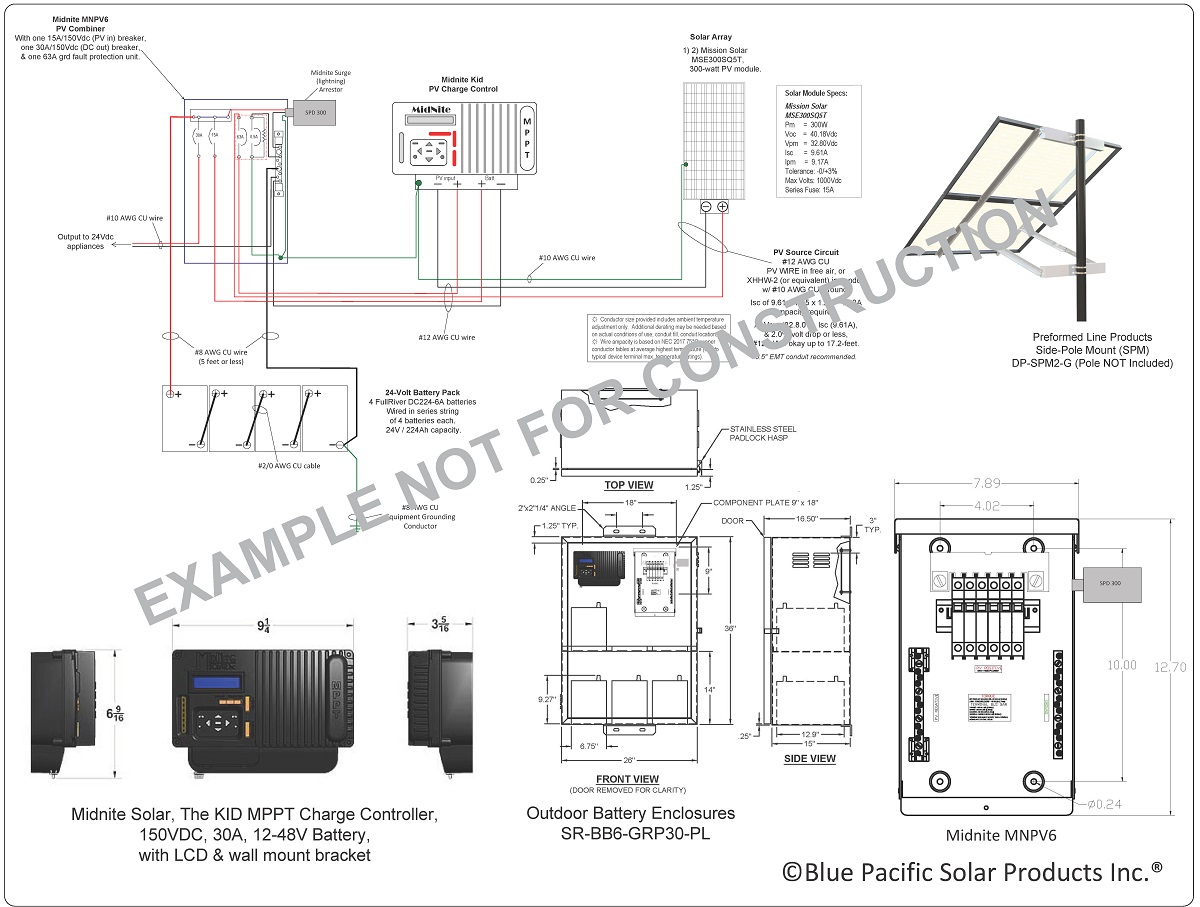 Example - Telecommunication w/ Optional Mini DC Disconnect Off-Grid System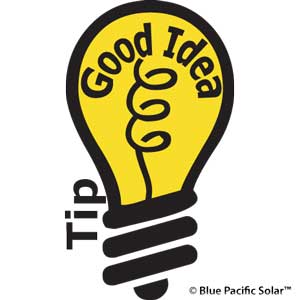 RECOMMENDATION - Keep the number of parallel strings of batteries to three or fewer. More than three strings of batteries will shorten your battery life due to uneven charging. That means use higher AH 6VDC or 2VDC batteries for fewer strings. Batteries in Series = Voltage is Additive; Batteries in Parallel = Ah is Additive.