web solar
Store
Solar permit service is available to help you with the process of obtaining a building permit.
Only: Learn More
2000W Home Backup Emergency Power System #BP9102000
Assembled, wired and tested by factory trained technicians, this 2000 watt home backup power system has an inverter that monitors the grid. When the utility power goes down, the 2000 watt inverter will automatically switch your home over to battery backup power, 4,800 watts, in under a second then switch back and recharge the batteries when the grid is up again. The 2000W Home Backup System comes standard with four 200 aH AGM batteries, with the option of adding more. The heart of the system is a Magnum MS2012 2,000 watt sine wave inverter. Also included are Magnum Battery monitor, battery enclosure with two shelves, all necessary battery interconnects and terminal caps. (Psst... its also very cool that its all made in America.)
Only: Buy Now
Product Details:
Specifications:
Videos:
Documents:
2,000 Inverter Watt / 4,800 Battery Watts, Home Backup System Power Center
| | | | | | | |
| --- | --- | --- | --- | --- | --- | --- |
| Model | Part Number | Battery Watts | Input Current | Voltage DC/AC | Type | Shipping Weight |
| 2000 W Home Backup Power System | BP9102000 | 4,800 | 30 Amps | 12 VDC / 120 VAC | Off-Grid / On Grid | 370 lbs |
Pre-wired and pre-tested for 120 Vac / 60Hz applications, 2000 W Home Backup Power System is ready to install. Wired with all of the necessary safety devices, it is compact in size and ideal for smaller to medium solar power applications such as cabins, off-grid applications, home backup power systems. Cabinet is rated for indoor use only.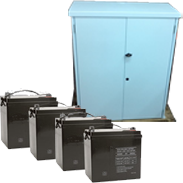 What's On The Pallet
1 - 2000 W Home Backup Power System. Fully Assembled Except Batteries (Batteries included but not installed) BP9102000
1 Magnum Energy MS2012 Sinewave Inverter
1 Magnum Energy ME-ARC 50 Inverter Remote
1 Magnum ME-BMK Battery Monitor
4 UPG UB-GC2 AGM 200 aH Batteries (Equal or better)
1 Battery Enclosure with Locking Door
System Monitor Gives Instant Status and "Percent of Full" Battery Info
No Maintenance, Long Life, Sealed Batteries
Attractive, Lockable Steel System Enclosure for Indoor Location
AC and DC Input Breakers
Inverter Bypass Switch Allows Choice of Generator / Grid or Inverter Output
Easy to Connect Color Coded Buss Bars for AC and DC Connections
Multiple Available Knockouts for Conduit Attachments
Single System Grounding Point
Clearly Labeled Connection Points for AC and DC Input and Output
Tested by Magnum Energy Factory Trained Technicians
All Required Internal Cables and Connectors
Home Backup Battery Options
Choose the off-grid battery option that best fits your needs. The size of the battery bank you choose depends on the amount of power you require (Watts), the amount of time each day you expect to run your appliances, equipment and lights, and your location or available sunlight (If you are adding solar or wind power). As a rule-of-thumb, when considering batteries off-grid, use 3 days of autonomy (No Sun) as a minimum and 50% depth of discharge for your battery bank.
| Battery Options | Volts | Watt Hours | # Batteries | Includes | Price | |
| --- | --- | --- | --- | --- | --- | --- |
| UPG Battery Bank | 6VDC | 4,800 Watt Hours | 4 UPG 200 aH 6V AGM | Cables + Free Shipping | | |
Optional Accessories
Part #
Price
2 - 250 Watt Canadian Solar Panels; 1 - Midnite Solar Classic 150 Charge Controller; 50' #10 MC4 AWG Wire BP9200360
Midnite Classic Data Sheet
BP9200360
**Freight Shipping is Dock to Dock
In circumstances where we have to ship by freight, free or otherwise, that means dock to commercial dock (not residential) to any of the lower 48 states. If the customer does not specify a local commercial dock that is available, we will ship to the nearest terminal where the shipment will be held for will call pick up by the customer. If you choose to have your order shipped to your residence, most orders require special handling for unloading and the pallet has to be transferred to a truck with a lift gate. In most cases, truck freight companies do NOT require their drivers to unload shipments. An additional "Residential" as well as a "Lift Gate" special handling fee will apply if the driver unloads the merchandise to the curb at your residence. The special handling fee is $89.00 and is available at checkout. If you have selected this add on service, the shipping carrier will call and schedule delivery of your solar kit, (provided the weight and dimensions of the product fits the criteria for lift gate service). You can avoid the residential and lift gate fees by arranging a "Will Call" pickup at the closest freight company terminal. In that case, you will need a pickup truck, a copy of the bill of laden, and a photo ID. When you arrive at the freight company terminal, the freight company will load your order into the bed of the truck with their forklift. The most common pallet size = 65" X 44" (Height depends on Product). Be sure and check for hidden damage.
Mechanical Data

Dimensions

Cabinet MNBE-C (3 shelf)
33.62 x 15.25 x 57.89
W x D x H
Ship Wt (Cabinet Only)
190 lbs
Grey or White Cabinet
Aluminum Powder Coat
(Color shipped subject to current available inventory)

Inverter

Magnum Energy MS2012 Pure Sine Wave

Input battery voltage range
9 - 17 VDC
Nominal AC output voltage
120 Volts AC
Output frequency and accuracy
60 Hz ± 0.1 %
1 msec surge current (amps AC)
50
5 sec surge power (real watts)
3300
30 sec surge power (real watts)
3100
5 min surge power (real watts)
2800
30 min surge power (real watts)
2200
Continuous power output at 25° C
2000 VA
Maximum continuous input current
266 ADC
Inverter efficiency (peak)
89%
No load (120 VAC output, typical)
25 watts
Waveform
Pure Sine Wave
Charger Continuous output at 25° C
100 ADC
Input current at rated output (AC amps)
15
Power factor
> 0.95

General Features and Capabilities

Transfer relay capability
MS2000: 30 A single input MS2012, MS2812, MS4024: 2 legs at 30 A for 120 V/30 A or 240 V/60 A service
Five stage charging capability
Bulk, Absorb, Float, Equalize (requires remote), and Battery Saver™
Remote available (optional)
Yes, MM-RC or ME-RC
Over current protection
Yes, with two overlapping circuits
Dual AC branch rated output breakers
Optional on the MS2000 and MS2012 - AC breakers in 15 or 20 amp ratings
Listings
ETL Listed to UL/cUL 458, UL 1741, CSA C22.2 #107.1-01, meets KKK-A-1822E standard
Warranty
Three years

Environmental Specifications

Operating temperature
-20° C to +60° C (-4° F to 140° F)
Non-operating temperature
-40° C to +70° C (-40° F to 158° F)

Physical Specifications

Dimensions (L x W x H)
13.75" x 12.65" x 8.0"
Mounting
Shelf (top or bottom up) or bulkhead (vents up)
Weight
42 Lbs
Shipping Weight
48 Lbs
Max operating altitude
15,000'

Monitor

Magnum Energy ME-ARC Remote Control

LED Display
Display shows inverter and battery status
16 x 2 line (32 characters total), alphanumeric display used for programming the Magnum inverter operation and or fault messages.
Pushbutton Controls
Two ON/OFF Pushbuttons allow the inverter to be quickly enabled or disabled.
Menu allow the inverter to be configured to site specific preferences. Menus give simple access to monitoring and troubleshooting backup power system.
Rotary Knob controlls the selection and can scroll through and select various menu items and settings. By pushing you can "SELECT" a menu item or "Save" a setting once it is displayed on the LCD screen.

*AGM Batteries

Battery Specifications (*Battery supplied with backup power unit is subject to availability, equal or better)

Nominal Voltage
6 Volts
20 - Hr. (10.0A)
200 Ah
Approximate Weight
53 lbs Each
Number of Batteries Included
8 total with all connecting cables
Shelf Life
3 Months 91%; 6 Months 82%; 12 Months 64%
Temperature Dependency of Capacity (20 Hr)
104 Deg F 102%; 77 Deg F 100%; 32 Deg F 85%; 5 Deg F 65%

General

Approximate Total Weight With Batteries
380 lbs
Warranty
Cabinet = 5 Years; Inverter = 3 Years, Batteries = 1 Year

2000 W Home Backup Power System Documents & Manuals
2000 W Home Backup Emergency System
Pre-wired Power Center 120 Volts AC Pure Sine Wave Electricity
2000W Home Emergency Backup Power System is solid-state electronic device pre-wired and ready for the next utility blackout. This made in American home blackout power kit is expandable for solar, wind and additional batteries. The 2000W Home Emergency Backup Power System Blue Pacific Solar sells employ the latest in power electronics.
Off-grid or grid tied, here is how the 2000W Home Emergency Backup Power System basically works. For a grid tied battery backup, grid power comes into the 2000 W Home Backup Power System. If the backup batteries are fully charged, the power is then passed to the critical load or backup load subpanel inside the home. The 2000W Home Emergency Backup Power System is monitoring the sine wave of the grid, amps and volts. When the 2000W Home Emergency Backup Power System detects changes outside the default parameters, it immediately begins to draw power from the backup battery system and pushes it to the critical load subpanel.
If you have solar panel system connected to the 2000W Home Emergency Backup Power System, the power center will use the electricity produced by your solar panels to charge the batteries making 2000W Home Emergency Backup Power System a great choice for home backup and off-grid applications.
2000W Home Emergency Backup Power System uses multiple stages of control to regulate different voltage and current levels. The voltage and current of a battery varies over the different stages of battery charge. Though the amount can vary, the bulk charge usually is approximately 80%, the absorption charge is 10% with the float charge representing the balance of the battery charging process.
The bulk charging stage of the 2000W Home Emergency Backup Power System process is the first stage to used to bring the battery depth of discharge (DOD) back to 100%. The bulk charge stage happens first in in the morning after the batteries DOD has drained down since sunset the previous day. The bulk charging stage pushes as many amps into the battery bank as possible from the solar panels and gets the voltage up in the process. The effect of a Power Center is not unlike trying to fill a glass of water from a faucet. You first turn the faucet on full while the glass if filling, then slowly taper off the pressure until the glass is full. When the battery bank reaches a predetermined level known as the bulk voltage set-point, the charge is then substantially slowed. Because the bulk voltage set point is determined by the type of battery you are using, many Power Centers have to be pre-set to the type of battery which will dictate the rate of charge.
The second state of charge the 2000W Home Emergency Backup Power System employs is the absorption stage. After a battery system has been brought up to the bulk voltage set point, the Power Center slows down the charge rate because the battery bank cannot accept the same rapid charging pace without overheating and damaging the battery bank. At the absorption stage a battery bank is only about 80% full. The absorption charge is the function level in the process that tops off the battery bank. During the absorption stage, the Power Center holds the battery volts constant and reduces the amount of current sent into the battery. When the absorption stage is complete, the battery bank is fully charges.
The final step the 2000W Home Emergency Backup Power System performs is the float charge. Typically a Power Center enters into a float charge state when the other charge levels of the battery bank has been achieved. When the number of peak sun hours is limited, a solar Power Center may not be able to get the battery bank back to the float stage before the next cycle begins.
Each 2000W Home Emergency Backup Power System comes pre-wired with inverter mounted ready to power up. You simply have to finish connecting into your battery bank and wire to your breaker box or subpanel. Simple, easy, fast.

IMPORTANT SAFETY INSTRUCTIONS: 2000W Home Emergency Backup Power System. (OK, here is the scary legal disclaimer.) It is the responsibility of the purchaser to ensure that all products are installed and operated in accordance with local and national building codes as specific by the NEC (National Electric Code), UBC (Uniform Building Code) or IBC (International Building Code) and local utility company policy. This product is designed for indoor or protected compartment installations. DO NOT expose the Magnum Panel System or battery box to rain, snow, moisture or liquids of any type. Use insulated tools to reduce the chance of electrical shock or accidental short circuits. Remove all jewelry such as rings, watches, bracelets, etc when installing the Magnum Panel System Power Center or any other electronic gear. Always disconnect the batteries or energy source prior to installation or performing maintenance on the 2000W Home Emergency Backup Power System inverter. Live power may be present at more than one point since an inverter utilizes both batteries and AC electricity. Turning off the 2000W Home Emergency Backup Power System may not reduce that risk. Always verify proper wiring prior to starting the inverter. Do not operate the 2000W Home Emergency Backup Power System if it has been damaged. Always read and follow the manufactures installation and operating instructions for the Magnum Inverter prior to installation and operation.