The Off-Grid or Grid-Interactive;
Grid/Hybrid™ Solution w/ Mission USA Made Mono Panels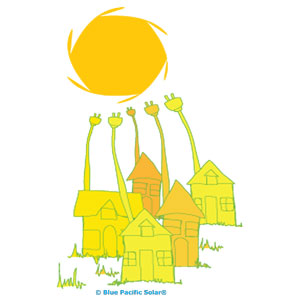 Solar Production = 18,000 Watts Per Day ● Assumptions: STC 300 Watt Panel Rating [Factory Rating] @ 4.0 Sun Hours (Dec). Sun Hours should reflect the average value of total solar energy received in peak-sun-hours per day on an optimally-tilted surface during the month with the lowest solar radiation (not the yearly average). This is the best number to use in off-grid system design where the electrical demand is continuous or is not expected to vary seasonally and the system must be designed to operate year-round.
Technical Specifications: Radian Power Center ● 48 VDC Battery Based Pure Sinewave Inverter. 240VAC Output, Continuous Inverter AC Output Current 33.3 AAC (Single Radian) ● Charge Controller FM80 NEC Recommended Solar Maximum Array STC Nameplate: 48VDC systems: 4000W per Charge Controller; ● 240 VAC Generator Compatible.
IMPORTANT: Amps AC Output; Define Your Load Amp Requirements: A Single OutBack Radian inverter's continuous AC output current is limited to 33.3AAC. The concern here is that the combination of your normal loads (Not Surge Loads) might exceed the inverters output current rating (Amps Out) on larger solar systems. It is critical in the design selection that you make sure the continuous AC load combination of your power requirements at the site is at or below the 33.3 AAC output limit of a single Radian inverter. (Single Radian = 33.3 AAC Output. Each Parallel Stacked Inverter adds 33.3 AAC Output. Example X2 Radian Inverters = 66.6 AAC Output)
The Radian GS8048A-01 is ideal for full-size solutions for off-grid, grid-tie and or backup power for homes, farms or small commercial systems. The OutBack Kit comes with all necessary solar components integrated into a compact hang-on-the-wall system with a minimal footprint. (Locally Sourced Wire and Conduit Will be Required)
● Off-grid and grid-tie functionality in one flexible system.
AC Input Connection
Programmable for seven different modes including GridZero, which blends utility power and stored renewable energy, minimizing grid dependence; also Support Mode for seamless generator integration.
Grid Tied
The Grid Tied mode allows the Radian inverter to become grid-interactive. This means that in addition to using power from the utility grid for charging and loads, the inverter can also convert excess battery power and export power to the utility grid. Excess battery power usually comes from renewable energy sources, such as solar arrays, hydroelectric turbines, and wind turbines.
Backup
Backup functionality requires a seperate critical load panel. The Radian inverter's transfer circuit and will power the loads when utility power is lost.
OutBack Radian is Compliant with California Rule 21 and Hawaii 14H Grid Support Requirements. UL1741-SA (Rule-21)
CA Rule 21 currently governs CA & HI Rule 14H utility interconnection for all net energy metering for all projects permitted and approved for interconnection. The change was designed to create a standard for inverters more capable of dealing with a volatile utility grid. Why is this needed? Utility companies are facing higher penetration rates of solar and in some cases are saturated and needed an additional low/high frequency ride-through. By using so called smart inverters the functionality keeps grid voltage from oscillating or acts like a shock absorber intended result is automatic stabilization of utiltiy grid voltage.
Personal Technical Advisor
Line drawing questions or just stuck? No worries we have your back and will be here to help whenever you have questions about your purchased Kit. For orders larger than $2,000.00 a Technical Sales Team Group Captain will be assigned your account. Your Technical Advisors job is to coordinate all parts and pieces of your order and to work with you throughout the process. This support helps because we will be providing you with a single contact point to call with your questions. Your technical support contact does not replace the maufactures warranty technical support. DIY means you accept the responsiblity of reading and following the line diagram and other installation documents prior to tackling the installation.
NOTE: For detail support after installation customer must be willing or have the ability to connect to the system monitoring via web interface with OutBack OPTICS RE. The monitoring platform software is free but requires a WiFi connnection to the Mate3s Controller via RS485 .
Mission Solar Panels 18.1% Panel Efficiency
Blue Pacific Solar® SolarEdge Kit is featured with Mission panels. Mission Solar Energy, proudly assembled in the USA, is headquartered in San Antonio, TX with module facilities onsite. Mission Solar hardworking team calls Texas home and is devoted to producing high quality solar products. Our supply chain includes local and domestic vendors. 25 Year Warranty, UL Listed.