web solar
Store
Solar permit service is available to help you with the process of obtaining a building permit.
Only: Learn More
OutBack 7290W Off-Grid Kit With FLEXpower™ TWO FP2-VFXR3648A
The OutBack DIY (Do-it-yourself) kit with FLEXpower™ TWO FP2-VFXR3648A power center is engineered to make installation faster and easier for off-grid or backup applications. The OutBack inverter produces pure sine wave clean electricity drawing power from the energy stored in a battery bank. Mechanically and electrically engineered, every component has been specially selected to assure the highest performance with this safe simple-to-install kit. OutBack Energy inverter, OutBack FLEXmax 80 charge controller, lighting arresters and breakers come pre-assembled using the FLEXpower™ TWO chassis.
Only: Buy Now
Product Details:
Specifications:
Videos:
Resource Documents:
OutBack FLEXpower™ TWO Battery Based Energy System
Power Center
Part Number
Array Size Watts (STC*)
Daily Watts Based on 5 Sun Hours (*STC)
Voltage
DC (Bat) / AC
Type
Continuous AC Output Watts
Continuous AC Output Current
OutBack
FLEXpower™ TWO
FP2-VFXR3648A
FLEX2CS-48-7290
7,290W
36,450W (*STC)
48VDC / 120/240VAC
Off-Grid &
Grid-interactive**
7,200W @ 240VAC
30AAC
*STC = "Standard Test Conditions" Definition
**Grid-interactive Definition - Utility grid power is available for use and the system is capable of exporting (selling) electricity back to the utility grid.
This OutBack FLEXpower™ TWO Solar kit is expandable, and accommodates all of the essential protective devices in the smallest possible space. The FLEXpower TWO is an ideal full-sized solution for residential and commercial applications including homes, farms, small businesses, and back-up power systems, with all necessary components integrated into a compact hang-on-the-wall system with a minimal footprint. Utilizing an extremely compact design and an easy-to-install mounting bracket, the fully pre-wired and factory tested OutBack power center is designed for a quick installation. Choose either roof, ground or pole mount rack which will save you both time and money. As with all Blue Pacific Solar's kits, our Technical Sales staff is standing by to provide support that is as close as your telephone.
The OutBack FLEXpower™ TWO FP2-VFXR3648A is an advanced electronic device that takes DC (Direct Current) voltage from your batteries and turns it into 120/240VAC (Alternating Current) voltage, which is needed to power your household electrical appliances (i.e. AC loads). FLEXpower™ TWO includes a dual inverter/charger, AC and DC wiring boxes, dual FLEXmax Charge Controller, MATE3, HUB, FLEXnet DC and Surge Protector. The FLEXpower™ TWO System is also equipped with battery and PV array breakers, PV GFDI, an Input-Output-Bypass Assembly, and additional AC breakers.
Programmable for seven different modes including GridZero ,which blends utility power and stored renewable energy, minimizing grid dependence; also Support Mode for seamless generator integration. Advanced Battery Charging (ABC) with expanded charging voltages and time parameters accommodates charging profiles of new and emerging storage technologies including Lithium Ion, and Aqueous types. Field-upgradability eliminates system down-time for critical updates. Remote system control and monitoring available through any internet-enabled device with OPTICS RE.
Canadian Solar panels ranked among the highest efficiency polycrystalline panels in the industry, bringing customer values of more energy
production. Best Warranty Insurance, 25 year worldwide 100% warranty term coverage providing third party bankruptcy rights. Non-cancellable, by 3 top insurance companies. 25 Year Warranty, UL Listed.
What's On The Truck
1 - OutBack Power FLEXpower™ FP2-VFXR3648A, Pre-wired Power Center, 7.2 KW, 48 VDC, 120/240 VAC, 60 HZ, Dual VFXR3648A FM80
27 - 270W Canadian Solar Panels, CS6K-270M Mono Black Frame 60 Cell Mono
1 - Outback, FWPV-12 Combiner box, 12 Position Combiner Box
9 - MidNite Solar MNEPV-15 - 15 amp DC Breaker 150VDC DIN, 13mm
2 - MidNite Solar MNSPD-300-DC Surge Protector Device (Lighting Arrester)
9 - 50' PV Wire, 10AWG, UL4703 600VDC; Male/Female MC4 Connectors
1 - Multi-Contact MC4 Unlocking Tool
20 - Strain Relief, Cord Grip, 1-Hole for 5 to 12mm (.200" - .472") OD Wire, 1/2" with locknut
2 - Inverter Battery Cables, Code Approved THW, 2/0 x 10' (ft.) (2 black)
1 - Line Drawing; Full Instructive Three-Line Diagram of Entire DC Circuit, as Well as AC Lines to Your Main Panel.
Panels and balance of system ship in 3 - 5 business days after funds clear. OutBack FLEXpower™ TWO FP2-VFXR3648A power centers are usually in stock but are subject to inventory availability. Because of the popularity of the FLEXpower™ TWO; allow 10 business days to ship. (Subject to Seasonal Increases)
FLEXpower TWO FXR systems include a mounting bracket, two FXR/VFXR inverter/chargers, two FLEXmax charge controllers, MATE3, HUB10.3, FLEXnet DC, FLEXware surge protector, AC and DC wiring boxes, battery and PV array breakers, PV GFDI, Input-Output-Bypass assembly, mounting locations for GFCI outlets and additional AC breakers.
Roof or ground racks and batteries are not included in the base price of the kit because they are site specific options. Mounting on the roof or ground, types of attachment are individual's specific property requirements. There are options below for racking (roof or ground), and batteries to accommodate nearly every application you might encounter.
GVFX3524 & GVFX3648 - Because few gas generators produce grid quality AC power, when using OutBack grid-interactive products in conjunction with a generator to recharge batteries, Outback only recommends using Honda EU generators.
Optional Accessories
Part #
Price
1 Set Basic IronRidge Roof Racking Option D (1 Rack Set Required Per Solar Panel 4 Panel MIN)

NOTE: Checkout Default Price Decreases in Segments As Per Unit Quantity Increases.

BP6932304

1 Set Basic IronRidge Ground Racking (1 Rack Set Required Per Solar Panel 4 Panel MIN)

NOTE: Checkout Default Price Decreases in Segments As Per Unit Quantity Increases.

BP6932304

Arrh! More Power? Upgrade to American Made SolarWorld, 300W PV Module Clear Frame Mono, Plus 300 mono 5BB

(Add 1 Upgrade Per Panel. Example: 10 Panel Kit Upgrade = Add 10 Sets) SolarWorld panels are designed and manufactured in the U.S.A.

1101011UP

Atkinson GSCM-Mini Auto Generator Start Module 12-24V - The Atkinson Auto Generator Start GSCM-Min controller is optimized for use on Outback inverters.

It supports three types of 3 wire gas-generator control: momentary, maintained or ignition. It has a fixed crank time and over and under frequency shutdown. 2 year limited warranty.

02006343
Additional Hardware That May Be Required
Blue Pacific Solar has provided all of the main parts you will need for your kit. Racks and batteries are site specific options that are not included with the base package. Additionally some additional items sourced from your local hardware store that your may need to purchase are: Conduit, appropriately sized electrical wire from the array, some fasteners, sealant, grounding rod and wire to complete the final connection to your main panel or sub panel.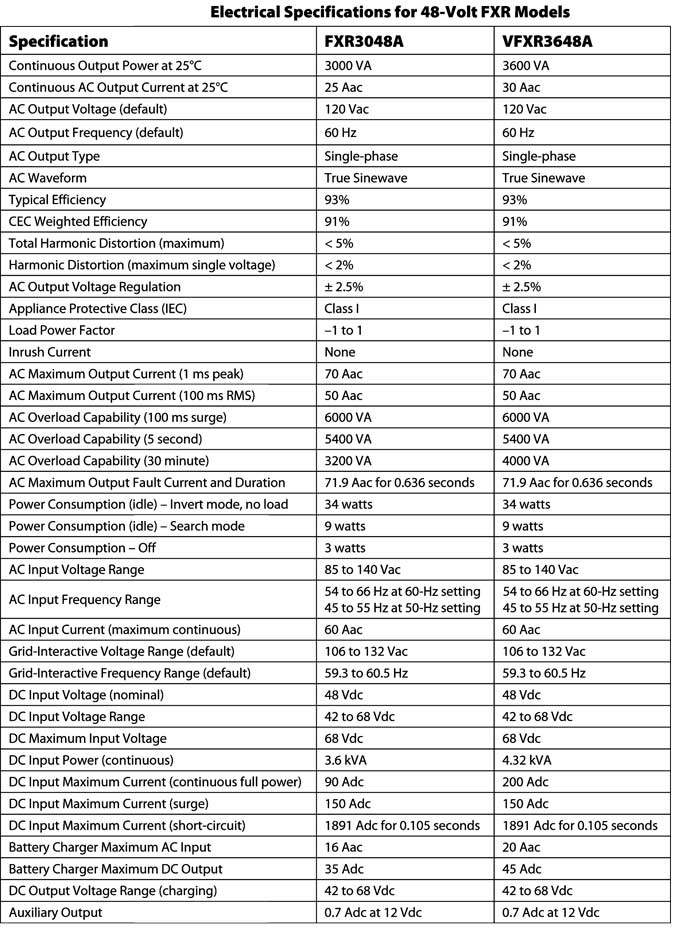 OutBack FLEXpower™ TWO 7290W Off-Grid Solar Kit
FP2-VFXR3648A; Do-It-Yourself Package
OutBack 7290W Off-Grid Solar Kit with FLEXpower™ TWO FP2-VFXR3648A power center are solid-state electronic devices that, when sized properly, can be used in nearly every solar and system that uses batteries. The Power Centers Blue Pacific Solar sells employ the latest in power electronics to regulate the battery charge by controlling the charging voltage and current from a solar panel array. Power centers with inverter chargers and charge controllers regulate the charge of the battery, but also prevent the battery from being over discharged which can damage the battery bank.

NOTE, IMPORTANT INSTALLATION: It is the responsibility of the purchaser to ensure that all products are installed and operated in accordance with local and national building codes as specific by the NEC (National Electric Code), UBC (Uniform Building Code) or IBC (International Building Code) and local utility company policy. These codes may vary from city to city and county to county. All OutBack FP2-VFXR3648A off-grid or backup solar installations should be permitted and inspected, where required, by the local inspection authority in the same manner as other equivalent electrical systems. Blue Pacific Solar recommends you contract with a local licensed electrician to do the final electrical connection of your solar system from the AC disconnect to your main breaker box. If you need help with the permitting documents for your kit, we are here for you. Solar permit service add on is available at checkout. Additional Safety Instructions; perform all electrical installations in accordance with all applicable local electrical codes and the National Electrical Code (NEC), ANSI/NFPA 70. Do NOT disconnect the solar panel while the panels are under loads.
This OutBack 7290W Off-Grid Solar Kit with FLEXpower™ TWO FP2-VFXR3648A power center is an affordable expandable do-it-yourself (DIY) high quality full-sized solution for residential and commercial applications including homes, farms, small businesses, and back-up power systems.