web solar
Store
Solar permit service is available to help you with the process of obtaining a building permit.
Only: Learn More
Magnum AC-coupled MNEMS4024PAEACCPL-Dual-RSS-Dual-RSS Backup
An AC-coupled power backup system is a form of a battery-based system. Instead of using a battery charge controller with the solar array, these systems utilize standard grid-tie inverters that produce AC power (usually 240 VAC), which can be "sold" to the utility grid when the grid is connected or can be used by a separate battery-based inverter to charge a battery bank during a grid outage. However, AC-coupled systems are not designed to operate full time off-grid but are used for backup power for say 10 - 20 days of critical loads only. If you need a backup system that will operate full time and feed power back to the grid when the grid is up please look at our Radian inverter kits on our "Grid-Tie Battery Backup" page.
Only: Buy Now
Product Details:
Specifications:
Videos:
Documents:
AC coupling Backup System MNEMS4024PAEACCPL-Dual-RSS-Dual-RSS
Model
Part Number
Output
Watts / AMPS
Breakers
Voltage DC/AC
Type
Ship
Wt.
AC Coupling MNEMS4024PAEACCPL-Dual-RSS-Dual-RSS
03304326
8,000 Watts / 36AAC
36A AC
Output Breaker
24VDC
120 | 240VAC
On-Grid w/ Solar
Off-Grid / Backup
Generator
365 lbs.

The installation of the AC-coupled MNEMS4024PAEACCPL-Dual-RSS backup system starts with a backup load sub-panel installed and those circuits that are important to your family separated from the main breaker panel. (See Diagram Below) This sub-panel will need a two-pole breaker that connects the Micro Inverter (Enphase) or central inverter powered solar panels to the sub-panel power center. The ac input and output circuits of Magnum inverter/charger can be connected in parallel with a home's ac wiring in the main breaker box.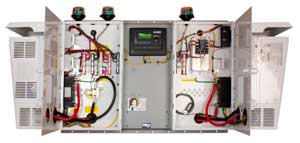 Backup loads might include things like lighting, wall outlets (receptacles) that power appliances like a microwave, refrigerator or well pump. All Magnum MS4024PAE power systems supply split-phase 120 / 240 AC volt power for direct connection to your home 120 / 240 volt breaker panel or can be used off the grid. The power for this sub-panel breaker box is fed through the automatic transfer switch of the AC-Coupled power center so that when the grid is up, excess electricity is exported back to the utility grid in the same fashion as a normal grid tied solar system. The AC-Coupled power center neither takes from, nor adds to this part of the operation. If the batteries are full, the Magnum inverter sits in a low consumption idle mode ready to wake up when the grid goes down. When there is a blackout or grid emergency, the Magnum inverter springs to life in less than a 60th of a second, shuts down the utility side of the connection to prevent back feeding, and the battery backup inverter (Magnum) then provides the utility grade electricity using the stored energy in the battery bank to power the critical load mini-grid allowing the solar system to continue operation. The Micro Inverters (Enphase) or the central inverter reads the utility grade frequency of the Magnum inverter now pulling power from the battery bank as the grid is up and continues to generate AC electricity pushing it into the homes mini-grid.
Off-grid during an emergency when your solar panels are producing electricity and your inverter (s) are pushing electricity is when our AC-coupled MNEMS4024PAEACCPL-Dual-RSS backup system really starts to shine. During a utility power outage, non back up loads are terminated in the main service panel that are not connected to the system, and the utility grid is no longer present. As a result, any excess power that the loads connected to the system's subpanel do not consume is pushed back through the ac output of the battery-based Magnum inverter and into the battery bank. What happens with this type of AC coupling when the batteries are full and the home is not consuming all the power the solar panels are generating off-grid? How does the system keep the battery bank from being overcharged? The power output of the Micro Inverters (Enphase) needs to be regulated to match the needs of the battery bank, using the battery voltage to control the output of the Micro Inverters.
As the DC voltage in the battery bank begins to fall, the relay controller/driver will activate the Micro Inverters (Enphase) AC circuits to not only power your home, but also to recharge the battery bank through the Magnum inverter/charger. As the power from the Micro Inverters (Enphase) exceeds the demand from the batteries, the battery voltage will rise and the relay driver will shut down the Micro Inverter (Enphase) circuits. If the power from the solar arrays begins to fall, battery voltage will drop and the relay controller/driver will allow the Micro Inverter (Enphase) circuits to be activated. The AC relay driver allows the solar panels to provide the maximum power that the battery based backup system can safely handle by adjusting power production of the solar panels as the battery voltage dictates. The MNEMS4024PAEACCPL-Dual-RSS AC-Coupled power center backup system works on the same principle and fashion with a central inverter such as SMA, Fronius inverter or other main stream UL listed inverters.
FEATURES:
Environmental Rating - Type 1 (Indoor)
Dual Magnum MS4024PAE 120/240 vac Inverter's
AC Coupled
AC Bypass assembly
3 MNSPD300's (Surge Protection Devices)
Magnum Router
Good for up to 7,200 Watts of Grid tie inverter
Dual 175 amp Battery Main Breakers
General labor for assembly, test and crating
1 Magnum Battery Temperature sensor (BTS)
Warranty - 5 yrs.
Listed by ETL for US & Canada
Made in the USA
Safe easy installation. Magnum power center mounts on the wall, AGM batteries (Sold Separately) should be placed within 10'.
What's On The Truck
Pre-Wired MNEMS4024PAEACCPL-Dual-RSS AC Coupled Power Center, Dual Magnum MS4024PAE 120/240 VAC Inverter's. AC Coupled 2 MNSPD300's (surge protection device) Dual 4000 watt 24 volt inverter's, Pre-programmed and Tested with Clearly Labeled Connection Points
4 - Inverter Battery Cables, Code Approved THW, 2/0 x 10' (4 black)
1 - Line Drawing; Full Instructive Three-Line Diagram of Entire DC Circuit, as Well as AC Lines to Your Main Panel.
AC Coupled Power Center ships in about 20 business days after funds clear. (Subject to Seasonal Increases) Custom Line Drawing is sent via email in 5 - 7 business days.
This system is designed to interface with an exisiting or new grid tie solar system using either Enphase micro inverters or a central inverter up to 7,200 watts. (27 / 260 Watt Panels)
Options
Description
Part #
Price
ME-AGS-N; BP2911442
Automatic Generator Start WORKS WITH;
ME Series, MM Series, MMS Series, MS Series, MS-PAE Series, RD Series
BP2911442
Inverter Specifications

Magnum Energy MS4024PAE Inverter

Input battery voltage range
36.0 - 68.0 VDC
Nominal AC output voltage
120/240 VAC split phase (± 5%)
Output frequency and accuracy
60 Hz ± 0.1 %
1 msec surge current (amps AC)
Line-Neutral: 120, Line-Line: 70
5 sec surge power (real watts)
5800
30 sec surge power (real watts)
5200
5 min surge power (real watts)
4800
30 min surge power (real watts)
4500
Continuous power output at 25° C
4000 VA (L-L)
Maximum continuous input current
266 A
Inverter efficiency (peak)
93%
No load (120 VAC output, typical)
27 watts
Waveform
Pure Sine Wave

Charger Specifications

Charger Continuous output at 25° C
105 ADC
Input current at rated output (AC amps)
15 AAC per leg at 120/240 VAC split phase
Power factor
> 0.95

General Features and Capabilities

Transfer relay capability
2 legs at 30A per leg transfer standard on all models
Five stage charging capability
Bulk, Absorb, Float, Equalize (requires remote), and Battery Saver™
Remote available (optional)
Yes, MM-RC or ME-RC
Over current protection
Yes, with two overlapping circuits
Conformal coating on PCB's for corrosion protection
Yes
Listings
ETL Listed to ANSI / UL1741, 1 edition, and CSA STD C22.2 No.107.1-01
Warranty
Two years

Environmental Specifications

Operating temperature
-20° C to +60° C (-4° F to 140° F)
Non-operating temperature
-40° C to +70° C (-40° F to 158° F)

Physical Specifications

Dimensions (L x W x H)
13.75" x 12.65" x 8.0"
Mounting
Shelf, wall (no vents on bottom), MP or MMP panels
Weight
55 Lbs
Shipping Weight
60 Lbs
Max operating altitude
15,000'

Magnum AC Coupling System Documents & Manuals
Magnum AC-coupled MNEMS4024PAEACCPL-Dual-RSS-Dual-RSS
Home Battery Backup System 120 / 240 Volts AC Pure Sine Wave Energy
AC-coupled MNEMS4024PAEACCPL-Dual-RSS uses the Magnum MS4024PAE to supply split-phase 120 / 240 AC volt power for direct connection to your home 120 / 240 volt breaker panel or can be used off the grid for limited durations of 20 to 30 days. Along with the standard batteryless grid-tie inverter, a second, bidirectional, battery-based inverter is used along with a battery bank to provide AC power during a grid outage. Both the AC output of the grid-tie inverter and the AC output of the battery inverter are connected in the critical-loads sub-panel or power center. During normal operation when the grid is "up", the power from the solar array and grid-tie inverter simply passes through the sub-panel or power center and the built-in AC transfer switch located inside the power center and on to the utility main panel. From there it is either consumed by house loads connected there or sold to the grid. If a grid outage occurs, the grid-tie inverter will automatically shut off. At the same time, the battery-based inverter will automatically switch off the grid connection and begin to power the loads in the critical loads panel using energy drawn from the battery bank. Since the grid-tie inverter is connected in this sub-panel, it detects the AC power from the battery inverter and, (after a 5-minute delay) will turn back on. The power output from the array and grid-tie inverter will then be used directly by the critical loads connected to the sub-panel or will flow backward through the battery inverter and charge the batteries.

IMPORTANT SAFETY INSTRUCTIONS: It is the responsibility of the purchaser to ensure that all products are installed and operated in accordance with local and national building codes as specific by the NEC (National Electric Code), UBC (Uniform Building Code) or IBC (International Building Code) and local utility company policy. This product is designed for indoor or protected compartment installations. DO NOT expose the inverter to rain, snow, moisture or liquids of any type. Use insulated tools to reduce the chance of electrical shock or accidental short circuits. Remove all jewelry such as rings, watches, bracelets, etc. when installing the power center or any other electronic gear. Always disconnect the batteries or energy source prior to installation or performing maintenance on the inverter. Live power may be present at more than one point since an inverter utilizes both batteries and AC electricity. Turning off the inverter may not reduce that risk. Always verify proper wiring prior to starting the inverter. Do not operate the inverter if it has been damaged. Always read and follow the manufactures installation and operating instructions for the AC-coupled MNEMS4024PAEACCPL-Dual-RSS Kit prior to installation and operation.