web solar
Store
Solar permit service is available to help you with the process of obtaining a building permit.
Only: Learn More
MNMAG-48-4590 MidNite Magnum Off-Grid Kit With Prewired Load Center
Our Magnum Energy off-grid kit combines one of the worlds top brand inverters and charge controller with the high quality Canadian Solar panels. Mechanically and electrically engineered, every component of this kit has been specially selected to assure the highest performance with this safe simple-to-install kit. Magnum Energy, MidNite charge controller, lighting arrestor and breakers come pre-assembled using MidNite Solar E-Panel chassis. This off-grid kit is ideal for applications with medium power requirements such as off-grid cabins, homes and back-up power systems. Utilizing a compact design and an easy-to-install mounting bracket, the fully pre-wired and tested Magnum power center is designed for a quick installation, saving both time and money with just a few household tools. The pre-wired power center with MidNite Solar Classic 150 maximum power point tracking offers an efficient, safe, multi-stage recharging process that prolongs battery life and assures peak performance from your solar array.
Only: Buy Now
Product Details:
Specifications:
Videos:
Resource Documents:
Pre-Wired Magnum Power Panels Battery Based Off-Grid Energy System
Power Center
Part Number
Array Size Watts (STC*)
Daily Watts Based on 5 Sun Hours (*STC)
Voltage DC/AC
Type
Continuous AC Output Watts
Continuous AC Output Current
MNEMS4448PAECL150
MNMAG-48-4590
4590
22,950 Watts
48 / 120 | 240
Off-Grid
On-Grid
4,400 @ 240VAC
30AAC
On-Grid Definition - Utility grid power is available for use and the system is will interact with the utility grid but is not capable of exporting (selling) electricity back to the utility grid. System will also interact with generator but not with the generator and grid at the same time.
Select the right size off-grid kit that fits your daily energy budget in either a 24 or 48 volt battery system. This MidNite Solar; Magnum Energy / Canadian module kit is expandable, and accommodates all of the essential protective devices in the smallest possible space. Affordable simple application satisfying the hungry power requirements such as cabins, chalets, homes, remote communication sites and back-up power systems. Utilizing an extremely compact design and an easy-to-install mounting bracket, the fully pre-wired and factory tested Magnum power center is designed for a quick installation. Choose either roof, ground or pole mount rack which will save you both time and money. As with all Blue Pacific Solar's kits, our Technical Sales staff is standing by to provide support that is as close as your telephone.
The MNMAG-48-4590 MidNite Magnum MNEMS4448PAECL150 is an electronic device that takes DC (Direct Current) voltage from your batteries and turns it into both 120V and 240V AC (Alternating Current) voltage, which is needed to power your household electrical appliances (i.e. AC loads). The MS-PAE Series also includes a battery charger circuit that takes AC power (when connected to utility/generator power) and transforms it into DC power to recharge your batteries.
Magnum inverters are installed on the MidNite MNE250(175)STM-L steel E-Panel with an ME-RC50 remote display, a BMK-NS, 1 MNEPV2 breaker for BMK, a MidNite Classic 150 charge controller with built in DC-GFP and Arc Fault detector, an MNDC array breaker, an MNDC charge control breaker, two or three MNSPD surge arrestors, and battery temperature sensors.
Available in 4024 (24 volts) and 4448 (48 volts) watt models, the MS-PAE Series inverters are powerful, easy-to-use and ETL listed to the stringent requirements of UL 1741 and CSA C22.2 No. 107.1-01 for Renewable Energy installations. Magnum Energy PAE series inverters are a superior choice when you need a fully integrated, true sinewave, reliable 120V/240V power system. Power Center Warranty 5 Years, Solar Panel Warranty 25 Years.
What's On The Truck
1 - MidNite Magnum Pre-Built Power Center MNEMS4448PAECL150 120/240 VAC Off-Grid 4400 Watt 48 VDC Inverter with MidNite Classic 150 Charge Controller
18 - Canadian Solar 255 Watt Panels CS6P255P Black Frame
1 - Midnite Solar MNPV-6, 6 Position Combiner Box
6 - Midnite Solar MNEPV-15 - 15 amp DC Breaker 150VDC DIN, 13mm
1 - Midnite Solar MNSPD300 Lighting Arrestor
6 - MC4 10 AWG-PV Wire - 50' cable extension
1 - Multi-Contact MC4 Unlocking Tool
14 - 1/2" Strain Relief for #10 or #12 wire
1 - Multi-Contact MC4 Latch Tool
2 - Inverter Battery Cables, Code Approved THW, 4/0 x 10' (ft.) (1 red, 1 black)
1 - Line Drawing; Full Instructive Three-Line Diagram of Entire DC Circuit, as Well as AC Lines to Your Main Panel.
Panels and balance of system ship in 3 - 5 business days after funds clear. MidNite Magnum power centers are built to order by factory trained technicians. Allow 10 - 15 business days to ship. (Subject to Seasonal Increases)
Roof or ground racks and batteries are not included in the base price of the kit. Mounting on the roof or ground, types of attachment are individual's specific property requirements. There are options below for racking (roof or ground), and batteries to accommodate nearly every application you might encounter.
Electrical Specifications, 120/240 Vac / 60 Hz Models
Power Center
MNEMS4024PAECL150
MNEMS4448PAECL150
On-Grid (Will Not Export Power)
Yes
Yes
Off-Grid (As Main Power Supply ((e.g. Remote Cabin)) or Backup)
Yes
Yes
Anti-Islanding Protection
UL1741-2005/ IEEE1547
UL1741-2005/ IEEE1547
Output Waveform
True Sine Wave
True Sine Wave
Battery Voltage (Nominal)
24 Vdc
48 Vdc
Recommended Minimum Battery Capacity
200 Amp-hours
200 AH is recommended for moderate loads (<1000W) and greater than 400 AH for heavy loads (>1000W).
Certifications
ETL Listed to UL 1741
ETL Listed to UL 1741
Warranty
5-year Warranty Standard
Magnum inverters are on-grid but will not export excess power. Inverters can use either the utility grid or fossil fuel generator to recharge a battery bank in conjunction with the MidNite Classic 150 charge controller.
| | | | |
| --- | --- | --- | --- |
| Optional Accessories | Part # | Price | |
| Ground Rack - 1 Set Basic IronRidge Ground Racking Either 3H or 4H in Landscape. Order 1 Rack Set Per Panel (IE: 6 Rack Sets Required for 6 Solar Panels click on red button "Learn More") | BP6932304 | | |
| Roof Rack - 1 Set Basic IronRidge Roof Mount Racking Order 1 Rack Set Per Panel (IE: 6 Rack Sets Required for 6 Solar Panels plus roof attachment click on red button "Learn More") | BP6932304 | | |
| Arrh! More Power? Upgrade to U.S.A. made Suniva, 265W Clear Frame Panel OPT265-60-4-100-H4-40mm (1 Set Per Panel. Example: 10 Panel Kit Upgrade = Add 10 Sets) Suniva panels are designed and manufactured in the U.S.A. | 1100792UP | | |
| ME-AGS-N Magnum Automatic Generator Start WORKS WITH; ME Series, MM Series, MMS Series, MS Series, MS-PAE Series, RD Series | BP2911442 | | |
| Magnum Energy ME-BMK-NS Battery Monitor Kit with Breaker Installed on Power Center - Monitoring your battery bank is easy with the Battery Monitor Kit (ME-BMK)* from Magnum Energy. Acting as a "fuel gauge" for your batteries, the ME-BMK monitors their state of charge (SOC) and then provides this information in an easy-to-understand display via the ME-ARC or ME-RC remotes. With accurate SOC readings, you can avoid unnecessary battery recharging, saving on fuel and long-term maintenance costs. | 02006380 | | |
| ME-MW-W connects the Magnum system to the internet for remote monitoring via the data.magnumenergy.com site. The ME-MW-W will communicate to your broadband router via a wireless bridge. Maximum range for the wireless is up to 300' if unobstructed. There is both a transmitter and receiver gateway that wires to your network. The receiver gateway requires 120 VAC power. Units is supplied with all the needed cables. | 02908000 | | |
| | |
| --- | --- |
| | |
Blue Pacific Solar has provided all of the main parts you will need for your kit. Racks and batteries are site specific options that are not included with the base package. Additionally some additional items sourced from your local hardware store that your may need to purchase are: Conduit, appropriately sized electrical wire from the array, some fasteners, sealant, grounding rod and wire to complete the final connection to your main panel or sub panel.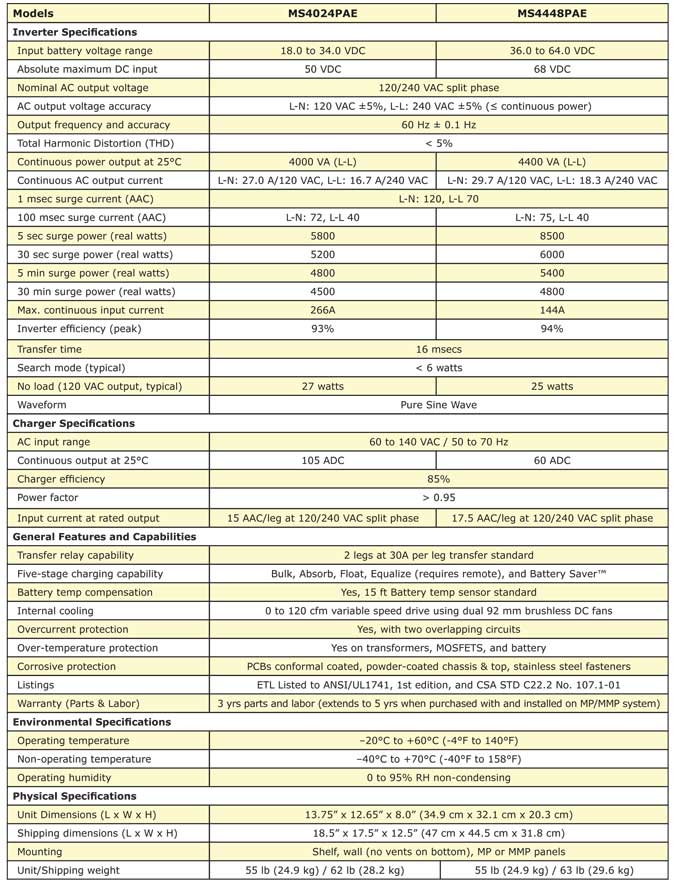 Monitor

Magnum Energy ME-ARC Remote Control

LED Display
Display shows inverter and battery status
16 x 2 line (32 characters total), alphanumeric display used for programming the Magnum inverter operation and or fault messages.
Pushbutton Controls
Two ON/OFF Pushbuttons allow the inverter to be quickly enabled or disabled.
Menu allow the inverter to be configured to site specific preferences. Menus give simple access to monitoring and troubleshooting backup power system.
Rotary Knob controlls the selection and can scroll through and select various menu items and settings. By pushing you can "SELECT" a menu item or "Save" a setting once it is displayed on the LCD screen.
MidNite Solar Classic Charge Controllers
Classic 150
Classic 200
Classic 250
Classic 250KS
Operating Volts In
150VDC
200VDC
250VDC
250VDC
*Max Hyper VOC
150+ battery
200+ battery
250+ battery
250+ battery
Nominal Battery Volts
12-72
12-72
12-72
12-120
**Absolute Current Output at 25° C

93a@12v battery

94a @ 24v battery

83a @ 48v battery

74a @ 12v battery

70a @ 24v battery

65a @ 48v battery

60a @ 12v battery

62a @ 24v battery

55a @ 48v battery

40a @ 120v battery
De-Rate Current @ 40° C
80 amperes
60 amperes
52 amperes
33 amperes
Environment
-40° C to 40° C
Classic Dimensions
14.87" x 5.95" x 4.00" (378 mm x 151 mm x 102 mm)
Boxed Dimensions
19.00" x 8.50" x 5.70" (378 mm x 151 mm x 102 mm)
Shipping Weight
11.5 lb (4.9 kg)

NOTE: Current output ratings were measured with 75% of the PV array's VOC (Open Circuit Voltage)
*NOTE: Calculated by adding battery voltage to the maximum input operating voltage (48V battery max)
**NOTE: Measurement Accuracies: +-0.12v, offset calibration adjustment may be necessary

MidNite Magnum Off-Grid Kit
Off-Grid Renewable Energy System
MNMAG-48-4590 MidNite Magnum Off-Grid Kits are solid-state electronic devices that, when sized properly, can be used in nearly every solar and system that uses batteries. The Power Centers Blue Pacific Solar sells employ the latest in power electronics to regulate the battery charge by controlling the charging voltage and current from a solar panel array. Power centers with inverter chargers and charge controllers regulate the charge of the battery, but also prevent the battery from being over discharged which can damage the battery bank.

IMPORTANT SAFETY INSTRUCTIONS: It is the responsibility of the purchaser to ensure that all products are installed and operated in accordance with local and national building codes as specific by the NEC (National Electric Code), UBC (Uniform Building Code) or IBC (International Building Code) and local utility company policy. This product is designed for indoor or protected compartment installations. DO NOT expose the inverter to rain, snow, moisture or liquids of any type. Use insulated tools to reduce the chance of electrical shock or accidental short circuits. Remove all jewelry such as rings, watches, bracelets, etc. when installing the system inverter or any other electronic gear. Always disconnect the batteries or energy source prior to installation or performing maintenance on the inverter. Live power may be present at more than one point since an inverter utilizes both batteries and AC electricity. Turning off the inverter may not reduce that risk. Always verify proper wiring prior to starting the inverter. Do not operate the inverter if it has been damaged. Always read and follow the manufactures installation and operating instructions for the MNMAG-48-4590 MidNite Magnum off-grid kit prior to installation and operation.