web solar
Store
Solar permit service is available to help you with the process of obtaining a building permit.
Only: Learn More
MidNite 885W Watt Micro Kit Off-grid DC Power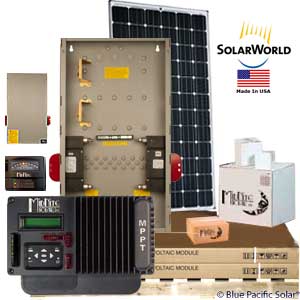 Our MidNite Micro Off-Grid kit offers an ideal solution for smaller flexible NEC code compliant systems. We have taken the world's most popular solar products and put together this pre-engineered NEC code compliant expandable system that you can assemble and install. This system is designed for a very simple assembly and wiring of the load center on site using a few household tools saving you thousands of dollars. Methodically engineered, every component of this kit has been specially selected to assure the highest performance in a safe and simple-to-install package with a custom line drawing. This micro-off-grid power system is ideal for applications such as small off-the-grid cabins, tiny homes or small backup power and will save you both time and money.
Only: Buy Now
Product Details:
Specifications:
Videos:
Resource Documents:
MidNite Solar Load Center Battery Based Off-Grid Renewable Energy System
| | | | | | | | |
| --- | --- | --- | --- | --- | --- | --- | --- |
| Load Center | Part Number | Array Size (STC*) | Daily Watts Based on 5 Sun Hours (*STC) | Voltage DC/AC | Type | Optional SAMLEX, PST-1500-24 Inverter, Continuous AC Output Watts | Optional MAGNUM MS4024 Inverter / Charger, Continuous AC Output Watts |
| Midnite MNDC250-X2 Load Center | MIDSW-24-885 | 885W | 4,425 Watts | 24 | Off-Grid | 1,500 @ 120VAC | 4,000 @ 120VAC |
*STC = "Standard Test Conditions" Definition

The MidNite MNDC175-X2 is a general use enclosure / load center. MidNite MNDC175-X2 load center comes disassembled and pre-engineered with one goal in mind, making these smaller cabin or tiny house systems less expensive, NEC code compliant for a fast and easy off-grid application. Choose either roof, ground or pole mount rack which will save you both time and money. As with all Blue Pacific Solar's
kits, we provide a custom line drawing showing you the wire size you will need and how to connect all the parts. Additionally, out Technical Sales staff is standing by to provide support that is as close as your telephone.
MNDC175-X2 utilizes the MidNite E-Panel enclosure. The door is blank. There are large 175A/125VDC battery breakers out each side for disconnecting two sources or loads. Based on MidNite Wide E-Panel chassis with a blank door the MNDC175-X2 has a pair of 175 amp dc breakers and the earth ground buss bar. It has locations for 10 din rail breakers, 3 panel mount breakers, DC shunt as well as long and short terminal buss bars.
The KID is the most versatile medium sized charge controller on the market certified to UL1741 Á UL458 . Ideal for small renewable energy systems. The KID allows for true input paralleling. As your power needs grow, add more modules to the array and a second KID. This will give twice the power from a single array.
Comes standard with wall mounting bracket. Model number MNKID-B for the Black standard and MNKID-W for the White standard version. Standard versions can be cut into the wall for a flush mount assembly and also come with a surface mount wall adapter to mount on the wall.
AGS (Auto Generator Start)
The Kid is the first charge controller in the industry to feature a two wire Automatic Generator Start (AGS) as standard equipment. The KID detects when the generator is running by simply watching battery voltage over time. No extra wires or voltage sensing is required making installation a snap.
Lighting Controller - The Kid has a fully adjustable intelligent lighting controller built in. It can turn lighting on at dusk for a select number of hours, turn it off for a length of time and then back on for a programmable number of hours before dawn. All time functions are fully adjustable, allowing users to save valuable energy. An additional feature in the lighting controller allows you to adjust the voltage needed on the PV module for the Kid to register "daytime". This is important if you are using the Kid for a solar street light and the lights are located above the PV modules. Most controllers would end up leaving the light off all night, but not the KID!
The solar consultants at Blue Pacific Solar love specifying Midnite solar products in many of the systems we design. Why? Well frankly because they are American made, they are designed for the most durable off-grid conditions by engineers that are not afraid to get their hands dirty and they just plain work well.
MidNite MNBCM voltmeter battery capacity meter. This meter was designed to keep batteries alive longer. Features:
Led's that correspond to battery voltage
Accuracy +- .05%
Auto sensing for 12, 24, 36, and 48 volt batteries
LED indicators show if batteries have received a full charge recently, longer than one week or longer than two weeks
What's On The Truck
3 - SolarWorld Plus 295W Mono Clear Frame Solar Panels; Plus 295 Mono 5BB
1 - PV Wire 50' Cable Extension, 10AWG, UL4703 with MC4 Connectors, 600VDC (Array Wire to Edge of Panels)
1 - MidNite Solar MNPV-6, 6 Position Combiner Box
5 - MidNite Solar MNEPV-15 - 15 amp DC Breaker 150VDC DIN, 13mm
2 - Midnite Solar MNSPD300-DC Lighting Arrestor
1 - Multi-Contact MC4 Latch Tool
1 - Midnite Solar, The KID MPPT Charge Controller, 150VDC, 30A, 12-48V Battery, with LCD & wall mount bracket, Black, MNKID-B
1 - Midnite Solar, Mini DC Disconnect box with 2 DIN rails & Dual 250A panel mount breakers, 250VDC, 3/8" by 1.5" Studs, MNDC250-X2
1 - MidNite MNBCM Voltmeter Battery Capacity Meter
1 - Circuit Breaker, MIDNITE, 1A 120VAC/150VDC, 1-POLE, Panel Mount (Meter Breaker)
2 - Battery Cable, Code Approved THW, Black, 2/0 x 10'
1 - Line Drawing; Full Instructive Three-Line Diagram of Entire DC Circuit, as Well as AC Lines to Your Main Panel.
A full instructive three-line wire diagram of entire DC circuit, as Well as AC Lines to Your Main Panel is included with the kit but field assembly of all the components listed here are required by others. [See Schematic Below ↓] Blue Pacific Solar will provide the PV wire to the edge of the array, all other wire and battery interconnect cables are not included. Optional AC inverter and 120 VAC 15 AAC panel mount breakers and 120 VAC outlets are not included.
Panels and balance of system ship in 3 - 5 business days after funds clear subject to seasonal increases. NOTE: Midnite MNDC250-X2 Load Center on this system is a popular item, allow for 20 business days delivery & we will hold the associated parts so the load center ships complete. Custom Line Drawing is sent via email in 5 - 7 business days.
| | | | |
| --- | --- | --- | --- |
| Optional Equipment | Part # | Price | |
| 1 Set Basic IronRidge Ground Racking Option D(6 Rack Sets Required for 6 Solar Panels) | BP6932304 | | |
| 1 Set Basic IronRidge Roof Mount Racking Option D (6 Rack Sets Required for 6 Solar Panels) | BP6932304 | | |
| SAMLEX, PST-1500-24, BATTERY INVERTER, OFF-GRID SINEWAVE, 1500W, 24VDC, 120VAC 60HZ | 03007127 | | |
| Magnum, MS4024 battery inverter / charger, 4000W, 120VAC, 60Hz, 2x30A Transfer, 24VDC, Sinewave, Off Grid, 3 Yr Warranty, 105A Charger, with BTS (Battery Temperature Sensor) Note: Can be connected to a 120VAC Generator | 03002338 | | |
What's NOT Included
Blue Pacific Solar has provided all of the main parts you will need for your kit. Batteries, AC Inverter and roof and ground racks are site specific and are not included.
Here are some additional items sourced from your local hardware store that your may need to purchase. Conduit, appropriately sized electrical wire from the array, some fasteners, sealant, grounding rod and appropriately sized electrical wire to complete the assembly of the load center.

MidNite 885W
Off-Grid Micro Cabin or Tiny House Kit

IMPORTANT SAFETY INSTRUCTIONS: It is the responsibility of the purchaser to ensure that all products are installed and operated in accordance with local and national building codes as specific by the NEC (National Electric Code), UBC (Uniform Building Code) or IBC (International Building Code) and local utility company policy. This product is designed for indoor or protected compartment installations. DO NOT expose the load center or inverter to rain, snow, moisture or liquids of any type. Use insulated tools to reduce the chance of electrical shock or accidental short circuits. Remove all jewelry such as rings, watches, bracelets, etc. when installing the MidNite load center or any other electronic gear. Always disconnect the batteries or energy source prior to installation or performing maintenance on the system. Live power may be present at more than one point since an inverter utilizes both batteries and AC electricity. Turning off the inverter may not reduce that risk. Always verify proper wiring prior to starting the inverter. Always read and follow the manufactures installation and operating instructions for the MidNite 885W Off-Grid Micro Kit for cabin or tiny house living prior to installation and operation.