web solar
Store
Solar permit service is available to help you with the process of obtaining a building permit.
Only: Learn More
4230 Off-Grid Solar Kit with ON GRID Capability BP3600127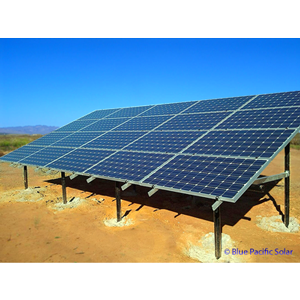 Large AC off-grid system with grid tied option. We started with 18 235 watt solar panels in this off-grid kit. Next, 120 / 240 volt AC pre-wired power center that is expandable. That's what you asked for and that is exactly what the team at Blue Pacific Solar put together. This 4230 watt off-grid solar kit is powerful enough to produce 635 kWh per month of pure sine wave electricity. We pre-wire the power center then package the whole kit so you can complete the wiring with a minimal amount of expertise needed. We make it easy for you providing the line drawing showing the connections and instruction manuals. 4230 off-grid solar kit that only has compatible time tested equipment using no cheap solar products that are not UL listed or code compliant.
Only: Buy Now
This system qualifies for a Federal Tax Credit of 30% of the installed cost!
Product Details:
Specifications:
Videos:
Documents:
4230 watt AC Solar Power Systems Off-Grid with On Grid Capabilities
| | | | | | | |
| --- | --- | --- | --- | --- | --- | --- |
| Model | Part Number | Output Watts | Voltage DC (Battery) / AC | Daily Output Based On 5 Hours Sun Per Day | Type | Shipping Weight |
| 4230 Watt Kit | BP3600127 | 4,230 | 48 VDC / 120 | 240VAC | 21,150 (STC) | Off-Grid / On Grid | 920 lbs |
4230 watt off-grid system is built around the Talesun 235 Watt Mono Solar Panel. Talesun solar modules have earn their reputation as one of the top choices for grid-tied and off-grid solar kits. System Power = 4230 Watts (STC) / 21,150 Watts Per Day (Based on 5 sun hours (STC). Magnum Energy power centers are affordable, high-performance pure sine wave inverters and are considered the best on-the-market for off-grid solar. The Mini-Magnum MS4448PAE Power Center has sophisticated protection circuitry, making Magnum inverters immune from damage by overloads, short circuits, over-temperature and input polarity reversal. MidNite Classic features; 150, 200 and 250VDC input, HyperVOC mode (add the battery voltage to the operating voltage for VOC rating) and Arc fault detector reduces threat of fire. Midnite Solar Circuit Breaker Box Complete with Breakers. Optional IronRidge roof or ground mount rack option, your choice. IronRidge solar racks are a very sturdy, straightforward and easy to assemble. Finally, a professional single line solar drawing showing how the 4230 off-grid solar kit is wired.
What's On the Truck:
18 - 235 Watt Astronergy, ET or Talesun Solar Panels (Subject to Inventory)
1 - MidNite MNPV-6, 6 Position Combiner Box 150V
6 - MNEPV-15 15 amp UL Listed DC Breakers 150VDC DIN, 13mm
1 - Mini-Magnum MS4448PAE Power Center, Pre-assembled / Tested by Factory Trained Technicians
1 - MidNite Solar Classic 150 Installed on Mini Magnum Center
6 1/2" Strain Relief for #10 Wire
6 - MC4 10 AWG - 50' Cable Extension
1 - 4/0 - 96" Battery Cable, Dual Kit (1 - Red / 1-Black)
1 - Line Drawing; Full Instructive Three-Line Diagram of Entire DC Circuit, as Well as AC Lines to Your Main Panel.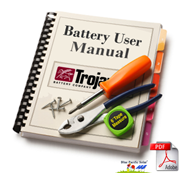 Trojan / UPG / Rolls Deep Cycle Batteries
Choose the off-grid battery option that best fits your needs. The size of the battery bank you choose depends on the amount of power you require (Watts), the amount of time each day you expect to run your appliances, equipment and lights, and your location or available sunlight (If you are adding solar or wind power). As a rule-of-thumb, when considering batteries off-grid, use 3 days of autonomy (No Sun) as a minimum and 50% depth of discharge for your battery bank.
MFG
Model
Item #
Volt
Amp Hour (20Hr Rate)
Data
WTY
48V Battery Bank Watt Hours
Price per Watt
Price EA
Trojan
T-105RE
Flooded Lead Acid
BP4001937
6V
225 Ah
2 YR
8 / T105RE
= 10,800 Wh
$0.11
Trojan
L16RE-A
Flooded Lead Acid
BP4001967
6V
325 Ah
5 YR
8 L16RE-A
= 15,600 Wh
$0.15
UPG
UB-GC2
Sealed AGM
BP9996646
6V
200 Ah
1 YR
8 / UB-GC
= 9,600 Wh
$0.21
Rolls
S6-460
Sealed AGM
BP9946055
6V
415 Ah
5 YR
8 / S6-460
= 19,200 Wh
$0.21
Rolls
S-1380
Flooded Lead Acid
BP4002113
2V
1050 Ah
7 YR
24 / S6-460
= 50,400 Wh
$0.16
| 2/0 Battery Cable Pairs (RED/Black) | Length | Color | Part # | Price | |
| --- | --- | --- | --- | --- | --- |
| 2/0 - Battery Cables | 12" | 1 Red/1 Black | BP9850022 | | |
| 2/0 - Battery Cables | 18" | 1 Red/1 Black | BP9850012 | | |
Optional Accessories
Part #
Price
1 Set Basic IronRidge Ground Racking Option D (

6 Rack Sets Required for 6 Solar Panels)

; 4 - Rails, XRS at 168", Clear; 4 - SGA Top Cap at 3"; 8 - SGA Rail Connector at 3"; 4 - WEEB Grounding Lug; 4 - 4-pack, End Clamp (G) 1.97", Mill; 2 - Kit,

4pcs, Mid Clamp G, 2.50", Mill (Tbolt); 8 - WEEB Compression Clip; 12 - Wire Clip, Molded PVC Black; 8 - End Cap, XRS Rail, Molded PVC Black
BP6932304
1 Set Basic IronRidge Roof Mount Racking Option D (

6 Rack Sets Required for 6 Solar Panels)

; 2 IronRidge Rails; End Clamps; L-Foot; 1 - WEEB Compression Clip;

and WEEB); Wire Clip Molded PVC Black; End Cap XRS Rail Molded PVC Black; Oatey Galv. Flashing;
BP6932304
Outback Comprehensive Battery Enclosure (Batteries Sold Separately) - Up to 600AH / 28.8 kW / 28,800 Watts
BP9890051

Outback Battery Enclosure w/ 4 - Outback EnergyCell 200RE Batteries Expandable to 12 Batteries / 28.8kWh Backup Power
BP9890050-1
*Solar Panel

Talesun, ET or Astronergy 235 Watt Solar Panels (*Equal or Better, Subject to Availability)
Open Circuit Voltage (VOC)
36.8 Volts
Maximum Operating Voltage (Vmp)
29.5 Volts
Short Circuit Current (Isc)
8.59 Amps
Maximum Power Current-IPM (A)
8.02 Amps
Maximum Power at STC (Pmax)
235 Wp
Maximum System Voltage
600 VDC
Short-circuit current temperature coefficient (Isc)
+0.05%˚C
Open-circuit voltage temperature coefficient (Voc)
-0.35%/˚C
Peak power temperature coefficient
-0.485%/C
Power tolerance
+/- 5%
Weight
44.1 lbs
Surface Maximum Burden Weight
.28 lbs/sq. inch (30m/s, 200kg/sq.m)
Front Glass
0.13 inch tempered glass
Junction Box Type
IP65 rated SMK Locking Connector MC4
Dimensions
1640 × 990 × 40mm (64.6 × 39.0 × 1.6inch)

Inverter

Magnum Energy MS4448PAE Pure Sine Wave

Input battery voltage range
36.0 - 68.0 VDC
Nominal AC output voltage
120 / 240 VAC split phase (± 5%)
Output frequency and accuracy
60 Hz ± 0.1 Hz
1 msec surge current (amps AC)
Line-Neutral: 120, Line-Line: 70
5 sec surge power (real watts)
8500
30 sec surge power (real watts)
6000
5 min surge power (real watts)
5400
30 min surge power (real watts)
4800
Continuous power output at 25° C
4400 VA (L-L)
Maximum continuous input current
144 A
Inverter efficiency (peak)
94%
No load (120 VAC output, typical)
25 watts
Waveform
Pure Sine Wave
Charger Continuous output at 25° C
60 ADC
Input current at rated output (AC amps)
17.5 AAC per leg at 120/240 VAC split phase
Power factor
Greater Than 0.95

Operating Temperatures

Operating temperature
-20° C to +60° C (-4° F to 140° F)
Non-operating temperature
-40° C to +70° C (-40° F to 158° F)

Monitor

Magnum Energy ME-ARC Remote Control

LED Display
Display shows inverter and battery status
16 x 2 line (32 characters total), alphanumeric display used for programming the Magnum inverter operation and or fault messages.
Pushbutton Controls
Two ON/OFF Pushbuttons allow the inverter to be quickly enabled or disabled.
Menu allow the inverter to be configured to site specific preferences. Menus give simple access to monitoring and troubleshooting backup power system.
Rotary Knob controlls the selection and can scroll through and select various menu items and settings. By pushing you can "SELECT" a menu item or "Save" a setting once it is displayed on the LCD screen.

Physical Specifications

Dimensions (L x W x H)
13.75" x 12.65" x 8.0"
Mounting
Shelf or Wall (vents up)
Weight
42 Lbs
Shipping Weight
45 Lbs
Max operating altitude
15,000'

*AGM Batteries

Battery Specifications (*Optional Batteries are subject to availability, equal or better)

Nominal Voltage
6 Volts
20 - Hr. (10.0A)
200 Ah
Approximate Weight
65 lbs Each
Number of Batteries Included
Dependent upon option selection.
Shelf Life
3 Months 91%; 6 Months 82%; 12 Months 64%
Temperature Dependency of Capacity (20 Hr)
104 Deg F 102%; 77 Deg F 100%; 32 Deg F 85%; 5 Deg F 65%

General

Approximate Total Weight
1200 lbs
Warranty
Rack 10 years, Solar Panels 25 Years, Inverter 5 Years
MidNite Solar Classic Charge Controllers
Classic 150
Classic 200
Classic 250
Classic 250KS
Operating Volts In
150VDC
200VDC
250VDC
250VDC
*Max Hyper VOC
150+ battery
200+ battery
250+ battery
250+ battery
Nominal Battery Volts
12-72
12-72
12-72
12-120
**Absolute Current Output at 25° C

93a@12v battery

94a @ 24v battery

83a @ 48v battery

74a @ 12v battery

70a @ 24v battery

65a @ 48v battery

60a @ 12v battery

62a @ 24v battery

55a @ 48v battery

40a @ 120v battery
De-Rate Current @ 40° C
80 amperes
60 amperes
52 amperes
33 amperes
Environment
-40° C to 40° C
Classic Dimensions
14.87" x 5.95" x 4.00" (378 mm x 151 mm x 102 mm)
Boxed Dimensions
19.00" x 8.50" x 5.70" (378 mm x 151 mm x 102 mm)
Shipping Weight
11.5 lb (4.9 kg)

NOTE: Current output ratings were measured with 75% of the PV array's VOC (Open Circuit Voltage)
*NOTE: Calculated by adding battery voltage to the maximum input operating voltage (48V battery max)
**NOTE: Measurement Accuracies: +-0.12v, offset calibration adjustment may be necessary

4230 watt off-grid solar kit diy energy systems
stand alone do-it-yourself home cabin ac solar panel kits
4230 off-grid solar allows home and cabin owners and easy way to lower their expenses making this off-grid solar kit perfect for that weekend escape island. Our 4230 watt off grid solar kit are expandable to any size you need. These off-grid solar kits are simple, safe and a snap to install. Build around Talesun solar panels, the heart of the 4230 watt off-grid solar kit is the Magnum Energy MS4448PAE power center giving your 120 /240 volts of pure sine wave electricity.
Blue Pacific Solar has taken one of the hardest parts of assembling a high power solar system and has completed all the hard work in the shop prior to shipment. The power center in the 4230 watt off-grid solar kit is fully assembled and tested prior to shipment by experienced Magnum Energy factory trained technicians. Mounting the power center on a Magnum attachment plate, we only use ETL and C-ETL listed Magnum Energy power distribution enclosures. Included in the power center are; easy to connect and clearly labeled color coded buss bars for AC and DC connections; AC and DC lightning arrestors, breaker space for DIN rail or surface mount breakers for optional equipment, all built inside a white power coated Magnum Energy box with front facing controls. Home or cabin solar power has never been made easier or more affordable.
Blue Pacific Solar has provided all of the main parts you will need for your 4230 watt off-grid solar kit, but here are some additional items that your may need prior to installing your home panel system. Conduit, appropriately sized electrical wire, some fasteners and grounding rod and wire. Building and installing your own 4230 off-grid solar system is not only the smart choice for controlling your expenses, it may be on the most satisfying DIY projects you ever have undertaken.

NOTE, IMPORTANT 4230 Watt Off Grid Solar Kit INSTALLATION: (OK, here is the scary legal disclaimer.) It is the responsibility of the purchaser to ensure that all products are installed and operated in accordance with local and national building codes as specific by the NEC (National Electric Code), UBC (Uniform Building Code) or IBC (International Building Code) and local utility company policy. These codes may vary from city to city and county to county. All off-grid solar installations should be permitted and inspected, where required, by the local inspection authority in the same manner as other equivalent electrical systems. One last thing. It is always a good idea to contract with a local licensed electrician to at least do the final electrical connection of your 4230 Watt Off Grid Solar Kit from the AC disconnect to your home utility breaker box. Some local permitting authorities require that a licensed electrician do all the wiring from the rack to the utility interconnect. If you need help with the permitting documents for your 4230 Watt Off Grid Solar Kit package, we are here for you. Solar permit service add on is available at checkout.