What's On the Truck
● P/N MIDSW-24-2820 - MidNite Solar Off-Grid 2.9kW 24VDC Battery Based Kit [Assembley Req. See Schematic ⇧]
10 - 285W SolarWorld Plus Black Frame Mono Panels
5 - PV Wire 50' Cable Extension, 10AWG, UL4703 with MC4 Connectors, 600VDC (Array Wire to Edge of Panels)
1 - MidNite Solar MNPV-6, 6 Position Combiner Box
5 - MidNite Solar MNEPV-15 - 15 amp DC Breaker 150VDC DIN, 13mm
2 - Midnite Solar MNSPD300-DC Lighting Arrestor
1 - Multi-Contact MC4 Latch Tool
1 - Midnite Solar, Classic 150, MPPT Charge Controller, 150VDC, 96A, 12-93V Battery, with BTS & LCD, Arc-fault Protection, CLASSIC 150
1 - MidNite Solar, MNCCB-R, E-PANEL Right Side Single Classic Charge Controller Mounting Plate
1 - Midnite MNDC-15 Load Center Circuit Breaker Box for 15 Panel Mount and One Large Panel Mount Breaker
1 - MidNite MNBCM Voltmeter Battery Capacity Meter
1 - Circuit Breaker, MIDNITE, 1A 120VAC/150VDC, 1-POLE, Panel Mount (Meter Breaker)
1 - Circuit Breaker, 100A 150VDC, 1-POLE, MIDNITE MNEDC100 Panel Mount (Classic 150 Controller)
1 - Circuit Breaker. OUTBACK PNL-20-AC/DC, DC Ground Fault Protector, 20A 150VDC, 1-POLE, Panel Mount (PV Array)
1 - Midnite MNEDC175 Battery/Inverter Circuit Breaker, Panel Mount (Battery / Inverter)
1 - MNBreaker Protecter The MidNite Solar MNBreaker Protector will keep the 175 Amp Breaker from being accidentally hit.
1 - Midnite, MNDC-GFP80, DC Ground Fault Protector, 80A 150VDC, 1-POLE, Panel Mount (PV Array Protection)
1 - BUSBAR, Midnite Solar, BIG BUSBAR, 5-STUD Battery Terminal (Battery / Inverter Neg)
2 - BUSBAR, Midnite Solar, MNSBBR, Terminal Red
1 - BUSBAR, Midnite Solar, MNSBBB, Terminal Black
1 - BUSBAR, Midnite Solar, MNGBB, Ground
2 - Battery Cable, Code Approved THW, Black, 2/0 x 10'
1 - Line Drawing; Full Instructive Three-Line Diagram of Entire DC Circuit, as Well as AC Lines to Your Main Panel.
Balance of Material Normally Ships in Approximately 3-5 Business Days After Funds Clear. ● Power Center ships in Approximately 10 Business Days. (Subject to Seasonal Increases) ● Line Drawing send via Email [PDF] 3 - 5 business days after funds clear.
Solar panel roof or ground racks and batteries are site specific options that are not included with the base package. [See Related Items ⇩] Additionally the inverter is not included int he base package because many cabin owners have asked they be allowed to supply their own inverter. Inverter options are available below. ⇩
A full instructive three-line wire diagram of entire DC circuit, as well as AC lines to Your main panel [Optional Inverter] is included with the kit but field assembly of all the components listed is required by others. [See Schematic Tab ⇧] Blue Pacific Solar will provide the PV wire to the edge of the array, all other wire and battery interconnect cables are not included. Optional AC inverter and 120 VAC 15 AAC panel mount breakers and 120 VAC outlets are not included (Shown Below) ⇩ Panel mount breakers are single-pole ¾" wide breakers with ¼" stud connections and require ring terminals on wires connected to them. Ring terminals and connecting AWG CU wires are not included and are readily available at your local hardware store. NOTE: This micro kit can be wired using the outlet example on the schematic page above but can also be wire into an AC breaker panel [After you select the optional inverter or provide your own]. We will draw either option, your choice.
Configuration Overview - Off-Grid Micro Applications for Cabin or Tiny House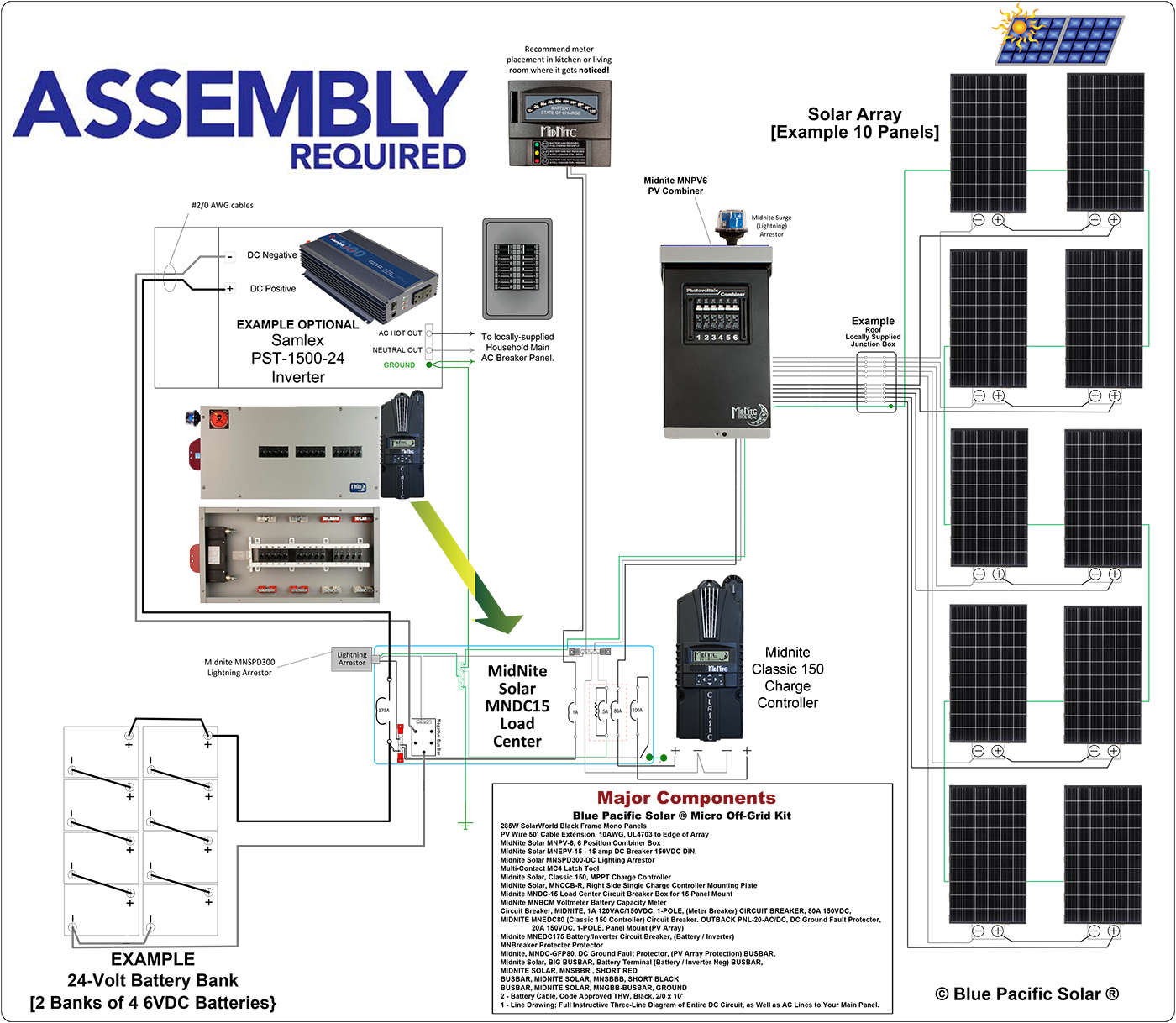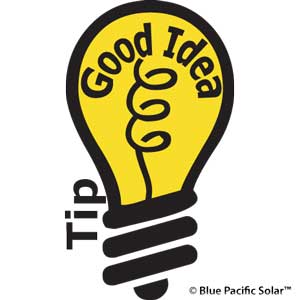 RECOMMENDATION - Keep the number of parallel strings of batteries to three or fewer. More than three strings of batteries will shorten your battery life due to uneven charging. That means use higher AH 6VDC or 2VDC batteries for fewer strings. Batteries in Series = Voltage is Additive; Batteries in Parallel = Ah is Additive.