The 4.3 kW Off-Grid, Backup
or On-Grid Solution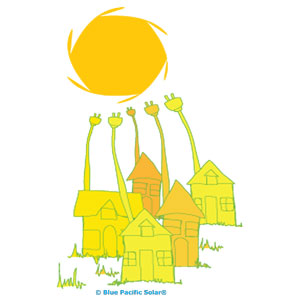 Solar Production = 17,100 Watts Per Day ● Assumptions: STC Watts Panel Rating [Factory Rating] @ 4.0 Sun Hours (Dec).
Technical Specifications: MNEMS4448PAED-2CL150D Power Center ● 48 VDC Battery Based Inverter. 8.8 kW 120/240 VAC Output, Continuous 8800 Watt Inverter AC Output Current 37 AAC ● Charge Controller MidNite Classic 150 (Solar) Voltage: 150.00 Volts + HyperVOC; Max Output (Battery) Current: 86.00 Amps. ● 120/240 VAC Generator Compatible ● E-Panel includes a mounting bracket, 2 Magnum Energy MS4448PAE 120/240 48VDC inverter/chargers, 2 Classic 150 Charge Controller, ME-ARC50 Display, MNE175STM-240 E-Panel, 4 MNSPD Surge Protector, Battery and Solar Array Breakers, Solar GFDI, Input-Output-Bypass Assembly, Mounting Locations for Additional AC breakers.
The MidNite Solar E-Panel 4275 Watt MNEMS4448PAED-2CL150D Kit is ideal for full-size solutions: homes, farms, small businesses and backup power systems, with all necessary components integrated into a compact hang-on-the-wall system with a minimal footprint.
● Factory Tested, Pre-wired and Pre-Configured Power Center
● Off-grid, Backup, Generator and On-Grid Functionality in One Pre-Engineered Package
● American Made Technology, Easy to Order, Fast Delivery, Simplified Installation
AC Input Connection
When the MNEMS4448PAED-2CL150D power center is properly connected to batteries and turned on, the direct current (DC) from the batteries is transformed into a pure sine wave alternating current (AC). This AC is similar to the voltage provided by your utility, and is used to power the electrical appliances (i.e., AC loads) connected to the inverter's output.
Utility Grid or Generator AC Input
When an external source of AC power (e.g., utility power or generator) is connected and qualified on the inverter's AC input, it operates in Standby mode. In Standby mode, the unit operates as a battery charger to convert the incoming AC power into DC power to recharge the batteries; while at the same time, an internal AC transfer relay is automatically closed and passes the incoming AC power directly to the inverter's output to continue powering the connected electrical appliances.
Backup
The MidNite Solar E-Panel 4275 Watt MNEMS4448PAED-2CL150D kit can be used for backup power in a permanent location that normally uses utility power, such as a home or office. When utility power is available, the inverter keeps the batteries charged. When the utility power fails, the inverter comes on automatically to supply AC power to your home or office during the power failure. For a home or business, reliable backup power is needed to prevent lost computer data, or to maintain lights and keep food fresh in the refrigerator/freezer.
Personal Technical Advisor
Line drawing questions or just stuck? No worries we have your back and will be here to help whenever you have questions. For orders larger than $2,000.00 a Technical Sales Team Group Captain will be assigned your account. Your Technical Advisors job is to coordinate all parts and pieces of your order and to work with you throughout the process. This makes it easy for you because we will be providing you with a single contact point and single extension to call with your questions to help make the process easier.
SolarWorld Solar Panels 17.0% Panel Efficiency
Blue Pacific Solar® MidNite 4.3 kW Kit is featured with SolarWorld panels which are ranked among the highest efficiency panels in the industry bringing customer value of more energy. 25 Year Warranty, UL Listed.