What's On the Truck
● P/N MNMAGBK-10752 - 10.7 kW Home or Business Backup Power Center
1 - Backup Solar Kit is Assembled and Tested by Experienced Factory Trained Technicians Prior to Shipment. All Required Internal Cables and Connectors Come Pre-wired (Battery Cables Supplied but Not Installed) Clearly Labeled Connection Points for AC and DC Input and Output. AC and DC Breakers; Full Feature LED power center Display for System Monitoring and Battery Information; No Maintenance, Long Life, Sealed Batteries; Attractive, Lockable Grey Powder Coat Steel Enclosure; Inverter Bypass Switch Allows Choice of Generator / Grid or Inverter Output; Easy to Connect Color Coded Buss Bars for AC and DC Connections; Multiple Available Knockouts for Conduit Attachments; Single System Grounding Point.
1 - Magnum Energy MS4448PAE Sinewave Inverter
1 - Magnum Energy ME-ARC 50 Inverter Remote
1 - Magnum ME-BMK Battery Monitor
8 - FullRiver AGM DC224-6A 224 AG 6V (Battery Connectors Included, Shipped Uninstalled)
7 - Battery Cable, Code Approved THW, Black, 2/0 x 20"
2 - Battery Cable, Code Approved THW, Black, 2/0 x 5'
1 - MNBE-C Grey Power Coat Battery Enclosure with Locking Door
1 - Line Drawing; Full Instructive Three-Line Diagram of Entire DC Circuit, as Well as AC Lines to Your Main Panel.
Power Center ships in Approximately 25 Business Days. (Subject to Seasonal Increases) ● Line Drawing send via Email [PDF] 3 - 5 business days after funds clear.
Fast Installation - Install Batteries & Cables (Shipped Seperatly) & Make the Connections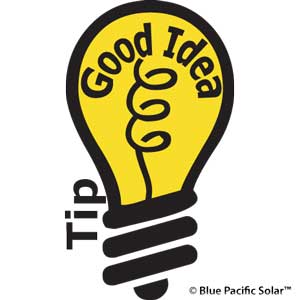 RECOMMENDATION - Keep the number of parallel strings of batteries to three or fewer. More than three strings of batteries will shorten your battery life due to uneven charging. That means use higher AH 6VDC or 2VDC batteries for fewer strings. Batteries in Series = Voltage is Additive; Batteries in Parallel = Ah is Additive.