web solar
Store
Solar permit service is available to help you with the process of obtaining a building permit.
Only: Learn More
SolarEdge SE7600A-US-U Grid-Tie Inverter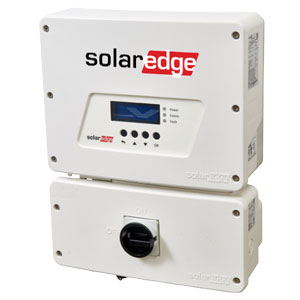 SolarEdge distributed grid intertie system combines module-level maximum power point tracking (MPPT), DC-DC power optimizers, and monitoring with high-efficiency transformerless string inverters to maximize the energy yield of a PV installation. The SolarEdge system provides design flexibility by mitigating shading, module mismatch, uneven soiling, and aging variance losses. It automatically maintains a fixed string voltage so the inverter operates at peak efficiency regardless of string size, shading, or temperature. This allows flexible string lengths ranging from 8 to 25 modules for single-phase as well as varying module sizes, tilts, and orientations. The system is scalable and simplifies expansions and replacements since future modules need not electrically match existing ones.
Only: Buy Now
Product Details:
Specifications:
Videos:
Documents:
SolarEdge Inverter & Power Optimizers
Model
Part Number
Nominal AC
Output
DC Panel
Watts (STC)
CEC* Efficiency
Max AC
Current Out
Weight
SE7600A-US-U
3100493
7,680 Watts
< 9,600**
98%
32 Amp
88 lbs
*California Energy Commission Independent Test Performance
** Limited to 125% for locations where the yearly average high temperature is above 77ºF/25ºC and to 135% for locations where it is below 77ºF/25ºC.
SolarEdge Power Optimizers; The SolarEdge power optimizer is a DC/DC converter which is connected by the installer to each solar panel. The SolarEdge power optimizers increase energy output from solar systems by constantly tracking the maximum power point (MPPT) of each module individually. Furthermore, the power optimizers monitor the performance of each module and communicate performance data to the SolarEdge monitoring portal for enhanced, cost-effective module-level maintenance. Each power optimizer is equipped with the unique SafeDC™ feature which automatically shuts down modules' DC voltage whenever the inverter or grid power is shut down.
SolarEdge inverters are ungrounded (non-isolated) on the DC side, so all module array wiring must use PV Wire (including factory-installed module wire leads). The SolarEdge power optimizers have a 25-year warranty, and the SolarEdge inverters have a 12-year warranty (extendable to 20 or 25 years). Power optimizers and inverters are listed to UL 1741 for the U.S.A. and Canada.
FLEXIBLE DESIGN:
Constraint-Free Design: Maximum Space Utilization With Minimum Design Time
Modules can be Placed on Different Orientations and Tilts in the Same String
Different Module Types and Models in a Single String
Strings of Different Lengths can be Connected to the Same Inverter
Longer Strings Due to Flexible Design
ENHANCED SAFETY:
SafeDC™-DC Safety: Safety During Installation, Maintenance, Firefighting and Other Emergencies
Integrated Arc Fault Protection (Type 1) for NEC 2011 690.11 Compliance (Part Numbers Ending in U)
Installation: Safe String Voltage - Until Inverter and AC Supply are Turned On
Maintenance: Safe String Voltage - Automatic DC Shutdown Once Inverter is Turned Off
Emergency: Safe String Voltage - Automatic DC Shutdown After Grid Disconnection or In Reaction to High Temperature
Fire Safety: Automatic Arc Detection and Termination
MORE ENERGY:
Up to 25% More Energy: With Module-Level MPPT
Increased Energy Yield and Faster Return on Investment in All Scenarios
No Power Loss Due to Module Mismatch
No Partial Shading Loss
No Soiling Mismatch Loss
No Aging Mismatch Loss
MODULE-LEVEL MONITORING:
Full Visibility of System Performance and Remote Troubleshooting
Module-Level Performance Data Available in Real-Time
Presentation of Complete System on Virtual Site Map
Automatic and Immediate Alerts on System Issues
Easy Access Via Web Browser From Computer or Smartphone
What's On The Truck
SolarEdge, SE7600A-US-U 1-Ph Grid Tied Inverter, 6000W, 240VAC, 60Hz, DC/AC Disconnect, 2 Unfused Input, 12 Yr Warranty, Ungrounded, RS485 and Ethernet, Arc-Fault Protection
Inverter must be paired with appropriate number of "P" power optimizers (1 Optimizer Per Solar Panel) and PV cable to be compliant with NEC 690.35(D) for Ungrounded PV Power Systems.
SolarEdge Inverters ship in 2 - 3 business days after funds clear.
| | | | | | |
| --- | --- | --- | --- | --- | --- |
| Optimizer Model | Max Panel Input | Max Input Voltage | MPPT Range | Module Type | Input Connector |
| P300-2NM4ARS | < 300 W | 48 VDC | 8 - 48 VDC | 60-cell | MC4 |
| P350-2NM4ARM | < 350 W | 60 VDC | 8 - 60 VDC | 72-Cell | MC4 |
| P400-2NM4ARM | < 400 W | 80 VDC | 8 - 80 VDC | 96-Cell | MC4 |
| | | | |
| --- | --- | --- | --- |
| Optional Accessories | Part # | Price | |
| Solaredge, Optimizer 300W, Add-On Box for one 60 cell module, 8-48V, 10A, MC4 In, H4 Out, 36" PV wire, UL 1000VDC, P300-2NM4ARS | 5650184 | | |
| Solaredge, Optimizer 350W, Add-On Box for one 72 cell module, 8-60V, 15A, MC4 In, H4 Out, 36" PV wire, UL 1000VDC, P350-2NM4ARM | 5650185 | | |
| SolarEdge, Zigbee Repeater (range extender), SE1000-ZBRPT-NA | 5700173 | | |
SolarEdge SE7600A-US-U Inverter Documents & Manuals
SolarEdge SolarEdge Inverter System
Grid Tie; Grid Interactive Power
SolarEdge SE7600A-US-U Grid-Tied Inverter sync with the grid at 240 VAC, and because the MPPT and voltage management is handled by the power optimizer, have built-in AC and DC Disconnects, weigh just 52 pounds, and are 97% efficient. The system also offers optional wireless inverter connectivity for simpler installation, free of Ethernet or RS485 cabling. ETL Listed to UL 1742 for the US and Canada. SolarEdge has a 25-year warranty for the power optimizer and 12-year warranty for the inverter, extendable to 20 years. Current residential solar systems are typically built from ten to 50 solar panels connected in a series-parallel connection. Several panels (typically 10 to 15) are connected in series, forming a string, to achieve a voltage high enough to enable efficient DC/AC inversion usually between 150V to 600V. More power can be added to the system by adding multiple strings in parallel.
Since the strings are connected in parallel, each string must have the same operating voltage. Thus, in order to efficiently produce power each string must match others in operating voltage. This generally includes matching in panel make and model, string length and orientation and shading conditions, to name a few parameters. The entire array is connected to a solar inverter which is responsible for harvesting the electrical power and inverting it to AC so it can be fed into the grid. If an array consists of two strings with differing operating voltage characteristics (e.g. panel model or panel orientation), two inverters will be needed.
The series connection in each string also poses problems that reduce the maximum power available for inversion. This stems from the fact that the same amount of current flows through all of the panels of each string, disabling individual panel power maximization. SolarEdge is different in that they introduce a distributed power harvesting architecture at the panel level, in that way, the SolarEdge system overcomes the limitations present in current PV systems. Instead of using a single power harvesting device, an inverter, for the entire array, SolarEdge divides power harvesting functions between two devices: solar panel integrated Maximum Power Point Tracking (MPPT) units. These units optimize the energy output from each panel.
The SolarEdge inverter handles only DC to AC inversion, not high power MPPT, schemes. Further, because this inversion is handled at a fixed DC voltage, the inverter can be a simpler, more cost-effective device. Well performing Balance of System components, among them the inverter, are of high importance to the overall performance and longevity of a solar system. The SolarEdge distributed architecture approach contributes to improved system performance. In addition, quality of installation is of critical importance to system performance. SolarEdge systems allow for simplified installation, therefore posing fewer complications and potential errors when installing your SolarEdge SE7600A-US-U inverter

NOTE IMPORTANT INSTALLATION SolarEdge SE7600A-US-U: It is the responsibility of the purchaser to ensure that all products are installed and operated in accordance with local and national building codes as specific by the NEC (National Electric Code), UBC (Uniform Building Code) or IBC (International Building Code) and local utility company policy. These codes may vary from city to city and county to county. All Grid-tied solar installations should be permitted and inspected, where required, by the local inspection authority in the same manner as other equivalent electrical systems. It is always a good idea to contract with a local licensed electrician to at least do the final electrical connection of your SolarEdge SE7600A-US-U system from the AC disconnect to your home utility breaker box. Some local permitting authorities require that a licensed electrician do all the wiring from the rack to the utility interconnect.
Additional Safety Instructions; Perform all electrical installations in accordance with all applicable local electrical codes and the National Electrical Code (NEC), ANSI/NFPA 70. Be aware that only qualified personnel should install or replace Enphase MicroInverter. Do not attempt to repair the Enphase MicroInverter as it contains no user-serviceable parts. If it fails, please contact Enphase customer service to obtain an RMA (return merchandise authorization) number and start the replacement process. Tampering with or opening the Enphase MicroInverter will void the warranty. Before installing or using the SolarEdge SE7600A-US-U, please read all instructions and cautionary markings in the technical description. Connect the Microinverter to the utility grid only after receiving prior approval from the electrical utility company. Be aware that the body of the microinverter is the heat sink. Under normal operating conditions, the temperature is 15°C above ambient, but under extreme conditions the microinverter can reach a temperature of 80°C. To reduce risk of burns, use caution when working with microinverter. Do NOT disconnect the solar panel from the SolarEdge SE7600A-US-U without first removing AC power.