web solar
Store
Solar permit service is available to help you with the process of obtaining a building permit.
Only: Learn More
Magnum MMS1012 1000 Watts 12 Volts Pure Sine Wave Inverter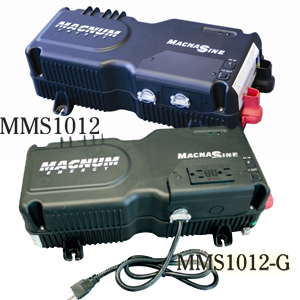 The Magnum Energy MMS1012 series inverter / battery charger is powerful, easy-to-use, and cost effective pure sine wave inverter. Pure sine wave: Power your T.V.s, stereos, plasma screens, and other sensitive electronics without worry. Here at Blue Pacific Solar the "solar guys and gals" love this inverter that seems to be sized just right. We like it so much we featured this dependable pure sine wave inverter in some of the emergency backup systems we designed here.
Only: Buy Now
Product Details:
Specifications:
Videos:
Documents:
Magnum MMS1012 Pure Sine Wave Marine, RV & Emergency Backup AC Inverter
| | | | | | | |
| --- | --- | --- | --- | --- | --- | --- |
| Model | Part Number | Watts | Input Voltage | Output Voltage | Type | Amps Continuous Charge |
| Magnum MMS1012 Inverter | BP2901242 | 1,000 | 12 VDC | 120 VAC | Pure Sinewave / Off-Grid | 50 ACD (25*C) |
The Magnum MMS1012 inverter and battery charger is a pure sine wave inverter providing a cost effective solution for those with smaller power needs in mobile applications. Versatile, easy-to-use, and lightweight, the Magnum MMS1012 inverter provides a reliable base for your energy system. Magnum Energy has your back with their PFC charger built into all of their inverter / chargers. This unique engineering design uses less energy from a generator than a standard charger using only 7.5 amps per 50 amps versus 12.5 amps used by standard chargers. The Magnum MMS1012 inverter is ETL Listed to the stringent requirements of UL/cUL 458 and CSA C22.2 #107.1-01 for mobile use. The modern, hourglass case, paired with the die cast aluminum base combines form with function, creating an attractive unit that uses its base as a heat sink for superior high temperature operation.
The Magnum MMS1012 inverter/charger is loaded with features like standard transfer relay. The standard 20 amp transfer relay will pass AC power through the inverter when using shore or generator power. If your battery voltage reaches below 10 VDC or above 15.5 VDC, the Magnum MMS1012 inverter will automatically shut down. Mount the Magnum MMS1012 inverter on a shelf, bulkhead, or even upside down. The Magnum MMS1012 inverter is fan cooled, enabling the unit to work well in confined spaces. If the inverter does exceed its temperature limits, it will automatically shut down and then restart when it cools down. The MMS Series will automatically shut down if its output wattage is exceeded or it detects a short in the wiring, saving the unit from costly damage. The Magnum MMS1012 inverter comes with an on/off front-mounted switch with an easy-to-read LED indicator. This model comes with built in input and output circuit breakers for ease of installation. The standard battery temp sensor monitors temperatures from 0 - 50° C. The Magnum MMS1012 inverter is backed by a two-year (24-month) parts and labor warranty. Options: The optional ME-RC and MM-RC remotes are available for the MMS Series. A four wire phone jack comes standard with the unit to connect the remote.
What's In The Box
1 - Magnum Energy MMS1012 Pure Sine Wave Inverter
| | | | |
| --- | --- | --- | --- |
| Optional Accessories | Part # | Price | |
| 1 - Magnum Energy MMS1012G Pure Sine Wave Inverter. Same inverter as MMS1012, but this model comes with a flexible cord on the AC input and a GFCI outlet on the output for easy connection to your AC appliances; ready to use after connecting to your batteries. | BP2901122 | | |
| 1 - ME-RC-50 Magnum Energy Remote Control Monitor | BP2910000 | | |
| 2 Trina 180 Watt Solar Modules Silver (Equal or Better); 1 Morningstar TriStar TS-45, MPPT; TS-MPPT45 Controllers | BP9200360 | | |
| ME-BMK Battery Monitor Kit with Shunt | BP9915942 | | |
| ME-AGS Network - Magnum Automatic Generator Start used with ME-RC 50 | BP2911442 | | |
| ME-AGS-S Stand Alone - Magnum Energy ME AGS-S Generator Start Module, Stand Alone | BP2921442 | | |
| ME-MW-W MagWeb - Wireless Monitoring Kit / The ME-MW-W MagWeb - Wireless Monitoring Kit is a powerful and cost effective tool for remotely monitoring your Magnum Energy's inverter and accessories. | BP2944002 | | |
Inverter Specifications

Magnum Energy MMS1012 Inverter

Input battery voltage range
9 - 17 VDC
Nominal AC output voltage
120 Volts AC
Output frequency and accuracy
60 Hz ± 0.1 %
1 msec surge current (amps AC)
50
5 sec surge power (real watts)
3300
30 sec surge power (real watts)
3100
5 min surge power (real watts)
2800
30 min surge power (real watts)
2200
Continuous power output at 25° C
2000 VA
Maximum continuous input current
266 ADC
Inverter efficiency (peak)
89%
No load (120 VAC output, typical)
25 watts
Waveform
Pure Sine Wave
Charger Continuous output at 25° C
100 ADC
Input current at rated output (AC amps)
15
Power factor
> 0.95

General Features and Capabilities

Transfer relay capability
MS2000: 30 A single input MS2012, MS2812, MS4024: 2 legs at 30 A for 120 V/30 A or 240 V/60 A service
Five stage charging capability
Bulk, Absorb, Float, Equalize (requires remote), and Battery Saver™
Remote available (optional)
Yes, MM-RC or ME-RC
Overcurrent protection
Yes, with two overlapping circuits
Dual AC branch rated output breakers
Optional on the MS2000 and MS2012 - AC breakers in 15 or 20 amp ratings
Listings
ETL Listed to UL/cUL 458, UL 1741, CSA C22.2 #107.1-01, meets KKK-A-1822E standard
Warranty
Three years

Environmental Specifications

Operating temperature
-20° C to +60° C (-4° F to 140° F)
Non-operating temperature
-40° C to +70° C (-40° F to 158° F)

Physical Specifications

Dimensions (L x W x H)
13.75" x 12.65" x 8.0"
Mounting
Shelf (top or bottom up) or bulkhead (vents up)
Weight
42 Lbs
Shipping Weight
48 Lbs
Max operating altitude
15,000'
Magnum Energy Inverter Documents & Manuals
Magnum MS 2012 Pure Sine Wave Inverter
Marine / RV / Emergency Battery Backup 12 volts 1000 Watts
Magnum MMS1012 inverters are the brains of your new solar system. A Magnum MMS1012 inverter will change the direct current (DC) power produced by the solar panels, or stored energy in batteries, and convert it into alternating current (AC) electricity that home, RV or Marine owners can use to power T.V.s, stereos, plasma screens, and other sensitive electronics without the distortion or electrical lines you sometimes get with modified sine wave inverters.
When your Magnum MMS1012 inverter is operating in inverter mode, DC electricity from your batteries is changed into pure sine wave AC power that works with most small electronics and mobile applications. When you batteries are charged 100%, the Magnum Energy MMS1012 inverter switches over to standby mode. The Magnum MMS1012 operates as a battery charger to convert incoming AC power into DC power to recharge your batteries while continuing to pass through incoming AC power directly to the inverters output ports.
Magnum Energy MMS1012 inverters can be used for a variety of purposes from emergency backup power centers to mobile applications such as an RV, truck or boat. In these applications the Magnum MMS1012 inverter provides power to the AC outlets using energy stored in the batteries of your RV, truck or marine vessel. The Magnum Energy MMS1012 can power a wide range of household, RV or marine appliances. As with any appliance using batteries for power, there is a certain length of time called "run time" that your batteries will provide electricity. Actual run time is dependent of several variables including the size and type of appliance, the type of batteries installed as well as the age and battery's capacity. Other environmental factors can affect the amount of power your Magnum MMS1012 can provide such as your battery's state of discharge (or charge) and the temperature where the batteries are stored.
To evaluate your power requirements look at the name plate of the largest electronic appliance you want to run then look at the watt and surge rating of the Magnum MMS1012. Your inverters consistent power capacity and surge capacity should be allow a 25% calculation factor when measured against the highest energy demand of your appliance.

IMPORTANT SAFETY INSTRUCTIONS: Magnum MMS1012. (OK, here is the scary legal disclaimer.) It is the responsibility of the purchaser to ensure that all products are installed and operated in accordance with local and national building codes as specific by the NEC (National Electric Code), UBC (Uniform Building Code) or IBC (International Building Code) and local utility company policy. This product is designed for indoor or protected compartment installations. DO NOT expose the MMS1012 to rain, snow, moisture or liquids of any type. Use insulated tools to reduce the chance of electrical shock or accidental short circuits. Remove all jewelry such as rings, watches, bracelets, etc when installing the Magnum MMS1012 inverter or any other electronic gear. Always disconnect the batteries or energy source prior to installation or performing maintenance on the Magnum MMS1012 inverter. Live power may be present at more than one point since an inverter utilizes both batteries and AC electricity. Turning off the Magnum MMS1012 inverter may not reduce that risk. Always verify proper wiring prior to starting the inverter. Do not operate the Magnum MMS1012 inverter if it has been damaged. Always read and follow the manufactures installation and operating instructions for the Magnum Energy MMS1012 inverter prior to installation and operation.