web solar
Store
Solar permit service is available to help you with the process of obtaining a building permit.
Only: Learn More
Enphase Energy S280-60-LL-2-US Grid-Tie Microinverter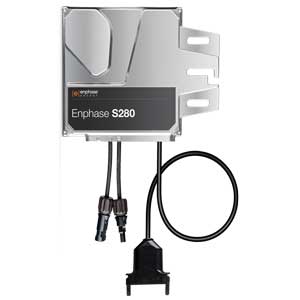 The S280-60-LL-2-US microinverter is compatible with most 60-cell solar panel (up to 325 W) and works with 240 VAC single-phase services. The maximum number of S280-60-LL-2-US microinverters in an AC branch circuit is 14 for 240 VAC single-phase systems. If you choose 14 microinverters for a single branch, Enphase recommends you center tap the string. Each AC branch circuit must be protected with a 20 A circuit breaker. The S280-60-LL-2-US has automatic voltage sensing, but the Engage trunk cable used to complete the circuit is specific to the output voltage required. Be sure to verify that the voltage and current specifications of your solar panel are within the input range of the S280-60-LL-2-US microinverter.
Only: Buy Now
Product Details:
Specifications:
Videos:
Documents:
Enphase S280-60-LL-2-US Microinverter
Model
Part Number
MAX AC
Output
DC Panel Voltage
MPPT Range
CEC* Efficiency
Max AC Current
Weight
S280-60-LL-2-US
3210205
270 Watts
< 48 VDC
27 to 37 VDC
97%
1 Amp
4 lb
*California Energy Commission Independent Test Performance
A microinverter converts the DC output from a single solar panel into grid-compliant AC power and is meant to be located near the panel. The Enphase Microinverter System simplifies design and installation by alleviating string-sizing constraints, and it optimizes the energy harvest of each module through independent maximum power point tracking (MPPT). An Enphase System consists of microinverters, Engage trunk cables, the Envoy Communications Gateway, and the web-based Enlighten monitoring and analysis service.
Through individualized MPPT, Enphase microinverters help mitigate the effects of shading, dust, debris, module mismatch, and thermal differences. With module-level monitoring, performance issues can be traced to individual modules to expedite troubleshooting. Each solar panel is connected directly to its own microinverter, typically mounted on the racking underneath. The microinverters' AC wire harnesses are connected to form an AC branch circuit that leads to the AC utility distribution center. System safety is enhanced since all of the output wiring from the PV array is AC and no high-voltage DC is present once the AC power is shut down, reducing risk to maintenance personnel or firefighters.
FEATURES:
Module-level Monitoring - Requires Envoy S
Cable Selectable 240 VAC Output - Requires Engage Trunk Cable
Operate at Full Power in Ambient Temperatures from -40°C (-40°F) to 65°C (149°F)
NEMA6 Sealed Enclosures
Listed to UL 1741 for U.S. and Canada
Compliant with: IEEE 1547 FCC Part 15 Class B CAN/CSA-C22.2 NO. 0-91, .4-04, and 107.1-01
Backed by a Twenty Five Year Limited Warranty
What's On The Truck
Enphase, S280 Microinverter, 280W, 240/208VAC, 60Hz, 16-48VDC for 60 cell modules, MC comparable Locking Connector in, 16" Engage Cable out, with integrated ground, 25 Yr Warr, S280-60-LL-2-US
Enphase Energy Microinverters ship in 2 - 3 business days after funds clear.
| | | | |
| --- | --- | --- | --- |
| Optional Accessories | Part # | Price | |
| Enphase, Envoy S Communications Gateway, Envoy S Standard, w/ Power Cord, 120VAC, Qty. 1, ENV-S-AB-120-A. The next-generation Envoy-S gateway provides energy usage insights, remote update capabilities and load management, adding significant value for system owners. Standard Version - WiFi or Wired Connection. | 3600297 | | |
| Enphase, Engage Portrait AC Trunk Cable, 1-Ph (4-Wire) for S280-60-LL-2-US and M250, Qty 1 Per Microinverter, Continuous length in Portrait (40"), ET10-240-BULK | 3600217 | | |
| Enphase, Engage Landscape AC Trunk Cable, 1-Ph (4-Wire) for S280-60-LL-2-US and M250, Qty 1 Per Microinverter, Continuous length in Landscape (67"), ET17-240-BULK | 3600216 | | |
| Enphase, Envoy S AC Combiner box with Envoy included, Pre-wired with three pre-installed 2-pole 20A/240VAC AC dinrail circuits, NEMA3R, Qty. 1, XAM1-120 M | 5701108S | | |
| Enphase, Install Kit for S280-60-LL-2-US and M250 (4 Terminators, 1 Disconnect Tool, 5 Water tight caps), ET-INSTL | 3600206 | | |
| xxxxxxxxxxxxxxxxxxxxEnphase, Mounting Bracket for Dual Gang AC JBox, Qty. 1, EMBK-50-001 | 3600165 | | |
| Enphase, Engage Coupler, Watertight Cable Splice for S280-60-LL-2-US and M250, Qty. 1, ET-SPLK-05 | 3600204 | | |
| Enphase, Branch Terminator for S280-60-LL-2-US and M250, ET-TERM-10 | 3600203 | | |
| Enphase, Accessory, Water tight cap for S280-60-LL-2-US and M250, Qty. 1, ET-SEAL-10 | 3600205 | | |
| Enphase, Accessory, Cable Disconnect Tool, S280-60-LL-2-US and M250, ET-DISC-05 (Minimum Qty 3) | 3700055 | | |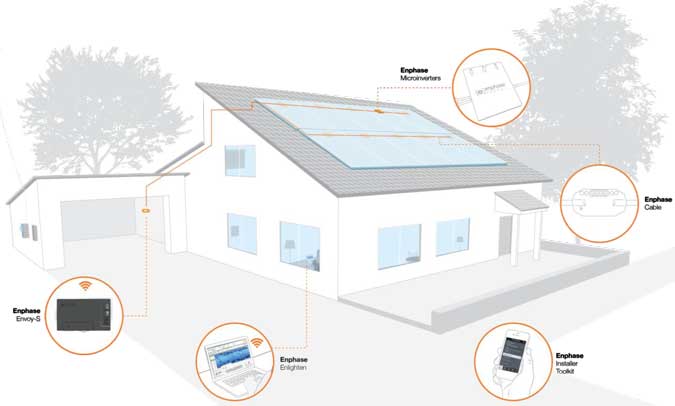 Enphase S280-60-LL-2-US Inverter Documents & Manuals
Enphase S280-60-LL-2-US Microinverter System
Grid Tie; Grid Interactive Power
Enphase Energy S280-60-LL-2-US Grid-Tied Inverter; Simple Overview of the Installation Process:
Step 1 – Measure AC at the Electrical Utility Connection (See Enphase installation instruction sheet under "Documents" tab above)
Step 2 – Install the AC Branch Circuit Junction Box (Not included)
Step 3 – Position the Enphase Engage Cable
Step 4 – Attach the MicroInverter to the Solar Racking
Step 5 – Dress the Enphase Engage Cable
Step 6 – Terminate the Unused End of the Engage Cable
Step 7 – Connect the Engage Cable to AC Junction Box(s)
Step 8 – Complete the Enphase S280-60-LL-2-US Installation Map
Step 9 – Connect the Solar Panels
Step 10 – Build the Virtual Array

NOTE IMPORTANT INSTALLATION Enphase Energy S280-60-LL-2-US : It is the responsibility of the purchaser to ensure that all products are installed and operated in accordance with local and national building codes as specific by the NEC (National Electric Code), UBC (Uniform Building Code) or IBC (International Building Code) and local utility company policy. These codes may vary from city to city and county to county. All Grid-tied solar installations should be permitted and inspected, where required, by the local inspection authority in the same manner as other equivalent electrical systems. It is always a good idea to contract with a local licensed electrician to at least do the final electrical connection of your Enphase Energy S280-60-LL-2-US system from the AC disconnect to your home utility breaker box. Some local permitting authorities require that a licensed electrician do all the wiring from the rack to the utility interconnect.
Additional Safety Instructions; Perform all electrical installations in accordance with all applicable local electrical codes and the National Electrical Code (NEC), ANSI/NFPA 70. Be aware that only qualified personnel should install or replace Enphase MicroInverter. Do not attempt to repair the Enphase MicroInverter as it contains no user-serviceable parts. If it fails, please contact Enphase customer service to obtain an RMA (return merchandise authorization) number and start the replacement process. Tampering with or opening the Enphase MicroInverter will void the warranty. Before installing or using the Enphase Energy S280-60-LL-2-US, please read all instructions and cautionary markings in the technical description. Connect the Microinverter to the utility grid only after receiving prior approval from the electrical utility company. Be aware that the body of the microinverter is the heat sink. Under normal operating conditions, the temperature is 15°C above ambient, but under extreme conditions the microinverter can reach a temperature of 80°C. To reduce risk of burns, use caution when working with microinverter. Do NOT disconnect the solar panel from the Enphase Energy S280-60-LL-2-US without first removing AC power.