web solar
Store
Solar permit service is available to help you with the process of obtaining a building permit.
Only: Learn More
SolarWorld Enphase Energy 9720W Grid-Tie Kit; DIY (Do-it-yourself)
SolarWorld / Enphase 9720W grid-tie kit is fast and easy to install using 270 watt solar panels. The system employs microinverter technology to simplify design and installation. We're always looking for ways to make solar easier and more cost effective for home and business owners. Independent minded customers are the inspiration behind our grid-tie solar packages. A microinverter converts the DC output from a single solar panel into grid-compliant AC power and is meant to be located near the panel. Choose the system that best fits your available space and budget with the knowledge you can expand your system at any time down the road.
Only: Buy Now
Product Details:
Specifications:
Videos:
Documents:
SolarWorld Solar Panel Enphase Energy M250 Microinverter Grid-Tie System
Kit Description
Part Number
STC* Array Size
Monthly kWh @ 5 Sun Hours /Day STC*
Enphase Inverter Model
Type
Panel & Inverter Warranty
9720 Watt, 36 Panel
Enphase Microinverter Kit
SWEE-9720
9,720 Watts
1,458 kWh
ENPHASE, M250-60-2LL-S22
Grid-Tie Microinverter
25 Years
The SolarWorld Enphase Microinverter System simplifies design and installation by alleviating string-sizing constraints, and it optimizes the energy harvest of each module through independent maximum power point tracking (MPPT). An Enphase System consists of microinverters, Engage trunk cables, the Envoy Communications Gateway, and the web-based Enlighten monitoring and analysis service.
The Enphase M250 Microinverters are installed at each SolarWorld panel, maximizing energy production and converting the DC power from the panel into standard AC electricity. This offers greater design flexibility and simplified installation, accommodating different roof planes, pitches, or rooftop obstacles. The first to introduce module-level microinverters, Enphase technology maximizes safety and design flexibility. The M250 Microinverters are covered by a 25-year limited warranty. Each Enphase Microinverter is individually connected to one solar panel in your array. This unique configuration means that an individual Maximum Power Point Tracker (MPPT) controls each solar panel. This ensures that
the maximum power available from each solar panel is exported to the utility grid regardless of the performance of the other solar panels in the array.
The M250 Microinverter is connected to the AC branch circuit using the Engage cable system. The Engage Cable is a continuous length of 12AWG cable with per-installed connectors for the Enphase Microinverters to plug into. The cable is handled like standard outdoor-rated electrical wire, allowing it to be cut, spliced and extended as needed. The Engage system is comprised of ruggedized cabling and accessories that enable fast, easy installations of the Enphase system. Snap-together connectors and waterproof enclosures deliver a streamlined, secure, and standardized approach to array wiring unique to the Enphase System.
Each of the microinverters that makes up the SolarWorld 9720W grid-tie kit integrates with Enphase network technology allowing you to monitor each panel performance throughout the day. (Monitor is Optional) Enphase system monitoring capability be accomplished using the optional Envoy monitor by simply plugging into a 120 volt wall outlet. You can also track your solar production by using other different types of monitors, but most customers would opt for the Envoy monitor because you can read individual panel performance rather that the whole systems performance.
SolarWorld's Sunmodule solar panels are recognized as one of the leaders in setting industry standard in quality. SolarWorld stringently control the entire manufacturing process, ensuring high performance in each and every panel. SolarWorld has been ISO 9001 certified for more than 10 years, which means they have been officially recognized for their quality management for a long time now. The fact they are American made makes this sweet system even sweeter.
The SolarWorld / Enphase 9720W grid-tie kit comes with all of the main solar related parts you will need for your installation. Here are some additional items that your may need prior to installing your package which can be purchased locally at your hardware store. Appropriately sized electrical wire and conduit from the array to your main panel, some fasteners and grounding rod and wire. Follow the custom line drawing we include with every solar kit and you will have a NEC (National Electric Code) compliant home solar system with a life expectancy of well over 25 years. Building and installing your own home solar system is not only the smart choice for controlling your expenses, it may
be on the most satisfying DIY projects you ever have undertaken.
What's On the Truck:
36 - 270 Watt SolarWorld Sunmodule Plus SW 270 Mono Black Frame
36 - Enphase M250 Microinverters M250-60-2LL-S22
36 - Enphase, Engage AC Trunk Cable, 1-Ph (4-Wire) for M250, Portrait or Landscape
1 - Enphase, Install Kit for M250 (4 Terminators, 1 Disconnect Tool, 5 Water tight caps), ET-INSTL
1 Square D, AC Disconnect, DU221RB
1 - Line Drawing; Full Instructive Three-Line Diagram of Entire DC Circuit, as Well as AC Lines to Your Metered Service Entrance.
Kit Ships in 3 to 5 Business Days After Funds Clear. SolarWorld packages stocked in California & New Jersey. Custom Line Drawing is sent via email in 5 - 7 business days.
Best Practice: Center-feed the branch circuit to minimize voltage rise in a fully-populated branch. This practice greatly reduces the voltage rise as compared with an end-fed branch. To center-feed a branch, divide the circuit into two sub-branch circuits protected by a single overcurrent protection device (OCPD).
| | | | |
| --- | --- | --- | --- |
| Optional Equipment | Part # | Price | |
| Enphase, Envoy Communications Gateway Monitor, includes Wireless USB adapter (WiFi 802.11b/g/n), with Lifetime MyEnlighten System level monitoring, ENV-120-02 M | 3600297 | | |
| 1 Set Basic IronRidge Roof Racking (1 Rack Set Required Per Solar Panel; 4 Panel MIN) NOTE: Checkout Default Price Decreases in Segments As Per Unit Quantity Increases. | BP6932304 | | |
| 1 Set Basic IronRidge Ground Racking (1 Rack Set Required Per Solar Panel 4 Panel MIN) NOTE: Checkout Default Price Decreases in Segments As Per Unit Quantity Increases. | BP6932304 | | |
| Enphase, Engage Coupler, Watertight Cable Splice for M250, Qty. 1, ET-SPLK-05 | 3600204 | | |
| | | | |
| --- | --- | --- | --- |
| Upgrades | Part # | Price | |
| 3.0kW AC Coupled Backup This home battery backup kit allows you to use your Enphase solar system to charge 10,752 watts of battery off-grid backup to home solar system with an option for 21,500 watts. If your system is 3600 watts or less or with the Enphase system that is larger we can isolate 3600 watts to use for this application, you can add this cost effective backup and leave the lights on during utility power outages. | BP9344487 | | |
*STC - To learn more about solar panels and how they are measured you need to know what STC stands for. STC in an acronym for "Standard Test Conditions". All solar panels are rated in Watts. The watt rating is how much power (amps times volts) the panel will produce in full sunlight at 25 degrees C (77F). This is the industry standard (STC) for all PV panel ratings (PV means Photovoltaics which is a fancy word for solar). Solar panel manufactures have long used this test standard which is 1,000 watts per square meter solar irradiance, 1.5 Air Mass and a 25 degrees C. cell temperature.
PTC is an acronym for "PV-USA". The PV-USA test conditions was developed at the PV USA test site at the University of Davis, California for standards established by the California Energy Commission that are considered closer to real world conditions (Real World Vs STC factory test conditions). The PTC rating test is 1,000 watts per square meter solar irradiance, 1.5 Air Mass, and 20 degrees C. ambient temperature at 10 meters above ground level and wind speed of 1 meter per second. In California, solar panels manufactures must be tested and rated independently at the PV USA test facility at the University of Davis (CA) to be considered for rebates.
The ambient temperature rating (PTC) is generally considered a better real world standard than factory conditions because silicon solar cells average about 20 degrees C. above ambient temperature in the real world, cell voltage drops as temperature increases. A module's power output in real life conditions is lower than the power measured at the panel manufacturing factory where cell temperature is maintained at a controlled 77 degrees F. (25 C).
STC Vs PTC Cell voltage drops about 0.08 volts per degree C. in environments which exceed 25 degrees C. That means an STC rating of 17 volts can actually become a PTC (PV-USA) rating of 15 or 16 volts. Using Ohm's Law, volts times amps is equal to watts which equals power, so a reduced voltage, means reduced watts.
Neither PTC nor STC account for all "real-world" losses. Actual solar systems will produce lower outputs due to soiling, shading, module mismatch, wire losses, inverter and transformer losses, shortfalls in actual nameplate ratings, panel degradation over time, and high-temperature losses for arrays mounted close to or integrated within a roofline.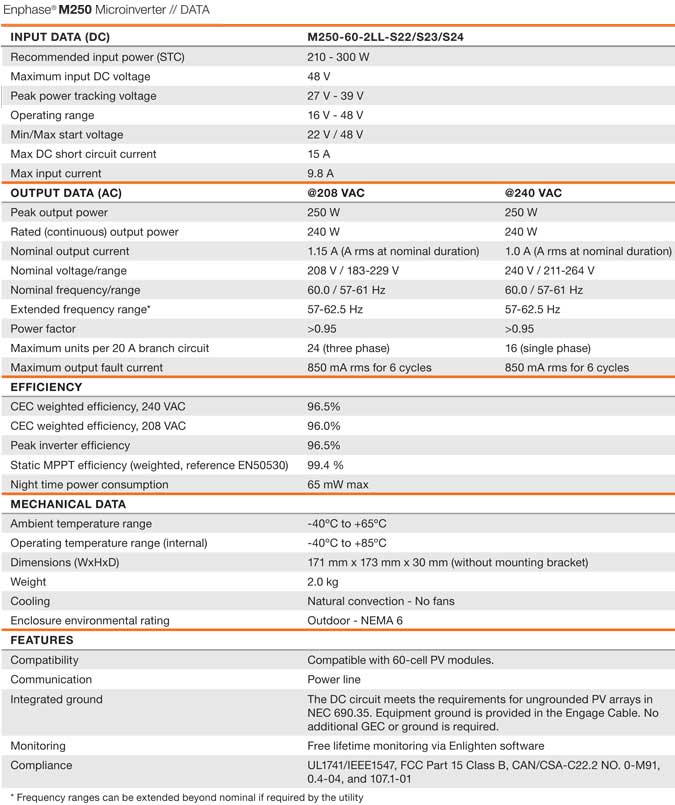 SolarWorld Enphase 9720W Grid-Tie Kit
Do-It-Yourself Home or Business Pre-Engineered Solar Package
SolarWorld Enphase 9720W Grid-Tie Kits are relatively simple to layout and install. You will not need string calculations, just keep your string to a maximum of 16 270 watt panels, and you can install individual solar panels in any combination of solar panel quantity, type, age and orientation. Each microinverter quickly mounts on the roof or ground rack (optional), directly beneath each solar panel. Low voltage DC wires connect from the solar panel via waterproof MC4 connectors directly to the co-located microinverter.

NOTE, IMPORTANT INSTALLATION: It is the responsibility of the purchaser to ensure that all products are installed and operated in accordance with local and national building codes as specific by the NEC (National Electric Code), UBC (Uniform Building Code) or IBC (International Building Code) and local utility company policy. These codes may vary from city to city and county to county. All Grid-Tie solar installations should be permitted and inspected, where required, by the local inspection authority in the same manner as other equivalent electrical systems. Blue Pacific Solar recommends you contract with a local licensed electrician to do the final electrical connection of your SolarWorld Enphase 9720W grid-tie system from the AC disconnect to your home utility breaker box. Some local permitting authorities require that a licensed electrician do all the wiring from the rack to the utility interconnect. If you need help with the permitting documents for your kit, we are here for you. Solar permit service add on is available at checkout.
Additional Safety Instructions; Perform all electrical installations in accordance with all applicable local electrical codes and the National Electrical Code (NEC), ANSI/NFPA 70. Be aware that only qualified personnel should install or replace Enphase microinverter. Do not attempt to repair the Enphase microinverter; it contains no user-serviceable parts. If it fails, please contact Enphase customer service to obtain an RMA (return merchandise authorization) number and start the replacement process. Tampering with or opening the Enphase microinverter will void the warranty. Before installing or using the Enphase microinverter, please read all instructions and cautionary markings in the technical description and on the Enphase microinverter System and the solar equipment. Connect the Enphase microinverter to the utility grid only after receiving prior approval from the electrical utility company. Be aware that the body of the Enphase microinverter is the heat sink. Under normal operating conditions, the temperature is 15°C above ambient, but under extreme conditions the microinverter can reach a temperature of 80°C. To reduce risk of burns, use caution when working with microinverter. Do NOT disconnect the solar module from the Enphase microinverter without first removing AC power.
This SolarWorld Enphase 9720W M250 Grid-Tie Kit is an affordable expandable do-it-yourself (DIY) high quality solution for your home or businesses energy independence.