web solar
Store
Solar permit service is available to help you with the process of obtaining a building permit.
Only: Learn More
SMA 3000W Grid-Tied Solar Kit; Daytime Power When the Grid Goes Down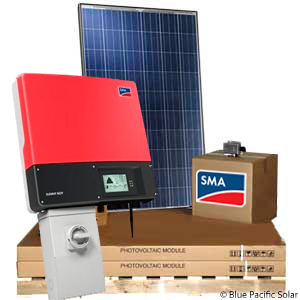 SMA Sunny Boy 3000W Kit
The SMA Transformerless design represents the next step in performance for UL certified inverters. The unique Secure Power Supply feature provides daytime power in the event of a grid outage. Its transformerless design means high efficiency and reduced weight. Maximum power production is derived from wide input voltage and operating temperature ranges. Multiple MPP trackers and OptiTrac™ Global Peak mitigate the effect of shade and allow for installation at challenging sites. As the world leader of solar inverter technology and manufacturing, SMA stands behind the reliability of the Sunny Boy line for the long term and takes pride in providing customer service that is second to none. Match this world class inverter with Canadian Solar panels the worlds 5th largest manufacture and you have a combination that is hard to beat made available at a very reasonable price.
Only: Buy Now
Product Details:
SMA Technical Data:
Videos:
Resource Documents:
SMA 3000W Grid-Tied Solar Kit With Secure Power Supply & Arc Fault Protection
| | | | | | | |
| --- | --- | --- | --- | --- | --- | --- |
| | Item Code | # Solar Panels | Array Size (STC) | Monthly Output / 5 Sun Hours Per Day (STC) | Price Per Watt | Expandable |
| SMA 3000 Watt Kit | SMATL-3000 | 12 - 250W | 3,000 Watts | 450 kWh | $1.71 | Yes |
Secure Power Supply
One of many unique features of the TL-US residential series is its innovative Secure Power Supply ability. With most grid-tied inverters, when the grid goes down, so does the solar-powered home. SMA's solution provides daytime energy to a dedicated power outlet during prolonged grid outages, providing homeowners with access to power as long as the sun shines.
Transformerless design
The Sunny Boy 3000TL-US / 4000TL-US / 5000TL-US are transformerless inverters, which means owners and installers benefit from high efficiency and lower weight. A wide input voltage range also means the inverters will produce high amounts of power under a number of conditions. Additionally, transformerless inverters have been shown to be among the safest string inverters on the market. An industry first, the TL-US series has been tested to UL 1741 and UL1699B and is in compliance with the arc fault requirements of NEC 2011.
Increased energy production
OptiTrac™ Global Peak, SMA's shade tolerant MPP tracking algorithm, quickly adjusts to changes in solar irradiation, which mitigates the effects of shade and results in higher total power output. And, with two MPP trackers, the TL-US series can ably handle complex roofs with multiple orientations or string lengths. An extended operating temperature range of -40 °F to +140 °F ensures power is produced in all types of climates and for longer periods of time than with most traditional string inverters.
Simple installation
As a transformerless inverter, the TL-US residential series is lighter in weight than it's transformer-based counterparts, which makes lifting and transporting the new inverter easier than before. A new wall mounting plate features anti-theft security and makes hanging the inverter quick and easy. A simplified DC wiring concept allows the DC Disconnect to be used as a wire raceway, saving labor and materials.
Leading monitoring and control solutions
The new TL-US residential line features more than high performance and a large graphic display. The monitoring and control options provide users with an outstanding degree of flexibility. Integrated Zigbee®, a wireless communications standard often used for home energy management, and numerous wired options allows for a highly controllable inverter and one that can be monitored on Sunny Portal from anywhere on the planet via an Internet connection. Whether communicating through Zigbee®, RS485, or SMA's new wired, plug-and-play WebConnect, installers can find an optimal solution to their monitoring needs.
Canadian Solar; 25 Year Guarantee
Canadian Solar CS6P-250P is a robust 60 cell module which makes them ideal for this grid-tied system. These panels can be used on-grid or grid-interactive applications. Canadian Solar's meticulous design and product techniques ensures a high-year, long term performance for every panel produce which they back with a 25 year guarantee.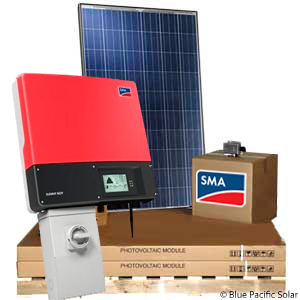 What's On The Truck
12 250 Watt Canadian Solar Panels CS6P-250P (Equal or Better Subject to Inventory Availabilty)
1 SMA, Sunny Boy 3000TL-US 1-Ph Grid Tied Inverter
MC4 10 AWG-PV Wire / Cabling Required to Edge of Array
1 AC Disconnect Square D; Non-fused 240V NEMA 3R
1 Line Drawing
Options & Accessories
Part #
Price
1 Set Basic IronRidge Roof Racking Option D (1 Rack Set Required Per Solar Panel 4 Panel MIN)
BP6932304
1 Set Basic IronRidge Ground Racking Option D (1 Rack Set Required Per Solar Panel 4 Panel MIN)
BP6932304
SMA, Webconnect interface type data module, Sunny Boy 3000TL / 4000TL / 5000TL and TriPower Inverters, SWDM-US-10
Module for communication with Sunny Portal via Webconnect
5701050
SMA, RS-485 Data Module for Sunny Boy 3000TL / 4000TL / 5000TL and TriPower Inverters, DM-485CB-US-10
Module for communication via RS485
5700935
SMA, Extended Warranty, SunnyBoy 0- 4.9kW Inverters, 5 Year Standard, (15 years total), GV5US-D, (Not Sold Separately)
3500169
Ideally suited for online monitoring of small solar systems with a maximum number of up to four inverters: Webconnect provides free access to Sunny Portal without additional data logger – easily via an existing Internet access and a DSL router. After the simple installation of the inverter interface which is optionally available or already integrated at the factory, you can commission the Webconnect. Basically, it is plug and play. Once configured, key system data can be accessed and displayed in a clear format whenever you need it. Moreover, automatic product updates ensure that the device firmware is always up-to-date.
Apart from the Webconnect data module or the Webconnect functions integrated into the inverter, you only need an Internet connection and a DSL router.
**Freight Shipping (Freight Delivery is Dock to Commercial Dock)
Item that are too large or heavy to ship UPS are shipped by ground freight. In circumstances where we offer shipping, that means dock to commercial dock (not residential) to any of the lower 48 states. If the customer does not specify a local commercial dock that is available, we will ship to the nearest terminal where the shipment will be held for will call pick up by the customer. If you choose to have your order shipped to your residence, most orders require special handling for unloading and the pallet has to be transferred to a truck with a lift gate. In most cases, truck freight companies do NOT require their drivers to unload shipments. An additional "Residential" as well as a "Lift Gate" special handling fee will apply if the driver unloads the merchandise to the curb at your residence. If you have selected this add on service, the shipping carrier will call and schedule delivery of your solar kit, (provided the weight and dimensions of the product fits the criteria for lift gate service). You can avoid the residential and lift gate fees by arranging a "Will Call" pickup at the closest freight company terminal. In that case, you will need a pickup truck, a copy of the bill of laden, and a photo ID. When you arrive at the freight company terminal, the freight company will load your order into the bed of the truck with their forklift. The most common pallet size = 72" X 44" (Height depends on Product). Be sure and check for hidden damage.
Specifications
SMA 3000W Grid-Tied Solar Kit
Residential / Small Commercial PV Made Easy
Blue Pacific Solar has provided all of the main parts you will need for your SMA 3000W Grid-Tied Solar Kit. Here are some additional items that your may need prior to installing your package. Conduit, appropriately sized electrical wire, some fasteners and grounding rod and wire. Building and installing your own home solar system is not only the smart choice for controlling your expenses, it may be on the most satisfying DIY projects you ever have undertaken.

NOTE, IMPORTANT INSTALLATION: (OK, here is the scary legal disclaimer.) It is the responsibility of the purchaser to ensure that all products are installed and operated in accordance with local and national building codes as specific by the NEC (National Electric Code), UBC (Uniform Building Code) or IBC (International Building Code) and local utility company policy. These codes may vary from city to city and county to county. All Grid-tied solar installations should be permitted and inspected, where required, by the local inspection authority in the same manner as other equivalent electrical systems. One last thing. It is always a good idea to contract with a local licensed electrician to at least do the final electrical connection of your PV system from the AC disconnect to your home utility breaker box. Some local permitting authorities require that a licensed electrician do all the wiring from the rack to the utility interconnect. If you need help with the permitting documents for your solar kit, we are here for you. Solar permit service add on is available at checkout.
Additional Safety Instructions, Perform all electrical installations in accordance with all applicable local electrical codes and the National Electrical Code (NEC), ANSI/NFPA 70. Before installing or using the SMA 3000W Grid-Tied Solar Kit, please read all instructions and cautionary markings in the technical description and on the solar equipment.
This SMA 3000W Grid-Tied Solar package is an affordable high quality solution for your home or businesses energy independence. Reducing on-site labor requirements, the system can be expanded at anytime.