● Click the

Tab Above ⇑ Pitched Roof Design Guide & Videos

to Learn More About Roof Mounts.
Mounting Solar Panels on Roof - Stronger Using Less Material, Faster Install, Minimized Risk of Leaks - IronRidge - Panel Roof Mounting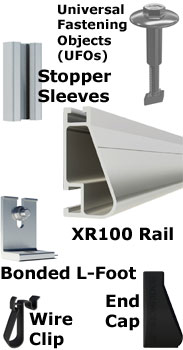 What's On the Truck
IronRidge XR100 Roof Rack Kit Configured in Portrait Optimized for your Sub-Array Panel Layout for Wind Speed and Ground Snow Load for the Most Common Values Associated with your Project Location. The exact length of rail required to fully support the specified number of panels in each row. 1 Rack Set Per Panel Option D (Portrait Orientation) (IE: 10 Solar Panel Kit Requires 10 Rack Sets + Appropriate Number of Optional Attachments.)
2 IronRidge XR100 Rails Per Set (Panel) Clear Finish Optimized To your Sub-Array; Option D (Portrait)
IronRidge, Universal Fastening Objects (UFOs), Black or Clear to Match Module Frame
IronRidge, Universal Fastening Objects (UFOs) Stopper Sleeves, Black or Clear Finish to Match Module Frame. The IronRidge Integrated Grounding System bonds solar module frames directly to the mounting rails. This eliminates the need for separate module grounding parts and procedures.
IronRidge, Bonded Clear L-Foot, FM-LFT-002 for 110 MPH Wind Structural Load Rating # Depends on # Modules
IronRidge, Wire Clip, for XR Rails, for (10) 5mm panel wires, or (1) MC4, (1) Enphase wire and (1) dual Enphase wire, PVC plastic, Qty. 1 bag of 20 pieces, 29-4000-077 1 Per Module
IronRidge, End Cap XR100, Qty. one bag of 10 Sets, XR-100-CAP; 1 for Each Rack End, # Depends on Sub-Array
Included as Code Requirement for your Racking Configuration; IronRidge Grounding Lug, Low Profile (Qty 2), GD-LUG-003.
Attachment Solutions are Site Specific (Depends on Roof Covering) and are NOT Included in Base Price of Rack Kit. See Optional Attachment Solutions Below.
IMPORTANT NOTE: Roof Rack 1 Rack Set Per Panel (IE: 10 Panel Kit Requires 10 Rack Sets. Adjust at Checkout to Quantity Click "Update" in Cart. Minimum Quantity = 6 EA
[See Optional Attachment Solutions Below
] Number of Optional Panel Roof Mounting Attachment/Flashing Solutions for 110 MPH Wind Rating = Number of Attachment Points Depends on Layout. As a Rule of Thumb, Figure One Attachment Point Per 6' of rail for 110 MPH Wind Zone. EXAMPLE: 10 40" Wide Solar Panels in Portrait = 40" X 10 = 400" X 2 (2 rails per row) = 800" / 72" = 12 Attachment Points in This Example. High Wind Areas Such as Florida or East Coast Would Require More Attachment Points (Usually every 4'). (Optional Attachment Solutions & Flashing Not Included in Base Price of Roof Rack Kit)
Every component in the IronRidge Solar Powere Flush Mount System has been tested to the limit and proven in extreme environments: rain, wind and snow. IronRidge's rigorous approach has led to unique structural features, such as curved rails, universal fastening objects and reinforced flashings. All IronRidge products are fully-certified, code-compliant, listed to UL 2703 and backed by a 25-year warranty. Types of roof options, Flat Roof, Tile Roof, Shingle Roofing, Quick Mount PV, Roof Mounting Systems. Stainless Steel, All Roof Types, Solar Array. Ground Mounted Ballast Mount and more