web solar
Store
Solar permit service is available to help you with the process of obtaining a building permit.
Only: Learn More
AC coupling Home Battery Backup / existing solar systems #BP9344487
Our Home Battery Backup kit allows you to add 10,752 watts of battery off-grid backup to your existing home solar system with an option for 21,500 watts. If your existing solar system is 3600 watts or less, or has a string we can isolate for this application, you can add this cost effective backup and leave the lights on during power outages. This backup kit will quietly keep the batteries topped off during your normal operation of your grid tied system. When the power grid goes down, your off-grid battery backup will come-to-life, automatically begin to power your critical electrical loads. Your solar panels will keep the batteries charged so you can operate indefinitely if you manage your power draw during time the utility grid is down.
Only: Buy Now
Product Details:
Specifications:
Video:
Documents & Run Times:
Home Battery Backup Works for Grid Tied Solar Systems 3600 watts or less
Model
Part Number
Output Watts
Breakers
Voltage DC/AC
Type
System Battery
Capacity (200 aH)
Ship
Wt.
AC Coupling Home Battery Backup
BP9344487
4,000
30A AC Input/Output Breakers
24VDC / 120 / 240VAC
Grid Tied w/ Solar
Off-Grid / Backup
AC Generator
10,752 Watts
710lbs.

The installation of the AC coupling home battery system starts with a backup load sub-panel installed and those circuits that are important to your family separated from the main breaker panel. (See Diagram Below) This sub-panel will need a two-pole breaker that connects the MicroInverter (Enphase) or central inverter powered solar panels to the sub-panel breaker box after passing through an AC high voltage relay which is included in your purchase. The ac input and output circuits of Magnum inverter/chargers can be connected in parallel with a home's ac wiring in the main breaker box without damage to the any of the inverters.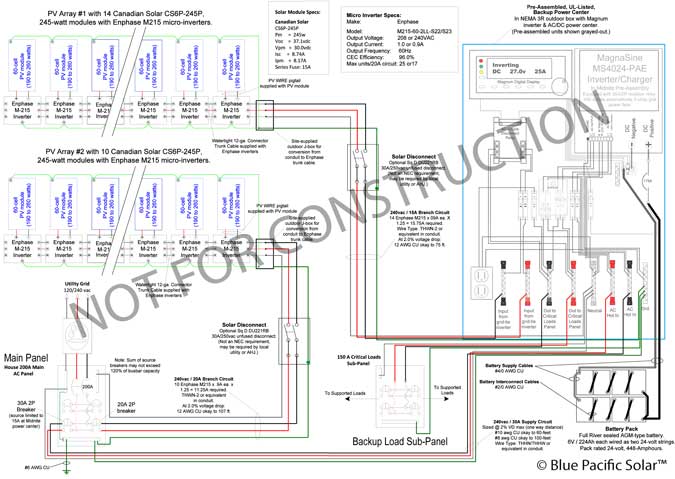 Backup loads might include things like lighting, wall outlets (receptacles) that power appliances like a microwave, refrigerator or well pump. All Magnum MS4024PAE power systems supply split-phase 120 / 240 AC volt power for direct connection to your home 120 / 240 volt breaker panel or can be used off the grid. The power for this sub-panel breaker box is fed through the automatic transfer switch of the Magnum inverter (s) so that when the grid is up, excess electricity is exported back to the utility grid in the same fashion as a normal grid tied solar system. The Magnum inverter neither takes from, nor adds to this part of the operation. If the batteries are full, the Magnum inverter sits in a low consumption idle mode ready to wake up when the grid goes down. When there is a blackout or grid emergency, the Magnum inverter springs to life in less than a 60th of a second, shuts down the utility side of the connection to prevent back feeding, and the battery backup inverter (Magnum) then provides the utility grade electricity using the stored energy in the battery bank to power the homes (now) mini-grid allowing the solar system to continue operation. The MicroInverters (Enphase) or the central inverter reads the utility grade frequency of the Magnum inverter now pulling power from the battery bank as the grid is up and continue to generate AC electricity pushing it into the homes now mini-grid.
Off-grid during an emergency when your solar panels are producing electricity and your inverter (s) are pushing electricity is when our AC coupling Home Battery backup system really starts to shine. During a utility power outage, non back up loads are terminated in the main service panel that are not connected to the system, and the utility grid is no longer present. As a result, any excess power that the loads connected to the system's subpanel do not consume is pushed back through the ac output of the battery-based Magnum inverter and into the battery bank. What happens with this type of AC coupling when the batteries are full and the home is not consuming all the power the solar panels are generating off-grid? How does the system keep the battery bank from being overcharged? The power output of the MicroInverters (Enphase) needs to be regulated to match the needs of the battery bank, using the battery voltage to control the output of the MicroInverters.
This can be accomplished by either a diversion load which is an option we offer and is significantly more money, or more commonly sold by Blue Pacific Solar is the pre-wired, pre-programmed relay driver which is standard with our AC coupling Home Battery backup system you see here. The diversion control based battery-management system utilizes a DC diversion controller to regulation excess AC electricity produced by the solar array once the batteries are full and the home is not drawing all the energy from the system. The diversion control sends the excess power to be consumed in a resistive load and dissipated in the form of heat generated. Though there is an argument in the solar design community about which is better, there is no argument that a diversion load system can cost 30% more than a relay driver which comes standard with the AC coupling Home Battery backup system.
The relay controller/driver that is standard and part of our AC coupling Home Battery backup system has four outputs that can be programmed to open or close based on battery voltage. The relay controller/driver has been set up to operate relays that control three different circuits of your MicroInverter (Enphase) or Central inverter solar panels. As backup battery voltage rises, the MicroInverter circuits are staged to shut down, one circuit at a time. This allows the battery voltage to control the power from the MicroInverter (Enphase), allowing one, two or all three MicroInverter circuits to be activated or deactivated, as needed.
As the DC voltage in the battery bank begins to fall, the relay controller/driver will activate the MicroInverters (Enphase) AC circuits to not only power your home, but also to recharge the battery bank through the Magnum inverter/charger. As the power from the MicroInverters (Enphase) exceeds the demand from the batteries, the battery voltage will rise and the relay driver will start reducing the number of MicroInverter (Enphase) circuits that are needed to keep the batteries charged. If the power from the solar arrays begins to fall, battery voltage will drop and the relay controller/driver will allow more MicroInverter (Enphase) circuits to be activated. The AC relay driver allows the solar panels to provide the maximum power that the battery based backup system can safely handle by adjusting power production of the solar panels as the battery voltage dictates. The AC coupling Home Battery backup system works on the same principle and fashion with a central inverter such as SMA or Fronius inverter or other main stream UL listed inverters.
The heart of this AC Coupling backup system is the Magnum Energy MS4024PAE inverter power center with MMP enclosure. The Magnum system is pre-wired with the Magnum Energy on-grid inverter mounted inside the top shelf of the battery cabinet. The power center is tested as a complete system, ensuring reliable and consistent performance. The equipment is ETL (Intertek Testing Services) listed to the stringent requirements of UL 1741 and CSA C22.2 No. 107.1-01 for Renewable Energy installations. Additionally the equipment meets National Electric Code requirements with UL (Underwriters Laboratories Inc.) listed components as well as CSA (Canadian Standards Association) providing a Certified and code compliant system. The complete system, wired according to our specifications, meets or exceeds the standards provided by the National Electric Code as well the Uniform Building Code.
What's On the Truck:
1 - Home Battery Backup #BP9344487:
System is assembled and tested by experienced factory trained technicians prior to shipment. All required internal cables and connectors come pre-wired (Battery & Cables Supplied but Not Installed) Clearly labeled connection points for AC and DC input and output. AC and DC breakers; full feature LED display for system monitoring and battery information; No maintenance, 10,752 watts deep cycle, sealed AGM batteries; Attractive, lockable steel enclosure; Multiple knockouts for conduit attachments
1 AC High Voltage Relay Driver Pre-Wired/Pre-Programmed w/NEC Indoor Rated Box
1 Magnum Energy MS4024PAE Sinewave Inverter
1 Magnum Energy ME-RTR LCD Router
1 Magnum ME-BMK Battery Monitor
8 FullRiver AGM DC224-6A 224 AG 6V (Battery Connectors Included, Shipped Uninstalled)
1 Battery Enclosure with Locking Door
1 Single Line Electrical Drawing (Wiring)
Item is a Shop Build and Ships in 10 - 15 Business Days After FundS Clear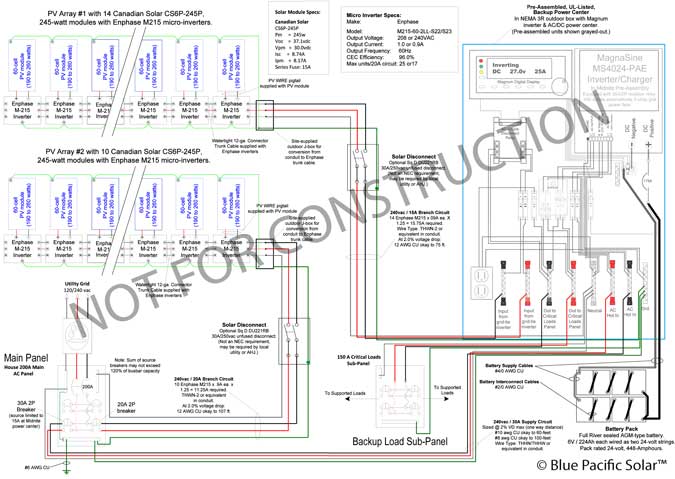 Mechanical Data

Dimensions

Cabinet MNBE-C (3 shelf)
33.62 x 15.25 x 57.89
W x D x H
Ship Wt (Cabinet Only)
190 lbs
Grey or White Cabinet
Aluminum Powder Coat
(Color shipped subject to current available inventory)

*Inverter #1

*(Means your existing solar inverter or separate solar system purchased from us.) Our home battery backup can be paired, though AC coupling, with a grid tie system with a maximum of 3000 watts of solar panels.

**Inverter #2

**(Means the inverter that comes pre-wired inside the cabinet on this home battery backup system)

Magnum Energy MS4024PAE Pure Sine Wave

Input battery voltage range
36.0 - 68.0 VDC
Nominal AC output voltage
120 / 240 VAC split phase (± 5%)
Output frequency and accuracy
60 Hz ± 0.1 Hz
1 msec surge current (amps AC)
Line-Neutral: 120, Line-Line: 70
5 sec surge power (real watts)
8500
30 sec surge power (real watts)
6000
5 min surge power (real watts)
5400
30 min surge power (real watts)
4800
Continuous power output at 25° C
4400 VA (L-L)
Maximum continuous input current
144 A
Inverter efficiency (peak)
94%
No load (120 VAC output, typical)
25 watts
Waveform
Pure Sine Wave
Charger Continuous output at 25° C
60 ADC
Input current at rated output (AC amps)
17.5 AAC per leg at 120/240 VAC split phase
Power factor
Greater Than 0.95

Operating Temperatures

Operating temperature
-20° C to +60° C (-4° F to 140° F)
Non-operating temperature
-40° C to +70° C (-40° F to 158° F)

Monitor

Magnum Energy ME-ARC Remote Control

LED Display
Display shows inverter and battery status
16 x 2 line (32 characters total), alphanumeric display used for programming the Magnum inverter operation and or fault messages.
Pushbutton Controls
Two ON/OFF Pushbuttons allow the inverter to be quickly enabled or disabled.
Menu allow the inverter to be configured to site specific preferences. Menus give simple access to monitoring and troubleshooting backup power system.
Rotary Knob controlls the selection and can scroll through and select various menu items and settings. By pushing you can "SELECT" a menu item or "Save" a setting once it is displayed on the LCD screen.

*AGM Batteries

Battery Specifications (*Battery supplied with backup power unit is subject to availability, equal or better)

Nominal Voltage
6 Volts
20 - Hr. (10.0A)
200 Ah
Approximate Weight
53 lbs Each
Number of Batteries Included
8 total with all connecting cables
Shelf Life
3 Months 91%; 6 Months 82%; 12 Months 64%
Temperature Dependency of Capacity (20 Hr)
104 Deg F 102%; 77 Deg F 100%; 32 Deg F 85%; 5 Deg F 65%

General

Approximate Total Weight With Batteries
800 lbs
Warranty
Cabinet = 5 Years; Inverter = 2 Years, Batteries = 1 Year
Off-Grid / Grid Tied Bimodal Solar Sizing Starts With a List of Equipment
One of the first questions you have on your mind is "is this system the right size for my home, cabin or business? The answer to that question is entirely controlled by you since you control the amount of power used each day and how long you use it for. Step 1 is to establish you daily energy budget. An energy budget is the number of watt hours you will consume each day. That means you list the equipment you want to run and how long each day you want (or need) to run it. Next, you need to determine how many days of stored energy (autonomy) is required. This variable can range between 1 to 5 days (or more).
The size of an home battery backup system depends on the amount of power that is required (watts), the amount of time it is used (hours) and the amount of energy available from the sun in your area (sun-hours per day). A homeowner has control of the first two variables, while the third depends on location. We know we are preaching to the choir when we say conservation plays an important role in keeping down the cost of any solar system, but it plays a much bigger role in off-grid solar. To start the off-grid design process, we recommend you make a list of your lighting, refrigeration, major and small appliances and well as estimate in each case how long you usually use each one each day (Duty Hours). (Don't forget well pump if you intend to run it off the same set of batteries). Standard freezers and refrigerators can use 3000 watt hours each day. A few better models like Maytag MTB1956 18 cu ft can be found to use under 1500 watt hours a day, and cost around $900. Refrigeration cycle time is usually a function of efficiency, but also it is a function of how full the unit is, how often it is opened, and the outside temperature. Typically we use 10 hours as the duty hours for most refrigeration calculations. To illustrate the point, the daily energy use of a R10 high efficiency SunFrost refrigerator will use 13 amp-hours (170 watts) at 70 degrees, but 23 amp-hours (280 watts) at 90 degrees.
When considering the battery capacity needed, first look to more energy efficient appliances. Then we suggest you consider battery capacity (kWh or Ah) to be a minimum of twice the average daily solar electricity generation. For longest life, sealed maintenance-free batteries (VRLA, gelled electrolyte, AGM, etc.) should not be discharged to greater than 50% of their total capacity rating within a 24 hour period.
Minimum suggested battery capacity (kWh or Ah) is the largest battery bank size that the solar array can recharge from 50% depth-of-discharge (DOD) on an average day in December. When we design an off-grid or bimodal solar system when calculating battery capacity (kWh or Ah), we assume there is no other means of recharging the battery bank other than the solar system.
Here are some average home appliance wattages to help you get started on your list:
Laptop
50 - 65 Watts
Cell Phone
5 Watts
Table lamp
25 Watts
Inkjet Printer
50 - 75 Watts
Clock Radio
10 Watts
13" CRT TV
50 Watts
20" LCD TV
370 Watts
Table Lamp
40 Watts
8.8 cu. Ft. Freezer
80 Watts
Sump Pump 1/2 HP
500 Watts
Microwave
1200 Watts
18.8 cu. ft. Refrigerator
600 Watts
Coffee Maker
1000 Watts
Vacuum Cleaner
1200 Watts
Washing Machine
400 Watts
Well Pump 1 HP 240 V / 9.8 Amp Surge
2352 Watts (NOTE: Inverter on this system is 120V / 240V)
Home Alarm Protection System
15 Watts
Electric Hot Water Heater
3800 Watts
Dishwasher
1200
Typical Loads that might be used with the Backup Power Battery System
Sump pumps
Microwaves
Refrigerators
Freezers
Lighting
Television or Audio Equipment
Typical loads that should be avoided with the Backup Power System
Central AC Units
Commercial Electric Space Heaters
Electric Hot Water Heaters
home battery backup off-grid Systems
Do-It-Yourself Home / Business grid tied solar emergency power
Home Battery Backup Power can be added alongside an existing grid tied solar power system if your system is equal to or less than 3000 watts (STC). When you add this backup sytem to your home power your inverters will act together to become a bimodal solar system (Works when grid is up or off-grid) keeping your lights on during emergencies. When the grid goes down, a grid tie solar system goes down, too, unless you have added a bank of batteries and planned for an additional source of electricity generation. The extra source of electricity may be a gas generator or additional solar panels.
Home Battery Backup grid tied bimodal solar that is complete, pre-engineered to NEC electrical code standards. This innovative home battery backup system is pre-designed, engineered, pre-wired and tested before it leaves our shop. Delivered ready so all you have to do is install the batteries and move some existing wiring in your home then power up.
These Home Battery Backup are perfect for residential DIY (Do-it-Yourself) applications, wineries / vineyards, ranches, farms and orchards. Blue Pacific Solar has provided all of the main parts you will need for your home battery backup kit, but here are some additional items that your may need prior to installing your system such as conduit and wires. Building and installing your own home battery backup system is not only the smart choice for power during emergency blackouts, storms and other utility outages, it also may be on the most satisfying DIY projects you will have ever undertaken. Freedom from the grid is an awesome feeling.

NOTE, IMPORTANT Home Battery Backup Kit INSTALLATION: (OK, here is the scary legal disclaimer.) It is the responsibility of the purchaser to ensure that all products are installed and operated in accordance with local and national building codes as specific by the NEC (National Electric Code), UBC (Uniform Building Code) or IBC (International Building Code) and local utility company policy. These codes may vary from city to city and county to county. All off-grid solar installations should be permitted and inspected, where required, by the local inspection authority in the same manner as other equivalent electrical systems. One last thing. It is always a good idea to contract with a local licensed electrician to at least do the final electrical connection of your home battery backup kit from the AC disconnect to your utility breaker box. Some local permitting authorities require that a licensed electrician do all the wiring.
Whether you are expanding your existing grid tied solar for residential use, an off-grid home or for corporate, public or military initiatives, this home battery backup delivers a more cost-effective solution with faster installation times, minimal site preparation, and reduced labor requirements.