The Enphase 3.4 kW
System Solution w/ Canadian Solar Mono Panels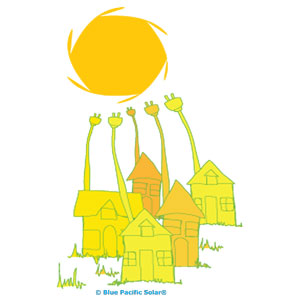 Production = 504 kW Per Month ● Assumptions: 280 Watt STC Panel Rating [Factory Rating] @ 5.0 Sun Hours (Average).
Technical Specifications for Enphase IQ6PLUS Microinverter Kit: ● IQ6PLUS-72-2-US60-Cell and 72-Cell Solar Panel Rated ● The IQ 6+ Microinverters have a 97% CEC efficiency with AC peak output power ratings of 290 watts. For a single-phase, 240VAC application, you can install a maximum of 13 IQ 6+ Microinverters on 1 20A branch circuit. ● Canadian 280W Solar Panel Efficiency 17.11%. ● NOTE: The Enphase IQ microinverter is designed to work with the Envoy IQ communications gateway (ENV-IQ-AM1-240 M). Because the Envoy IQ requires 240 VAC connection Blue Pacific Solar® strongly recommends the optional Enphase AC Combiner (X-IQ-AM1-240-B) with IQ Envoy X-IQ-AM1-240-B M be added with every IQ system purchase. The combiner is outdoor rated and includes three 2 pole solar branch circuit breakers.
AC Branch Circuits
The maximum number of microinverters that can be installed on each AC branch circuit can be found in the microinverter's datasheet. The maximum number of IQ6PLUS™ single-phase (240V) microinverters that can be installed on a 20A circuit is 13.
The Enphase IQ6PLUS™ Microinverter (IQ6PLUS-72-2-US) is designed to be used with the Enphase IQ Envoy™ (ENV-IQ-AM1-240). The Enphase IQ Envoy is a communication device that provides network access to the solar array. The IQ Envoy collects production and performance data from the Enphase IQ Microinverters over on-site AC power lines and transmits the data to Enlighten through an internet or cellular modem connection. The IQ Envoy is capable of monitoring up to 600 Enphase IQ Microinverters and up to 39 Enphase IQ Batteries.
How the Enphase IQ6PLUS system works.
● Microinverter - Solar panels on the roof or ground absorb sunshine and converts it into direct current power (DC). Sitting directly behind the panel is the Enphase Microinverter which plugs into the panel and Enphase cabling. AC Power is then run to a junction box or combiner then to the main panel.
● The Enphase IQ Envoy - This communication device is the brains of the system. Gathering data from your solar panels, utility grid and batteries (IQ‐AC Battery if applicable), it connects with the Enlighten software (free) allowing you to view, control and monitor your solar power system from anywhere.
● A system that fits your needs, now and later. - The Enphase IQ6PLUS™ Microinverter system is flexible. You can install a solar system that fits your budget today and expand it later.
● Smart Grid Ready - Complies with fixed power factor, voltage and frequency ride-through requirements. [Self Consumption Utility Requirements in Some Locations]
Enphase IQ‐AC Battery [Optional]
Smart Energy Storage Compatible - Enphase optional IQ‐AC Battery high-performance energy storage solution brings you more intelligence and better value than anything else, with the industry's lowest cost of entry and best lifetime value. It pairs seamlessly with IQ6PLUS™ Microinverter to help you make the most of your energy. [NOTE: IQ-AC Battery is designed to be used for self-consumption / self supply and will not operate when the grid is down.]
What is Self Consumption & Self Supply?
A direct grid tie system is where solar energy produced, powers the house loads as limited self consumption, and excess solar production is exported back into the utility grid. This self consumption happens only while the loads are present at the same time as solar production. No energy is stored by the user for use at another time. Any power needed for loads, above what the solar is producing, is drawn from the utility. Self supply is a system where some of the solar energy produced is stored on site for use at another time when solar production is less than the loads.
Our Enphase IQ6PLUS Microinverter 3.4 kW grid-tie kit is featured with Canadian Solar panels which are ranked among the highest efficiency panels in the industry bringing customer value of more energy. 25 Year Warranty, UL Listed.
Designed for higher powered modules, the smart grid ready Enphase IQ6PLUS Microinverter is built on the sixth-generation platform and achieves a high efficiency for module-level power electronics and reduced cost per watt. Fully compliant with NEC 2014 and 2017 rapid shutdown requirements.
Personal Technical Advisor
Line drawing questions or just stuck? No worries we have your back and will be here to help whenever you have questions. For orders larger than $2,000.00 a Technical Sales Team Group Captain will be assigned your account. Your Technical Advisors job is to coordinate all parts and pieces of your order and to work with you throughout the process. This makes it easy for you because we will be providing you with a single contact point and single extension to call with your questions to help make the process easier.