The SolarEdge 120.0 kW
System Solution w/ Mission Black Frame Mono Panels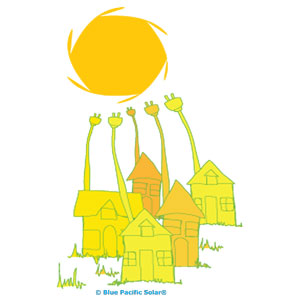 Production = 15,600 kW Per Month ● Assumptions: 375 Watt STC Panel Rating [Factory Rating] @ 5 Sun Hours (Average).
Blue Pacific Solar® Commercial Solutions, Smart Power, Full Roof Utilisation, More Energy
SolarEdge's power optimizers and three-phase inverters are specifically designed to help commercial project owners maximize system yields. By performing maximum power point tracking at the module level, SolarEdge power optimizers condition the power from each solar panel to eliminate losses from mismatches and improve energy harvest.
Basic Commercial Solar System Operation, SolarEdge Optimized Inverters
The SolarEdge system differs from traditional solar systems in that the SolarEdge system operates as an ungrounded array with a constant dc input voltage regardless of the number of power optimizers wired in series. Since the inverter regulates the inverter input voltage and current, string lengths between 8 and 50 power optimizers are possible (depending on system hardware and configuration).
The SolarEdge system has been designed to allow the inverter to operate at full power with a maximum of two strings of power optimizers in most configurations. The SolarEdge inverter does not allow reverse current flow from the grid back to the power optimizers during fault conditions. As a result no overcurrent devices are needed between the inverter and the power optimizers if the solar system is configured with one or two strings of power optimizers.
Power Optimizers
The SolarEdge power optimizers utilize a very high efficiency single-stage dc-to-dc converter controlled by custom application specific integrated circuit (ASIC) devices. The power optimizer is typically located immediately adjacent to, or attached directly to, the solar module. In addition to Maximum Power Point Tracking (MPPT) and dc-to-dc conversion the power optimizers provide module level monitoring and a number of safety related functions. MPPT of the module is achieved via a fully independent control loop operating between each module and its power optimizer. The dc-to-dc converter in the power optimizer allows the solar module voltage and current at the converter input to be completely decoupled from (i.e. unrelated to) the converter output voltage and current. This is a key distinction between a SolarEdge system and traditional solar systems.
Each power optimizer is equipped with the unique SafeDC™ feature which automatically shuts down modules' DC voltage whenever the inverter or grid power is shut down. These pre-engineered commercial packages include the SolarEdge, Optimizer 700W, Add-On Box for two 72 cell modules, 12-105V, 10A, MC4-Compatible In, MC4-Compatible Out, 71" solar wire, 1000VDC, (For use only with 3-Ph 9kW to 33.3kW Inverters)
Personal Technical Advisor
Line drawing questions or just stuck? No worries we have your back and will be here to help whenever you have questions about your purchased Kit. For orders larger than $2,000.00 a Technical Sales Team Group Captain will be assigned your account. Your Technical Advisors job is to coordinate all parts and pieces of your order and to work with you throughout the process. This support helps because we will be providing you with a single contact point to call with your questions. Your technical support contact does not replace the maufactures warranty technical support. DIY means you accept the responsiblity of reading and following the line diagram and other installation documents prior to tackling the installation.
NOTE: For detail support after installation customer must be willing or have the ability to connect to the SolarEdge monitoring platform. The monitoring platform software is free but requires and WiFi connnection to the inverter via RS485, Ethernet or ZigBee (optional) or cellular (optional) .
Mission Solar Panels 18.89% Panel Efficiency
Blue Pacific Solar® SolarEdge Kit is featured with Mission panels. Mission Solar Energy, proudly assembled in the USA, is headquartered in San Antonio, TX with module facilities onsite. Mission Solar hardworking team calls Texas home and is devoted to producing high quality solar products. Our supply chain includes local and domestic vendors. 25 Year Warranty, UL Listed.