Sunday afternoon in the backyard in Sacramento. The sun is shining. My neighbor nods in the direction of my solar power system and says, "what's it earning now?" One glance at my SMA Sunny Beam is enough. The results leave your neighbor whistling in appreciation. It really creates a good feeling knowing my home solar power system is doing what it should. Namely feeding solar power into the SMUD utility grid and securing my family powerful returns on my solar investment. Even for small solar power systems, comprehensive monitoring can be important as well as satisfying.
Monitoring your home or commercial solar system may have much broader benefits than maximizing the electrical energy power output of your individual solar system. You can have peace of mind knowing your solar power system is meeting its objectives. The decision for a home or commercial solar power system means you are choosing not only an environmentally friendly technology, but also a long-term source of revenue since the ROI on a solar system is usually higher than you would receive gambling in the stock market today. This means it is essential that the system is running smoothly at all times. If output reductions in your system go unnoticed for a long period, for example due to shadowing of the solar modules or disturbances in the public grid, serious losses in yield can result. Continuous monitoring therefore not only means seeing your self-produced solar power, but being able to react quickly should anything go wrong.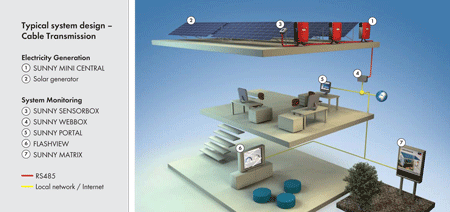 Modern monitoring is much more than just control. It keeps you clearly informed anywhere in the world, thanks to the Internet, about the faultless operation of the system – for example via e-mail. Furthermore, it presents the system data simply, understandably and professionally, this allows you as system operator to always have an eye on system yield. For larger Sacramento commercial solar energy systems, it allows you to effectively publicize your ecological commitment. Monitoring comes in numerous forms: wireless or cable, compact or complex, brief or detailed. Here, it makes no difference whether you wish to monitor the yield of a home rooftop system, or of an open-field solar power station.
Sacramento solar monitoring allows a home or commercial business owner to achieve the desired results, provides good sound eco friendly PR and assurance your system is delivering all the solar electrical power you come to expect.