The AC Coupled, Backup
Grid-tie Solar Solution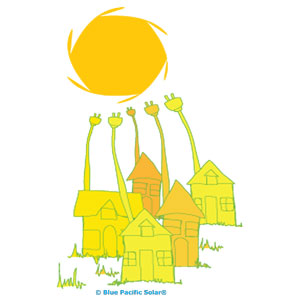 Solar Production = 1,026 kW per Month ● Assumptions: STC Watts 285 Watt Panel Rating [Factory Rating] @ 5.0 Sun Hours (Assumes Whole Array STC).
Technical Specifications: Magnum AC Coupled Pre-built Power Center MidNite MNEMS4024PAEACCPL ● 24 VDC Battery Based Inverter. 120/240 VAC Output, Continuous Inverter AC Output Current to backup loads panels is 30 AAC ● Magnum MicroGT 500 grid-tie Micro-Inverter, 240 VAC
● AC Coupled Magnum Pre-built Power Center MidNite MNEMS4024PAEACCPL Factory Tested and Pre-Configured Power Center.
● American Made Technology, Easy to Order, Fast Delivery, Simplified Installation
Magnum Micro-Inverters Working Together with 6.8 kW AC Coupled Power Center Kit
When the Magnum MS-PAE Series inverter (Installed in Power Center) and the Magnum MicroGT 500 grid-tie micro-inverter are installed in the same system, the advanced AC Coupled Support Mode in the MS-PAE Series inverter can be enabled so that these two inverters work together to prevent the system battery from being overcharged. The AC Coupled Support Mode is a control method that causes the MS-PAE inverter output frequency to decrease, causing the output power of the MicroGT 500 micro-inverter to decrease in an attempt to maintain the battery voltage around the absorb voltage. This advanced AC Coupled Support mode is available in MS-PAE Series inverters (≥Ver 6.0), is enabled when the battery type is set to Custom, and activates when the battery voltage increases above the custom-absorb voltage level. The Magnum AC Coupled Pre-built Power Center MidNite MNEMS4024PAEACCPL in this kit is good for up to 3,600 Watts of Magnum Micro-Inverters (12 285 Watt Solar Panels). Beyond 12 285 Watt solar panels the string of Magnum Micro-Inverters are connected to the main electrical panel the same as any typical system. (⇑ See Schematic Tab)
Magnum ME-MGT500 Micro-Inverters
Each solar panel has individual Maximum Power Point Tracking (MPPT) controls, which ensures that the maximum power is exported to the utility grid regardless of the performance of the other solar panels in the array. When solar panels in the array are affected by shade, dust, orientation, or any situation in which one panel under-performs compared with the other units, the MicroGT 500 inverter ensures top performance from the array by maximizing the performance of each panel within the array. 1 Micro-inverter for two 60 cell or 72 cell panels. Up to 7 inverters (14 solar panels) per 20A circuit.
Magnum ME-MGT-MW Monitor Gateway
MagwebGT is the data gateway and communication for the GT500 micro-inverter system. Magnum's MagWeb GT (ME-MGT-MW) is the information gateway for your MicroGT 500 inverter system—it collects panel performance data from each individual MicroGT inverter. The MagWeb GT is easily installed, simply plug it into any wall outlet and provide an Ethernet or Wi-Fi connection to a broadband router or modem. The MagWeb GT's software displays performance trends, informs you of abnormal events, and controls system shutdown when needed. The monitor plugs into a 120 VAC output near the system for power line communication to the inverters. You then plug a Ethernet connection to the your local router for internet communication.
Personal Technical Advisor
Line drawing questions or just stuck? No worries we have your back and will be here to help whenever you have questions. For orders larger than $2,000.00 a Technical Sales Team Group Captain will be assigned your account. Your Technical Advisors job is to coordinate all parts and pieces of your order and to work with you throughout the process. This makes it easy for you because we will be providing you with a single contact point and single extension to call with your questions to help make the process easier.
Canadian Solar Panels 17.41% Panel Efficiency
Blue Pacific Solar® Magnum AC couple Micro-Inverter kit is featured with Canadian Solar panels which are ranked among the highest efficiency panels in the industry bringing customer value of more energy. Best Warranty Insurance, 25 year worldwide 100% warranty term coverage providing third party bankruptcy rights. Non-cancellable, by 3 top insurance companies. 25 Year Warranty, UL Listed.