web solar
Store
Terms and Conditions of Use; Terms of Sale; Company Policies
Welcome to the website of Blue Pacific Solar Products Inc™. DBA; Blue Pacific Solar™. Blue Pacific Solar Products Inc™. has a national network of company operated and independent distribution partners. If you continue to browse and use this website you are agreeing to comply with and be bound by the following terms and conditions of use and company policies, which together with our privacy policy govern Blue Pacific Solar's™ relationship with you while you are touring our website and in regards to the purchase of our products. The term 'COMPANY' or 'us' or 'we' refers to Blue Pacific Solar™ the owner of the website whose registered correspondence address is 8250 Calvine Rd, STE C100, Sacramento, CA 95828. The term 'you' or 'customer' or 'buyer' refers to the user or viewer of our website and the purchaser. The use of Blue Pacific Solar's website is subject to the following terms of use. Purchases by customers are made subject to the following company policies, terms and conditions.
Shipping
Returns
Trade Program
Company Information

Privacy Policy Updated January 31, 2014. Terms and conditions are subject to update without notice. Consumers should to check back periodically for changes.
Blue Pacific Solar Products Inc. is sensitive to your concerns about how we use the personal information we collect from you through Blue Pacific Solar Products Inc.'s website (the "Site") and other plug-ins exchanging information with Blue Pacific Solar Products Inc. ("Applications"). (The Site and Applications are sometimes collectively referred to as "on line services or products" for simplicity.) Blue Pacific Solar Products Inc. takes your privacy seriously, and has implemented this privacy policy and internal policies and practices to keep your personal and financial information secure. The Privacy Policy covers Blue Pacific Solar Products Inc.'s treatment of the Personally Identifiable Information we collect when you use the on line services. This Privacy Policy is incorporated into our Terms of Use and Terms of Service, and therefore governs your use of the on line services. By using Blue Pacific Solar Products Inc. on line services or products, you accept the terms of this Privacy Policy. If you have questions or concerns about the Privacy Policy, please contact Technical Services at (888) 898-5849 EXT 10.
What Information Do We Collect About Our Customers?
Traffic Data. Blue Pacific Solar Products Inc. uses a number of internal and third-party methods to recognize visitor data like IP addresses and browser settings (collectively "Visitor Data"). The Blue Pacific Solar Products Inc. internal servers and software automatically recognize Visitor Data. No Personally Identifiable Information is revealed in this process. The Site may use Visitor Data to compile traffic data about the types of visitors who use the Site at specific intervals (collectively "Traffic Data").
Cookies: Blue Pacific Solar Products Inc. websites do NOT transmit cookies. We DO have third party programs such as shopping carts and live chat that use them. Cookies are small programs that are transferred to your hard drive that allow us to recognize you and to provide you with a customized experience. You can easily disable them by going to the toolbar of your web browser, and clicking on the "help" button. Follow the instructions that will prevent the browser from accepting cookies, or set the browser to inform you when you receive a new cookie. In addition, you may visit this and other websites anonymously through the use of utilities provided by other private companies. Blue Pacific Solar Products Inc. does not capture Personally Identifiable Information in cookies or use cookies to mine Personally Identifiable Information. We may use Traffic Data to analyze Site traffic, but this information is not examined for Personally Identifiable Information. We may also use Traffic Data to diagnose problems with our server, administer our Site, or display content according to your preferences. Visitor Data and Traffic Data may also be shared with business partners, affiliates, or advertisers on an aggregated and anonymous basis.
Personal Information.
Blue Pacific Solar Products Inc. requires each customer to provide us with some personal information (collectively "Personally Identifiable Information") to access and use Blue Pacific Solar Products Inc. products and services. Personally Identifiable Information is captured only when a visitor accesses on line services or products, or speaks on the phone with a Blue Pacific Solar Products Inc. employee, and willingly discloses that information. This disclosure may occur when a visitor registers with an on line service, engages in transactions, contacts technical services, or participates in contests, promotions, surveys, forums, content submissions, chats, bulletin boards, discussion groups, requests for suggestions, or other aspects of services offered by Blue Pacific Solar Products Inc.
Personally Identifiable Information includes: (i) "Contact Data" (such as your name, address, city, state, zip code, phone number, and email address); (ii) "Financial Data" (such as your credit card number, expiration date, and verification code); (iii) "Demographic Data" (such as your zip code); and idea submissions and other sensitive information necessary to generate quotes and orders.
Calls and or Electronic Communications.
In the regular course of our business, Blue Pacific Solar Products Inc. may monitor and record phone conversations or email communications between you and Blue Pacific Solar Products Inc. employees for training and quality assurance purposes. We may receive a confirmation when you open or click on content in an email from us, which helps us make our communications to you more useful and interesting. If you do not wish to receive email from Blue Pacific Solar Products Inc., you may unsubscribe from our mailing list on any of the emails we send.
How Do We Use the Information We Collect and Do We Share the Information We Receive?
We use information we collect from the on line sales to communicate with you, process your orders, facilitate your transactions with our third- party marketing partners, and inform you of offers and discounts or share with strategic partners such as UPS, FedEx, Conway or other trucking companies for delivery purposes. For example, you may receive a welcome email that confirms your username and password, and later receive communications responding to your inquiries, providing services you request, and managing your account. We send promotional emails and newsletters from time to time to our purchasers and those who have opted in to receive such emails. You can opt out of those email updates at anytime by using the opt out function at the bottom.
We share customer information with third parties only as follows:
Use of Personal Information. Blue Pacific Solar Products Inc., sometimes with the assistance of a third party or Blue Pacific Solar Products Inc. subsidiary, may use your Personally Identifiable Information to process your payment through merchant account services such as Chase Bank, Authorize.NET, UltraCart or Intuit Merchant Services, to generate the products and services you order, and to analyze our customer demographics. Your Contact Data may be used to follow up with you on transactions you initiate through on line services or products, respond to inquiries made through on line Services, inform you of changes to on line services or products, and send you additional information about Blue Pacific Solar Products Inc. and its products and services. Unless specifically authorized by you, we do not provide Personally Identifiable Information to third parties for marketing purposes. We may provide information to a third party in response to a subpoena or to otherwise comply with the law.
Contact Data and Traffic Data are used to gather general statistics about our customers and visitors. We may use Demographic Data to generate collective information about our users, but not in a way that identifies any user specifically. For example, we may inform third parties about the number of registered users and unique visitors, and the pages most frequently browsed. Service Providers and Strategic Partners. We employ other companies to perform some functions on our behalf. Examples include delivering packages and sometimes orders direct from manufactures or suppliers. Our strategic partners have access to personal information needed to perform their functions, but may not use it for other purposes other than to process the order in the supply chain directly related to your current transaction. Opting Out. You may choose not to provide Blue Pacific Solar Products Inc. with Personally Identifiable Information or you may turn off cookies in your browser by changing its settings. If you make these decisions, you may continue to use the on line website and browse its pages. However, Blue Pacific Solar Products Inc. cannot process orders without Personally Identifiable Information.
If you do not wish to receive promotional materials from Blue Pacific Solar Products Inc., you may unsubscribe from our mailing list on any materials we send.
Website Areas Beyond Blue Pacific Solar Products Inc.'s Control. The Site may include interactive forums, such as message boards and chat rooms. Any Personally Identifiable Information disclosed in these areas is public and becomes public information. You should use caution when deciding whether to disclose your personal information in these forums.
Other Transfers. We may share Personally Identifiable Information and other data with businesses controlling, controlled by, or under common control with Blue Pacific Solar Products Inc. If Blue Pacific Solar Products Inc. is merged, acquired, or sold, or if some or all of our assets or equity are transferred, we may disclose or transfer Personally Identifiable Information and other data in connection with the associated transactions.
Links
Third-Party Websites and Third-Party Service Providers. Blue Pacific Solar Products Inc. may maintain links to other websites and other websites may maintain links to the on line services or products. This Privacy Policy applies only to Blue Pacific Solar Products Inc..com and not to other websites accessible from Blue Pacific Solar Products Inc. or that you use to access Blue Pacific Solar Products Inc., each of which may have privacy policies materially different from this Privacy Policy. If you visit other websites, Blue Pacific Solar Products Inc. is not responsible for the privacy practices or content of those sites. It is your responsibility to review the privacy policies of non-Blue Pacific Solar Products Inc. websites to confirm that you understand and agree with them. We may work with third-party service providers that we do not own or control. Unless authorized by you, we do not provide your Personally Identifiable Information to any third-party service providers, except as explained in this Privacy Policy.
Accessing and Changing Your Account
User Access to Order Information. Blue Pacific Solar Products Inc. will give you, or anyone listed as an authorized contact for your account, information about your order. This may include information about the nature and status of your order, information you provided to process your order, payment information, and contact information. If you want someone to have access to your order, you must list them as an authorized contact or they may not obtain information. You can confirm who is listed as an authorized contact for your account, add new authorized contacts, or remove authorized contacts by clicking first on "My Account", and then on "Account Information". We will only share your information or documents with a Legal Plan attorney or with attorneys who service our attorney-assisted products with your authorization. We also may provide information to a third party in response to a subpoena or to otherwise comply with the law.
How Secure Is the Personal Information We Collect?
Our Commitment to Data Security. We strive to make certain that our servers and connections incorporate the latest encryption and security devices. We have implemented physical, electronic, and managerial procedures to safeguard and secure the information we collect. Credit card and personal information are transmitted by secure servers. Documents are delivered to you via UPS or similar overnight delivery services, the United States Postal Service, or email. Unfortunately, no data transmission is guaranteed to be 100% secure and we therefore cannot guarantee the security of information you transmit to or from the Site, Applications, or through the use of our services, and you provide this information at your own risk. ACCORDINGLY, WE DISCLAIM LIABILITY FOR THE THEFT, LOSS, OR INTERCEPTION OF, OR UNAUTHORIZED ACCESS OR DAMAGE TO, YOUR DATA OR COMMUNICATIONS BY USING THE SITE, APPLICATIONS, AND OUR SERVICES. YOU ACKNOWLEDGE THAT YOU UNDERSTAND AND ASSUME THESE RISKS.
IF YOU BELIEVE YOUR PRIVACY HAS BEEN BREACHED THROUGH USE OF OUR WEBSITE, APPLICATIONS, OR OTHER SERVICES PLEASE CONTACT US IMMEDIATELY AT (888) 898-5849.
Terms and Conditions, on line ("Web Site") or other purchase of merchandise and or services.
All orders made by Buyer for products are subject to these Terms and Conditions of Sale set forth herein. These Terms and Conditions of Sale supersede any other terms and conditions in any other purported agreements or communications in any form from Buyer. Seller's agreement to any additional or modified or substituted terms and conditions or agreements must be made affirmatively and in writing as an acknowledgement of a purchase to be effective. Our relationship in the sale of any equipment or material is that of a material supplier with limited knowledge of actual site conditions or application. It is the sole responsibility of the Buyer to verify that the listed components on this order will work for the actual installation conditions, local AHJ (Authority Having Jurisdiction (Code Officials)) and any applicable safety codes.
When you place an order with us, on line or otherwise, you are making an offer to buy merchandise and or services. We will send you an email to confirm that we have received your order. We will not take payment from you until we have accepted your order. Payment in full is due at the time of order.
It is a not uncommon for manufactures to sell out their inventory for a period of time (large projects, unforeseen demand). If the merchandise that you ordered is not readily available or we have made a pricing mistake, we will advise you of this before we proceed with your order. In the event the merchandise is not available because of an unexpected stock outage or manufacture delay, we may elect to supply you with substitute merchandise of equal quality and performance or better. If the need to offer a substitute product arises, the product will always will be equal or better and we will notify you in advance, before we proceed, confirming by email that you will accept the substitute. If you choose not to accept the substitute merchandise, any charges will be reversed at no risk to you. If we have made a pricing error, your transaction will be cancelled at no risk to you.
Orders will not be processed and begin the shipping cycle until after 9:00 AM Pacific Standard Time (P.S.T.) of the next business day (Monday to Friday) following placement of your order, excluding holidays and weekends. Change of day is considered to occur at midnight (12:00AM) P.S.T. All order shipments are subject to product availability and complete customer order, billing and shipping information being received by Blue Pacific Solar as well as credit verification and authorization.
Shipments are also pending weather restrictions or natural disasters. Shipping times only apply from the date and time that the order was shipped. Shipping times do not include customs delays or delays caused by acts of God. For more information regarding shipments, please reference "Shipping" category.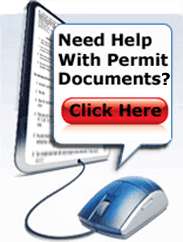 Building, Electrical Code, OSHA Compliance.
IMPORTANT SOLAR KIT INSTALLATION / LINE DRAWINGS: Our relationship in the sale of any equipment or material is that of a material supplier. It is the sole responsibility of the purchaser to ensure that all products are installed and operated in accordance with national electrical codes (NEC), local codes and restrictions AHJ (Authority Having Jurisdiction (Code Officials)), UBC (Uniform Building Code) or IBC (International Building Code), OSHA (Occupational Safety and Health Administration), local utility company policy as well as equipment manufactures instructions or instructions provide by Blue Pacific Solar. These codes may vary from state to state so be sure to check with your local code officials for their code requirements.
SAFETY WARNING: Danger to life due to high voltages. Risk of death or serious injury due to electric shock. Always employ the services of a licensed local electrician or other properly trained and qualified persons to complete any final connection options prior to commissioning any electrical system.
All installations should be permitted and inspected, where required, by the AHJ (Authority Having Jurisdiction (Code Officials)) in the same manner as other equivalent electrical systems.
Orders Larger Than $1,000, Your Personal Technical Advisor.
For orders larger than $1,000, you will be notified, usually the next business day after you place your order, of the name and contact information for your personal technical advisor that will be assigned your account. Your Technical Advisors job is to work with you throughout the process and will be the point person on your order providing you with a single contact point to help make the process easier. Your assigned Technical Advisor will take ownership of the sale and make it their personal responsibility to keep you informed and that the process of purchasing, confirming the design and answering questions through completion of installation so the process is seamless. We do not claim all our Technical Sales Consultants can answer all questions all the time. However, for the questions they cannot answer, they know where to get the answer and then get it back to you as quickly as possible.
Site Security - How We Protect the Security of Your Information.
Blue Pacific Solar™ is serious about security and privacy with guaranteed with comprehensive identity theft coverage to safeguard your personal information. As a buySAFE bonded merchant, if you select buySAFE option at checkout, you are protected with $10,000 ID Theft Protection from buySAFE.
We do not keep and we do not have access to your credit card information. Your credit card transaction is handled by a 3rd party bank using encrypted 128-bit technology. Additionally, we are a trusted bonded buySafe merchant which means your purchase is guaranteed safe by a large 3rd party insurance company should you choose that option at the time of check out. For all information, we use a multi-layered firewall to protect against unlawful intrusion.
We limit access to your contact information on a "need to know" basis. The information given to us by you is under data protection, shall only be used by us, and will not be made available in any form to a third party unless for purposes such as delivery.
BuySafe Merchant increases confidence.
As a buySAFE bonded merchant, it demonstrates we're committed to providing you with the ultimate peace of mind by giving you a confident and guaranteed shopping experience when you buy from us.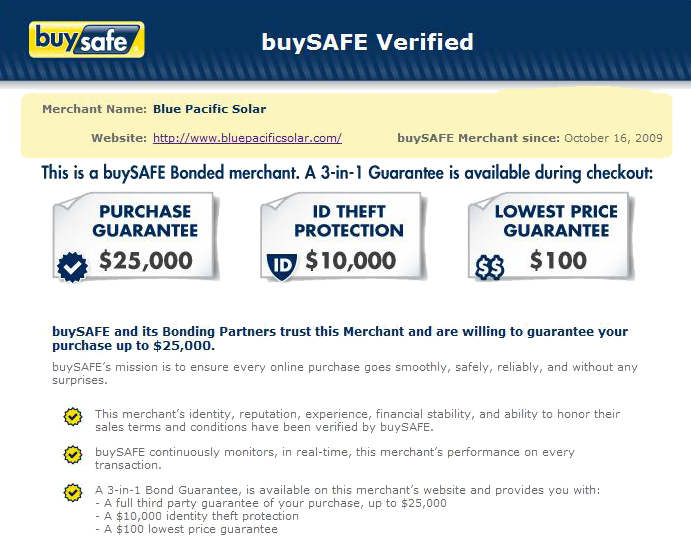 buySAFE provides on line merchants a "bonding" service to provide you with a more confident, safe and secure on line shopping experience. When shopping on line, always look for the buySAFE Seal and enjoy the ultimate peace of mind that comes from buying from a buySAFE Merchant.
We do take orders over the phone, but it is easy for verbal orders to be misunderstood by either side therefore phone orders will not be processed unless you return the confirmation email with your approval. We think it is safer for both parties to make transactions in writing. You know what you are getting and there is no chance we will misunderstand your instructions. You can either order on line, or we will send you a copy of a quote which you can sign and email or fax back with your order and payment information or call us. Phone orders large than $1,000 will require a separate written authorization for the charge to be returned along with a photo copy of a government issued ID such as a picture of your drivers license.
Payment Options / Terms and Conditions
Payment Options Available at Checkout
Visa
MasterCard
Discover
American Express
PayPal
Bank Wire Transfer

Wire transfers are fast and easy.

Blue Pacific Solar™ accepts banks wire transfers as a form of secure payment from all USA banks. If you would like to pay by transferring the funds from your bank using a wire transfer, complete the purchase selecting bank wire at checkout. Within 1 business day, you will be sent the wire instructions that will look like this:
| | |
| --- | --- |
| Recipient bank name: | |
| (The Bank You're Sending Money to): | Wells Fargo |
| | 420 Montgomery Street |
| | San Francisco CA 94104 |
| | Tel: 916-525-4051 |
| Recipient Bank Routing number: | 121000248 |
| Blue Pacific Solar Account Number: | XXXXXX9059 |
Once you have the information above, you will need to go down to your local bank and tell the customer service agent you would like to do a bank wire from your account. Your local bank will have a form that you have to fill out, or you might be able to start the process online. Local banks sometimes charge $20 or $30 dollars to wire money. If your bank charges a fee, you may deduct the $20 or $30 fee from the total sales amount.
Paper Check Option. You can place your on line order and select the paper check option. At checkout, you will be given the address of where to mail your check. The paper check option is the longest method of payment since the order will be held in limbo until the check is received and clears the bank. Purchases made with paper checks payments may take up to 10 business days after the check is received and deposited to clear your bank account.
Progress Payments. We accept progress payments on large orders for a variety of reasons. There are some occasions, such as large solar kits combined our permitting service, where progress payments would be appropriate. The cycle time for permit drawings from completion, submission and approval, can take several weeks depending on the local building department.
In those circumstances, where the purchase qualifies for a progress payment, you should proceed through check out process normally selecting the wire transfer option. Within 24 hours (M-F), your personal solar consultant will contact you to help you complete the process with credit card instructions. Once your deposit has cleared our bank, we will move forward with the first stage of your order, which is typically the permit drawings. Large orders that qualify for progress payment terms are 30% down, the balance due before delivery. If you choose any method except bank wire, the delivery cycle will not occur until the funds have cleared the bank. Don't worry, your personal solar consultant will work with you throughout the process.
Re-authorizations after the initial order
In some rare circumstances, we may need to obtain additional authorization for the outstanding balance of your order if the existing authorization is about to expire. If the re-authorization is not successful, we will contact you for new payment information. If we are not able to obtain a second authorization, we reserve the right to cancel or delay shipment until the payment is authorized or secured. In the event the order needs to be canceled and we have restocking charges from the manufacture or other unforeseen expenses that we have occurred at no fault to us, your refund of your partial payment may be subject to restocking charges.
Public Confidence, Certifications and Trust.
All the associates and affiliated businesses working with Blue Pacific Solar™ are hard at work everyday to manifest public confidence in a variety of ways:
Blue Pacific Solar™ is a Registered Trademark with the United States Patent and Trademark Office for Blue Pacific Solar Products Inc.™, a California Corporation.
Blue Pacific Solar™ is a trusted BBB accredited business with - 0 - complaints.
Blue Pacific Solar™ has been screened, verified and accepted by PayPal, Intuit (Which is owned by Microsoft); Visa, Master Card, American Express and is a verified Authorize.Net merchant..
Blue Pacific Solar™ has had a long term relationship with UltraCart. UltraCart is a secure world-class premiere shopping cart and e-commerce management platform.
Blue Pacific Solar™ has been screened and bonded by buySafe for merchant identity, reputation, experience, financial stability, and ability to honor our sales terms and conditions.
What that means to our customers is: 3rd party guarantee of your on-line purchase terms of sale up to $25,000. $10,000 Comprehensive identity theft coverage to safeguard your personal information. $100 Price Guarantee. If the published store price drops within 30 days of a purchase, buySAFE pays the difference.
Norton Secured powered by VeriSign; Identity Verified / Daily Servers Scan for Malware: BLUE PACIFIC SOLAR PRODUCTS INC has been verified as the owner or operator of the website located at www.bluepacificsolar.com. The identity of BLUE PACIFIC SOLAR PRODUCTS INC has been confirmed using official records. For the highest level of trust and security while visiting sites, make sure that the address (URL) of the site that you visit matches the address that you expect and that the address of this page begins with "https://trustsealinfo.verisign.com".
We only select products from Best-In-Class solar manufactures with equipment that is UL / CEC (California Energy Commission) listed and approved, with the longest warranties available in the industry.
Blue Pacific Solar™ is a verified proud member of MerchantCircle with a 5 star seal of approval rating.
Green Business Seal of Approval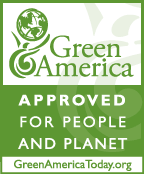 Blue Pacific Solar™ has been rigorously screened and subsequently approved by Green American™. Green America is a nonprofit membership organization dedicated to harnessing the economic power of consumers, investors and businesses to promote social justice and environmental sustainability.
Members of Green Business Network™ at Green America have made extraordinary commitments to fair treatment of their employees and workers in their supply chain, promoting healthy communities where they do business, preserving the environment, and delivering quality products to their costumers.
To recognize members commitments and accomplishments as a green business, Green America has created their Green Business Seal of Approval. This seal signals that we have passed Green America screening process and have been admitted as an approved green business to their Green Business Network™.
You will receive a confirmation by email at the time of order. When we ship your order, we will send you a tracking number via email so you can check on the progress of your order at that time with that carrier.
Most freight items are shipped via UPS or FedEx unless you specify (and pay the difference) for an alternate carrier. Free shipping is when the item is under 50 lbs., is shipped UPS ground and only to the continental U.S. If the order is shipped UPS, you can track your shipment on the UPS site at . If you select an alternate carrier or the item is to large to ship UPS, we will also notify you of where and how you can track your shipment with that carrier.
After placing an order you will get a confirmation email within the first 10 min from UltraCart our secure transaction partner. If you place an order with Blue Pacific Solar and don't get an confirmation email check your "junk" mail folder, it will probably be in there. The sale is contingent upon the availability of goods or product. If a product is not available for any reason, we will give you the option of waiting until it is available or gladly reverse your charges at your request at no risk or cost to you.
You will only be charged tax if the shipment is going to California. Blue Pacific Solar Inc. is required by law to charge sales tax on orders shipped to California addresses, which is calculated and itemized during the on line ordering process. No sales tax will be applied to orders shipped to addresses in other states or outside the US.
Your order can only be cancelled on the same day following placement of your order, excluding holidays and weekends. After 2:00 PM P.S.T., a cancellation request is considered to be late and is subject to restocking charges. We are allowed by the bank to reverse a credit card charge the same day at no charge to us. Beyond the same day, if a charge is reversed all our affiliated banks charge us a credit card fee.
Change of day is considered to occur at midnight (12:00AM) P.S.T. Cancellations must be made via email request to sales@bluepacificsolar.com.
Shipping
YOU MUST INSPECT THE SHIPMENT BEFORE YOU SIGN FOR THE DELIVERY!
Compare the items shipped with the Packing List included with your shipment and verify that your order has been received.
If there is an overage or shortage of items, file an claim with sales@bluepacificsolar.com and or contact your assigned Solar Consultant within 24 hours of receipt. Do not wait until you start your job to verify the contents of your order.
INSPECT THE PACKAGING FIRST (Pallet or Box) - Look for the following: Torn or punctured cardboard or stretch wrap, Broken or crushed corners, Broken pallet, Module stack askew or shifted on pallet, Missing the "Do Not Stack" pyramid on module pallet. Before signing for freight or other packages, it is important that you or whomever is receiving the shipment, inspect package(s) closely and note any box damage including scuffs, dents, tears, punctures or creases on the delivery receipt.
READ THIS PLEASE! Damage caused by shipping or mishandling: If there is anything unusual with the package, take pictures of the outside then inspect the contents. The Customer has the right to open packages to inspect the contents to see if there is shipping damage. If the driver is unwilling to wait while the Customer inspects all their items, the Customer may mark in the delivery receipt "Concealed Damage Possible". In case of serious obvious damage, the Customer must refuse the package (Delivery) and contact your Blue Pacific Solar Consultant immediately.
NOTE: If you have damaged or missing items, in addition to taking pictures, please write on the receiver in big words "Broken _______ or Missing ______". The receiver is part of the legal document we need to make a freight claim. If you do not writing anything on the receiver, you are in effect saying you received the product in good condition. That means you accepted ownership of the product and received it in good condition.
Visually evident damage caused by shipping or mishandling is to be reported to the freight carrier within 24 hours. Shipping damage is the responsibility of the freight carrier, not Blue Pacific Solar, and should always be duly noted with the freight carrier prior to accepting and signing for the product.
Curbside Delivery
We try and accommodate most job specific applications and locations, but shipping is generally considered to be curbside and tailgate unless otherwise specified. What does that mean? If you have an order that goes to a site that is, for example, a mile back from the main highway, the driver is not responsible to risk damage to the truck or operator safety. We expect you to meet the driver and take the package or make your job specific arrangements to get the materials from the tailgate of the delivery truck at the street side curb to its final resting place. If your shipment a non-freight delivery and is going to your residence or business, yes, the driver will take it to your door or front desk.
Freight service are required for many items over 80 lbs., solar panels that have to be palletized or items that are longer than 8' such as rails and racking. The freight prices that you see that are standard include the loading of the shipment at origin, and the transport to a local commercial dock or nearby freight terminal. Items that cannot be shipped by standard carriers because they are too heavy or require special handling are shipped via a specialized freight carrier in many cases. The four common freight trucking companies we use are UPS, FedEx, Conway and YRC trucking but that is subject to daily rate quotes we receive.
In most cases, the driver will require assistance in unloading the kit to the curbside and are not required to move the product past that point.
Truck freight companies do NOT require their drivers to unload shipments. When a order has to ship by freight trucking shipping is defined as point of origin dock to the commercial dock you specify or the closest freight terminal. If you would like the freight shipment delivered to your residence, a additional "Residential and Lift Gate" special handling fee will apply. NOTE; RESIDENTIAL AND LIFT GATE FEES ARE NOT INCLUDED IN BASE SHIPPING COSTS. UNLESS SPECIFIED AT THE TIME OF ORDER. If the driver (freight company) is asked to deliver to a residence, and unloads the merchandise at your home, at the curb. The shipping carrier will call and schedule delivery, at which time, you may request a Residential and Lift Gate (provided the weight and dimensions of the product fits the criteria for lift gate service) and arrange payment with the carrier for that service. If you do not want or need to pay for this heavy freight additional delivery fee, you can avoid it by picking up your order at the closest freight company terminal. In that case, you will need a pickup truck and a copy of the bill of laden, drive to the terminal and the freight company will load your order into the bed of your truck with their forklift. The most common pallet size we use is 65" X 44" (Height depends on Product).
Our standard freight shipping normally includes only the loading of the shipment at origin, and the transport to a local commercial dock or nearby freight terminal. Freight shipping, unless specified, does not include: residential, lift gate service, inside delivery, delivery to any floors, or assembly. If an item that you order ships via freight, our shipping partner will call schedule a delivery window during weekday business hours or advise you your order is available at the local terminal for pickup.
International Shipping
Unfortunatly due to the added expense of processing international shipments, Blue Pacific Solar will only ship to your export terminal in the United States. At that point you would be responsible for exporting the shipment.
Most items will ship within 3 - 5 business days after the funds clear. Checks, eCheck and paper checks, will be held until the funds clear the bank which can take 10 business days.) International shipments may be delayed longer to wait for authorization of additional shipping charges or customs.
Custom assembled solar kits, thermal or wind turbines usually ship within 5 - 7 business days after final approval. That gives us time to confirm specifics of the order, assemble the products and arrange ground shipment.
Material Substitution - Sales are subject to manufacture availability. Solar panel manufactures occasionally will sell out their inventory of (for example), solar panels for large jobs. If this happens, we reserve the right to substitute a product of equal quality and performance or better with your prior knowledge and permission.
If that material substitution is necessary. we will notify you prior to shipping your order and give you the options to either accept or decline the material substitution. If you decline the material substitution, your charge will be reversed in full at that time at no risk to you. If you accept, the order will move forward as per our normal policy. Selling out an item can happen on all items, but it is more likely to happen with solar panels.
We try hard to ship in the times quoted (and faster if possible), but sometimes items are delayed beyond the stated windows. If an item is going to take longer than the original estimate, we will inform you as soon as possible to let you know what the new estimated shipping date is.
RETURN POLICY
Most merchandise (orders) purchased can be returned within 30 days of delivery but may be subject to a restocking charge. Note: Certain items are non-returnable, including: Custom Ordered items that are non-stocking items (Power Centers), Non-stocking items that are drop shipped directly from the manufacturer, final sale items that are labeled closeout, discontinued or obsolete.
(1) Orders costing less than $1,000. 100% 30 Day Money Back Guarantee. If, for any reason, you are not happy with your on line or catalog purchase, we will accept returns and exchanges of merchandise (orders) costing less than $1,000 within 30 days of purchase when the following conditions are met.
(1a) Customer is solely responsible for shipping any returned product back to Blue Pacific Solar and only after receiving a return authorization number (RAN). Customer agrees to use only reputable carriers capable of providing proof of delivery and insurance for the entire value of the shipment. Customer agrees to bear all shipping and insurance charges and all risk of loss for the return product during shipment. Customer agrees that all returned products will be 100% complete, unused and is in salable condition, and will include the original undamaged packaging material, manuals, blank warranty cards, and other accessories provided by the manufacturer. If any component of the returned product is missing, or if the product has been used, damaged or altered and can not be resold as new, the return procedure will be breached and Blue Pacific Solar may in its sole and absolute discretion reject the entire return or choose to impose additional charges against the customer for replacement of the missing component(s). Shipping, buySafe insurance and handling charges are non-refundable, unless an error occurred on our part in shipping your order and absent a verifiable warranty condition.
(2) Merchandise (orders) purchased costing more than $1,000 may also be returned within 30 days but may be subject to a restocking charge. Customer may return item with shipping prepaid and insured by the customer to the address specified by Blue Pacific Solar (address may be original manufacture); provided that Blue Pacific Solar reserves the right, in its sole discretion, to charge a restocking charge on merchandise returned up to twenty five percent (25%) (absent a verifiable warranty issue), if the following conditions are met; (a) Product is in new condition in its original packaging and has not been damaged or modified and is in salable condition (see extended explanation 1a above), (b) items are not special order such as trackers, SunPods, and custom assembled electronics, (c) items that are special order (trackers, SunPods, mobile solar trailers, custom electronics (power centers)) may not be returned for credit and the sale of these items are final 24 hours after the funds clear.
We treat our customers, vendors, and one another with fairness, respect and appreciation. If you change your mind before we have made commitments to our vendors, we have no issue with cancelling your order less fees that are charge to us.
Please allow 5 - 7 business days after receipt of your returned or exchanged item for your charges to be reversed on your credit card. This gives us time to inspect the item returned, restock it and process the credit. You will receive a receipt via email from the merchant bank when the credit has been processed.
All warranties are between you, the buyer (customer), and the manufacture. Blue Pacific Solar is a distributor only. Products sold by Blue Pacific Solar are not manufactured by Blue Pacific Solar therefore we do not warranty any of the products we sell.
Consequently, Blue Pacific solar makes no warranties, expressed implied, at to the condition, merchantability, fitness for a particular purpose, or any other matter concerning the materials described herein and the buyer (customer) accepts the material as is by the manufacturer. Blue Pacific Solar does not adopt or affirm any of the warranties, express or implied, including the warranties of merchantability and fitness for a particular purpose, made by any of the manufactures of any of the materials described herein. In an event, Blue Pacific Solar's liability shall never exceed the purchase price of the goods which are subject to any claim, whither or not such goods have been installed or made part of an improvement to real or personal property.
Most items that we sell are covered by the original manufacturer's warranty, service, or support policy (if any). In the event that there is a technical problem that occurs with your product upon receipt or installation of your product we urge you to contact the manufacturer directly. The Customer shall be responsible for the return of any defective product and agrees to use only reputable carriers capable of providing proof of delivery and insurance for the value of the shipment.
Blue Pacific Solar bears no responsibility in sending a replacement item to the Customer in the event that they have received a defective product. If you receive a defective unit, contact the manufacturer and they will typically repair or replace the product.
All of our equipment have exceptional warranties and received international certification, including UL, which is required for the U.S. market. We have chosen to promote and sell only products and technologies that have shown to be predictable and durable in real-world applications over time. Copy of individual manufactures warranties are available upon request.
States and municipalities have codes and regulations which control the sale, construction, installation and use of products which may vary from local jurisdictions to jurisdictions. Products offered for sale and drawings are produced according to and within national electric and building codes, however, Blue Pacific Solar cannot guarantee compliance and cannot be responsible for how the product is installed or used. Customer agrees that prior to the purchase of any product, that you (the customer) are solely responsible for the product application and that the product and installation practices complies with all applicable manufactures recommendations and instructions, local and national building and electrical codes and regulations, OSHA (Occupational Safety and Health Administration), and generally accepted building practices.
System Performance - The calculation of the electrical yields are based on established and generally accepted methodology estimated values and mathematical models. Blue Pacific Solar is in no case liable for the real yield, which can e.g. deviate due to individual site conditions, contamination, temperature variation, actual exposure (sun hours) or different efficiencies of the modules.
Changes to these terms;
These terms apply to your order. We may change our terms and conditions at any time so please do not assume the same terms will apply to future orders.
Trade Program
Sorry no. The administrative costs exceed the profit and liability potential so we have elected not to participate in a trade program.
additional terms and conditions; Limitations of Liability
The liability of Blue Pacific Solar hereunder for any and all claims shall not exceed the sum of customer's payments for the product that are the subject of dispute. Blue Pacific Solar shall not be liable for consequential damages, loss of time or other losses incurred by customers or any related parties in connection with this purchase of materials and the terms and agreement thereof.
Governing Law; Venue
The construction, interpretation and performance of this purchase all related transactions shall be governed by the laws of the State of California. Blue Pacific Solar and the customer hereto agree that any suits, actions or proceedings arising out of the material purchase that may be instituted by any party hereto shall be instituted only in the state or federal courts in the city of Sacramento, California, and the parties hereto do hereby consent to the jurisdiction of those courts and waive any objection which they may now or hereafter have to venue of those suits, actions or proceedings.
Extraordinary event or circumstance beyond the control of either party.
Except for the payment of amounts due, neither party shall be held responsible for any delay or failure in performance of any part of this agreement (terms and conditions) to the extent that delay or failure is caused by circumstances beyond its control (Force Majeure), including, but not limited to; natural disasters, fire, flood, strike, embargo, government requirements, civil or other authority, act of God, or other similar causes.
It is important to Blue Pacific Solar™ to give back in ways that enhance the quality of our culture and environment of the larger community that supports us. We will endeavor to do this by marketing quality solar products with time tested warranties that best service the energy needs of our customers, on-grid, off-grid and portable solar applications. We will accept no products that are not UL listed, time tested by the marketplace and from companies that honor their warranties with no hassle.