web solar
Store
IronRidge Ground Mount Rack Kits.
IronRidge Ground Mount racks are a high quality easy and simple to install system for installers and homeowners alike.
Ground Rack 1 Rack Set Per Panel (IE: 10 Panel Kit Requires 10 Rack Sets. 6 Rack Set Minimum)
6 - 8 Sets: Per Panel Buy Now
DEFAULT CHECKOUT QUANITY PRICE
9 - 15 Sets = $87.00 Per Panel
16 - 27 Sets = $79.00 Per Panel
28 - 39 Sets = $76.00 Per Panel
40 + Sets = $65 Per Panel
Product Details:
Specifications:
Videos:
Documents:
IronRidge Ground Mount Use Less Material Making for Faster Install

Blue Pacific Solar uses IronRidge on most of our roof or ground mount rack applications. Customers appreciate the professional appearance, ease of assembly and abundant support documents and installation videos found exclusively with IronRidge products. IronRidge Ground Mount System is a reliable, comprehensive, and feature rich solar panel mounting system. Anchored by IronRidge standard rails, the IronRidge ground mount platform includes all of the components necessary for supporting virtually any commercial or residential ground mount installation, regardless of application. Because IronRidge ground racks are built with durable materials, they have the longest spans in the solar racking industry. Longer spans means you have fewer attachment point reducing overall cost and liability. IronRidge's unique curved profile increases strength and enhances aesthetic design. In addition to manufacturing solar ground mounts, IronRidge provides a complete engineering support system for solar mounting and racking including installation guides, span charts, and certification letters to help you every step of the way. Backed by the solar rack industry leading warranty, IronRidge warrants their racks for 20 years.
What's On The Truck:
IronRidge Ground Racking Landscape 3 or 4 High Panels for 100 MPH Wind Rating = 1 Rack Set Per Panel, 6 panel Minimum. (IE: 10 Panel Kit Requires 10 Rack Sets)
2 - XR1000 Clear Rails Per Row of 3 or 4 high (Landscape)
Top Cap 70-0300-SGA , for 3" pipe, Quanity XX Depends on Number of Piers
SGA Rail Connector 29-7001-000, for 3" pipe, for XX Number of Panels
1 - WEEB Grounding Lug (WEEB-LUG-6.7) per Rail
End Clamp 4 Per Set of Rails
Mid Clamps XX Number of Panels
1 - WEEB-DMC Compression Clip Per Panel
2 - Wire Clips Black Moulded per Panel
Black End Caps 2 per Rail
(Schedule 40 Pipe Not Included)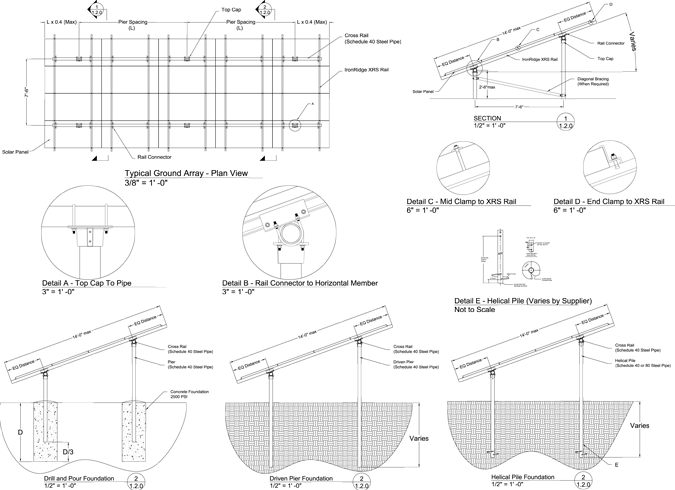 IronRidge Ground Mount Rack Technical Specifications

Module Tilt Range
0 to 45 degrees
E-W Pier Spacing
Up to 17'
N-S Pier Spacing
7' 6"
Max Wind Speed
150 Mph
Module Orientation
Landscape/Portrait
Wind Exposure
Category B, C & D
Maximum Snow Load
70 psf
Materials
Aluminum
Cast Steel ASTM A216
Schedule 40 Pipe
Stainless Steel Fasteners
| | |
| --- | --- |
| Warranty | 20 Yr Mfg, 10 Yr Structural |
| Locally Sourced Pipe | (Not Included) |
| Additional Bracing | (Not Included) |
| Adjusts to Elevation Change | Yes |
| T-Bolts | Yes |
| Wire Clips | Yes |
| End Caps | Yes |
| All Metal Construction | Yes |
| Engineering Support | Yes (P.E. Certified) Most States |
IronRidge
Ground Mount Rack Kits
IronRidge ground mount racks are heavy-duty components easily combine with installer/homeowner supplied galvanized steel pipe to quickly create durable and long-lasting structures. Sturdy enough to handle a wide range of site and terrain challenges, the IronRidge ground system can be constructed without any drilling, welding, or large expensive equipment.