web solar
Store
Our Solar permit service is available along with our home and business solar packages to help you with the process of obtaining a building permit to install your solar kit. The permit service is custom tailored for your solar system for your local jurisdiction. We guarantee the documents will be approved by your local permit officials or your money back.
Only: Learn More
Emergency Solar Backup; AC Coupling, Home Power
Battery Based Backup Kits
During power outages our backup power systems will keep essential loads running automatically. We can custom design a system to handle any residential or small business load. If you do not see what you want, just let us know what you want to keep running and for how long, and we will design a system that's right for you.
Planning For A Home Backup Power System
Emergency solar backup power is an excellent alternative to fossil fuel generators for short to long term utility outages. A few years ago the power companies were quite reliable and blackouts were few and far between. Thanks to an aging infrastructure in America and severe weather that is on the rise this is no longer the case. These days it is not unusual to hear stories from New Jersey to San Diego about power outage durations lasting from a day to a couple of weeks. If you live on the end of a utility line, grid failures can be both frequent lasting a long time because the power company is not going to prioritize restoring service to a few dozen homes when it has to be concerned about the thousands in an concentrated district.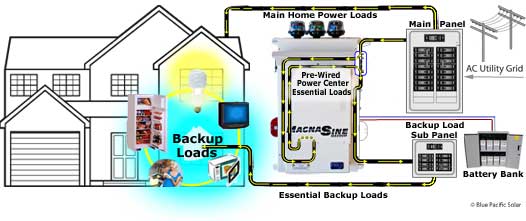 Zombie Apocalypse or Just A Few Days of Power? Where Here is Where You Start.
Sizing an emergency backup system for your home begins with a goal that is personal to your home, your lifestyle, motivation and budget. Start by asking yourself a few simple questions. How often does the utility power go down at my home and how long do the power outages last. For my lifestyle, what is important for my family to have access to when the grid goes down? Refrigerator? Well pump? Sump Pump? Lighting? Now ask yourself what is my budget for accomplishing my goals? Got some general ideas what you want to power and how much you want to spend?
The BIG Questions You Need to Answer First
A load analysis, which is a detailed list of everything you expect to power in your home during a blackout, is a critical part of your backup design. For each load, the expected power consumption and hours of use are listed and totaled for one day. There are no one-size-fits-all solution for backup power systems. Each emergency solar backup system is uniquely designed to its site, loads, budget, and the personal lifestyle of the homes occupants. OK, with that out of the way, we have some work to do before you can select the right emergency solar backup power system.
Find the Power Requirements (watts) For the Appliances that Need Power During a Black-out.
Make a list of the appliances that need power during a blackout that you need to keep running. Refrigerators, special lighting, etc. Only list the essential items, since the system size (and cost) will vary widely with power needed. The amps of individual appliances can usually be found on the back of the appliance, on the name plate or in the owner's manual. If an appliance is rated in amps, multiply amps by the operating voltage (120 or 240) to find watts. Watts is the measure of power you are looking for. Add up the wattage of all the items on the list that may need to run simultaneously to arrive at the total amount of watts.
No easy way around this so get out a pencil and start listing everything you want to run and how long you would like the equipment to run during a blackout.
Energy Load Worksheet
IE: 5 - 13 watt light bulbs X 5 hours per day = 65 watts. 18 CF refrigerator @ 5 amps x 120VAC = 600 watts x 6 hours per day = 3,600 watts.
Critical or essential loads needed during a utility outage are NOT based on a homes sq. ft. It is NOT based on how many people are living in the house. It is based on the equipment or appliances you want to run and how long each day during a blackout you want them to operate. It does not get more individual than that. The amount of energy you and your family want in reserve power will vary among individuals habits and personal choices.
Define How Long of An Outage the System Must Accommodate.
Power outages last from a few minutes, to a day or more. Again, this decision will greatly affect the system size and cost, so the desired length of time should be traded against the total loads supported. If the backup system needs to provide power for an indefinite period of time, you will need to use solar or a generator to recharge your battery bank. You should consider the systems on the off-grid living page (TABS ABOVE). The off-grid kits will work in a grid interactive capacity for backup.
Midsized Battery Based Home Backup Systems

Backup emergency power kits delivered to your home assembled and tested by experience factory trained technicians. Kits include all internal cables and come pre-wired with clearly labeled connecting points for AC and DC input connections. You will not find a better value or more flexible backup power systems on the market today. Pure sine wave power that will power nearly any typical home energy load.
Item #
INV OutPut
Battery Watt Hours
AC Volts
# of Batteries
Solar Panels
Power Source
Price
4.8 kW Backup Kit
BP9101000
1,750W Surge / 1,000W CONT
4,800 wh
120
4 /200 ah
2 /235 Watt
Grid & Or
Solar Panels
2000W Power System
BP9102000
3,100W Surge / 2,000W CONT
4,800 wh
120/240
4/200 ah
Optional Add On
Grid & Or
Solar Panels
10 kW Backup Kit
BP9344481
8,500W Surge / 4,400W CONT
10,752 wh
120/240
8/200 ah
Optional Add On
Grid & Or
Solar Panels
19 kW Solar Generator
BP958615
8,500W Surge / 4,400W CONT
19,200wh
120/240
16/200 ah
8 / 250 Watt
Grid &
Solar Panels
AC Coupling Grid Tied Battery Based Backup Systems / AC Mini-Grid

Are Enphase microinverters grid tie only? No, not when you add any of these AC coupled backup systems. AC coupling allows your grid-tie solar investment to be grid independent when the grid goes down. AC coupling uses your grid-tied solar inverter combined with a on-grid backup inverter with battery bank to provide the electricity you need to keep the lights on and run loads that are important to your family during a utility blackout or storm.
AC coupling uses grid tied inverters networked to one or more centralized on-grid battery-based inverters. This configuration allows AC electricity to either go directly to AC home loads, bypassing the batteries, or to charge the batteries via the battery-based inverter. Regulation is done on the AC side of the system by limiting the output of the grid tied inverter (s) when the batteries are fully charged or consuming the excess AC power not used with a diversion load or by using a relay driver to turn on and off the Enphase microinverters or central inverter.
Item #
INV OutPut
Battery Watt Hours
AC Volts
# of Batteries
Solar Panels
Power Source
Price
3.0kW AC Backup
BP9344487
8,500W Surge / 4,400W CONT
10,752 Watts
120/240
8 - 224 aH
Existing or Optional Add On
Grid Tied Solar Array / Grid / Generator
AC Coupling 3300
BP9344488
8,000W Surge / 4,400W CONT
20,544 Watts
120/240
8 - 428 aH
Existing or Optional Add On
Grid Tied w/ Solar
Off-Grid / Backup
AC Generator
Sunny Island MNSMA1AC
MNSMA1AC
11,000W Surge / 6,000W CONT
12,228 Watts
120VAC/56A
4 - 260 aH
Existing or Optional Add On
Grid Tied w/ Solar
Off-Grid / AC Coupling
AC Coupling 6600
BP3600105
16,000W Surge / 8,800W CONT
20,544 Watts
120/240
8 - 428 aH
Existing or Optional Add On
Grid Tied w/ Solar
Off-Grid / Backup
AC Generator
If you do knot see a standard pre-engineered backup system that meets your needs we will custom design one for you. Simply fill out the "Contact Us" form (Top RH Tab), and tell us how many watts you want to backup per day and for how many days.
SMA Solar Grid-Tied Inverters With Secure Power Supply; No Batteries Needed.

SMA Secure Power Inverters
Part Number
Maximum DC Power
Output Voltage
Type
Price
SMA SB3000TLUS
3100441
3200 Watts
240 VAC
Grid-Tied
Off-Grid Daytime
SMA SB4000TLUS
3100442
4200 Watts
240 VAC
Grid-Tied
Off-Grid Daytime
SMA SB5000TLUS
3100443
5300 Watts
240 VAC
Grid-Tied
Off-Grid Daytime
• Off-Grid – Utility Grid Power is not available for use.
• On-Grid – Utility Grid power is available for use. Does not imply the ability to sell power back to the utility grid.
• Grid-tie, Grid-interactive, Grid-intertie, Bimodal – Utility Grid Power is available for use and the system is capable of returning (selling) electricity back to the utility grid.
Freight Shipping (Freight Delivery is Dock to Dock)
Item that are too large or heavy to ship UPS are shipped by ground freight. In circumstances where we offer freight shipping, free or otherwise, that means dock to commercial dock (not residential) to any of the lower 48 states. If the customer does not specify a local commercial dock that is available, we will ship to the nearest terminal where the shipment will be held for will call pick up by the customer. If you choose to have your order shipped to your residence, most orders require special handling for unloading and the pallet has to be transferred to a truck with a lift gate. In most cases, truck freight companies do NOT require their drivers to unload shipments. An additional "Residential" as well as a "Lift Gate" special handling fee will apply if the driver unloads the merchandise to the curb at your residence. The special handling fee is $89.00 and is available at checkout. If you have selected this add on service, the shipping carrier will call and schedule delivery of your solar kit, (provided the weight and dimensions of the product fits the criteria for lift gate service). You can avoid the residential and lift gate fees by arranging a "Will Call" pickup at the closest freight company terminal. In that case, you will need a pickup truck, a copy of the bill of laden, and a photo ID. When you arrive at the freight company terminal, the freight company will load your order into the bed of the truck with their forklift. The most common pallet size = 65" X 44" (Height depends on Product). Be sure and check for hidden damage.
emergency solar backup power
living off the grid during a utility blackout
Emergency Solar Backup Power for your home or small business can come in handy when bad weather or other conditions interrupt the utility electrical service. Home or business owners can find themselves unable to power critical load appliances and lights. This situation can be serious if critical applications such as medical devices, telephone, home office computers, sump pumps, or refrigeration are threatened. This emergency backup power systems is one of the best values currently available on the market.
When a emergency blackout happens at your home or business, the AC pure sine wave inverter instantly starts powering critical loads from the batteries until the power comes back on. (If you have the unit hardwired to a critical load subpanel. Otherwise, you use the AC wall plugs in the cabinet with an extension cord) The backup power unit will then automatically re-charge its batteries and go into a standby mode. When the power goes out, lights, refrigerator, computers, television, alarm systems, automatic gate or garage openers, all continue working during a emergency blackout. When the power comes back up, the unit switches over and starts recharging the batteries for the next time. The home backup power kit comes with an easy-to-use monitoring system so you can check your power supply anytime of day.
Hardwiring Your Backup Power System to Your Home or Business. Here is how it works. When you are working out the details of how your backup power kit is going to work in your home or business, the first step is to decide what loads are critical to you during a blackout. If you choose to hard-wired your backup power kit, the power needs to be sent to a critical load sub-panel that is not directly connected to your home or businesses main AC utility service panel. The two panels may be connected only by using the AC inverter that comes pre-wired with the backup power battery cabinet. The way it works is you will have an AC power in conduit coming from your main service panel that is connected to the "AC" in-port on the backup power cabinet. You then connect an "AC" out-port that is connected to your critical load sub-panel box only which is not connected to your home or business main service panel. What happens during a utility blackout is power will only be supplied to the critical load subpanel from the backup power unit which is wired to several important independent outlets or switches in your home or business. To make this happen in this scenario, you either need to relocate specific critical load circuits or install new ones near where you need the power during an emergency power outage. There are some very goods reasons why you have to do this. The first is called islanding, which is a bad thing. (Illegal and dangerous) Islanding means you are sending power back to the grid. Imagine, if you will, a utility worker responding to the power outage in your neighborhood. He or she thinks the power is down and starts working on the line and is injured because power is back flowing from your home. The second very good reason this backup power system needs to be wired this way is when the grid is up, power will be flowing to the AC out-port connected to the backup power center. This creates a condition where the state of charge on the bank of batteries is not regulated and you will fry the batteries. Wired correctly, when the utility power is working, electricity will flow from your main power panel through the backup power kit to power the critical circuits that you moved to your sub-panel. Keep in mind you must limit the continuous power to your critical load circuits to no more than 80% of the output of the inverter. If you need more continuous power we can parallel multiple inverters to increase the current flow. But if you choose to do that without increasing your battery bank you will simply drain the batteries faster. Better to just decide on a few "have-to-have" loads and stretch the draw down on the batteries in the backup power center.
AC Coupling of Existing Grid Tied Solar Systems
Grid connected solar systems do not require batteries to operate because the excess energy produced is in effect stored with the utility company in the form of NET metering. What many homeowners fail to realize when they purchase a standard grid tied system is when the grid goes down, so does the power being produced by the solar panels. Why? The IEEE-1547 standard requires that utility interactive inverters cease to export power (Means your meter spinning backwards) if the voltage measured at the Point of Common Coupling (PCC) (That mean your homes electric service meter) exceeds +10% or -12% of nominal. If that were not the case, the result would be an unintentional island of power generation that would energize a portion of the utility power grid that the local utility has de-energized. The importance of grid connected home solar systems is clearly recognized, but as home systems continue to make inroads into America's utility grid, national guidelines were needed to stipulate how homes and businesses could connect to the grid. To this end, the Institute of Electrical and Electronic Engineers (IEEE) worked with the United States Department of Energy (DOE) to develop the IEEE 1547 standard, which provided in 2003 a set of requirements in America for the interconnection of home solar systems into the utility power grid. When the grid goes down, most homeowners with an existing solar system quickly become frustrated because the potential power that is readily available nearby is useless. MidNite solar, Magnum Energy, SMA and Outback have long recognized this void in the market place that will allow existing solar customers and new customers to utilize the AC energy that is normally back fed through to the utility company to now be used to in a home or business and still be in compliance with the IEEE-1547 standard.
AC coupling kits for existing grid tied and emergency power battery based applications during utility blackout's. In ac-coupled backup solar systems, these on grid systems are integrated with battery-based on grid inverter systems. AC coupling uses grid tied inverters networked to one or more centralized battery-based inverters. This configuration allows AC electricity to either go directly to AC home loads, bypassing the batteries, or to charge the batteries via the battery-based inverter. Regulation is controlled on the AC side of the system by limiting the output of the grid tied inverter (Enphase(inverters) or SMA Central Inverter) when the batteries are fully charged or bleeding off the unused AC electricity created by the solar panel AC inverters via a relay driver. The Relay Driver is a logic module which provides high level system control functions such as high / low voltage alarms, load control and generator start. The product controls AC relay driver outputs by reading digital data inputs by reading battery voltage.
When the utility power goes down during a storm or blackout, the on-grid inverter and utility interactive SMA central inverter or Enphase (inverters) stop exporting power to the grid. Once this occurs, in less than a 60th of a second the on-grid inverter automatically starts pulling power from the battery bank to continue to power the homes backup loads. Since the utility based AC inverter is connected on the home side of the on-grid inverter, the utility inverter will have a frequency synchronization with he on grid inverter and begin to produce power. The cycle time for the utility AC inverter to begin operating again is about 5 minutes with most inverters.
The utility AC inverter is now operating again using the on-grid battery based inverter and is producing as much power that is available through the homes solar system. This electricity is used by all the loads in the home with the excess electricity being used by the on-grid inverter/charger to recharge the home's battery bank. The amount of power that is allowed to be produced is regulated by either an high voltage AC relay which senses the voltage of the battery bank interrupting the AC electricity being produced by the AC utility inverter or a diversion load.
AC-coupled backup solar systems can also be equipped with a diversion load. Diversion controllers do not cut off the current like a relay will but simply divert it or "dump it" into a ceramic air heating resistor or hot water tank through a heating element. An ac-coupled backup system using a diversion controller will adjust the battery charge by redirecting the electricity coming from the AC central inverter or MicroInverters. Often times diversion loads are used in conjunction with a wind turbine where the blade cannot be stopped and the power has to go somewhere. The primary issue with diversion loads or dump load systems is the extra expense and space needed to mount the ceramic air heating resistor.
Emergency Preparedness; Don't forget Your Pets
Emergencies can come in many different forms and circumstances. While it is vital for any home to have an emergency plan for its family members, it's just as important to make sure your furry friends are protected as well. Planning the best way to care for your pet during an emergency either at home or on vacation will show all of your loved ones just how much you care for them.
Emergencies can come in the form of household fires, floods, earthquakes or power outages. Although power outages can be the least damaging of the group, they can be extremely deadly especially during the winter season. Having an emergency kit prepared for your pets can save precious time when needing to evacuate your home. Include a warm blanket, bowls, canned dog or cat food, bottled water, disposable cat litter for cats and a spare leash for your dog. Don't forget to include a toy your pet can take comfort with. Remember, just like everyone else in your family, pets will be just as scared to be in a strange place away from their home.
It's possible that an emergency could strike when you are not home, even if it's just away for the day at work. Speak with neighbors who would be willing to take in your pet if you are not able to get to them when an emergency strikes. They should have a spare key to your home and be somewhat familiar with your pet so that they will trust them. Also, contact local animal shelters in your area to find out where you could temporarily store your pet in an emergency since many emergency recovery sites do not allow owners to bring their pets with them. Pets should be tagged or wearing collars so that they can find their way back to their owner if they get lost or separated.
Remember to keep your pets in mind when you are away on long trips. If you choose to leave your pet at home, have a neighbor check on them frequently, at least twice a day to make sure they and the house are doing well. In the summertime, remember to leave out plenty of water and have a nice warm place for them to cuddle in the cold months. You should never leave your pet alone for too long a duration, as they need companionship just as much as the other necessities of life. If you take your pet with you on your trip, don't forget to pack an emergency kit in your trunk, just in case.
Remember, preparation is the key to surviving any emergency situation. Practice evacuation drills with your family. Include bringing your pets as part of the drills so that it becomes routine. Having power during a utility blackout should be at the top of your priority. There is no better way to prepare for an emergency than with solar backup power.